Tips and Trends
Wedding Inspo
|
April 14, 2022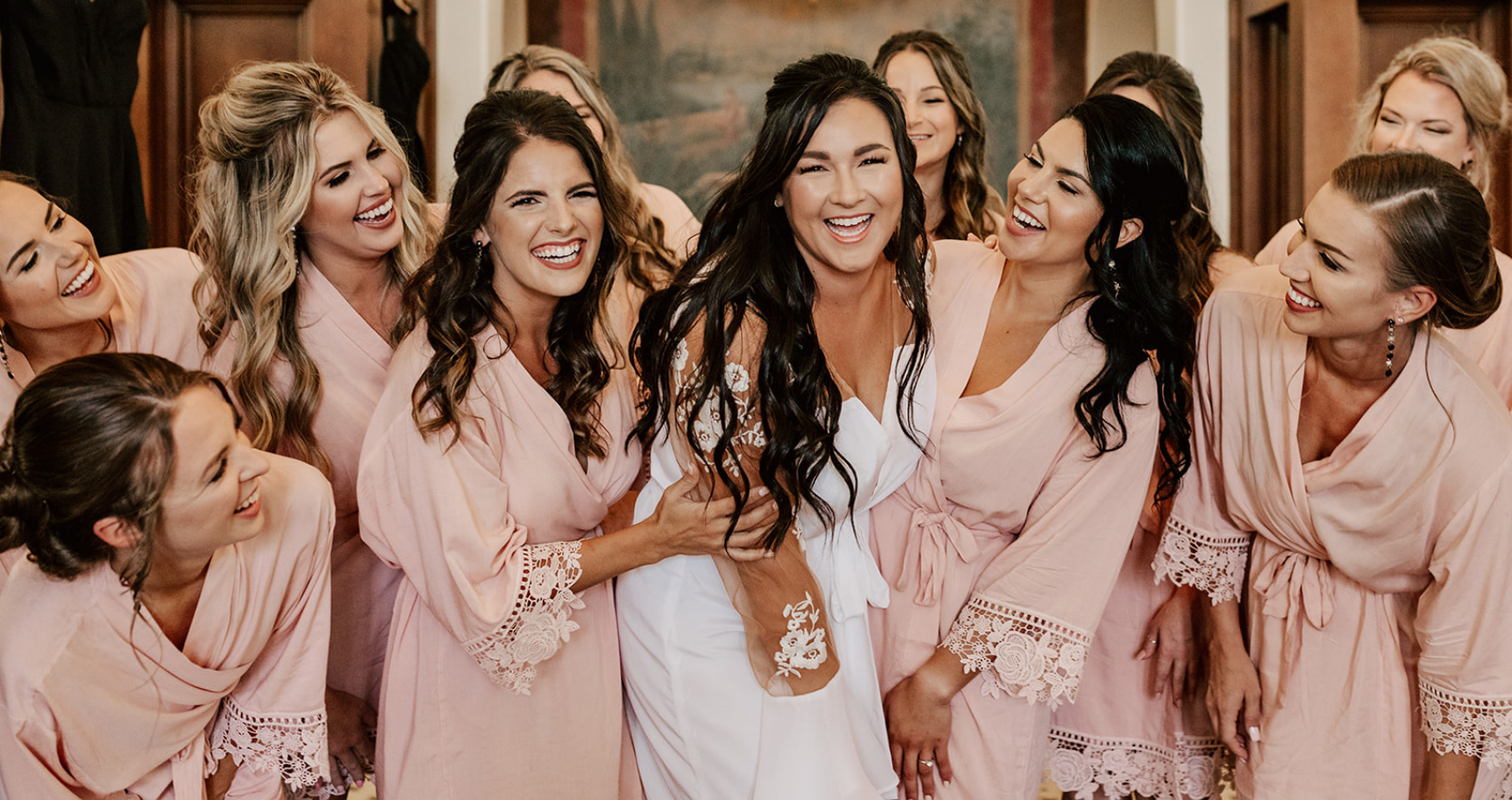 Well hey there, honorable lady. Ready to browse the chicest, sweetest, and happiest bachelorette party ideas? You've got a big bash to plan, and we're here to point you in the right direction. Scroll on!
If you and the bride are in full planning mode, take our Style Quiz to narrow down wedding gown inspo and overall party vibes. This is an excellent place to start if you've got plenty of time to work with before the bachelorette party and wedding day. (The ideas for the bachelorette party list will likely be inspired accordingly.)
To start shopping IRL, help your bride Find An Authorized Retailer and set an appointment. You can also explore our blogs on our other Tips & Trends: Tips and Trends – Love Maggie (maggiesottero.com).
If you want more tips and tricks and #MaggieInspiration for your big day, make sure to sign up for some exclusive text messages below! Now, on to the bachelorette party activities…
Bachelorette Party Ideas: Fun Activities
Go Dancing and Clubbing with Your BFFs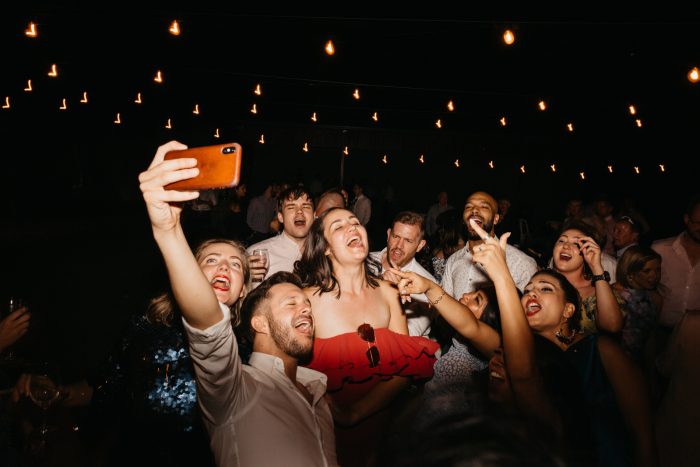 PC: Kristina Wild Photography
If you're wrangling a social crowd, take them out on the town! This is definitely the most Instagram-worthy vibe of bachelorette party ideas… Here are a few ways to make it fun, stress-free, and memorable for all the right reasons:
Go nontraditional with costumes in an unexpected theme. You've likely seen these on TikTok and Instagram… Think Guy Fieri wigs and Hawaiian shirts, Disco Inferno, Harry Potter, Midsommar Cult—all the weirdness for the most, ahem, discerning of bridal parties.
Set a plan for ridesharing, club timeline, watching out for each other's drinks, and getting back home (or to the hotel) safely. (Even better, get everyone to share locations on their phones.)
Plan a mix of quiet, laidback joints, dance clubs, speakeasys, and micro-breweries. This creates a nice pace for the evening; everyone gets to enjoy a spot they love.
Make a brunch or day-after plan. You might be planning a full weekend away or partying close to home — either way you'll want to enjoy the next (potentially hungover) morning together.
Help those on a budget stick to their spending plan. This helps the whole group feel relaxed and in control.
Plan a Relaxing Spa Day
PC: Adrian Motroc
If clubbing isn't your thing, head to the spa! Here are a few ways to create a luxe and relaxing pamper session with the ladies:
Coordinate your spa day with lunch, shopping, and a personalized activity. Spa sessions are best enjoyed with other group outings!
Bring the spa to you. Whether you're celebrating at home or traveling, there are usually plenty of options to hire spa services to come to you. Mani-pedis, massages, facials, hydration therapy — there's something so special about relaxing in your own zone.
Pool your budget ahead of time. Whatever your ideas for a bachelorette party, it's most important to coordinate costs for the bride, and traditional everyone else pitches in to cover.
Get Outdoors for a Camping or Glamping Weekend
PC: Aldeen Li | PC: Tam Koppelaar
Itching to get off the beaten path? Looking for creative bachelorette party ideas? Opt for a perfect setting: the great outdoors! It's fun and (mostly) easy to plan, but it's also good for the soul… With a little planning and group effort, your ladies are sure to have a magical weekend.
Bachelorette Party Ideas For The Outdoor Lovers
Head to a body of water. This is always a foolproof camping plan.
Book a glamping campground with a hot tub and a communal kitchen or nearby dining (AKA the essentials).
If you're roughing it, make a sign-up sheet for equipment and check it twice. Make sure everyone is clear on water availability, utilities, tents, sleeping bags, pest control, and food.
Set the mood with lights, lanterns, or tiki torches.
Get comfy. That means big tents, air mattresses, ice coolers, canopies, sunscreen, preset playlists, and plenty of snacks.
Plan a variety of activities, both active and relaxing. This helps everyone choose their adventure without too much pressure to stay put, get sweaty, or get lost.
Bachelorette Party Activities: Tour a Vineyard
PC: Kym Ellis
Picturing something exciting but not overly complicated? Vineyard tours are classy, chic, and thoroughly enjoyable — a frequent "best bachelorette party ideas" contender for a reason. Your besties will love the interactive element of wine tasting, but a breezy outdoor lunch and garden walk gives everything an easy, low-key vibe.
This is also a great activity for group logistics. Everyone can carpool or book rides, stick to a general timeline and area, and get home safely without much pre-planning involved. Magic!
Creative Bachelorette Party Ideas: Have a Game Night In (Or Out)
PC: Big Potato
For a relaxing and casual bachelorette vibe, plan a game night in! This is easy, budget-friendly, and super versatile. You can treat it like any other fun weekend with your girls, or up the fun with a theme, décor, surprise guests, and fancy treats. These are the trends we're loving:
Curate a cocktail or prosecco bar or hire a pro to stop by for the evening. Nothing says "total luxury" like having your own mixologist on hand.
Skip the boring grocery-store snacks and splurge on takeout or enlist your group to make a deluxe potluck spread.
Organize games but don't get too fixated on making them happen. Sometimes bachelorette parties flow naturally — no bingo required.
Take lots and lots of photos! Better yet, set up an at-home photobooth.
Bachelorette Party Ideas for Games
The Newlywed Game: This is more a rite of passage than anything new, so we say let the bride have her moment! The concept is simple: get her sweetheart to fill out questions before the bachelorette party, then quiz her on the same to see if she gets it right. (If it's a same-sex couple and both brides are attending, you can play this in the traditional way where you quiz both at the same time.) Add extra silliness by upping the stakes, e.g., the bride has to sip champagne or eat a piece of sticky candy every time she gets an answer wrong.
Scavenger Hunt: This is a fun idea for day trips or parties close to home. You can set up in the neighborhood, downtown, a mall, or an amusement park. It's also a great way to wander around a National Park or new city. (Just think of the Vegas possibilities.)
Bachelorette Bingo: A simple game to set up and guaranteed to make everyone laugh. Bring prizes for extra focus and competition.
Prosecco Pong: Foolproof for the bridal party who loves to, well, party. It's also a lovely activity for summery outdoor vibes, pool soirees, and backyard celebrations.
Classic Card or Board Games: This is a low-pressure way for the bride to spend time with her ladies. You can host it at home, at an Airbnb, or at a laidback bar.
Bachelorette Party Ideas for Party Favors
PC: Angele Kamp | PC: Kristina Wild Photography | PC: Christina Victoria Craft
Whether you're going DIY or totally over the top, party favors are a sweet and memorable way to celebrate the bride-to-be. Here are a few bachelorette ideas to get you started:
Hangover Kits: Think Alka Seltzer, a Bloody Mary mix, mints, sunscreen, wet wipes, water, and electrolytes in a chic-themed bag.
Succulents: This is especially cute if the bridal party manages to keep them alive… A way to commemorate the day for (at least) a few months to follow.
Matching T-Shirts: Bonus points for choosing a design they'll actually want to wear again and again. Think favorite movies or bands, a hip restaurant you visited together, a subtle embroidered pocket, or a simple color scheme to match the wedding palette.
Framed Photos: Cute bachelorette ideas we've seen are polaroid magnets, photo mobiles, necklace pendants, keychains, and group albums.
Accessories for Your Night Out:

Matching Fake Tattoos (give them a few to wear that night, plus more for future photo ops)

Sashes (always a classic)

Funny Glasses (if they're high-quality, they'll be stylish and functional for the whole weekend, and beyond)

Disposable Cameras (making a very stylish comeback)
There you have it: best bachelorette party ideas for friend groups looking to have a ball! Whatever your scope, style, and budget, you're sure to make this a night (or weekend) to remember. Don't forget: this day is all about the bride, so the most important part of your checklist is to make her feel happy, relaxed, and open to being pampered.
Are you a bride ready to shop? Find A Boutique near you to book your appointment to find the dress of your dreams! You can also browse real weddings on Share Your Wedding | Maggie Sottero, our gallery of gorgeous #Maggiebrides.
For more bridal inspo and tips and tricks, sign up for our newsletter below!:
Maids of Honor, keep the party inspiration rolling with creative engagement party ideas, simple bridal shower aesthetics, and spring weddings colors. Happy shopping and planning with your BFFs!