Tips and Trends
|
February 17, 2022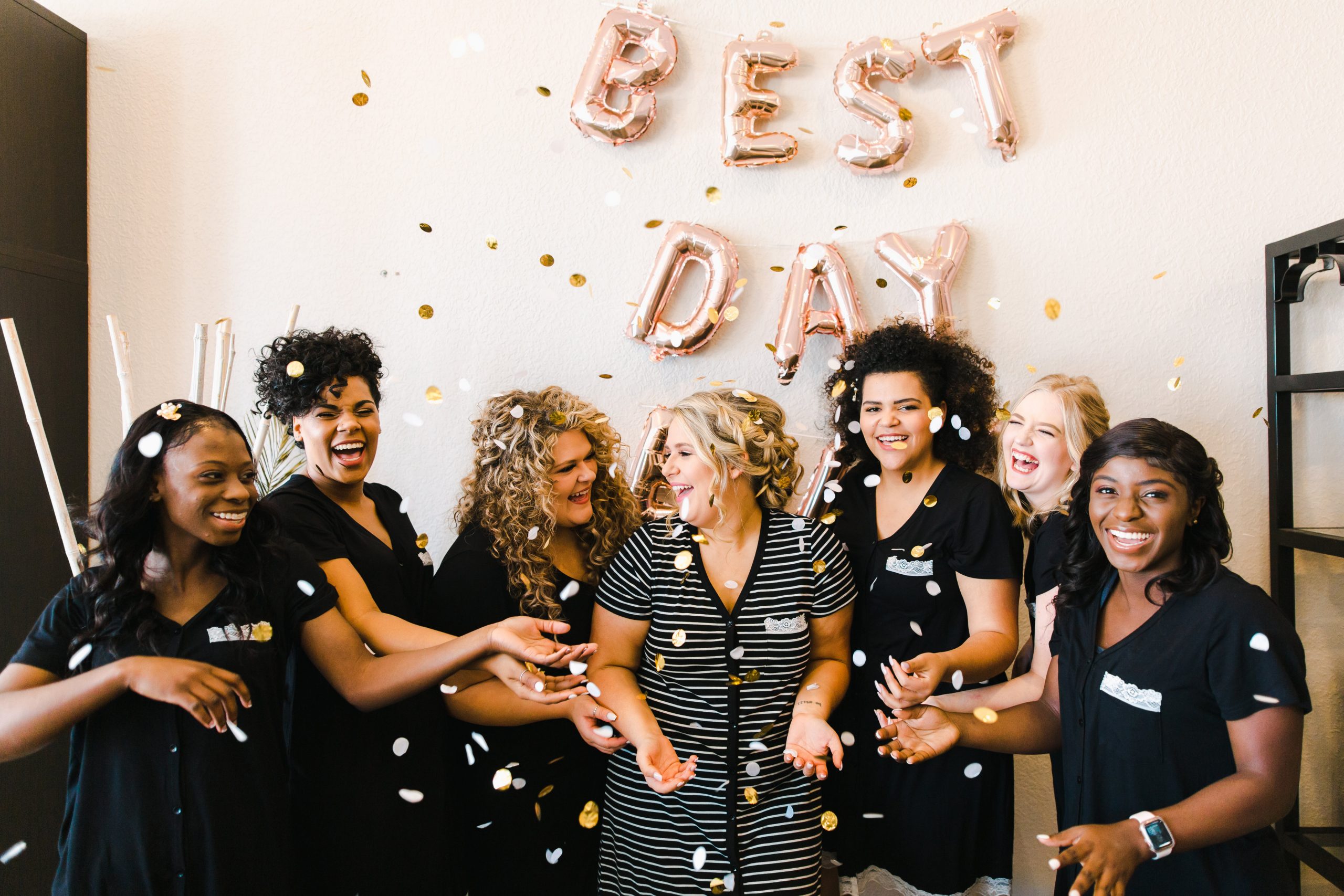 Congrats bride! You're engaged! Now that you've got the ring, it's time to get the party started and the first thing on the list is your bridal shower. We know you have your hands full with picking out your wedding dress style and finding a bridal boutique, but don't forget to celebrate you a little bit as well with these simple bridal shower ideas!
The Bridal Shower dates back to 16th-century Holland. This celebratory affair is meant for loved ones to shower the bride with good wishes, congratulations, and gifts. Sounds like the ideal way to kick-start your engagement, right? At Maggie Sottero we love celebrating our brides, which is why we came up with some helpful tips on how to throw the ideal bridal shower. Whether you're planning it yourself, or have a loved one doing it for you, keep reading for seven simple bridal shower ideas to celebrate you!
Simple Bridal Shower Ideas: Choose a Bridal Shower Theme
PC: Kristy Hardiman Photography
What's a party without a good theme?! Incorporating a fun theme into your bridal shower will not only make the event memorable, but it will also make the bridal shower unique and fun for your guests. If you're more of the dress up and party type, consider sending out invitations encouraging your guests to dress to the 9's in some of these themes:
1920s theme complete with swanky cocktails, flitter, and a Great Gatsby-inspired soundtrack.
An elegant garden party theme! Not only is it a simple bridal shower idea, but it will allow you to take advantage of that Spring weather and Spring florals!
Dance Party. Just because you're engaged doesn't mean your disco queen days are over. ABBA is all the rage now, so take advantage of their incredible discography and deck out your party in sparkles and groovy disco balls.
Boho themed anything will never go out of style. If you're one of our many boho wedding dress-loving brides, incorporate the theme early by having a boho-themed bridal shower! You can achieve this simple wedding idea by thrifting vintage rugs to decorate, playing your favorite folksy tunes, and incorporating neutral colors throughout the party.
Other easy bridal shower ideas are creating activities for you and your guests to enjoy. Having an intimate wine tasting party, chill and tasty BBQ, or pool party will have your guests wishing they could never leave!
Find a Venue
PC: Aaron and Jillian Photography | PC: Sophie Epton Photography
You can't really have a party without somewhere to host it, can you? There are a ton of fun options on where to have your bridal shower, however! Renting out a venue, having it in the park, going to the beach, or if you're feeling especially bougie, renting a boat are some of the many fun options you can do for your bridal shower.
However, since there is no better time than right now to start saving money for your wedding (and your dress) consider having your bridal party at home. If you're thinking of going this route, consider following some of these bridal shower ideas at home:
Prepare all your food in advance. One way to throw off your party is to spend all your time in the kitchen rather than entertaining your guests! So, whether you cook everything yourself, or have the bridal shower catered, have your food ready to eat when guests arrive.
Plan some entertainment ideas. Hiring a DJ (or making a killer playlist of your own), and having games planned will go a long way in making your bridal shower the best anyone has been to.
Have a welcome drink. Do you know what's a simple bridal shower idea that is also fun and memorable? Having a signature cocktail and/or mocktail for your guests. By incorporating this into your bridal shower, you'll create a unique experience the moment guests walk through the door.
Hire a cleaning crew to come in after the party. Nothing is more of a party pooper than having to clean up after you've just spent the whole night having fun! Use some of that saved money by having a cleaning crew come in and clean up after you and your guests so you can stop the stress before it's even begun.
Food and Beverages
PC: Paula Gillespie
Food and beverages are debatably the most important part of any party. There are millions of easy bridal shower ideas for food and drinks, but these are some particularly fun ones in our opinion:
Charcuterie board. We love a good charcuterie board because they're easy to make, aesthetically pleasing, and delicious!
Mini pizzas or flatbreads. Not only are these easy and tasty, but guests are able to customize them according to their dietary and personal tastes.
Make your own taco station. Another easy bridal shower idea! Taco stations are classic for a reason because of how delicious the food is, and because its easy cleanup.
Custom cocktails. Nothing says special like a custom cocktail!
Donut wall. Cake is so last year. Donuts are delicious, easy to clean up, and can come in a variety of flavors so that everyone gets to have a dessert during your bridal shower! P.S. Having a donut wall at your bridal shower will be extremely cute for photos.
PC: Bohemian Rhapsody Funkytown Photography
While these may be our favorite ideas, there are millions more out there! The biggest things to remember are to make it tasty and have something everybody can eat. Vegan, gluten-free, and allergy avoidant foods are important to keep in mind for your guests and will overall make your bridal shower more enjoyable for you!
Unique Bridal Shower Ideas: Plan Activities
PC: Kristy Hardiman Photography
We love a good party and everything that comes with it – especially the activities! There are a ton of fun and unique bridal shower ideas when it comes to activities:
Bridal Shower Games. Bridal shower bingo, wedding jeopardy, the Newlywed Game – you name it! These are just a few of the fun and easy games you can play at your bridal shower.
Find something to do outdoors! Waterparks, hiking, going to an amusement park, or having a pool day are never bad ideas to entertain you and your guests.
No matter what you do, a bridal shower is all about you! The biggest activity during the bridal shower party will be celebrating you and wishing you congratulations on your big day.
Cute Bridal Shower Ideas: Party Favors
Though a bridal shower may be all about the bride, it doesn't hurt to thank your friends and family by gifting them some party favors. Not only is this a cute bridal shower idea, but it also shows your love and appreciation!
Flowers or plants. Everyone loves a good plant for their house, so gifting your friends and family a succulent or a single red rose is a simple and kind bridal shower idea.
Mini champagne. Nothing says "I love you" like sending everyone home with a personalized, mini bottle of champagne. P.S. for sober family and friends, getting sparkly cider is a tasty and thoughtful touch!
Candles are not only long-lasting and lovely, but you can personalize them as well. Putting your wedding date on them, or having a wedding cake scented candle will have your guests thinking of you and your partner every time they light it!
Having a bridal shower might seem like a small step in your engagement. However, that doesn't mean it's not worth doing! Picking out your wedding dress and shopping can be stressful, so to quote the TV series, Parks and Recreation: "Treat yourself" to a bridal shower this year!
For more wedding planning inspiration read the blogs below:
7 Creative Engagement Party Ideas For The Fun and Fabulous Couple
Our Ultimate 12-Month Health and Beauty Tips For Wedding Preparation
10 Wedding Dress Shopping Tips To Consider To Find Your Perfect Gown