Dresses
|
September 9, 2020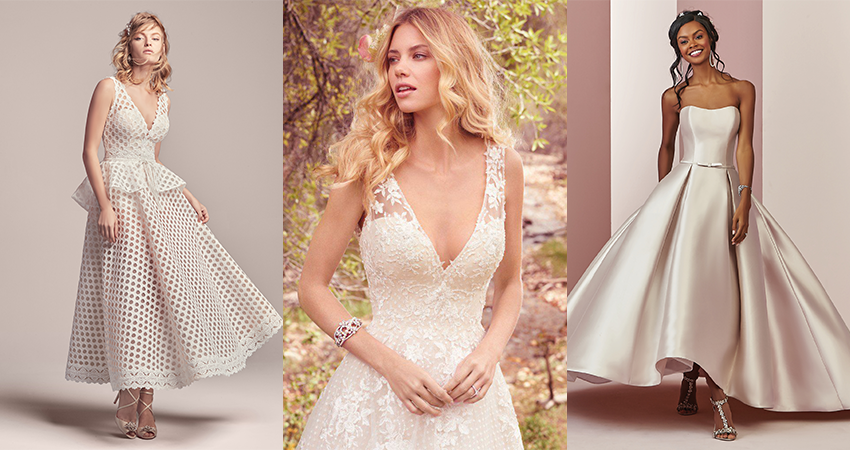 Looking forward to a sweet and intimate wedding celebration this year? With COVID-19 throwing a wrench in wedding-business-as-usual, minimonies are having a major bridal moment! And with their array of darling details and chic cocktail attire options, these micro weddings parties are a fab opportunity to put a twist on the traditional "bridal uniform." With that being said, we introduce the new minimony: the stylish tea length wedding dress.
It's an unexpected yet pitch-perfect silhouette that's ideal for backyard weddings, simple courthouse ceremonies, and romantic elopements. Keep scrolling for our top 9 short wedding dresses for your minimony from our Maggie Sottero, Sottero and Midgley, and Rebecca Ingram lines. They're unique, sweet, and every bit as romantic as your love story!
Vintage-Inspired Short Wedding Dress with Off-the-Shoulder Sleeves: Josie Lane by Rebecca Ingram
Wedding Theme Ideas: Old Hollywood Romance, Mid-century Glamour, Minimalist Boho, Couture Statement, or International Elopement.
For true love in Old Hollywood fashion, here's a short wedding dress you can actually dance in! Get inspired with Josie Lane's silky Mikado fabric, off-the-shoulder sleeves, and a party-ready silhouette. It's tailored perfectly for a casual garden soiree or stylish international elopement.
Go full-tilt Tinseltown with a birdcage veil and kitten heels. Or whip up a classic rockabilly vibe with pretty pearls and oversized bow accessories. With its affordable price and timeless styling, this short wedding dress frees up plenty of budget for the dreamiest of vintage-inspired minimonies. (And not to mention that subsequent all-night dance party!)
Lace Mini Wedding Gown with Illusion Details: Olivia Lane by Rebecca Ingram
Wedding Theme Ideas: Backyard BBQ, Fall Dance Party, Garden Soiree, Rustic Woodsy Fairytale, Country-Rustic Glam, or Courthouse + Brunch Party.
Give us a twirl! These new short wedding dresses are perfect for a sweet, intimate wedding with your nearest and dearest. One of our favorite tea length gowns, Olivia Lane, is designed with timeless lace and sweet illusion details like sister-style Olivia, but with a shorter hemline to complement a chic and petite wedding style.
Pair this romantic bridal dress with sandals, wedges, or a novelty kitten heel to complement the whimsical back of this dress. We promise you'll feel like Alice frolicking through Wonderland in this soft and airy design!
Simple Wedding Gown for Small Wedding: McCall Lane by Sottero and Midgley
Wedding Theme Ideas: Vintage Glam, Retro Dance Party, Courthouse + Outdoor Photo Shoot, or Manor Wedding.
Looking to show off your fabulous heels? Try this shorty on for size! This minimalist satin short wedding dress channels a feminine and retro vibe. It's the perfect complement for a pair of novelty heels or vintage-inspired platforms.
A short wedding dress + colorful bridal shoes is a trend that returns decade after decade in chic and dazzling variations. So, count on your wedding photos looking exceptional for generations to come!
Unique Short Wedding Dresses for a Micro Wedding: Reggie and Reggie Jane by Rebecca Ingram
Wedding Theme Ideas: Retro Dance Party, Boho Glam, Industrial-Chic Dinner Party, Downtown Disco Evening, International Elopement, or Second Look for Reception.
Sweet and airy, these short wedding dresses are made for the dance floor! Featuring a novelty fabric in oversized eyelet lace, Reggie and Reggie Jane are designed for a chic and playful minimony and all-night party vibe.
Opt for the Reggie variation for full lining in a flirty and twirl-ready skirt. Or, if you're feeling bold, dare to bare with the illusion skirt in Reggie Jane, featuring a boyshort-style bodysuit and illusion motif for a cheeky "nude" effect. (Trust us, it's more fab and flattering than you might imagine, especially for a chic and nontraditional wedding vibe.) Either bridal gown is a modern statement unto itself!
Classic Bridal Gown with Short Skirt: Darlene Lane by Rebecca Ingram
Wedding Theme Ideas: Rustic Mountain Lodge, Garden Soiree, Elegant Dinner Party, Backyard Gathering, Courthouse Outing, or Rustic Tea Party.
Looking for something short and sweet for your minimony? Darlene Lane by Rebecca Ingram might just be your kind of dreamy! This tea length wedding dress is a chic, affordable, and perfectly tailored choice for your tea-party-sized celebration.
Style this short wedding dress with a pair of strappy heels and shimmery jewelry for an easy-breezy-princess feel. Then opt for a petite cascading bouquet or small nosegay to complement the gown's effortlessly vintage vibe. You'll look like you've stepped out of a mid-century wedding album, but with an undeniably fresh and romantic upgrade for your modern celebration. Gorgeous!
Short Wedding Gown for Unique Themes: Meryl Lane Lynette by Maggie Sottero
Wedding Theme Ideas: Fantastical (Alice in Wonderland, Harry Potter, Victorian and Steampunk), Whimsical Tea Party, Watercolor + Bright Colors, or Nature-Inspired.
Flirting with a steampunk vibe for your unique minimony? Whimsical short wedding dresses are the perfect choice for brides of the Tim Burton- or Lewis Carroll-inspired persuasion! Get inspired with tea length dress Meryl Lane Lynette from our Maggie Sottero line.
This short bridal gown is a perfect foundation for custom-themed bridal accessories—be it a fascinator hat, shimmery veil, statement jewelry piece, or gauntlet-style lace gloves. We're also swooning over the idea of pairing this design with fishnet or novelty lace stockings—a unique and vintage-inspired combo for a whimsically-themed celebration!
And hey! Speaking of fun accessorizing, take a moment to consider a few HAMU options for your minimony. Short wedding dresses are a gorgeous choice for brides who love a bold vintage-inspired look. Complement your look with crimson red lips and full curls or a glam contour and victory-curled updo.
But if you're less inclined to the full-50s-bombshell vibe, consider a soft "blush flush" in coral or peachy neutrals. It's an easy and versatile beauty minimony palette to match your flirty and effortless personality.
Minimony Wedding Gown with Lace: Meryl Lane by Maggie Sottero
Wedding Theme Ideas: International Celebration, Chic Backyard Elopement, Brunch Party, Wedding Luncheon, or Woodsy Cabin Retreat.
Another sweet and romantic variation of our Meryl bridal gown, Meryl Lane features cascades of lace and a flattering bodice, but with a lovely knee-skimming silhouette designed to complement an intimate minimony or elopement wedding vision.
Opt for Meryl Lane Lynette (above) for lace and dotted tulle, or Meryl Lane for lace over elegant Chantilly lace. Both tea length wedding dresses are sweet and effortlessly divine!
Satin Ball Gown Wedding Dress with High-Low Skirt: Erica by Rebecca Ingram
Wedding Theme Ideas: Mini Fairytale Celebration, Industrial-Chic Dinner Party, Romantic Garden Soiree with Fairy Lights, or Vintage Glam.
Trending now: this high-low short wedding dress in sweet satin and Mikado by Rebecca Ingram. Our Erica bridal gown might look like it costs a pretty penny, but it's actually just really pretty—AKA a fabulously affordable choice for a romantic minimony. An Ivory or White colorway looks sweet and traditional for a small ceremony and reception, but this Vintage Rose is especially suited for brides with a nontraditional and extra whimsical wedding vision.
The scoop-meets-sweetheart neckline is a lovely complement to a variety of bust sizes and décolletage, while the belted waistline helps to cinch in your bodice and flatter your natural curves. And our favorite feature on this glam short wedding dress style? Hidden pockets for your best day ever!
Tips and Tricks for Short Wedding Dresses
Ready to try on short wedding dresses for your upcoming minimony? Head to an Authorized Retailer near you to discuss your timeline and personalization options! Below you'll find a few pointers to keep the process streamlined and stress-free.
We have lots of casual and short wedding dresses at attainable prices across our three lines, but our Rebecca Ingram is designated as our most budget-friendly line. Look for this label if you're hoping to minimize costs for your intimate celebration.
Different bridal gowns, including any tea length wedding dresses, may have different delivery times. So, be sure to speak with your retailer if your wear-date is approaching fast. Last-minute elopers and minimony rearrangements may require an expedited delivery, a "Quick Ship" as designated on our website and with our boutiques, or a sample purchase from an in-store selection. Please speak with your Authorized Retailer for options!
If you're planning to celebrate in more traditional fashion at a later date and are simply holding an intimate minimony in the meantime, consider how your short wedding dress might be a "teaser" for your big gown purchase. Talk to your retailer about similar styles to your short wedding dress that will complement your two-part wedding album down the line!
Looking for more short wedding dresses and effortless wedding dress inspiration? Head over to our Casual Wedding Dress Trends page for our gallery of minimalist styles, beachy favorites, lightweight princess ballgowns, affordable options, and tea length wedding dresses. Then read more about Micro Weddings and Minimonies on our blog. Happy planning and best wishes for your minimony!