Real Weddings
Tips and Trends
|
August 17, 2020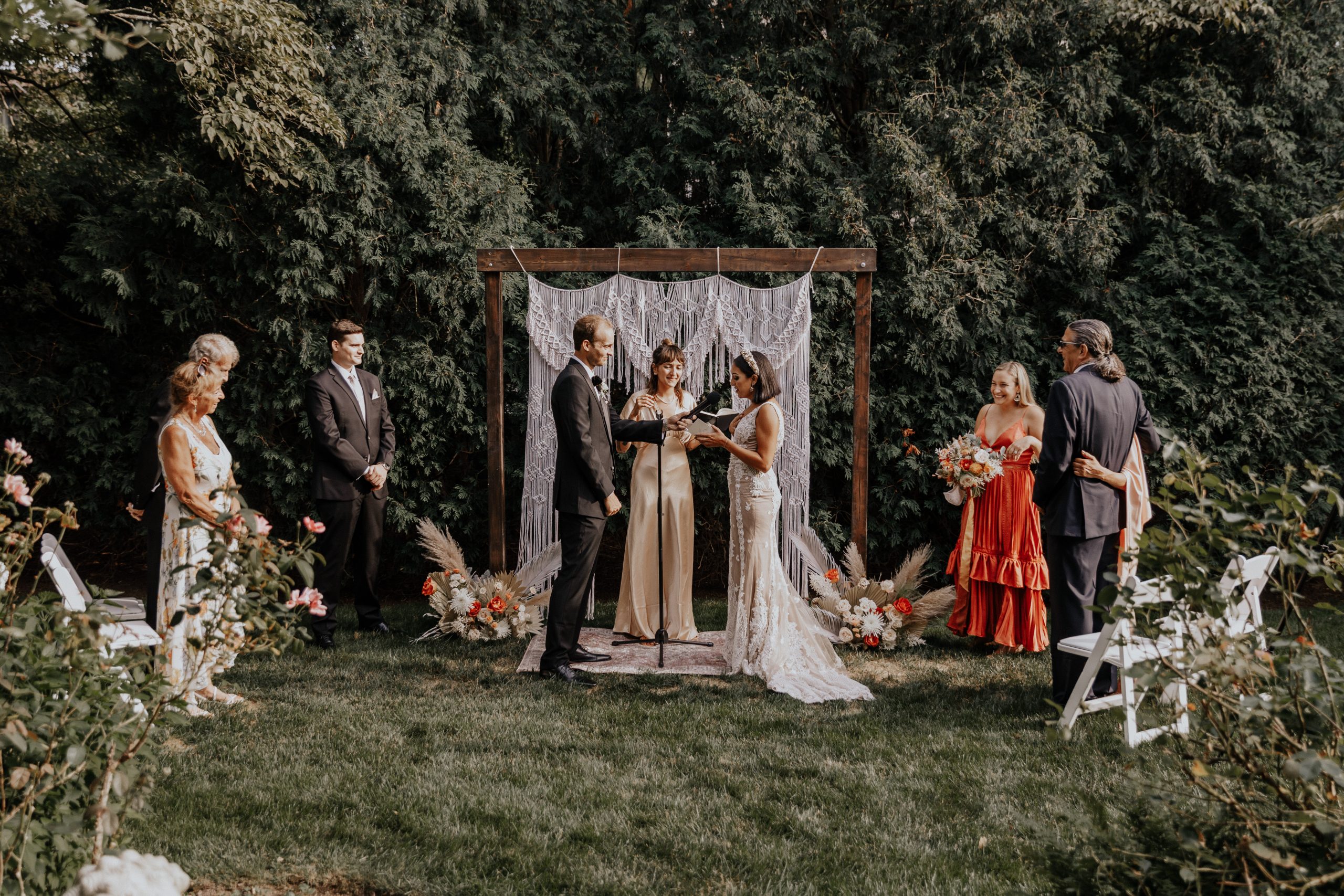 We can't help but swoon over this intimate and romantic backyard elopement featuring boho-chic details and a Maggie Sottero wedding dress. Keep scrolling to see how Nicole and her sweetheart, Matt, changed their wedding plans during coronavirus and opted instead for a more intimate celebration surrounded by their loved ones. Enjoy!
How did you and your husband meet? How did he propose?
Matt and I met at a Saint Patrick's Day party! We had an instant connection, and from the moment we started talking, our conversation flowed so effortlessly. I felt so comfortable with him, and I couldn't wait to see him again. He asked me to go out to dinner with him that coming Friday, and that was the start of everything!
He proposed to me two years later at the Make Way for Ducklings statue in the Boston Public Garden. I have always loved the book because it's about a family who makes their home in the city we love. It was such a special moment and one of the happiest days of my life!
How did you decide to move forward with a backyard elopement during coronavirus?
After a two-year engagement, we were beyond ready and very excited for our wedding day, which was scheduled for August 2020. When we realized this would no longer be possible (due to safety concerns), we decided immediately to postpone the larger celebration until 2021 but still have an intimate backyard elopement this year. Making the decision to change our wedding plans and have a smaller ceremony this year just felt right to us.
Thankfully, our venue and vendors couldn't have been easier to work with! I wrote a whole post about the experience here. They showed us so much kindness and patience while we worked together to find a new date for 2021. Once that was finalized, we let a few months pass to determine what the climate was looking like for this summer. At the end of June, we decided it was time to start planning!
How was your wedding dress shopping experience?
I wrote a blog post about my wedding dress shopping experience as well! As soon as I saw Agata Louise by Sottero and Midgley, I KNEW it was my dress. I worked with Joyce at Precious Memories Bridal Shop in Malden, MA to try on several beautiful Maggie Sottero wedding dresses.
Thankfully, Joyce was able to arrange for the Agata Louise wedding gown to be sent to the boutique via the Maggie Sottero Designs Loan Sample Program so I could try it on. It turned out to be "THE ONE", and I ordered it right away!
What did you love most about your wedding dress?
When my dad finally saw my wedding dress just moments before the ceremony, he gushed over how it was "so me." I couldn't agree more! I never wanted a traditional bridal dress. In fact, I wanted to wear something I had never seen before—something unique and different.
This boho-chic wedding dress stood out to me because it managed to break boundaries, while still being tasteful. The lace embroidery detail was stunning, and the underlay of Tomasso velvet was a dream to wear!
What was the vibe for your backyard elopement? And what was the inspiration behind it?
Our wedding theme was (and still is for 2021) an elevated boho-chic vibe. Of course, changing the venue to my parents' backyard meant changing a lot of the décor. We went with an intimate and romantic garden party vibe, highlighting warm neutral colors and the natural greenery around us.
We got married under a rustic arbor that we draped with our own woven tapestry. Underneath it, we laid a small oriental rug, while our florist brought beautiful arrangements for either side of the arbor. It was our little paradise for the evening!
What was the theme of your wedding party's attire?
Due to social distancing, we did not have a traditional wedding party this year. My sister officiated the ceremony and wore a silk, golden dress. Tori, my maid of honor, also chose to wear silk, but in a beautiful shade of burnt orange.
We were thankful most of our bridal party did attend, and my bridesmaids wore gorgeous dresses of their choosing—all different colors, prints, and fabrics. Everything went perfect for our intimate backyard elopement theme. But next year, all my bridesmaids will be wearing white, which is something I've always dreamed of!
Tell us a little bit about your bridal accessories! How did you decide on your bridal look?
After picking out my boho lace wedding dress, I wanted to find a headpiece to complement the entire boho-chic vibe. I've always loved oversized headbands, and when I discovered Maria Elena, I fell in love with both the headpiece and earring set. The aesthetic was so feminine but also very bold.
For my wedding shoes, for some reason I always wanted to get married in Jimmy Choo heels (random, I know!). I was browsing their bridal collection, and a pair of pearl accented open toe shoes jumped out at me. I felt like my grandmothers would have loved them, and the pearl accent was major. They ended up matching the headpiece perfectly. And as for my hair, I styled it myself that afternoon with my trusty hair straightener!
What was the theme for your wedding cake?
Marie from Confectionary Designs is incredible and makes the most amazing cakes. We went with a strawberry shortcake flavor, and it was the best cake I've ever tasted!
For the aesthetic of an intimate backyard elopement, we wanted something super simple but still chic and elegant. The cake was inspired by a few cakes we saw on Pinterest featuring a subtle marble design.
Tell us about the guests who attended your backyard elopement!
We invited only our immediate family and bridal party/groomsmen. It was important to us to follow state and CDC guidelines, as well as implement precautions to ensure the safety of our loved ones.
We are forever thankful for those who celebrated with us and showed us so much love and support during a difficult time. These are people who will be in our lives forever, our family, and chosen family. We are so fortunate to have been surrounded by them on such an important day in our lives!
Did you incorporate anything unique into your special day?
I'd have to say, getting married during a global pandemic was unique on its own! The unique details for our backyard elopement included making sure we had extra masks and enough hand sanitizer available throughout the space. Looking back, it will really show history!
What was your favorite moment from your wedding day?
Matt and I wrote personal vows to one another and shared them during the ceremony. Reading those words in front of our loved ones was so meaningful, and it was one of the most powerful moments I have and will ever experience.
What is your biggest tip for brides-to-be getting married during this time, especially for those who have had to put off their celebration?
I am sorry for the brides who have had to postpone their wedding! I know how hard that is; it's the weirdest mix of emotions that only a COVID bride could understand. Speaking from experience, making the decision to still get married this year was the best choice we could have made. The day was magical and full of so much love.
My advice for brides-to-be is to enjoy every second of your special day! Remember, you get to have TWO wedding celebrations with the love of your life—one this year, and one next year. Not many people get to say that!
What advice do you have for brides who are trying to decide if they want to get married and have a celebration next year, or postpone getting married entirely?
A lot of people will have opinions on what the "right thing" to do is. My advice is—don't listen to them! This is a conversation you should have with only your fiancé. Have a glass of wine (or two!) and talk openly with one another about what you both envision for the day. No matter what, your wedding will be special and the day of your dreams, whether it's this year or next. You got this!
I'd like to thank my photographer, Move Mountains Co., for taking the most beautiful pictures of our special day. They are so talented and were a joy to work with!
We loved collaborating with @nextbynicole about her intimate, boho-chic backyard elopement! For more fashion and wedding inspo, be sure to check out her blog!
For more intimate wedding inspiration, check out this: Intimate Lakeside Wedding with Chic and Modern DIY Details. And for more tips on planning a backyard wedding during coronavirus, click here. Happy wedding planning!