Dresses
Tips and Trends
|
January 25, 2022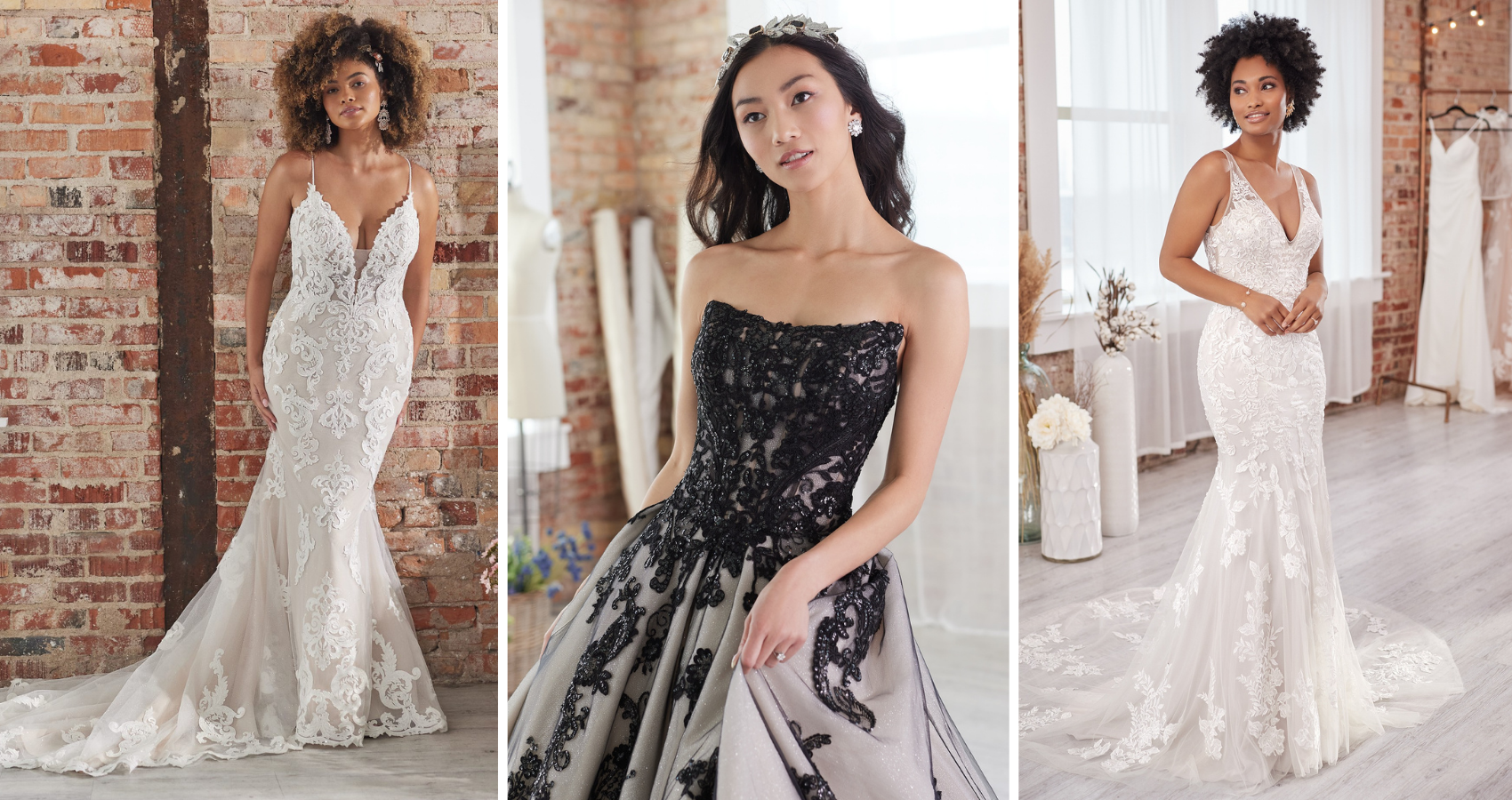 Brides-to-be, have you recently started the oh-so-exciting (and also slightly overwhelming) search for the perfect wedding dress? Don't let the plethora of wedding dress colors make your bridal shopping difficult! Choosing between white, ivory, champagne, and all those other colorway options can seem daunting and yes, at times, confusing. But breathe easy— between our Style Quiz and this handy guide to learning the how's and why's between all the different color wedding dresses, you'll have no difficulty finding the gown of your dreams at one of our Authorized Retailers.   
What Is the Difference Between White Vs. Ivory Wedding Dresses?
First things first, you might be asking yourself what exactly the difference between a white vs. ivory wedding dress is. There actually is a pretty big difference! In terms of color, white is a bright hue with no mixes or shades of any other color. Because of this, a white gown will almost look a little blue in full light. Ivory, on the other hand, has a slight tint of cream, which gives it a warmer color.
A traditional choice for brides has historically been pure white for a wedding gown. However, the bridal sphere has changed a bit in recent years! Ivory has been on the rise in the past few years and more likely than not, you will find an ivory dress rather than a diamond white dress when shopping.
Tradition or not though, what really matters on your wedding day is finding the wedding dress (and color) that feels most like you! Thankfully, at Maggie, we carry many gowns that you're able to personalize the color of to match your love story.
Which Wedding Dress Color Should You Choose?
Choosing a wedding dress that complements your unique features is the secret to looking your best on your wedding day. So, when deciding on different color wedding dresses, keeping your skin color in mind is always something to consider.
True white wedding dresses wash out paler skin tones, but they look excellent on darker tones and yellow undertones (also known as olive skin tones). And ivory wedding dresses—well, ivory gowns look fabulous on just about everybody. They specifically compliment lighter skin tones, as the warm hue contrasts with cool undertones. And lastly, don't forget that within the realm of ivory colorways, blush, champagne, and mauve also exist, which is what we'll talk about next.
Keep scrolling to see our gorgeous lineup of different wedding dress colors from shades of white, to blush, to black!
Traditional Diamond White Wedding Dresses
Fun Fact: Did you know white wedding gowns were made popular by Queen Victoria in the 19th century, not for their symbolism but because they showed wealth and prestige? Well, you'll certainly feel like royalty in Josie by Rebecca Ingram!
This gown comes in many different shades, but we love it in diamond white. As seen in this gown, diamond white works especially well with satin to capture that romantic old Hollywood vibe. With its off-the-shoulder straps and buttons down the back, you're sure to give Audrey Hepburn a run for her money! To find other vintage-inspired gowns, make sure to look at our dresses on our blog.
If you're looking for a little bit more whimsy while wearing diamond white, look no further than Harlem by Maggie Sottero. Crawling botanical lace, a sweetheart neckline, and a flowy sequined skirt will have you looking like a forest fairy on your wedding day (while still rocking a traditional look). Since diamond white can tend to look harsh on skin tones, incorporating tulle into your wedding gown will help soften up the overall look.
Soft Ivory Wedding Dresses
Good news, brides-to-be! Our next colorway, ivory, is the most romantic of all colorways and also the most versatile on wedding dress fabrics. And the best part? It goes beautifully with lace!
That's why we love it on Mallory Dawn by Maggie Sottero! Soft ivory looks absolutely stunning on soft Mallory Dawn. This shade of white brings out the creaminess in the tulle skirt while also emphasizing the contrast in the intricate lace sleeves.
Compared to different color wedding dresses, ivory really brings out the details of your wedding dress which is why we recommend it for lace and fit and flare options like Greenley by Maggie Sottero! We love how the ivory color highlights the curves of your body, while also enhancing the lace and sequins on Greenley.
Bold Champagne Wedding Dresses
If your goal is to stray from classic, consider flaunting a gold undertone in a champagne wedding dress! This soft and subtle colorway goes great with lace, tulle, chiffon, and organza. This light gold color also goes well with a subtle shimmer which is why we love this hue on our lace sheath gown, Tuscany Lynette by Maggie Sottero. This lacy gown stands out with its light champagne color, sheer bodice, and illusion-plunging sweetheart neckline.
A champagne color also looks wonderful on Zander by Sottero and Midgley. Champagne is the perfect wedding dress color to highlight contrasting layers of tulle, lace, and shimmer, and can you believe how elegant and soft the botanical sleeves look?!
Romantic Blush Bridal Gowns
While the champagne wedding dress color has undertones of gold, the blush wedding color has undertones of pink and red. This ultra-romantic hue puts whimsy into your gown and helps emphasize textures and patterns – especially with ivory or nude combined with it!
Roxanne by Sottero and Midgley is the perfect example. This boho princess A-line gown has a beautiful guipure lace with layers of pattern that is perfectly emphasized by this soft blush. We also love our blush, sexy mermaid gown, Hattie by Rebecca Ingram. We love how this contrasts with the ivory lace and also emphasizes every model's skin tone with its strapless neckline.
While blush is one of many different wedding dress colors, mocha and misty mauve are two similar colors that we carry at Maggie Sottero!
Different Color Wedding Dresses: Edgy Black Wedding Dresses
Last, but certainly not least, we love a good black wedding gown! This is a newer color in the wedding dress color scheme, but it has grown in popularity over the last few years. Black wedding gowns are perfect for edgier brides who want to make a statement on their wedding day. It's also an amazing wedding dress color choice for brides who want to emphasize all the details of their gown.
That's why we love Tristyn by Maggie Sottero and Norvinia by Sottero and Midgley! These beautiful black gowns sport a gorgeous royal-inspired black lace pattern that is emphasized by the champagne color beneath it.
Whether you're shopping for white, ivory, champagne, blush, or black, make sure to check out one of our Authorized Retailers near you! Before you do that though, read through our blog about the 10 questions to consider while shopping for your dream dress.