Dresses
Tips and Trends
|
March 6, 2020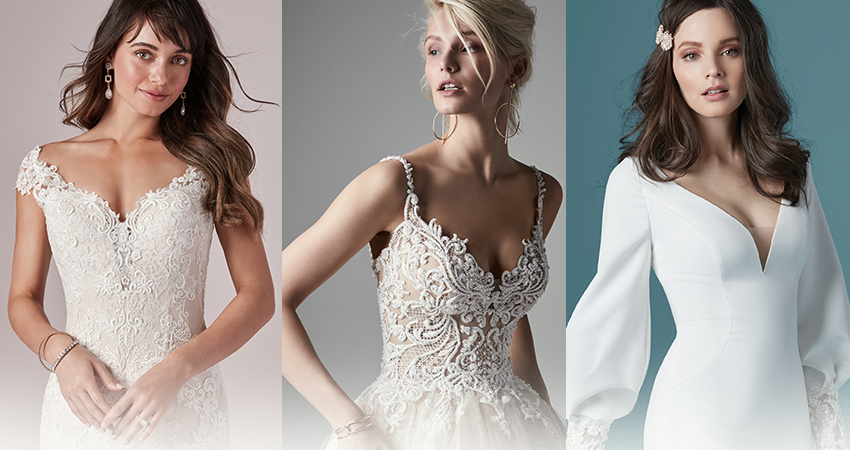 Brides-to-be, have you recently started the oh-so exciting but also overwhelming search for the perfect wedding dress? Don't let the plethora of wedding dress colors make your bridal shopping difficult. Choosing between diamond white, ivory, champagne, and all those other seemingly subtle colorway options can seem daunting and yes, at times, confusing. But breathe easy—because we've prepared a lineup of all our wedding dress shades of white so you can be in "the know" and find the dress of your dreams.
What is the Difference Between White and Ivory?
What exactly is the difference between white and ivory wedding gowns, you ask? In terms of color, white is a bright hue with no mixes or shades of any other color. Because of this, a white gown will almost look a little blue in full light. Ivory, on the other hand, has a slight tint of cream, which gives it a warmer color.
The traditional choice for brides used to be white for wedding dresses, but the bridal sphere has changed in recent years. In fact, ivory wedding dresses have become increasingly more popular than their pure white counterparts. Nowadays, when you see a "white" wedding dress, most often than not, it is a shade of ivory.
So Which Color Should I Choose?
Choosing a wedding dress that complements your natural skin tone is the secret to looking your best on your wedding day. When deciding whether to go for a white or an ivory wedding dress, skin tone should be your number one consideration. While true white wedding dresses wash out paler skin tones, they look excellent on darker skin and yellow undertones (also known as olive skin tones).
Wanting a little proof? Keep scrolling, and you'll see our gorgeous line up of wedding dress shades of white and examples of gowns from our newest collections.
Diamond White Wedding Dresses
Since true white can look harsh on the skin—not to mention in your bridal portraits—we use diamond white for our wedding gowns. Diamond white is softer under full light and more flattering on a wider range of skin tones.
Diamond white works especially well with satin. If you're wanting a sleek look, try on Raven by Maggie Sottero and Cindy by Rebecca Ingram. Raven is our vintage satin wedding gown ideal featuring a bodice trimmer with pearls, while Cindy gives us those Rita Hayworth vibes and a red-carpet-ready neckline.
Diamond white hues also look stunning on crepe wedding gowns. Perhaps you want to look simple yet sophisticated. If this is the case, opt for a touch of glitz with the embroidered lace bishop sleeves on Aberdeen by Maggie Sottero, or the intricately-beaded sleeves on Admina by Sottero and Midgley. Any way you style it, diamond white on crepe will give you that effortlessly chic look you're going for.
Ivory Bridal Gowns
Good news, brides! Our next colorway, ivory, is the most romantic of all colorways and also the most versatile on wedding dress fabrics. And the best part? It goes beautifully with lace!
Daphne and Daphne Lynette by Rebecca Ingram take the cake with their demure necklines and beautiful ivory lace motifs. These tulle fit-and-flares are not only whimsical but also affordable, which is perfect for brides on a budget.
Hint: Ivory shades bring out the details of your dress. Example A: Madilyn by Maggie Sottero. This wedding gown is the epitome of classic glam in this soft and romantic ivory colorway. The creaminess of the ivory makes this chiffon gown look great on all skin colors. And its warm undertones also make it a great choice over nude illusion, giving it that veiled-unveiled kind of look.
Champagne and Blush Wedding Gowns
If your goal is to stray from classic, consider flaunting gold and pink undertones in a champagne or blush wedding dress. These two soft and subtle colorways are often confused with one another, but champagne features gold undertones while blush flashes a bit of pink. Both ultra-romantic hues go well with lace, tulle, chiffon, and organza.
Consider Marisol by Rebecca Ingram. This A-line wedding dress in shimmering champagne and lightweight lace is perfect for modern fairytale-ing. Who ever said a princess gown needed to weigh a ton to feel like magic?
And for the princess bride looking for a stunning addition to her unconventional fairytale, we present Tate by Sottero and Midgley. This chic ball gown features an impressive combo of textures and patterns, but our favorite part is the scalloped ivory lace motifs over blush glitter tulle.
Pearl Bridal Dresses
Pearl—its light gold undertones make this unique colorway richer than standard ivory. Pair it with any silhouette and fabric, and you'll be ready for your warm-weather celebration.
Featuring soft strokes of shimmery sequined lace, Elsie by Rebecca Ingram is floaty, flirty, and fuss-free. Plus, its pearl hue and sexy illusion panels make it the perfect addition to a beach-side wedding.
Kennedy by Sottero and Midgley is our sexy yet sophisticated mermaid wedding dress ideal. With sultry off-the-shoulder sleeves and a plunging illusion back, this pearl gown maintains the perfect combination of irresistibility and elegance.
What are you waiting for? Experience these gorgeous gowns at an Authorized Retailer near you! If you're still daydreaming, find more inspiration on wedding dress shades and colors here. And if you're not sure which bridal style is best for you, take our wedding quiz to see which wedding dresses match your wedding vibe.