Tips and Trends
Wedding Inspo
|
September 10, 2020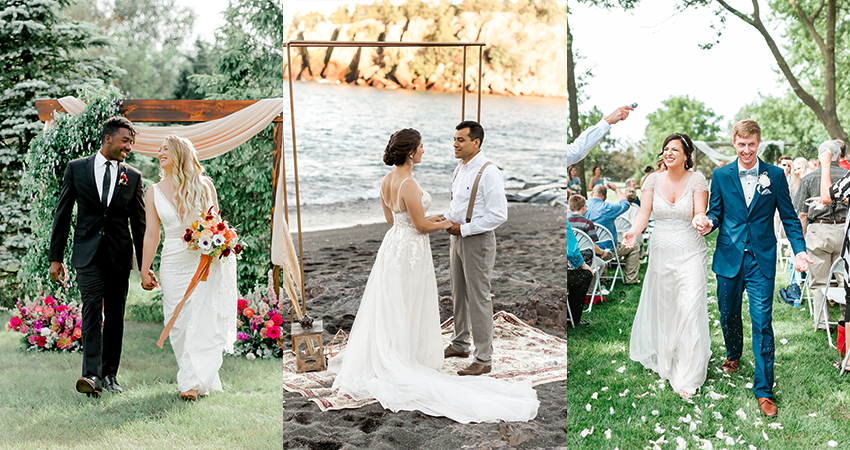 So, you got engaged and the world went haywire. What's a couple to do with their best laid plans in the midst of a global pandemic? First off, don't lose your cool. Whatever you originally envisioned for your wedding day, you still have super fabulous options for a more intimate gathering with your friends and family. Whether you're completely re-hauling your large-scale ballroom reception or simply don't know where to start planning, no fear! We have the micro wedding and minimony answers to help you concoct a perfect celebration for the year ahead!
What's the main difference between a micro wedding and a minimony?
PC: Beth Joy Photography
So, what's the difference between a micro wedding and minimony, you ask? Basically, if you're looking to celebrate your original wedding date during COVID-19 but still want to throw a big bash down the line, it's minimony time! But if you've always loved the idea of a small and stylish occasion with your nearest and dearest, a micro wedding just might be your meant-to-be.
Both weddings are popular options for modern couples and feature smaller guest counts. But the choice often depends on whether or not you intend to host a "sequel wedding," AKA a postponed wedding celebration with a more traditional guest list and party parameters.
What is a micro wedding?
PC: Emilie May Photography
First up, a micro wedding is a smaller, more intimate celebration that serves as your actual wedding date and typically has a guest count of less than 30 people. Most often, a micro wedding features an intimate, luxe, and high-impact ceremony + reception in a unique venue space. And it's often designed to personalize your small guest list's experience and treatment.
Micro weddings have become fashionable for several reasons. As couples have naturally gravitated toward maximizing their dollar-per-guest ratio, they're cut numbers in order to splurge on extras—be it a gourmet meal, an international destination, a top-shelf bar, or fabulous entertainment.
Bottom line? A micro wedding is a smaller-scale celebration that lets you save on your overall wedding budget and stress factor. And it lets you have more room to play with your creativity and budget. It's a win-win!
Now, what is a minimony?
PC: Amberlee Namini Photography
Along the same lines as a micro wedding, a minimony is also designed to cut your budget and guest count. But a minimony has key differences from a micro wedding for couples who are rethinking their celebration due to COVID-19.
A minimony celebrates a couples' original wedding date while following social distancing guidelines, with a bigger bash planned for later. Thus, it is essentially a small-scale commitment ceremony with your friends and family (usually under 20 guests) and is most often a "precursor" to a bigger, more traditional wedding reception on a future date.
You can opt for lovely wedding attire and fabulous party extras. But the emphasis is mostly on the connection and inspiration behind your beautiful love story. (Looking for specific inspiration for this type of mini wedding? Check out our Unique Wedding Details board on Pinterest!)
Here are our top micro wedding tips:
For couples of the less-is-more persuasion, a micro wedding is a great opportunity to showcase your personality, creativity, and adventurous spirit without overwhelming your budget. Here are some of our favorite ideas for a micro wedding extravaganza:
PC: Lindsey White Photography
Incorporate a unique detail or twist! Adding a unique detail or element to your wedding is a fantastic way to make your day more meaningful. Try incorporating a cultural element, something meaningful from your relationship, or a semi-bizarre twist that fits in with your personality and wedding theme. For this couple's picturesque micro wedding in the mountains, they had a cute donkey friend to keep them company!
Hire real entertainment! Consider wowing your guests with fire dancers, a live band, interactive theater, a petting zoo—the list goes on. Whatever your fancy, we say go all out with the merriment and accoutrements!
PC: Amberlee Namini Photography
Focus on food and beverage! You could hire a top chef, a local farm-to-table restaurant, or a cheeky mixologist to create a truly memorable and deluxe meal experience for your honored guests. Or opt for something intimate and rustic by putting your table settings outdoors! Hosting an outdoor reception is a great way to make guests feel comfortable during COVID-19.
Take it international! If you've budgeted for a small yet deluxe micro wedding, consider a destination adventure with 30 or so of your closest friends and family. It's an undeniably romantic way to maximize your occasion. For destination wedding inspo, click here!
PC: Jaimee Morse Photography
Go far-out with florals! If a showstopper peony arch or wildflower chandelier is out of your budget with a traditional celebration, it's perfectly on point (and totally photo-ready) for a smaller micro wedding. Also consider adding oversized florals to your bridal portraits for the most gorgeous photo ops!
Do a COVID honeymoon! Even though you might not be able to travel anywhere exotic after your minimony, you can still celebrate your love with a staycation or road trip for your honeymoon! For more COVID honeymoon ideas, visit our blog: 5 COVID Honeymoon Ideas for Couples During the Pandemic!
And what should you wear for a minimony?
Loving the idea of a small celebration? Just because you're hosting a micro wedding doesn't mean you have to skimp on bridal style!
PC: Claire Eliza Photography
We have a wide selection of casual wedding dresses and affordable wedding gowns for your choosing. From simple bridal dresses to whimsical party gowns, they'll make your micro wedding feel like the red carpet! If you want something a little shorter, browse our selection of tea length wedding dresses!
Lastly, what's the difference between a micro wedding and an elopement?
PC: Alexandra Robyn Photography
You might also be considering an elopement for your wedding. Although this is another type of intimate celebration, an elopement has different implications for your planning and guest list. Like a micro wedding, an elopement is intended to be romantic, luxe, and personalized. But it also features an added air of intrigue and spur-of-the-moment secrecy.
If you're interested in a super-small-scale wedding in a totally unique location (e.g. a historical location abroad, a photogenic cultural site, or a scenic locale in the desert or mountains), a personalized elopement might be for you!
Ready to plan your dreamiest of small-scale celebrations? Dive in to more mini and micro wedding inspo with this Backyard Wedding During Coronavirus blog post from one of our real brides. And don't forget to check out this glam styled shoot of Socially Distanced Wedding Inspo Featuring Black Wedding Vendors.
We've also compiled a selection of flirty and fabulous short wedding dresses for your minimony. Check out the full gallery here!
So, whether you're orchestrating a small commitment ceremony in place of your original wedding date, or simply setting your sights for a gorgeous micro wedding with friends and family, yours will be a love-in-the-time-of-quarantine wedding day to remember!