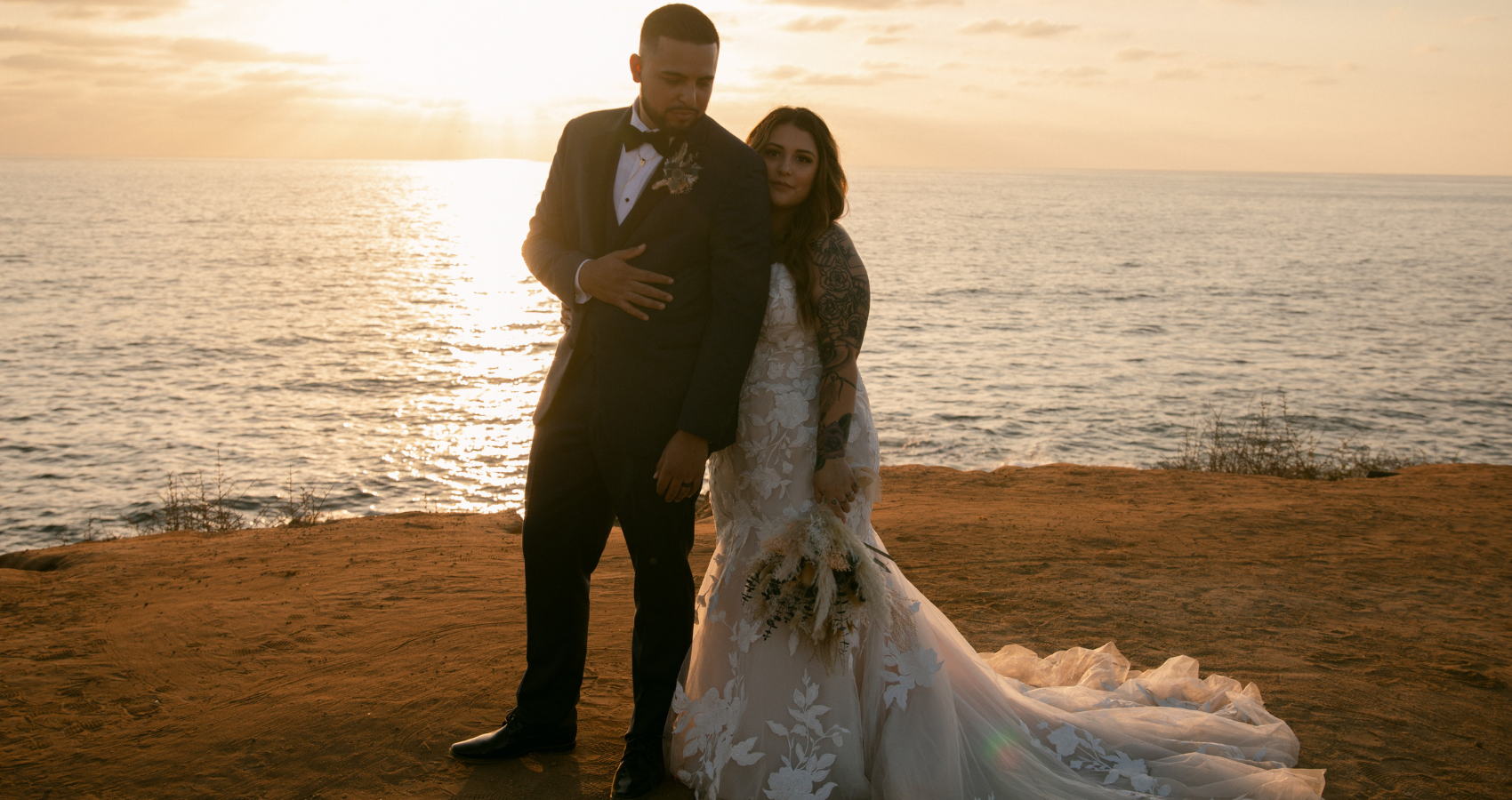 Picture this: a Maldives elopement surrounded by glistening turquoise water. Or maybe a luxurious jaunt to southeast Asia. Perhaps a breezy weekend along the Pacific Rim amidst rocky coves and sea caves–and a quaint oceanside hamlet, of course! Whatever your ideal locale for a celebration by the sea, we have the perfect collection of sexy beach wedding dresses to make it magical!
Before you dive in, you might find tons of inspiration by taking our Style Quiz. Select your style, aesthetic, and budget, and we'll serve up romantic gowns for your vision and personality.
Wherever you are in your inspo phase, you can Find An Authorized Retailer near you to try on wedding gowns in person, talk to a stylist, plan your bridesmaid lineup, and personalize your look with accessories and gown variations (pin these gowns for later reference!).
Looking to make a sweet and modern statement in a corset-style wedding dress? This off-the-shoulder fit-and-flare serves a sexy, chic, and covetable look—perfect for the bride with a flair for drama. Who said corsetry wasn't good for a beach wedding dress? We say go for it!
Personalize this bridal gown to add a little whimsy to this formfitting silhouette by adding detachable off-the-shoulder sleeves or long flutter sleeves. Want added drama or a more casual look? Lengthen or shorten the train to fit your wedding day vision!
If you love the fit and corsetry of Lily but are looking for a bit more support, check out Lily Lynette. This Sister Style is all about a curve-friendly silhouette and chic coverage. And guess what? EACH of these sexy beach wedding dresses are from our Rebecca Ingram line—perfect for the budget-sensible bride!
Does this chic and simple wedding dress catch your eye? Dive into tips for shopping soft crepe bridal gowns for more inspiration.
PC: Erica Cervantez Photography
For beachy brides with a chic, vintage aesthetic, check out Hattie by Rebecca Ingram. This curve-enhancing gown is effortlessly flattering. The plunging sweetheart neckline is daring and feminine, and the strapless silhouette is perfect for a long, breezy veil.
Picture it: It's your wedding day! You're wearing Hattie by Rebecca Ingram, walking down the aisle on a beautiful Hawaiian beach into the sunset as the calm crash of the waves serenade you!
Hattie is one of our recent seasons' most popular and versatile wedding gowns. Find your perfection variation in these sister styles:
You can also add more personalizations by changing out fabric, train lengths, and accessories on several of these variations. Hattie is also a Quick Ship wedding gown (yay!), which means it's in stock for short engagements and fast-approaching wear-dates. (This is ideal for a last-minute elopement plan or romantic getaway with your nearest and dearest).
Nerida by Sottero and Midgley is unique for both its silhouette and colorway. If you're a nontraditional bride looking for an ultra-romantic design (with a dash of sexiness), the pink floral variation may just be your meant to be! A little vintage and extra billowy, this sexy off-the-shoulder bridal gown is the perfect blend of fresh and timeless styling. (Think of those layers in a beachy breeze!)
To personalize this fairytale-inspired gown, look to shorten the train or add buttons. It also looks incredible with a flower crown or statement earrings. Little details like this can make this look truly your own!
PC: Blink and Company Photography
A couture mermaid wedding gown with vampy details, Frederique by Maggie Sottero is truly one-of-a-kind. The bodice embellishments are elegant and luxe, from the delicately beaded flourishes to the waist-cinching corset. This look is equal parts bold and regal. It's fit for a princess but just edgy enough for a sexy statement.
This soft and shimmery dress would look exceptional for a sunny and breezy celebration. The details are glam and the silhouette is unique. What more could you need to feel like royalty at your beach wedding?
Looking to personalize? Change the glitter tulle to texture tulle or Chantilly lace with sequin. Also consider adding a detachable off-the-shoulder cap sleeves, lace train extension, and buttons down the back!
Ambreal by Maggie Sottero gives us major "sexy roaring 20s" vibes: the beading is immaculate, the silhouette is sexy, and the shimmer is spectacular. It's all the effortlessness of a simple gown with the luxe detail of a glitzy princess style. This style also works for any wedding aesthetic you have—absolute perfection, if you ask us!
If you're shopping for head-to-toe vintage styling, get inspired on our blog.  There is a ton more to explore in fabrics, colorways, beading, embellishments, and accessories for your throwback aesthetic!
If you love the modern charm of a crepe fit-and-flare wedding gown, Bracken Lynette by Sottero and Midgley is the perfect blend of drama and sophistication. The bodice design is irresistible—a lush and ultra-luxurious corset of lace, shimmer, and layers. And that hemline is incredible!
If you love the sexy styling of Bracken Lynette, there's even more to love in Bracken. This style dares to bare, with an illusion bodice and deep neckline. It's another stunning choice for your beach wedding vision.
Each of these sexy wedding dresses are also available without lace trim on the train! You can also personalize this gown for your love story with detachable off-the-shoulder flutter sleeves.
PC: Jess Lance Photography
Another vintage-chic design with couture flourishes that makes an unforgettable bridal statement is Elaine by Maggie Sottero. If you love the graceful trend of a 20s silhouette but want something a bit more edgy, look to the fabric details. Lace aspects evoke classic glamour with the fresh upgrade of sheer, shimmery tulle. It's an Art Deco vibe with new-school flourishes—a one-of-a-kind wedding dress that still feels totally timeless. Talk about unique!
Picture the gorgeous beading reflecting the purple and pink hues of the beach sunset! Can you say magical?!
Get inspired with more bold and beautiful black wedding dresses from our latest collections. These are a gorgeous choice for a nontraditional aesthetic, and any of the black colorways would make an exceptional statement with a beach backdrop (hello, moody Oregon Coast!).
Simple in concept yet exquisitely executed, Finley Dawn by Sottero and Midgley is all about a gorgeous contrast between a soft silhouette and decadent lace.
First, the effortless A-line silhouette: It's comfortable, flattering, and classic—a refreshing upgrade to the fullness of ball gowns and intricacies of corsets. From there, Finley Dawn's illusion lace makes a whimsical design. The effect is nothing short of divine.
For the same lace pattern in a more bohemian sleeved silhouette, browse Sister Style Finley. This sexy beach wedding gown features unique sleeves for a 60s Renaissance vibe. Personalize these gowns for your love story by adding buttons down the back! Who doesn't love a gorgeous cascade of buttons?
Lace makes a stunning statement in Emily by Rebecca Ingram. The back and bodice are soft, detailed, and ultra-romantic. The skirt is full of movement and featherlight. It's the perfect blend of sweet and sexy in a beach-ready design.
Curious about your shopping options with Emily? You can shorten the train and add buttons down the back. There's also Emily's ever-charming Sister Style Emily Lynette by Rebecca Ingram to consider! This gown features a little extra coverage and support in the same lovely lace layers.
PC: Sydney Bliss Photography
Greenley by Maggie Sottero is all about a fresh and sexy update to a classic shape. It's a harmony of chic opposites: a relaxed silhouette combined with bold motifs in the layers. The bodice is tailored to cinch in your waistline and decolletage. With this figure-flattering silhouette and sensual styling, you'll be loving your bridal portraits for decades to come.
Here's a Maggie Style Tip: Greenley is practically foolproof to accessorize! Think bridal crown, statement drop earrings, or velvet heels. This style is also versatile for any season—lightweight enough for summer at the beach but totally workable for a chillier PNW setting.
Greenley is also available with a fully lined bodice and a matching veil. This is the perfect accessory for bridal portraits by the seaside. With Greenley, you'll get all the drama, gorgeousness, and windswept fabulousness you could ever imagine for your most special day!
That's a wrap on sexy beach wedding dresses from our latest collections! See something you love and want to try it on IRL? With so many stunning styles, how could you not? Find A Boutique near you to book your appointment to find the dress of your dreams.
For more collection updates, trends, real bride galleries, and boutique inspo, follow our socials:
Here are a few more of our top blogs to keep the inspiration rolling:
Miami beach wedding galleries and gorgeous gowns for beach ceremonies. This will spark inspiration for locales, décor, party timeline, and style.  
Trendy new wedding dresses from our Fall 2022 collections. This includes more daring silhouettes and unique details.
Simple wedding gowns inspired by Real Brides with gorgeous style. Simplicity never looked so chic and sexy!
Best wishes for your beachy wedding! We're so excited to hear about your adventures by the sea. Have a gorgeous day and a happily ever after.