Events and Boutiques
Tips and Trends
|
April 14, 2021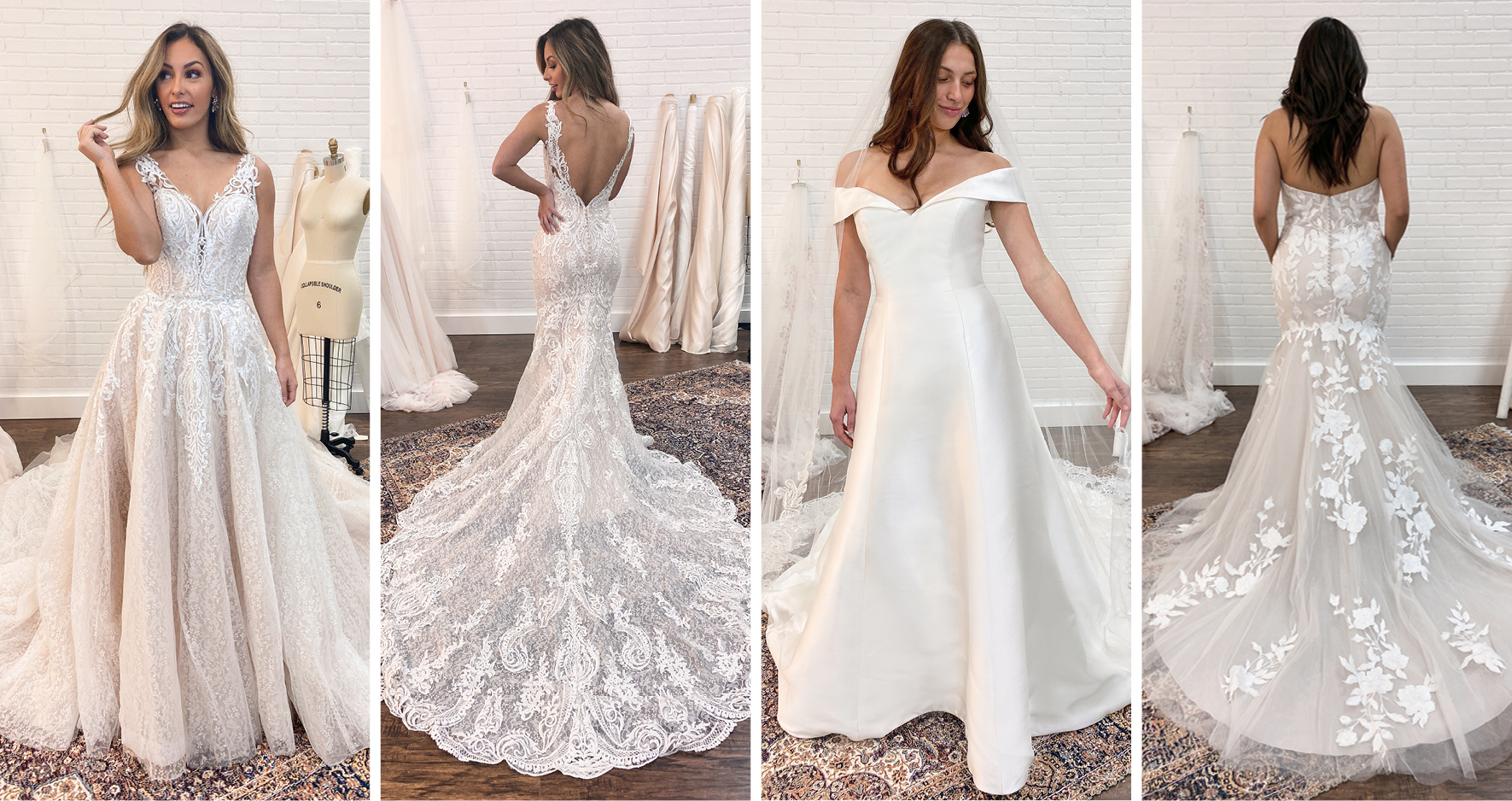 Ok, so you've found your dream bridal gown. Now, between placing your order and walking down the aisle, you'll need 1-3 fitting appointments to make "the one" feel like a truly personalized work of bridal perfection. From accessories to customizations and bridal veils to bustles, here's everything you need to know to have a successful first wedding dress fitting, alterations process, and styling plan. Keep scrolling!
1. Remember that wedding dress delivery takes time.
Like many moving parts of your wedding planning, your wedding dress fitting is all about timing. Here are some timeline fundamentals to keep everything on track:
Wedding dress delivery typically takes 4-5 months, so you'll want to order in time to have your first wedding gown fitting at least 6-8 weeks before the wedding.
Because wedding dress deliveries takes time, remember that your mindset and emotions can shift during the interim between shopping and fittings. More on this as we go along, but remember that it helps to be patient, calm, and mindful of these periods of anticipation.
Be open to scheduling more than one wedding dress fitting, especially if you are making major alterations to your dress and accessories.
Remember that weight can change over time, but be patient and realistic about how much that will affect a wedding dress alteration.
2. Do your hair and makeup similar to how you would on your wedding day.
You don't need to book a professional HAMU artist for your first wedding dress fitting, but it certainly helps to prep a beauty look that's similar to your vision for the big day. Here are some tips:
Give yourself time before your bridal appointment to moisturize your face, apply a basic contour, fill in your brows, brighten your lips, and define your eyes. Even if you don't create the exact same makeup look on your wedding day, this will help you feel primped, polished, and confident.
One makeup item you may want to avoid applying is a statement lip or dramatic eye, as it can easily rub off or stain your wedding dress as you get dressed and undressed.
Wash your hair the day before your fitting, and style it up or down depending on your bridal vision.
3. Bring some of your wedding accessories and jewelry.
If you have key pieces like an heirloom bridal veil or splurge-worthy tiara, be sure to include them in your first wedding dress fitting appointment to help map out your final look. Here are the basic bring-alongs to consider:
If you haven't decided on your exact bridal shoes, bring a pair with the same height to what you'd like to wear on your wedding day.
You don't have to have your "real" jewelry on hand, but it helps to know which statement pieces you'll be working with, e.g., long chandelier earrings, gloves, a necklace, or a flower crown. At the very least, bring similar items to help curate your look.
Bring your bridal veil or browse options at your boutique. Whether or not you'll be wearing a veil (not to mention its length and style) can play a big role in fittings and alterations.
4. Bring the wedding shoes you're going to wear on your wedding day.
A big part of wedding gown alterations is length adjustment, which in turn depends on your shoe height and hemline preferences. Here are a few factors that might influence your footwear:
Opt for a shoe height and length combo that allows your hemline to lightly graze the ground. Too short and it will cheapen the look of the wedding gown; too long and you'll be tripping over it all night.
Since your wedding gown hemline is adjusted for shoe height, you want to choose a pair that's comfortable for both ceremony and reception. If you plan to switch from heels to flats over the evening, your hemline will likely be too long.
Familiarize yourself with the fit and feel of your wedding gown's bustle. This plays a big factor in the length, sweep, and hemline of your final wedding dress look.
5. Wear correct undergarments for the style of your wedding dress.
If a successful wedding dress fitting depends on one thing, it's the power of undergarments. Be sure to bring the exact pieces that you'll be wearing on your wedding day to all your fitting and alteration appointments. This ensures the best fit, tailoring, and overall comfort factor for your final look. Proper undergarments may include:
Shapewear that complements design elements like a plunging neckline, low back, skirt slit, or illusion fabric.
A bra that properly supports your bust while complementing your wedding gown's bodice.
A slip or petticoat to add fullness to your skirt.
Design elements already featured in your wedding dress, such as built-in shapewear, bra cups, a corset back, or smooth jersey lining.
If you need a little more direction on what undergarments you should wear, check out our blog: How to Choose the Right Wedding Undergarments for Your Wedding Dress.
6. Bring your MOH and a close family member to the bridal appointment.
Your first wedding dress fitting appointment isn't typically an occasion for the whole bridal party; your MOH and a close friend or relative are really the only guests you need to make it fun and productive.
Choose two guests who will give you honest feedback about your shopping and alterations process, but who will always stay sweet and supportive of your big-picture vision. Here are a few ways your two guests can help with that first fitting appointment:
Take lots of photos.
Browse and test out accessories.
Give honest feedback about proposed customizations.
Keep you within budget.
Reassure you if you're anxious about your decisions.
For more tips and etiquette for your Maid of Honor, check out our shopping guide in the link!
7. Have an open mind about the fit of your wedding dress.
As you step into your gown for your first wedding dress fitting, don't be surprised if it feels different than when you tried on gowns for your shopping appointment. After all, some time has passed, you're in a different stage of your wedding planning, and (most importantly) this is the first time you're getting to see "the one" IRL.
Remember, the first version of your wedding dress was likely an in-store sample (which may have even been in a different size, colorway, and style variation), so it might take a moment to adjust to the actual real-life wedding gown you'll be wearing down the aisle.
As you get reacquainted with your fresh-from-the-box gown, your bridal stylist will likely begin to ask you about the most important part of the wedding dress alteration process: the way it actually contours to your body. Here are a few variables to discuss:
Though you've ordered based on your measurements and clothing size, this is only the beginning of the wedding dress fitting process. The actual shape and features of your wedding gown become much more tailored as you go along.
Fittings typically take 1-3 appointments, so it's important to schedule and communicate all expectations accordingly.
When it comes to creating a flattering and personalized fit, your bridal stylist and alterations specialists are your BFFs. Trust them to give you the care and expertise you need.
Talk about how sexy, unique, or classic you want your wedding dress to look after fittings and alterations. This will help you and your specialists determine what is both practical and possible for your budget and timeline.
Be realistic about your weight and measurements for your wedding day.
8. Think about the different ways you'll be moving on your wedding day.
To make the most of your wedding dress alteration and fitting process, try out some different postures and movements to optimize fit, comfort, and structure:
Walk around the room and up and down some stairs. This makes sure you like your heel height and hemline.
Sit down. See if you feel comfortable and that your gown and undergarments stay in place.
Slouch your shoulders to see how this changes the look of your wedding gown's bodice. (You won't maintain perfect posture all day.)
Dance around to test out the stretch and flexibility of your wedding dress for your reception.
Consider how your wedding gown's fabric will feel based on the temperature of your wedding day, and whether you'll be spending most of it outside or inside.
Test out your bathroom plan.
Take the wedding dress off so you understand how to untie, unclasp, readjust, and get dressed again.
9. If you're second-guessing your choice of wedding gown, don't panic.
Ok, so planning a wedding is complicated. And if you've got ambitious plans and an overactive imagination, it's totally normal to feel anxious about your planning decisions as the big day gets closer. If your first wedding dress fitting leaves you stuck on your choice of wedding gown, take a moment to breathe and reassess. Here are a few ways to move forward:
It's common for brides to doubt their choice of wedding dress simply because they kept browsing after they placed their order. Ask yourself if you've changed your mind because you truly don't like the gown you bought, OR simply because you're overwhelmed with other options.
Think back to why you chose that wedding dress in the first place. It probably made you feel elegant and comfortable. But since you're, like, a beautiful and complex and multi-faceted person with a unique and ever-evolving personality!!! it's possible that that part of you has shifted a little in the weeks since that first appointment. Allow yourself to be that cool and complicated bride-to-be, but also clear your mind and try to refocus a little before you completely dismiss your initial decision.
Remember that you chose your wedding dress based on more than just looks; there's also budget, timing, venue, weather conditions, and delivery to consider. Does reminding yourself about these factors help to reaffirm your decision?
If you're still stuck, ask your bridal consultant about the agreement you signed to see what flexibility you have for exchange, payment, or resale of your chosen wedding gown. Be kind and courteous to your stylists, discuss your options, and remember to honor any and all parameters of your contract!
Excited for this next big step in your wedding dress shopping journey? We certainly are! Follow our tips for prepping, adjusting, discussing gown options, and working with your local bridal boutique. With these tips, we promise your first wedding dress fitting is sure to be a smashing success.
And if you haven't started your wedding dress shopping yet, find one of our Authorized Retailers with our Store Locator. Best wishes for your best day ever!