Real Weddings
|
January 13, 2021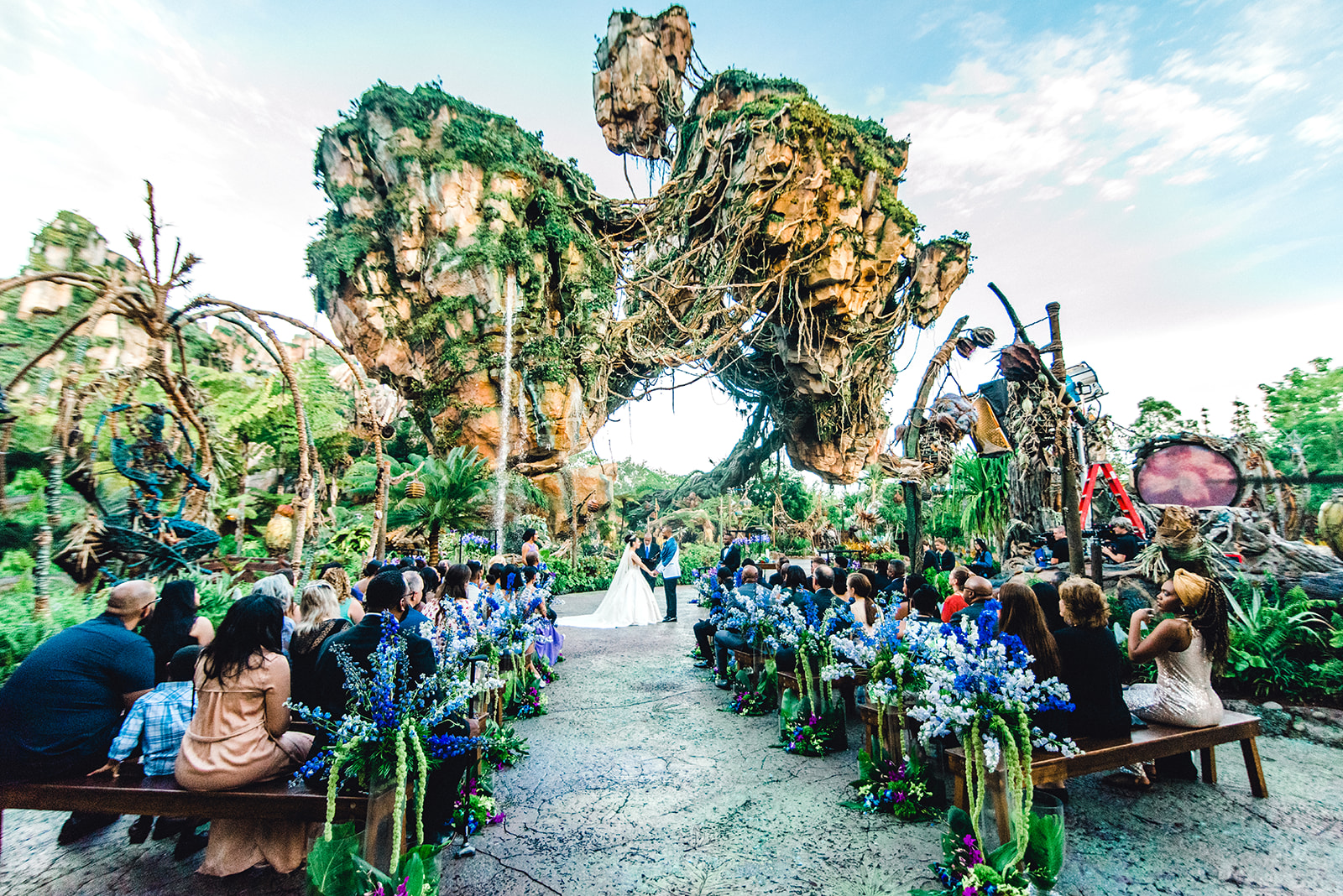 We're heart-eyeing this wedding at Disney's Pandora the World of Avatar. Yes, you heard us right! Our #MaggieBride, Patrice, and her sweetheart, Dontrell, were the first couple to get married in Pandora and were also featured on Disney Plus! Their fairytale wedding featured a ceremony at Pandora the World of Avatar, a brunch at Tiffin's in the Animal Kingdom, a photo session at the Contemporary, an evening reception at Disney's Grand Floridian Resort, and a dessert party during Magic Kingdom's Happily Ever After Fireworks. So if you love all things fairy tale and have a soft spot for Disney, scroll on!
A Tennis Match in High School
Dontrell and I went to the same high school. I left my sophomore year to go to college full time but was still able to participate in school activities. When senior prom came around, I started looking for a date. One day, my friends asked me who I wanted to go with. I mentioned Dontrell's name. After that, I left to go to the bathroom, and when I came back, they were laughing and said they had sent him a Facebook message.
The message said, "You should come watch me play tennis sometime." I was sick to my stomach because I was "in the books" and not very popular in school. I thought he was going to think I was weird for sending him a random Facebook message. Surprisingly, he messaged me back ten minutes later and told me that his sister was on the team as well so he would be at the match. The rest is history!
Finding the Perfect Wedding Dress: A Princess-inspired Ball Gown
PC: That First Moment Photography
I went wedding dress shopping at MiMi's Bridal in Ann Arbor Michigan. It was an amazing experience. They helped me from start to finish—from my veil to my gown. Before the appointment, they sent me a link to look at different wedding dresses. I remember seeing Mylene by Maggie Sottero, a princess-inspired ball gown featuring a beaded bodice and voluminous satin skirt. When I got to the boutique, I couldn't wait to try it on!
I wanted a classic and modern princess bridal look. Mylene was the first wedding dress I tried on, and every gown after, I compared to the first dress. I especially liked the modern touch of the satin ball gown skirt. I felt like it nailed my fairytale wedding vision.
A Ball Gown Wedding Dress with a Modern Touch
The thing I loved most about my wedding dress was the pockets! I could carry stuff around with me like my cell phone, lip gloss, and tissues. It was like having a purse without the hassle of having to carry one around all day. It also made for modern, edgy photos! Mylene by Maggie Sottero truly was a dazzling centerpiece for my ceremony and fairytale wedding!
A Princess-inspired Wedding Updo
I wanted a wedding updo since our wedding was in Florida during the summer. I also knew I wanted to go for major princess vibes, so the crown was a must. Luckily, I found the perfect crown that went with the beading in my dress! I also liked that the bottom of my wedding dress was simple, so I could wear the over-the-top crown and matching earrings.
Fairytale Wedding Inspiration
I've always wanted a fairytale wedding. Dontrell and I are annual pass holders, so we had vacationed a lot at Disney before he moved to Orlando for law school. I also wanted my family to experience the Disney magic on my special day.
My overall wedding theme was a "Magical Disney Week." We had my bachelorette party the week of my wedding at Epcot where we ate/drank around the world. It happened to fall on my birthday and was so special.
The Friday of our wedding week, we had our fairytale wedding ceremony in Pandora, which featured a stunning backdrop, vibrant florals, and an Avatar-inspired wedding cake. Then on Saturday, everyone hit the parks! Sunday was our farewell brunch at Boma: The Flavors of Africa at Disney's Animal Kingdom. Overall, it was a truly magical week!
Inspiration Behind Our Wedding Party's Attire
I knew I wanted purple tones to be part of my wedding party's attire. My mom and bridesmaids wore purple, which I thought was a great nod to my parents' wedding (which also featured purple), as they were celebrating 27 years of marriage that week. And the groomsmen wore classic black tuxes to keep that modern, edgy vibe.
A Magical Reception at the Grand Floridian
Our wedding reception took place Friday evening at Disney's Grand Floridian Resort & Spa, and the reception theme was: "the Magic of Disney." The tables represented different rides and each had a lantern that showed the specific ride. The escort cards were old school fast passes, and each menu was customized to that ride. For example, the festival of the lion king said "Jambo" on the top and welcomed guests to the ride.
Our bridal party came in to the song, "All the Stars" from Black Panther and made the Wakanda pose as they waited for us to make our grand entrance. It was such a fun moment!
Our buffet featured food we love from around the parks. The party favors were Mickey Rice Krispy treats and Disney cookie cutters. It was such an amazing reception, and everyone danced the night away until the clock stroke Midnight!
A Dessert Party Featuring the Happily Ever After Firework Show
After the reception, we had a dessert party at the Grand Floridian with all of our guests. Our view looked directly at the Cinderella Castle in the Magic Kingdom where we watched the Happily Ever After Firework Show.
Afterwards, we enjoyed Mickey Ice Cream Bars and Dontrell's and my favorite dessert, Zebra Dome from Animal Kingdom Lodge. We also had Buffalo Chicken Spring Rolls from Adventureland in the Magic Kingdom.
My Favorite Wedding Day Moment
My favorite moment from my wedding day was walking down the aisle to see Dontrell along with our friends and family. Seeing them all in my favorite place in the world is something I will never forget!
Wedding Day Tips for Brides-to-Be
My biggest tip for bride-to-be is to live in the moment! As brides, we plan for this day and dream big. Keeping this in mind, my other advice for brides is to not stress out on the day of your wedding. Take everything in and enjoy your dream come true with the one you love!
I'd like to thank our two extremely talented photographers for capturing our perfect day. That First Moment Photography showcased the magic of our wedding ceremony in Pandora, while Everlasting Photography captured the fun vibe of our reception and Dessert Party. They were both a joy to work with!
There you have it! You can't beat the thrill, magic, and all-around fabulousness of this fairytale wedding at Disney's Pandora The World of Avatar. Watch more of their wedding on Disney's Fairytale Weddings on Disney Plus, episode 4, "A Pandoran Wedding." And for more princess-inspired #wedspo, visit our Pinterest page. and our ball gown wedding dresses on our blog. Cheers!
More real weddings:
Beauty and the Beast Themed Wedding Featuring a Princess Wedding Dress
Spring Wedding Featuring a Donut Truck and a Lace Ball Gown Wedding Dress