Real Weddings
|
February 18, 2021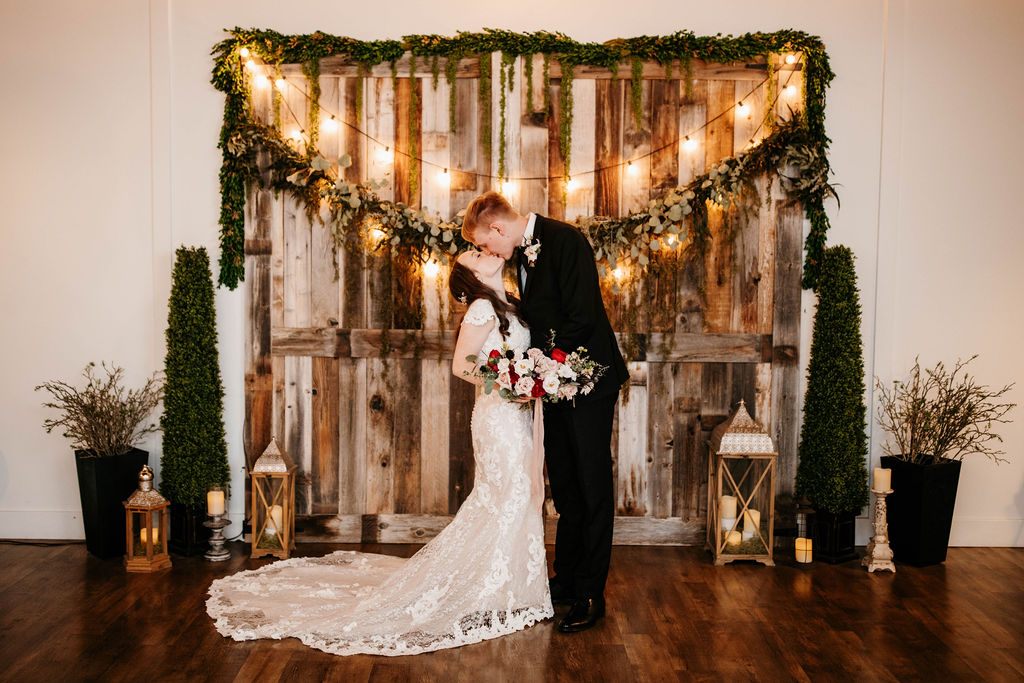 There truly are few things more swoon worthy than wintery nuptials set in the mountains of Utah. For your viewing pleasure, we present this rustic-chic celebration captured by Jessa E Photos, featuring chic details, cozy accents, and a romantic lace wedding dress. Keep scrolling for some seriously gorgeous rustic winter wedding inspiration!
From Friendship to Love
Our love story was more than six years in the making. Nathan and I met in our high school sophomore English class. During senior year, we became close friends. Right after high school, we went on a few dates but decided to just stay friends since we didn't really see it going anywhere. Despite going to separate universities, we stayed in contact over the years, and every few months, we would go out to dinner on "friend dates."
After a couple of years, Nathan told me he was interested in dating me. We went on a few more dates, but I was convinced I only saw him as a friend. We decided to stop hanging out for almost a year but ended up reconnecting towards the end of 2019 after I had graduated and moved to Salt Lake City to start a new job.
After we had hung out for a month, I realized there were so many things I loved about him and that he treated me far better than anyone else ever had. We had also both grown during those months apart and felt like different people.
One night, he took me on a date in Salt Lake and ended up kissing me at the end. That was when I realized I had feelings for him. We dated for a year after and then got married. Our love story was like finding my soulmate in one of my best friends!
Planning a Wedding During COVID-19
We were going to wait until summer 2021 to get married. But when it became apparent that COVID wasn't going anywhere, we decided to tie the knot in January with a rustic winter wedding.
It was sad but also was nice to have to cut down our guest list to only family and close friends. We did, however, do Facebook Live for parts of the reception like our first dance, cake cutting, bouquet toss, etc. so more of our friends could join in.
To make wearing masks fun, we had the wedding party wear personalized masks from Etsy with everyone's titles on them, (e.g., Mother of the Bride, Bridesmaid, Groomsman, etc.). They turned out to be a hit!
Wedding Dress Shopping and Finding "The One"
I'm usually pretty indecisive when it comes to making decisions, but I didn't have to overthink anything when I tried on my wedding dress, Tuscany Leigh by Maggie Sottero. The modest cap-sleeve bridal gown fit my rustic winter wedding vibe, budget, and overall personality. And I loved the lace motifs and shimmery blush undertones.
I didn't have a big reaction or tear up when I tried on my wedding gown, which made me wonder if I had really found "the one." When I tried on some of the other dresses, however, I knew they didn't feel as right as Tuscany Leigh.
Finally, I decided to go with my gut and buy the dress. I didn't need to overthink my decision because the dress just made sense to me! I talk more about my experience in the blog post: How to Know If a Wedding Dress is "The One".
There were so many things I loved about my wedding dress. But I especially loved how the oversized ivory motifs cascaded over a layer of shimmery, blush tulle. I also loved how the gown's off-white color stood out against the snow.
I'm only 4″11, so I liked that the bodice elongated my torso while the fit-and-flare silhouette flattered my curves. And the hidden boning along the inside of the bodice added structure to my mid-section, so I didn't have to worry about looking scrunched up. The dress was also super comfy to walk and dance in. At the end of the night, I didn't want to take it off!
The Inspiration Behind My Hair and Makeup
I wanted to still feel like myself on my wedding day, so I went with a natural yet romantic look for my HAMU. My makeup artist, Kennedy of @ken_kar_beauty, was so amazing to work with. She helped me create the perfect look with shimmery pink eye shadow and light blush lipstick.
I ended up doing my own hair for my rustic winter wedding because I wanted a simple look. For my ceremony and pictures, I wore romantic curls with my veil. And for my reception, I changed things up with a rose-gold bridal vine.
Rustic Winter Wedding Accessories and Bridal Boots
My and Nathan's wedding rings are rose gold, so I ordered rose gold earrings from Etsy to match them. The tear-drop earrings went perfectly with my hair and provided a chic and romantic contrast to my dress. And I got so many compliments on them!
Because I needed bridal shoes that would work in the snow and not break the bank, I wore a pair of cute ankle boots I already owned. The block heels made it easy to walk through the snow, gave me some height, matched my rustic winter wedding vibe, and were actually super comfy!
Originally, I wasn't planning to wear a fur wrap with my wedding dress because I wasn't sure I'd be able to pull off the look. A few weeks before the wedding, however, I ordered one just in case, and I'm so glad I did! I got so many compliments on it, and it actually ended up saving my arms during winter bridal shoots!
A Romantic Wedding Bouquet
My florist, Braiden, owner of Ivie Floral Co., was a dream to work with! I had a general idea of what I wanted for my bridal bouquet, and Braiden took care of the rest!
She created the most beautiful bridal bouquet, featuring romantic quicksand roses, blush larkspur, burgundy scabiosa, white ranunculus, burgundy bleached fern, and spiral and silver dollar eucalyptus. I could not take my eyes off it, and got so many compliments!
For the bridesmaid bouquets, Braiden included blush and white roses with silver dollar eucalyptus to contrast the darker hues of my florals. Then, she paired the bouquets with textured ribbon, while the bridesmaids' featured a berry hue and mine a soft blush.
Wedding Party Attire for a Rustic Winter Wedding
We went with a classy vibe for the fathers, groom, and groomsmen attire. They sported black suits with black ties and bow ties, along with blush and eucalyptus boutonnieres. Nathan's boutonniere also featured blush larkspur and fern.
The bridesmaids were my two younger sisters, my best friend, and my youngest sister-in-law. They wore modest flutter sleeve maxi dresses in berry tones to match the roses in my bouquet.
The mothers of the bride and groom wore blush maxi dresses to contrast the bridesmaids' gown with rose and eucalyptus corsages, while the rest of our siblings and family wore dark grey suits and sage green dresses.
A Rustic Winter Wedding Venue
We hosted our ring ceremony, wedding luncheon, and reception at a rustic winter wedding venue called Cottage Charm Venue in Sandy, Utah. It was there that our rustic chic theme really came together. The open, airy space was both earthy and modern.
At the center, two rustic barn doors stood as a backdrop, draped in greenery and delicate, globe-shaped bulbs. Scattered potted plants and rich, wooden lanterns added a rustic charm.
The venue also featured distressed wood walls, black brick backdrops, chic furniture, and cute signage to create a modern yet cozy, wintery feel. We put pictures of our bridals and engagements around the venue in wooden frames and hung photos of us with clothespins and twine to create a chic and casual vibe.
Rustic-Chic Wedding Details
Our rustic-winter wedding details featured a lot of chic accents, from a metal birdcage surrounded with greenery to hanging globe string lights and white farm tables topped with wood centerpieces, thick candles, and textured cheesecloth table runners.
Our florist placed small bud vases filled with flowers on the sign-in table and around the venue to tie in my wedding colors with the rest of the rustic décor. And stand lamps and earthy accents helped to create a boho-chic feel.
Because of COVID regulations, the desserts and beverages had to be individually packaged to keep guests safe. So, we decided to serve individually boxed cupcakes (prepared by our amazing baker), gourmet popcorn bags, and a hot cocoa bar featuring chocolate packets and hot water for guests to make their own hot chocolate. And for added safety measures, we put hand sanitizer bottles on the dessert table and around the venue.
Semi-Naked Buttercream Chocolate Drip Wedding Cake
Our wedding cake baker, Rachel of Cakes by Rach, was so easy to work with! She made us a wintery, rustic-inspired wedding cake topped with black berries and pomegranate seeds. The semi-naked cake paired with chocolate drip, earthy florals, and a wood slice really tied our rustic winter wedding theme together.
The flavor of our wedding cake was chocolate with raspberry filling and buttercream frosting. The buttercream, chocolate, and raspberry created the perfect combination of flavors, and it was all gluten free! It was the best gluten-free cake I had ever tasted. I couldn't get enough!
Choreographed Father-Daughter Dance and First Dance
My family has always loved musical theater and choir. My dad wanted to do something unique for our father-daughter dance, so he picked a song from the musical, Aspects of Love, where a father tells his daughter he wants to always be the first man she remembers.
A few weeks before the wedding, my dad and I came up with the choreography. He lives in Atlanta, Georgia, so we practiced a lot over FaceTime, which was a bit difficult but also hilarious. I will never forget performing that special father-daughter dance with my dad. We both got choked up during it, and our guests loved it!
Inspired by my dad's idea, Nathan and I also decided to choreograph and sing our first dance. We chose the song, "Lucky" by Colbie Caillat and Jason Mraz because it talks about being in love with your best friend, which describes our relationship perfectly. Nathan and I were in choir together in high school, so it was a blast to be able to sing together again.
The song was a last-minute decision, so we rehearsed for hours the days leading up to wedding. We were both a little nervous beforehand, but when it came time to perform in front of our guests, it felt so natural and fun. Dancing and singing with Nathan is a memory I will never forget from my wedding day.
My Favorite Moments from Our Wedding Day
My favorite part of the day was our wedding ceremony. The moment the officiator pronounced us husband and wife, I was overcome with emotion. It felt surreal to finally be married to the love of my life and be able to call him my husband!
Another favorite moment of mine was when our parents gave speeches at the luncheon. Their speeches were so touching, and my mom even sang a song to me at the end of her speech, which meant so much to me.
Another one of my favorite memories from the day was when we were able to dance with our family and friends during our reception. We stayed socially distanced, but it was still a blast.
I will never forget looking around at our friends and family as they laughed and danced. That carefree happiness was something I hadn't seen in a while because of COVID, and it felt amazing to experience it with my loved ones on my wedding day.
At the end of our reception, we had a sparkler send off. It was so special to be able to see our guests cheering us on as we ran out of the venue. And our amazing photographer, Jessa, captured all of these beautiful moments for us.
She is so talented, knows what she is doing, and really took care of us throughout the whole day. She was also super funny and made us feel completely comfortable and confident while taking photos, which made a huge difference!
Tips for Brides Getting Married During COVID-19
My advice for brides getting married during COVID is to realize that you can still have the wedding you've always wanted—it will just look a little different. Focus on the most important things you want for your big day, and don't stress about the rest! It's difficult to do in the moment, but the only things you will remember down the road are the moments you shared with your partner and loved ones.
To future brides deciding whether to wait until coronavirus is over to get married or to get married now, I say don't wait! While only you can decide when to get married, don't put your life on hold because of the virus. You and your partner will get to make your wedding day what you choose.
My last piece of advice is that when your wedding day is over, don't view it as if the best day of your life is now behind you. Instead, view your wedding day as the day you and your S.O. began your new adventure together. There will be even more amazing days to come!
We feel so honored to have been a part of Maddy and Nathan's wedding day. And we hope you've enjoyed this rustic winter wedding inspo! To see more real brides and their stories, visit our Real Brides page. And to submit your own wedding photos, visit our review page. (Psst—we love featuring brides on our social media!) Cheers!
Vendor Credits:
Photographer: @jessaephotos
Makeup: @ken_kar_beauty
Wedding Dress: Maggie Sottero
Flowers: @iviefloralco
Cake: @cakes_by_rach686
Venue: @cottage.charm_venue
Related Blog Posts:
Winter Wedding Ideas and Details for a Super Chic Celebration
7 Winter Wedding Color Palettes for an Elegant Celebration