Real Weddings
|
May 25, 2020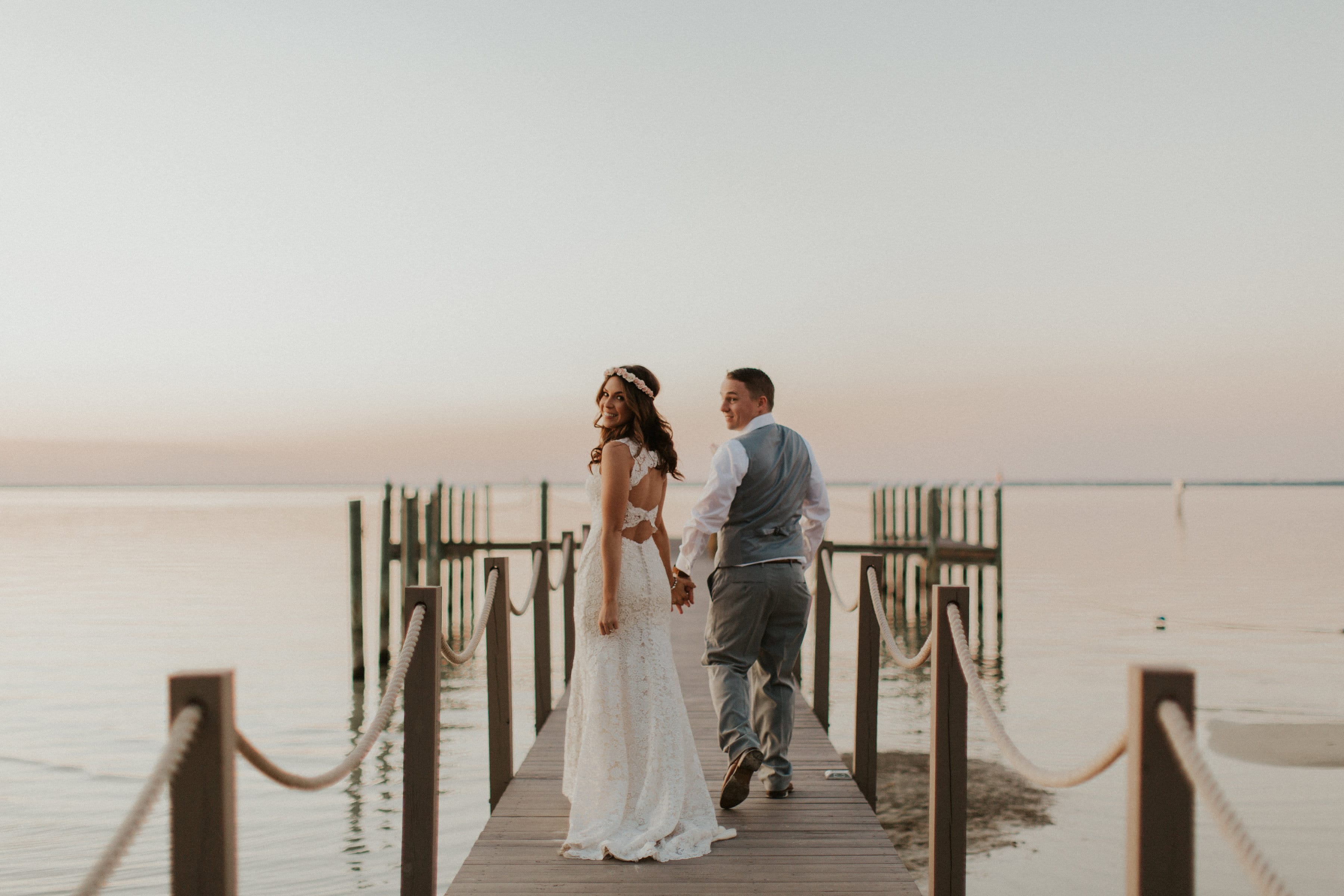 One of our favorite pieces of advice for wedding dress shopping is to keep an open mind. Case in point? This boho bride fell in love with an unexpected wedding dress, Hope by Rebecca Ingram. It was a little more formfitting than the bride was looking for but absolutely perfect in the end! Keep scrolling for the complete look (venue, flowers, and all). Then head to an Authorized Retailer to find your own dream gown!
This gorgeous occasion was shot by 📷 Sarah and Paul Photography. Submit your own real wedding gallery in link!
Tell us a little about you and your sweetheart. How did you two meet?
I met Drew through one of my very best friends, Sarah. She was the office manager of Drew's office in Biloxi, MS. It was Sarah's birthday dinner, and she said she invited her boss to dinner. Little did I know I'd end up marrying him three years later!
What was the moment you knew you had fallen in love?
I dropped him off to go hang out with some friends and when he was crossing the road he held his hands up and signed "I love you." In that moment, I knew I loved him too. It took me a minute to press the gas and keep going after that!
How did he propose?
He proposed on Christmas Eve. Since we had moved to Minnesota, we went to Mississippi to visit my family for Christmas. He had snuck the ring in the bottom of my stocking. He got me so good!
What was the first thing you checked off your wedding-planning list?
The first thing I checked off my wedding to-do list was our venue—Destin Bay House. I planned my wedding from Indiana and had it in Destin, Florida. Somehow I was able to accomplish this without seeing venues in person, tasting food, tasting cake, or seeing flowers. It all just worked out perfectly.
When you started shopping for wedding dresses, what did you have in mind?
I went in looking for an A-line wedding dress. A lady named Deb picked Hope by Rebecca Ingram and got me to try it on. I was very reluctant to do this because I didn't want something too formfitting. But Deb knew what she was doing.
It was an unexpected wedding dress choice for me, featuring Allover lace, a fit-and-flare silhouette, and a double key-hole back. But when I tried it on, I cried and fell in love with it. I purchased the gorgeous affordable wedding gown at Stephenson's of Elkhart bridal shop.
Who did you invite to help you shop for wedding dresses?
My two sisters flew to Indiana and took me wedding dress shopping. It was so fun to be able to spend that time with them. They were my number one supporters!
Speaking of pretty dresses, tell us about any gown you've worn or admired in your life.
Down in the South, we have Mardi Gras Balls. I remember I went to a thrift shop and found this black gown from the 70's that was so timeless and gorgeous still. It fit me perfectly. I loved that dress.
How did you create the look and feel of your wedding?
I'm a mismatched girl, so I knew every centerpiece would be different. I'm also a bourbon girl, so I took that and painted bourbon bottles and then went thrift shopping for vases. It couldn't have turned out better—it was so romantic, just like I imagined.
What were some favorite moments from your wedding day?
There were so many amazing moments from my wedding day. The funniest moment was when Drew did the "Teach Me How to Dougie" dance. We were all dying laughing. It was epic. The most surprising part was how fast time flew by. In fact, I wish I was still in that reception dancing! And the most magical moment was the outcome of our wedding venue. Destin Bay House did a spectacular job. Magical isn't even a word to describe it—it was beyond magical!
What do you think your guests loved most about your wedding day?
Our wedding was full of love, laughter, and dancing. We had a lot of people tell us they were so in love with our vows and even some people said they were going to take our vows and work them into their marriage now. It was so sweet. From what we were told, there wasn't a dry eye in the house.
What advice do you have for brides tackling their wedding budget?
Shop around! Flowers especially are very expensive and take up a huge part of the budget. But if you're willing to do some of the work yourself, you can save a lot on your wedding budget. Also, Maggie Sottero has a whole line of affordable designer wedding dresses by Rebecca Ingram. For us brides on a budget, I'd recommend checking them out!
What advice do you have for brides-to-be?
Have fun, just breathe, and remember everything is going to work out no matter what. On your wedding day, don't stress if the napkins aren't right or the seating chart is off. Truth is nobody knows the difference, so just roll with it!
There you have it! We love how this boho bride fell in love with an unexpected wedding dress by Rebecca Ingram had the wedding of her dreams. Congrats to her and her sweetheart!
Feeling inspired? For more wedding inspiration, check out these related posts:
Our 10 Top Pinned Budget-Friendly Wedding Dresses by Rebecca Ingram
Gorgeous Lakeside Wedding With Country-Rustic Details and Lace Gown
Fixing to Elope? You'll Love This Intimate Ceremony at Glacier National Park