Real Weddings
Wedding Inspo
|
January 20, 2021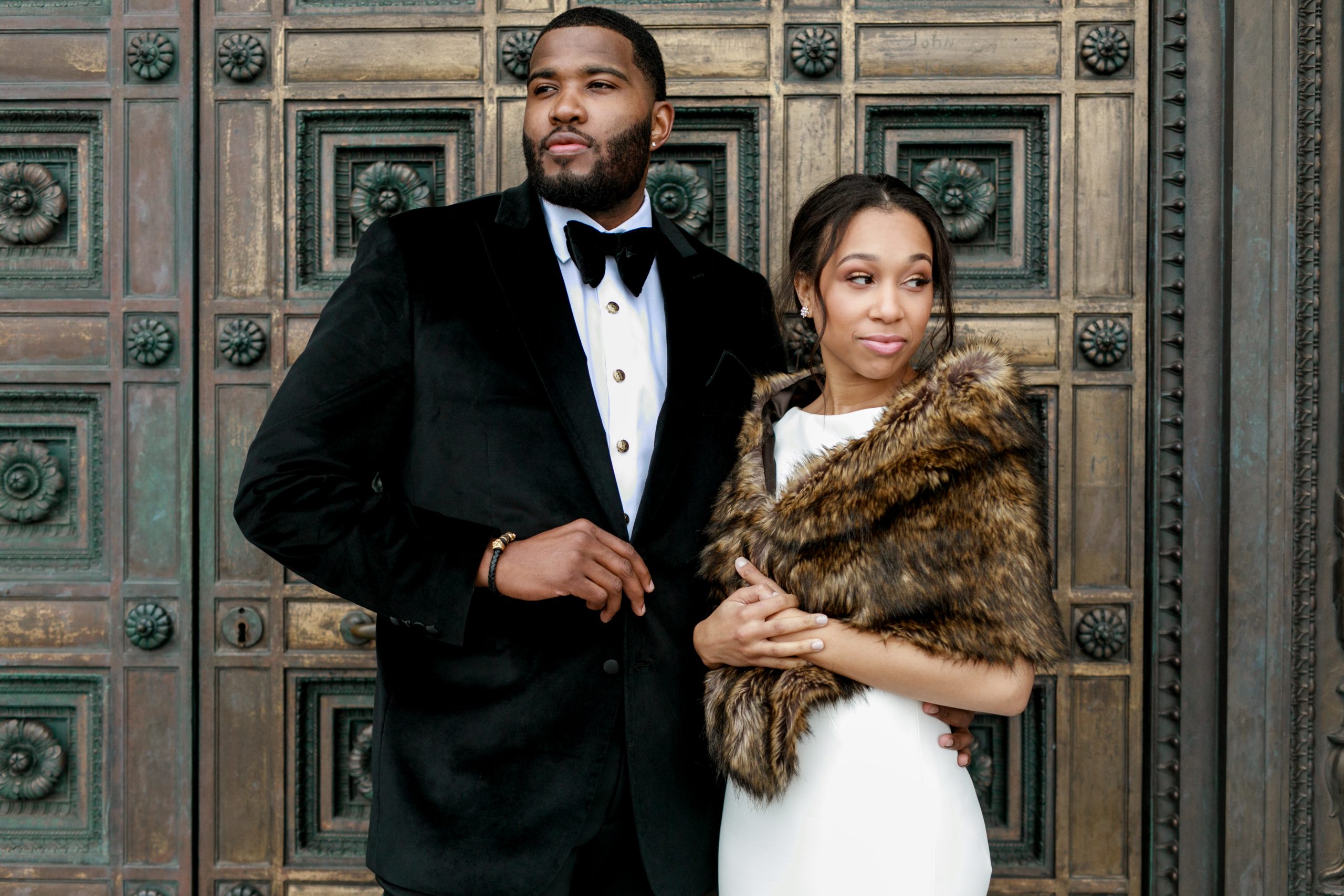 A wedding that's classy, formal, and chic—do we need to say more!? Our #MaggieBride, Meleah, married her sweetheart, Zach, at an elegant and classic wedding in downtown Canton, Ohio. Their winter chic celebration featured some of our favorite things, AKA a historic and ritzy venue, elegant details, a chic wedding dress, and an open bar. Looking for some major #wedspo? Keep scrolling . . . but try not to get too jealous!
A Surprise Proposal in Paris, France
Zach and I met in our hometown of Canton, Ohio at a local martini bar. We were actually friends for quite a while before we started dating.
On our third anniversary, Zach surprised me with plane tickets to Paris, France. He proposed on May 8, 2018 on the balcony of our suite in Paris, while a violinist played my favorite song: "Once Upon a December" from the movie, Anastasia. It was magical!
The next day, Zach took me to a pre-planned engagement photo shoot at the Eiffel tower. More magic! It was a week in paradise that I will never forget. I feel so thankful we shared that time together!
Finding "The One:" A Classy and Elegant Sheath Wedding Dress by Maggie Sottero
My wedding dress shopping experience was seamless (and fun!). I went to Abbott's Bridal in Canton, Ohio. They have such a large selection of beautiful wedding dresses. When I tried on Evangelina by Maggie Sottero, I knew I had found "the one" because of the look on my Maid of Honor (my cousin, Arianna's) face. Her eyes immediately lit up!
The classic wedding dress fit like a glove and made me feel like a queen. It was the second wedding gown I tried on, and even though I continued to try on others, each one paled in comparison.
For my wedding day, I wanted to have a very classic, clean look without sacrificing style. The detail on the back of the dress provided just the right amount of sparkle! It was like someone made it just for my personality!
A Historic and Ritzy Venue for a Classic Wedding
Since Zach and I both come from large, loving families, it was important to us to celebrate with our closest family and friends in the city where we plan on building our life.
The wedding ceremony was held at The Old Stone Chapel in downtown Canton. It was so gorgeous! And our reception was held one block away from the chapel at The Historic Onesto, which fit my classic wedding theme perfectly.
The Historic Onesto is seriously such a vibe! It spoke to my classic wedding style, and I knew I wouldn't have to go overboard with decorations because the venue was stunning in its own. I would say the overall theme of our wedding was classic elegance with winter chic details.
Classy and Formal Wedding Party Attire
The wedding party's attire matched the theme of the classic wedding, which featured formal, elegant, and winter chic vibes.
The groomsmen wore all black, while the bridesmaids wore floor length, deep burgundy gowns. Everyone looked stunning!
A Special Red Velvet Wedding Cake
The wedding cake we got to cut was small and had only two tiers for me and Zach to share. The rest of our guests ate the other cakes and desserts, which were all made with love by members of Zach's family!
Our wedding cake was made from Zach's grandmother, Mary Lou's, recipe. She was a very influential woman in Zach's life, and I had the opportunity to meet and get to know her before she passed. Her red velvet cake is Zach's favorite, and we wanted a piece of her right next to us on our special day, so we found someone who made it (almost) as perfectly as her!
An Elegant yet Fun Reception with Family and Friends
At the reception, we started with a plated dinner, catered by Robert J. Events and Catering. They were phenomenal. We heard nothing but great things about the quality of the food and the pleasant staff.
We hired DJ KOB to keep everyone on the dance floor, and he did just that. There was not a single moment when the floor wasn't packed with people! We also had an open bar the entire night, which our guests loved. Thankfully, my wedding dress was just as comfortable as it was stunning. I danced every single song!
My Favorite Wedding Day Moment
My favorite wedding day moment had to be our first dance. It was two parts. We started with a slow, romantic song called "Her" by Isaac Carree. Then we followed it with a fun song that we both love: "Already" by Beyonce, Shatta Wale, and Major Lazer.
Wedding Day Tips for Brides-to-Be
Do whatever YOU and your partner want to do! Invite who you want, wear what you want, eat what you want, etc. Opinions will fly in from all directions. And you might be tempted to honor them before your own, but don't let that happen!
Be intentional during your wedding planning about making the decisions that bring you joy!
A Sneak Peek of Our Wedding Video
Our wedding and reception were AMAZING. I know everyone says that, but my family and friends also describe it that way. We had never had a wedding like that in my family, and it meant everything to us to make it happen. It was truly an unforgettable day! We also had so much fun with our photographer, Jess Seed, and love that she captured our most special moments!
We hope you have enjoyed this formal and classic wedding at the Historic Onesto in Canton, Ohio. For more elegant and timeless wedding inspo, check out the classic wedding dresses on our Maggie Sottero Pinterest page! Cheers!
Related content:
Rustic Winter Wedding with Chic Details and a Romantic Lace Wedding Dress
9 Gorgeous Multicultural Weddings That Will Make You Swoon