Dresses
Tips and Trends
|
January 13, 2022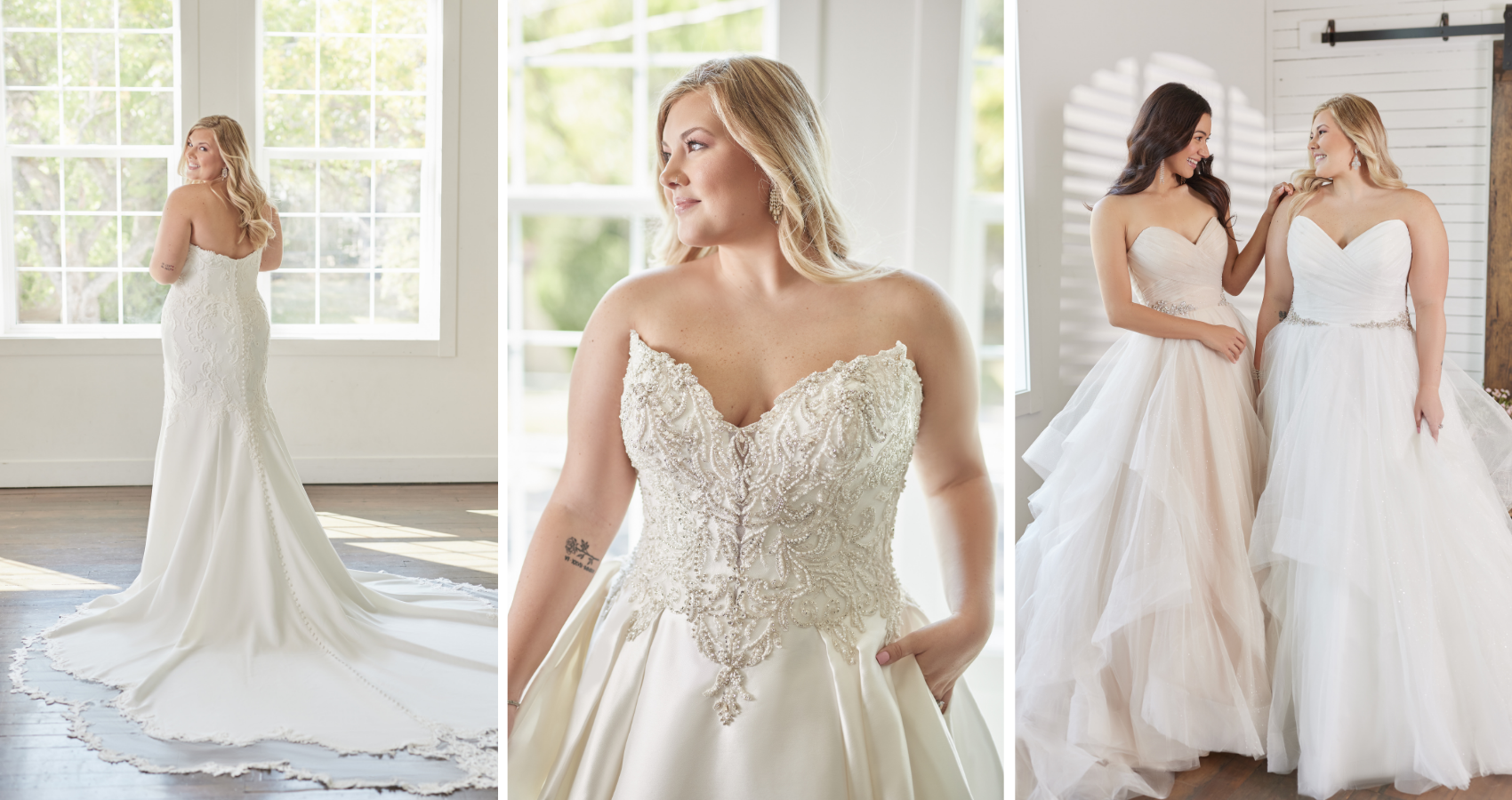 We know the last year has been a little eh, but we truly believe 2022 is going to be the best year yet! Especially since it's the year we start harnessing our inner goddesses and love the way we look. These classic wedding dresses for curvy brides are just the starting point to loving our bodies in the New Year.
There are dozens of other classic bridal gowns to choose from to feel like your best self on your wedding day, however! To find more styles like the dresses below, head over to our Style Quiz to find the dress that will have you shine from the inside out on your wedding day.
Classic Wedding Dresses: Plunging Sweetheart Neckline, Courtney by Rebecca Ingram
We love, love, love Courtney by Rebecca Ingram for a lot of reasons, but the plunging sweetheart neckline is definitely something that's caught our eye. This romantic boho A-line is stunning on all body shapes but particularly shines on our curvy brides.
The beaded Swarovski crystal belt expertly emphasizes the waist while the illusion side inserts create a shape to DIE for. The competing lace layers also add a bit of whimsy to this classic style and will release your inner forest fairy within on your wedding day.
Curvy Bridal Gowns: Johanna by Maggie Sottero with Chantilly Lace and Organza
You can't have a list of classic wedding gowns without mentioning Johanna by Maggie Sottero! Fit for royalty, this curvy wedding gown is regal, unique, and just a little bit sultry. This slinky A-line will glide over your curves while the plunging neckline will have your wedding guests awestruck throughout your big day.
To put the finishing touches on this gorgeous gown, make sure to complete it with its matching veil! With this ensemble, you'll be sure to have the spotlight on you all day.
This isn't the only one of our gowns with matching accessories though! We have dozens of veils, jewelry (wouldn't this style look perfect with a crown?!), and bridal trains and skirts to choose from!
To put it simply, Leticia Lynette by Maggie Sottero is a dream. This soft, curvy wedding dress flows over the body and highlights all your curves. Don't be fooled by the lace motifs and sequin tulle into making you think this gown is soft and sweet though. With its intricate beading, illusion back, and plunging square neckline, this gown has all the spice you could ask for in a wedding dress.
This is one of those classic wedding dresses that have all the designs of timeless gowns, but with just enough modernity to make you feel like a trendy bride throughout your wedding day. Like many of our classic wedding gowns, it also comes in a variety of colors. From ivory, to blush, to champagne, this gown will mold to any wedding day vision you can come up with.
Aptly named, Raphael Dawn by Maggie Sottero is nothing short of angelic. This classically tailored and romantic A-line wedding gown is something out of a dream in our opinion. The botanical lace and sheer organza throughout the skirt not only makes this one of our favorite classic wedding dresses but also one of our favorite curvy wedding dresses!
For our curvy girls with a bigger bust, these thick, romantic straps are a MUST. Not only will they highlight your curves in the most flattering way, but they'll keep you strapped in as you dance the night away.
If you're loving this backless gown, head over to one of our Authorized Retailers to try it on!
This vintage ball gown is exactly what we mean by classic wedding dresses! This curvaceous gown has everything a bride could dream of in a romantic and glamorous gown. With its square back and Swarovski crystals, you'll feel like the belle of the ball on your wedding day.
We love a v-neckline on a plus-size bride as well. Rather than hiding or covering your curves, it will emphasize and show off your best assets! Meryl Lynette by Maggie Sottero also sports whimsical layers of textured tulle, lace, and chic organza to truly put this gown over the top.
Honor Marie, it's an honor to meet you! Another one of our classic bridal gowns, this fairytale-esque wedding gown is made for the brides who want to feel like a princess on their big day. The sparkle tulle and dazzling embellishments will have you glowing under the disco ball and truly feel like royalty during your wedding.
We love how flattering this illusion lace top is on our curvier brides. The dreamy detail softens and highlights everything you love about your body and will have you wanting to wear this every day before your wedding day!
Not only is Tuscany Lynette by Maggie Sottero effortless but it's also glamorous, who knew those two could go together! This gorgeous sheer bodice with its textured layers is sexy as can be while the lace is as classic as it gets.
This gown also has a ton of sister styles to choose from as well! Explore our Tuscany styles to find the one that feels the most like you.
Looking for the perfect fusion of vintage romance and modern elegance? Kimora by Sottero and Midgley is the perfect ballgown for you then! With a satin skirt and Swarovski crystals covering the bodice and skirt, you'll have your wedding guests forgetting all about Disney princesses like Cinderella and Aurora. The focus will be all about you that day!
As if this dress couldn't get better, it also comes with a personalization option of off the shoulder sleeves to accent the sexy scoop neckline. Many of our other gowns come with fun personalization options as well! Explore all the options for our dresses here.
Weston by Sottero and Midgley is another one of our classic wedding dresses that we love! Who said that curvy brides can't wear a fitted gown? Mermaid gowns are actually one of our favorite silhouettes for plus size brides because how it emphasizes and shows off your curves.
Weston's chic and minimalistic style is the perfect gown for brides who are looking to make an elegant statement on their wedding day. Channeling celebrities like Audrey Hepburn and Grace Kelly, this classic bridal gown will be popular for decades.
The term "classic wedding gowns" is embodied in Mathias by Sottero and Midgley. This long sleeve keyhole back ball gown is perfect for the classic bride who still wants a unique look.
A keyhole back and sleeves are one of the most commonly seen styles in classic wedding dresses but you know what's not? 3D bouquet inspired motifs. With a romantic garden practically sewn onto your wedding gown, your gown is bound to make an impact. We also Love with a capital L sleeves on curvy brides!
Layers, sparkle, and crystals oh my! All that and more is in Yasmin by Maggie Sottero. This stylish ballgown emphasizes the waist while elongating the body through its voluminous tulle skirt and sexy sweetheart neckline.
Another one of our classic wedding dresses, wedding ballgowns have been around in bridal since the 1800's with good reason! This classic shape is ultra-flattering on every body type, and reminds brides of all shapes and sizes that they're the center of attention on their wedding day.
While bringing in a new year, make sure to also bring in a new you by embracing and loving the body you're in with these classic bridal gowns!
For more curvy bridal inspiration, explore the links below: