Dresses
Tips and Trends
|
June 4, 2020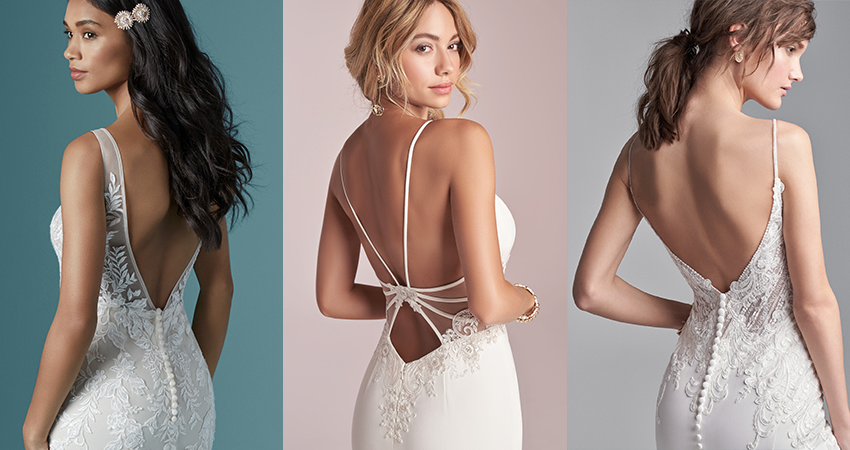 Petite ladies, we hear you. You're frequently having to hem your dresses and skirts; it's difficult to find jeans that fit your waist and booty; and it's rare you get to indulge in fabulous fashions, as they tend to feel heavy on your short stature. But when it comes to a romantic, stylish, and impeccably-tailored wedding dress designed just for your figure, we say there is no need to compromise! Need proof? Get inspired by these open back wedding dresses for petite brides.
(Psst… these petite-friendly wedding gowns are also a great choice for smaller-chested brides, as they feature variations of unique bodice detailing, plunging necklines, and waist-cinching details!)
A sleeved wedding gown is a gorgeous choice for petite brides, especially when paired with a slimming silhouette and relaxed layers. This open back bridal gown features delicate illusion sleeves, which offer romantic coverage and embellishment without adding extra bulk.
Francesca's soft sheath silhouette offers fit along the waistline and hips, while floral lace adds dimension to the sparkle tulle and illusion sleeves. And of course, a scoop back offers a romantic way to show off your figure without feeling too revealing.
For a chic and sexy statement, consider a formfitting crepe wedding dress with a V-back that skims your shoulder blades. It's a great way to draw attention to your upper frame, elongate your torso, and complement your posterior. The bodice lace extends around the back, neckline, and hips, as well as complements the petal-shaped train in delicate illusion tulle.
We're also swooning over the stretch jersey lining—an irresistible feature that feels like a dream to wear. Opt for Bracken for sexy sophistication, or choose Bracken Lynette for a tad more coverage in the neckline and back. Gorgeous!
If you have a petite frame, small bust, or both, consider an open back wedding dress that plays up your back and décolletage with ruching and shimmer.
This crepe wedding gown cinches in your waistline while adding visual interest along the collarbone and bust. And the unique illusion motifs make a chic statement in the low back. Plus, the crepe fabrication on Cody is not only ultra-comfortable to wear but is also perfect for summer weddings or beach destinations!
You would never guess it from the front, but this long-sleeved wedding dress makes a major statement with a low-low plunging back edged in delicate lace. Emliano is designed to complement a variety of body types and looks especially flattering on a petite frame and small chest.
Plus, an off-the-shoulder neckline plays up your collarbones and shoulders, while illusion sleeves elongate your arms and torso. It's a sexy and fabulous choice for brides in the 5'4"-and-under bracket!
Here's a tip for petite styling: accentuate your natural waistline to avoid looking "scrunched up" or bottom-heavy. Case in point? This lovely boho A-line wedding dress featuring a soft yet flattering break between the lace bodice and chiffon skirt.
Jolie is a great choice for showing off your petite frame. And the best part? It's entirely affordable! Browse more affordable wedding dresses by Rebecca Ingram on our website!
Planning a fabulous vintage wedding celebration? We have the perfect pair of wedding gowns to complement your stylish and romantic vision! Both Finley and Finley Dawn feature allover lace in a bold eyelet and floral motif. And each is lined with stretch jersey to smooth and enhance your petite figure.
Finley is designed for a Renaissance-inspired vibe with bell sleeves, while Finley Dawn offers a modern runway-inspired aesthetic with a streamlined, sleeveless silhouette. And of course, both gown variations feature that gorgeous V-back trend you adore. So what's not to love?
For a petite wedding dress that doesn't break the bank, consider Gabriella from our Rebecca Ingram line! This slimming A-line bridal gown features a lace bodice and heavenly chiffon skirt, which creates volume and layers without weighing you down with too much blitz or embellishment.
A flirty bow also adds visual interest to the back, while a plunging neckline elongates your torso and complements a smaller bust. It's a gorgeous choice for summer weddings, international elopements, and garden celebrations alike!
There are a lot of open back wedding dresses and a lot of style features that elongate a petite frame, but we're especially fond of how this relaxed fit-and-flare complements shorter brides with soft lace and a bust-enhancing V-neck and back. We promise you'll feel like an absolute dream in Greenley by Maggie Sottero!
Inspired by these sexy-back trends? We promise these open back wedding dresses for petite brides will show off your favorite features without overwhelming your frame.
Head to our post on low back wedding gowns, as well as our Pinterest gallery, for more on this chic and glamorous trend! And if you're looking for more dreamy bridal trends to fit your style, body type, and wedding vision, click on the link to take our Find Your Style quiz and narrow down your search. We can't wait to see which gorgeous wedding dress you fall in love with!