Dresses
|
February 11, 2023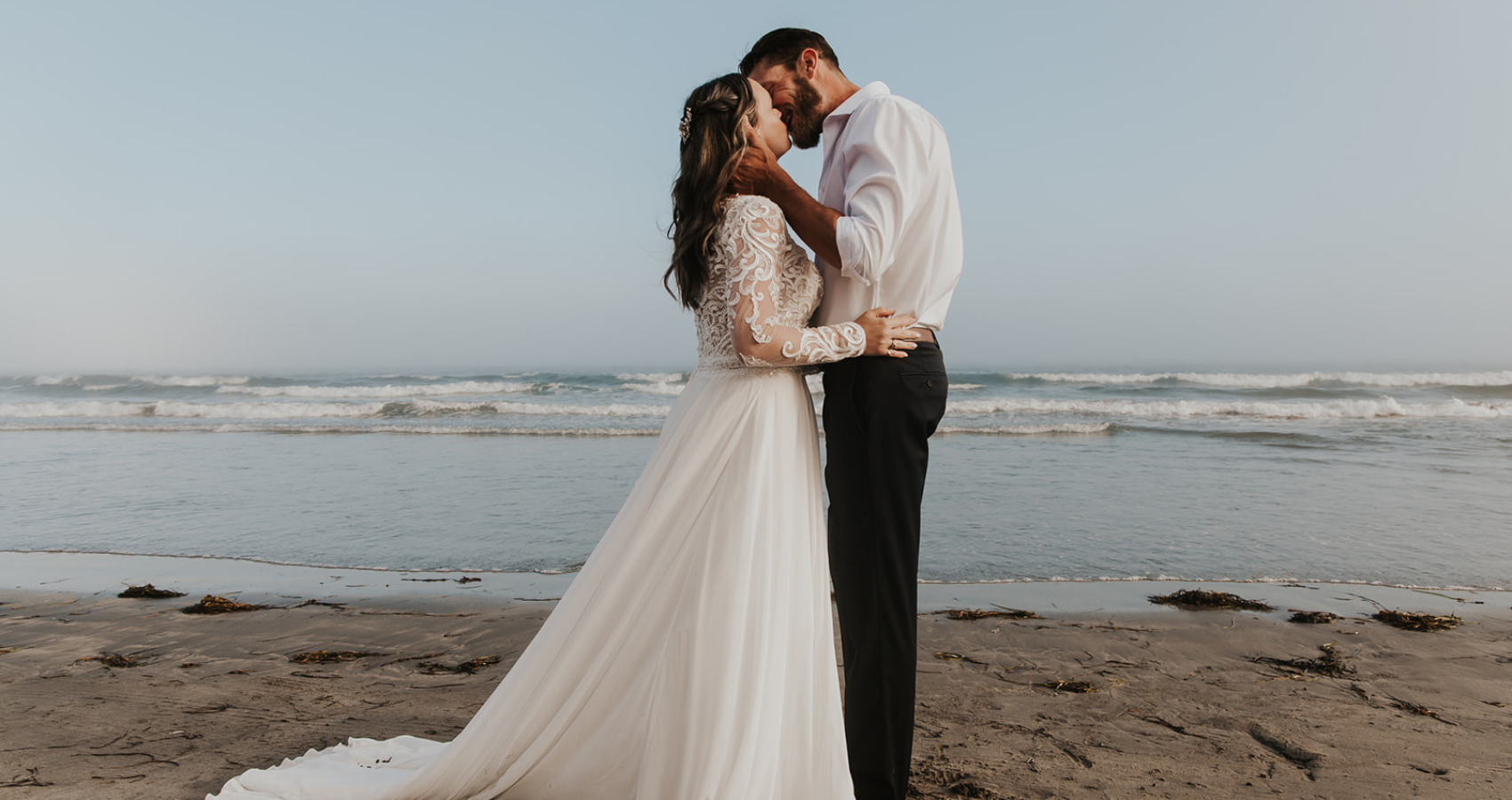 Feeling effortlessly romantic for your big day? Picturing something lovely and simple for your relaxed celebration? Ready for easy-breezy-chic vibes for your happily-ever-after? If you're a bride who prioritizes comfort and elegance over black-tie bells and whistles, this gallery of casual wedding dresses is for you!
As always, when you're ready to shop these wedding gowns IRL, book an appointment at an Authorized Retailer near you by clicking the button below!
What are Casual Wedding Dresses?
The "casual wedding dresses" category is all about easy elegance, simple fabrications, light embellishments, and soft details. These gowns are designed for lowkey celebrations — think elopements, backyard soirees, micro weddings, courthouse weddings, and "Second Looks" for receptions. If you're planning a laidback celebration, these are the trends to look for:
Flowy, relaxed fabrics instead of formal structure.
A-line and sheath silhouettes (ball gowns aren't as common in this category).
Casual fit-and-flares instead of formfitting mermaid silhouettes.
Less embellishments and flourish, more focuse on simple fabrics and lace.
Plenty of options for Affordable and Simple Casual Wedding Dresses and Quick Ship Wedding Dresses; the more effortless your style, the easier the shopping experience!
Why Would You Choose a Casual Bridal Dress?
Great question. Besides personal preference, brides typically choose casual wedding dresses for a few reasons, usually involving budget, timeline, venue, and season. These are a few variables to help you decide if these effortless styles are right for you:
Your wedding venue: Your destination elopement or micro wedding may be held in a backyard, courthouse, restaurant, or beach. Venues like these call for an easy-breezy wedding gown style.
Affordability: If you're looking to reduce wedding costs, you'll love the selection of chic and easy wedding gowns available for your budget.
Timeline: For last-minute brides and short wear dates, look to Quick Ship simple casual wedding dresses in soft silhouettes.
Personal Style: Brides who love simple wedding dresses usually gravitate towards a casual wedding dress style. Check out our minimalist fabrics, graceful silhouettes, and lowkey accessories to curate the perfect look.
Respect for tradition. You might not think it, but a simple style could be considered a sign of respect for the ceremony. This is often why brides choose white casual wedding dresses — they're beautiful, chic, and appropriate for the occasion.
Casual and Simple Wedding Dresses
Emerald by Rebecca Ingram
Our first casual wedding dress is Emerald by Rebecca Ingram, a simple silhouette with a hint of sexy. This crepe style is all about the silhouette — a long, relaxed fit-and-flare with a low back and simple lace embellishments.
And the best part? This silhouette is lined with luxe stretch jersey. It's comfortable, figure-flattering, and so easy to wear — from getting ready to all-night dancing.
To personalize Emerald, you can opt to shorten the train, add a detachable cape, or accessorize with a gorgeous bridal veil from our latest collections.
Senovia by Sottero and Midgley
Senovia by Sottero and Midgley proves "truly timeless" can be both simple and effortless. This lovely wedding gown is made with a soft, shimmery Mikado — a little bit like silk and a little like crepe, and 100% irresistible. And the chic doesn't stop there… These are just a few other features we love:
The sexy V-neckline and square back with subtle illusion trim.
The long, soft train (with option to shorten).
The gorgeous option to add the fingertip-length veil, sold separately.
Fernanda by Maggie Sottero
PC: Danielle Pilatic
Minimalism makes a stunning statement in Fernanda by Maggie Sottero, a crepe sheath bridal gown with lovely options to personalize. Here's how to make white casual wedding dresses like Fernanda completely your own:
Lace Casual Wedding Dresses
Lace is a versatile choice for any aesthetic, but lends beautifully to informal wedding dresses with boho-chic vibes.
Whitney by Rebecca Ingram
Looking for something truly unique and iconic? Fall in love with Whitney by Rebecca Ingram, a flirty casual bridal dress comprised of lace, tulle, and fluttery flourishes. We picture this making a fabulous entrance for a destination elopement, courthouse celebration, or "Second Look" for the reception dance party.
Keisha by Maggie Sottero
Love casual wedding dress trends but craving a little embellishment? Opt for beaded floral lace — subtle and bohemian, yet dreamy and feminine. Keisha by Maggie Sottero strikes this type of (undeniably exquisite) balance, from the soft beaded bodice to the lushly layered skirt.
To personalize Keisha, consider these options:
Change the sparkle tulle to plain tulle.
Remove the train for a more casual look, through special request.
Use the extra lace motifs included for minor neckline alterations or use them to adorn a custom matching bridal veil.
Winter by Maggie Sottero
For brides with laidback, nature-inspired aesthetics and a streak of whimsy, get inspired by Winter by Maggie Sottero. This lovely bohemian style features effortlessly charming details, from the relaxed A-line silhouette to the cascades of illusion and lace.
There are several ways to customize Winter, including:
Add covered buttons down the back for a vintage vibe.
Also available with a lined front bodice.
Add the detachable illusion lace long sleeves, sold separately.
Extra lace motifs included for minor neckline alterations.
Also available with modest coverage as Winter Leigh.
Affordable Casual Gowns
A clear perk of choosing a casual bridal aesthetic? Affordability! Nix the black tie and opera gloves and go for easy-breezy… These informal wedding dresses are the perfect choice for brides on a budget.
Lorraine Dawn Lynette by Rebecca Ingram
PC: Janette Dawn Photography
Featuring airy layers and soft lace embellishments, Lorraine Dawn Lynette by Rebecca Ingram proves "romantic chic" is perfectly attainable on a casual budget. This lovely sleeved bridal gown is from our Rebecca Ingram line — classic gowns at budget-friendly prices!
Lorraine Dawn Lynette also features several sister-style variations to fit your style, vision, venue, and season. 
Bethany by Rebecca Ingram
PC: Rob Zajac Photography
Casual meets Old Hollywood glamour. That's the irresistible vibe we're getting from Bethany by Rebecca Ingram, a simple yet chic wedding gown comprised of crepe, illusion, lace, and clean, graceful tailoring.
A few highlights we pulled from our real brides' reviews:
"I felt absolutely beautiful!" — Amber B.
"The sleeves were absolutely gorgeous!" — Cheyenne B.
"Once I tried it on when I was dress hunting, I never wanted to take it off." — Jordan W.
Dionne by Rebecca Ingram
Simple crepe is effortlessly cool in Dionne by Rebecca Ingram, a relaxed slip style with endless styling potential. Whether you keep it sleek and minimalist or add dazzling accessories, Dionne is sure to make a chic and timeless statement.
Explore more affordable wedding gowns by Rebecca Ingram in our latest collections!
Quick Ship Wedding Dresses for Casual Brides
Last-minute shopping for your dream dress? We offer these fast-delivery and simple casual wedding dresses for a chic (and timely!) aesthetic.
Greenley by Maggie Sottero
PC: Lavel Marie Photography
Casual wedding dresses are all about comfort and romance, á la an elegant fit-and-flare like Greenley by Maggie Sottero. This fairytale-inspired wedding gown features allover lace and sexy illusion details in a lightweight, curve-hugging silhouette. This is one of our top-reviewed gowns for a reason!
Looking for a fuller silhouette? You'll love sister style Greenley Lane, a gorgeous lace A-line. 
Bracken by Sottero and Midgley
PC: Twig & Olive Photography
Effortless meets couture in Bracken by Sottero and Midgley, a casual bridal dress with lovely bodice detailing. This style manages to look both simple and exquisite, a sophisticated choice for a variety of celebration aesthetics.
To personalize Bracken, consider the following:
This style is available without the linear lace flourishes on the illusion train.
The detachable off-the-shoulder lace sleeves (sold separately) add a dose of whimsy.
Extra lace motifs are included for minor neckline alterations.
This style is available with additional coverage as Bracken Lynette.
Selena by Maggie Sottero
PC: Absolute Photography UK
Finally, one of our crown jewel designs is Selena by Maggie Sottero. This ball gown wedding dress is a cross between black-tie glitz and effortless glamour. It's simple, tailored, and exceptionally timeless.
A few of our favorite highlights:
The Mikado fabric.
Scoop neckline and straps.
Tailored bodice.
Covered buttons.
Long train.
Pockets! (How could your resist?).
And the best part? You can get casual wedding dress Selena in time for a short wear-date! She's one of our quick delivery casual wedding dresses made to arrive sooner than our typical delivery window.
Love all the inspiration we've gathered for these white casual wedding dresses? Follow us on social for more tips, tricks, trends, and styled shoots! We've also curated a few of our most popular blog posts here for you to explore:
More Blogs Like This:
15 Unique Wedding Dresses for the Maximalist Bride
10 Romantic Wedding Dresses for the New Year
Finding a Wedding Dress for Your Body Type to Promote Body Positivity
Whatever your simple, divine, effortlessly cool style, your casual wedding dress awaits! From all of us at Maggie Sottero Designs, happy shopping!