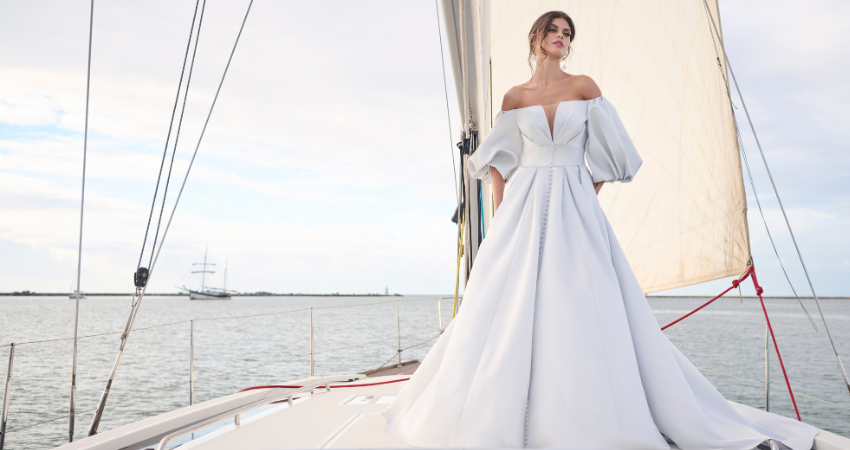 Dear Gentle Readers,
With its sweeping romance, luxe glamor, and chic costume design, it's no doubt Netflix's Bridgerton has made a lasting mark on the bridal scene. Are you smitten with the show's over-the-top fashion and flourish? Say hello to wedding dresses inspired by Duchess Daphne, Viscountess Kate, and Queen Charlotte, AKA the Queens of Queencore Fashion, AKA the easiest way to feel like true royalty on your big day. Start with our rundown of these vintage wedding dresses for 2023! But first, make sure to take our Style Quiz below to get an idea of the other elements of your bridal style.
What is Bridgerton Fashion?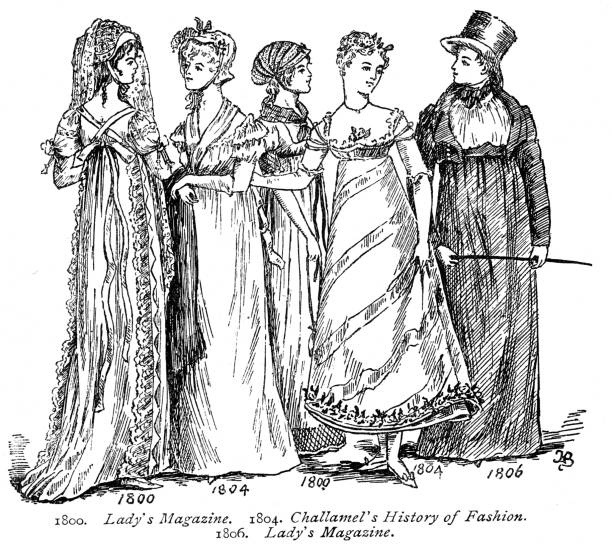 First up, a short history lesson…  Bridgerton takes place in the Regency era, similar to Jane Austen's 1800s fashion and a sub period of the Georgian era. Regency era fashion in England (1811-1820) was heavily influenced by political and social factors like the French Revolution, Napoleon Bonaparte's reign, and a growing interest in classical Greek art and culture. Some key features of Regency era fashion include…
The empire silhouette, with a high waistline that sat just below the bust. This chic and iconic feature was inspired by the classical Greek style of drapery — often styled as a departure from the structured and ultra-elaborate styles of the Georgian era.
As a whole, the Regency era saw a growing interest in classical Greek art and culture, which was (obviously) reflected across its fashion trends. Lightweight, flowing fabrics, such as muslin and silk, were super popular, often featuring Greek motifs like the geometric "key pattern," laurel wreaths, and garlands.
Despite England's war with France during this time, French fashion still had a significant impact on Regency era style. French fashion designers such as Pierre Cardin and Charles-Frédéric Worth were admired for their innovations in fashion, and many English aristocrats traveled to Paris to have their clothing made by French couturiers. Women also began wearing more statement pieces: tailored jackets, billowing sleeves, and unique accessories like top hats, bonnets, and capes made chic and playful statements.
All in all, Regency era fashion was a reflection of the political and social changes of the time, with influences from classical Greek art and culture, French fashion, and the military. The empire silhouette, lightweight fabrics, and military-inspired clothing were key features of Regency era style, while the growing interest in classical Greek art and culture had an impact on accessories and decorative motifs.
Now, on to Regency era fashion with a modern twist: chic vintage wedding dresses inspired by Bridgerton!
How to Incorporate Bridgerton Elements into Your Bridal Look
Vintage bridal dress elements: These include luxe fabrics, organic embellishments, beaded motifs, romantic draping, and unique accessories like capes, veils, and gloves.
Looser silhouettes: The Regency Era was all about softer, more organic lines. Bridgerton is all about romance and opulence, and this has translated into wedding dress designs that feature intricate details such as delicate lace, floral appliques, and ruffles. These details add a touch of whimsy and femininity to the overall design. A vintage style wedding dress is perfect with this kind of silhouette.
Empire waistlines: Along with empire waistlines, the corset bodice is a key feature in Bridgerton wedding inspo, and it has become a popular trend for wedding dresses as well. Corset bodices create a fitted and structured look that is both elegant and sexy.
Puff sleeves: need we say more?
Gauzy fabrics: Many of the dresses worn in Bridgerton feature sheer fabrics, such as tulle and organza, that create a sense of ethereal beauty. This trend has been reflected in wedding dresses with sheer sleeves, bodices, and overlays.
Botanical prints: a lovely callback to classical Greek motifs and earthy influences. A vintage style wedding dress with these motifs is perfectly on trend.
Beaded embellishments: These are a staple in Regency fashion! Combine with nature-inspired motifs and sheer lace for extra elegance and whimsy.
Now, on to all the vintage wedding dresses we've curated for your consideration….
Bridgerton-Inspired Vintage Wedding Dresses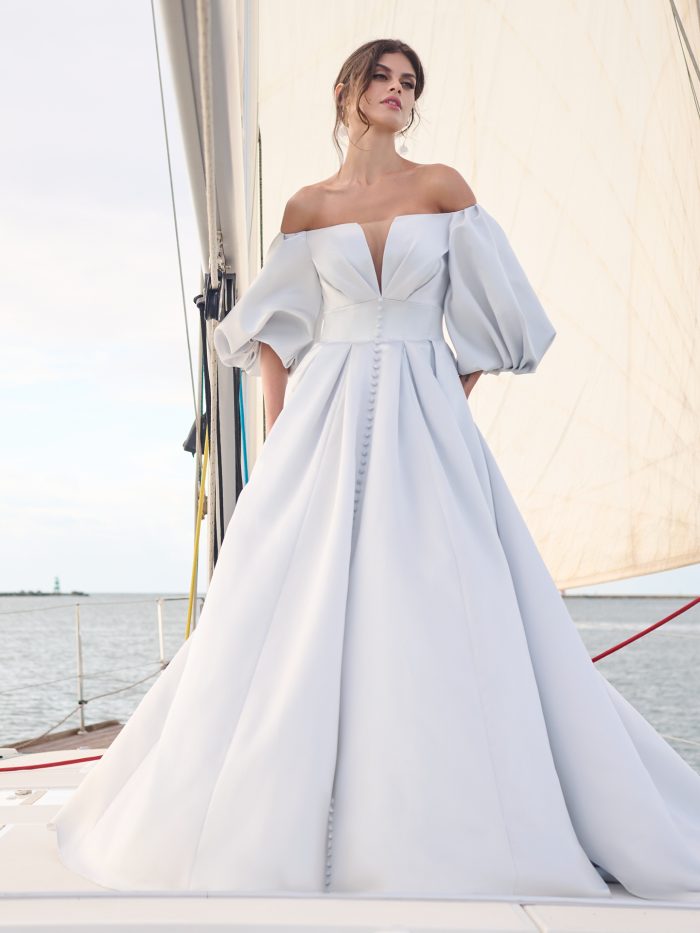 The drama. The statement. The exceptional romance. This perfect puff sleeve gown is the belle of the Bridgerton ball!
Love this light French Blue colorway and silky draping? Here are more colorful wedding dresses to feel totally exceptional for your big day.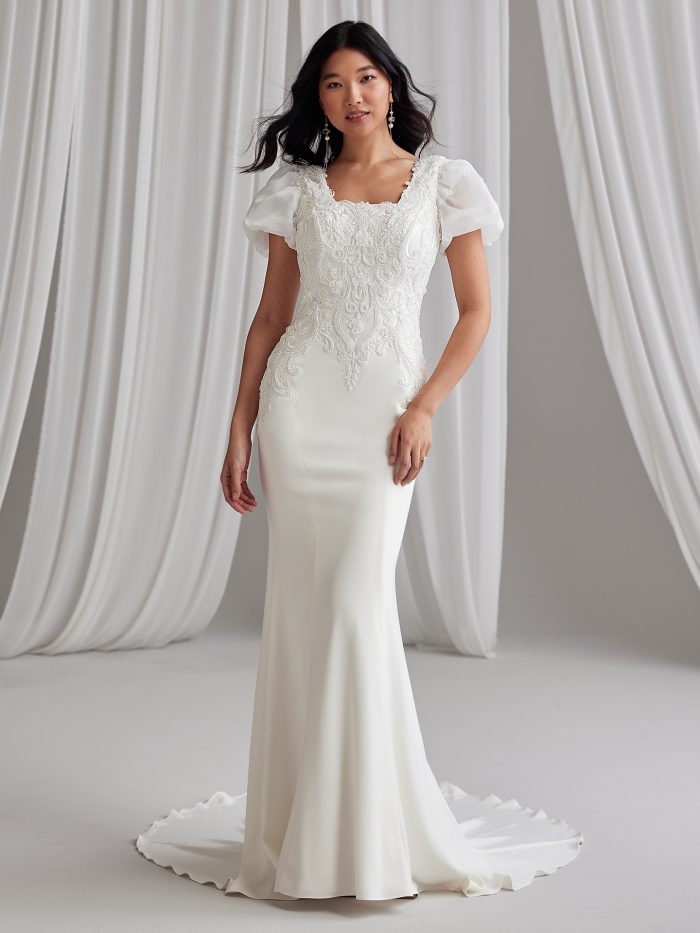 You can't get more regal-chic than this empire waist fit-and-flare with dramatic puff sleeves. It's straight out of a gorgeous Bridgerton wedding!
Personalize this vintage style wedding dress by adding a beautiful bridal veil or long, luxe gloves.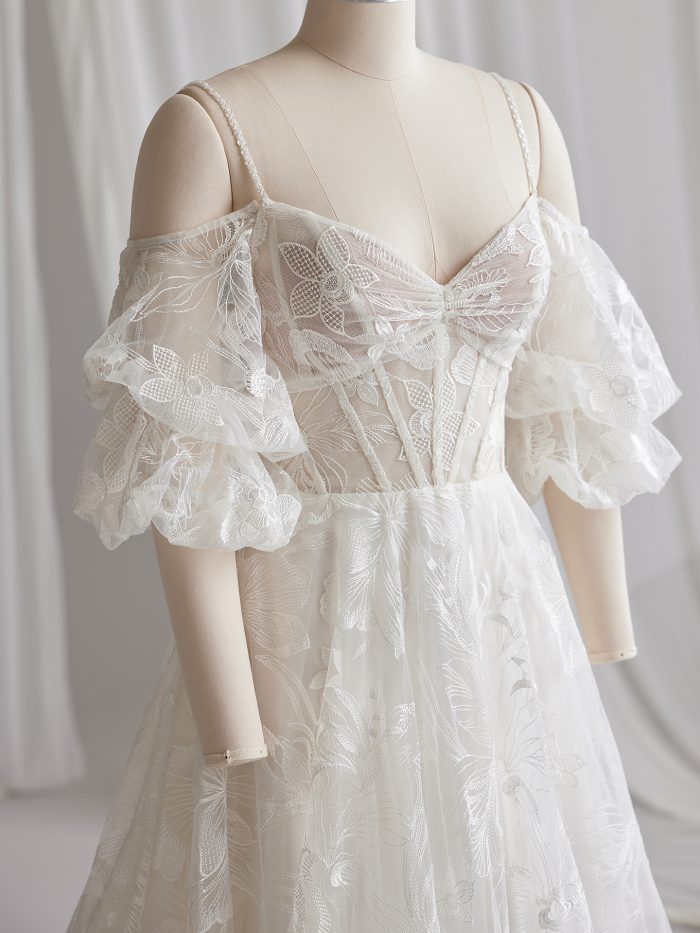 Exposed corsetry, illusion lace, and gorgeous accessories make a timeless yet ultra-fashionable statement in Havana. How to make this bold and sexy style your own? Add the unique off-the-shoulder puff sleeves or don a simple bridal veil… So chic!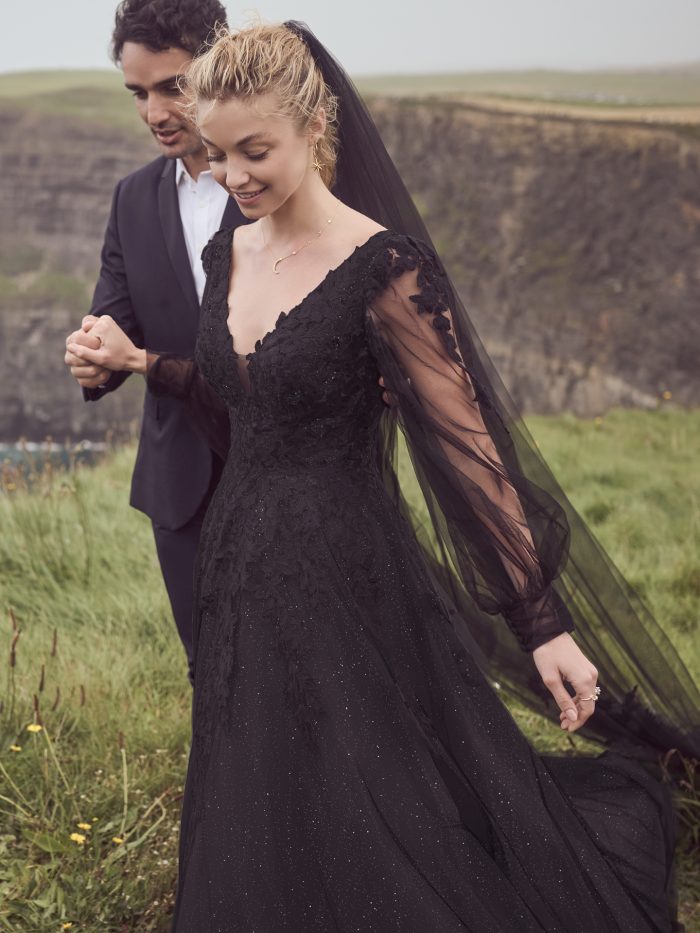 Regency era fashion may be all about pastels and gauzy fabrics, but don't forget — the moody Victorian era is just around the corner! Bold black makes an exceptional statement in Alexandria by Rebecca Ingram, the perfect choice for the nontraditional bride with a flair for the extraordinary.
Here's how to personalize:
Add covered buttons down the back for a vintage vibe
Add the black bridal veil
Add or remove the detachable sleeves
Explore these bold black wedding dresses for more Gothic drama!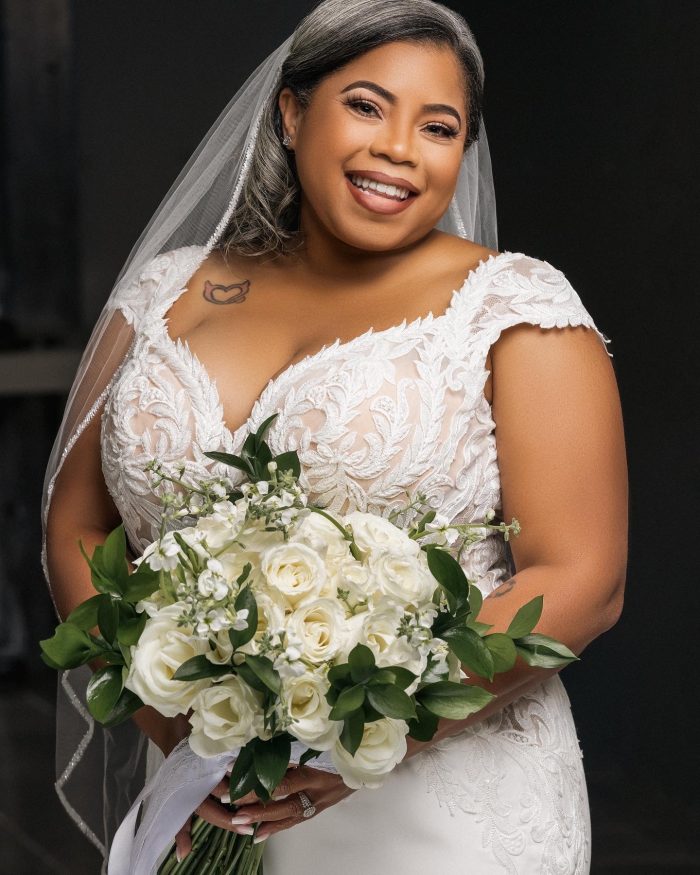 PC: Jeremiah Drummond
"Stunning" doesn't even begin to cover it — this delicate yet sweeping crepe gown is made for the spotlight. Here are a few ways to make it your own:
Remove the train for a more casual look through special request
Add covered buttons down the back for a vintage vibe
Also available as a strapless sweetheart neckline
Available with a lined front bodice and illusion side cut outs
Detachable tulle bridal train with scalloped lace edge sold separately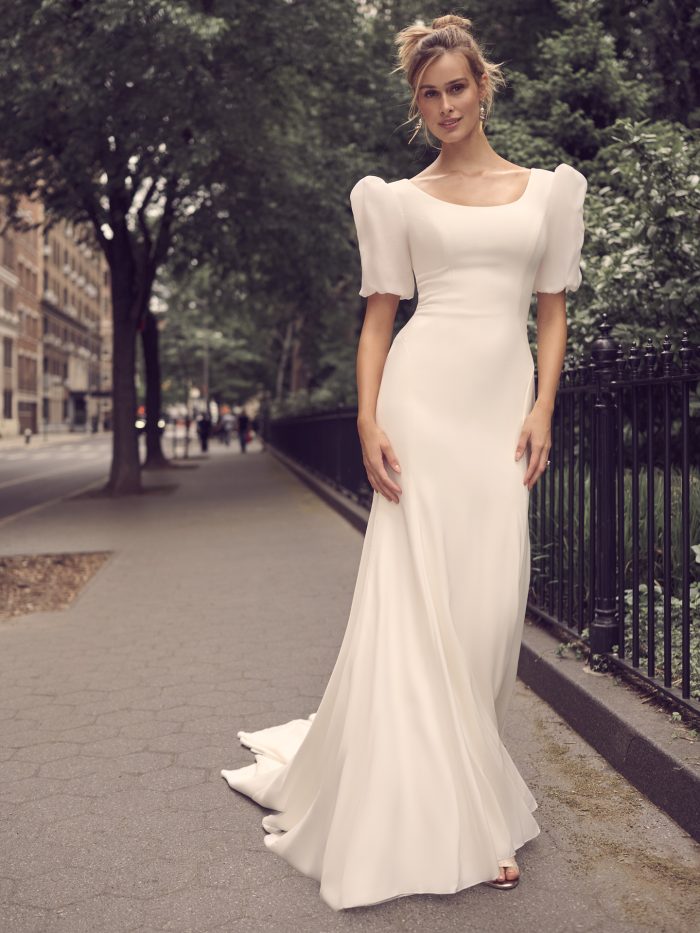 Luxe minimalist fabric meets an over-the-top silhouette in Kashlynn. There's nothing so "Bridgerton chic" as a statement silhouette with whimsical flourishes! We especially love how it looks a bit like a classic empire waist, yet still chic, modern, and totally personalized to your bridal vibe.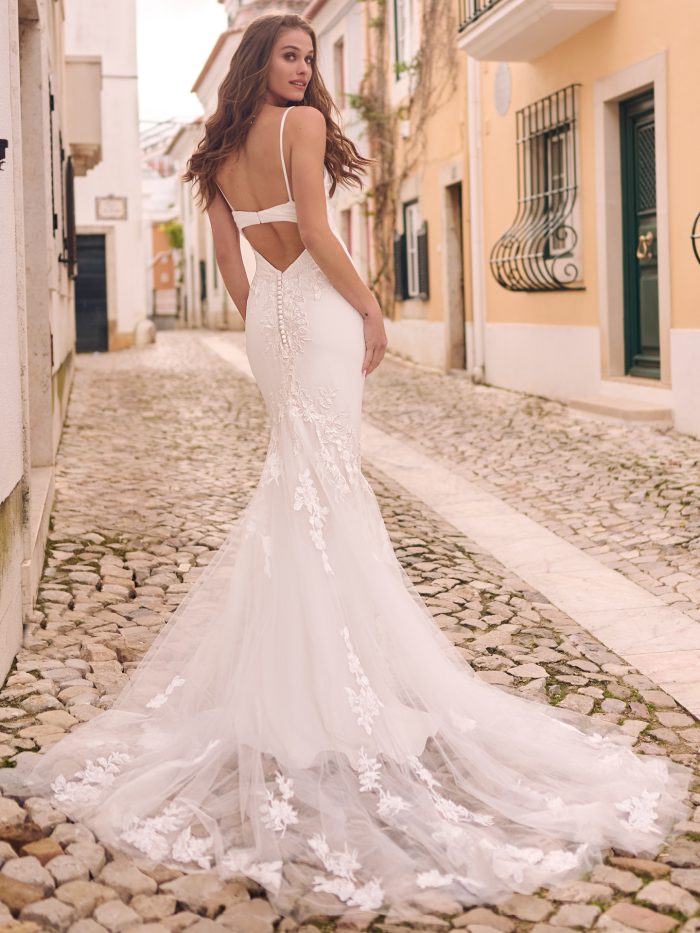 Flowy fabric combines with an empire waist silhouette and keyhole back in this dreamy Darcy style. It's beachy, bold, and Bridgerton-inspired all in one delectable package.
Darcy has two personalization options:
Add covered buttons down the back for vintage bridal dress magic
Also available with beaded lace motifs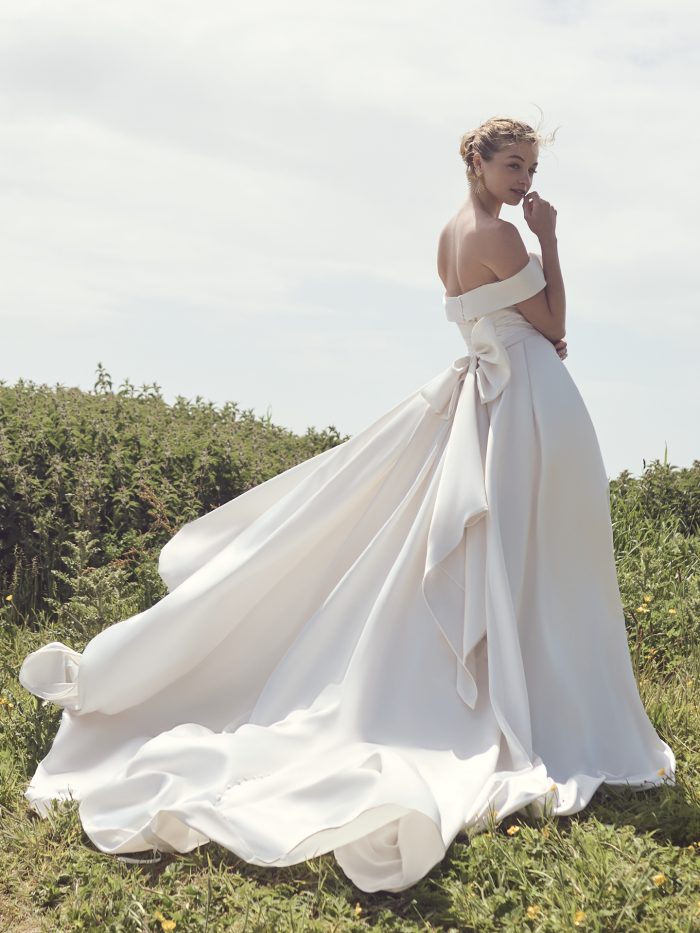 There's a lot to love in a Regency-inspired ball gown, but we're especially smitten with the oversized bow detail. It's glamorous, playful, and gorgeous for photo ops. You can also add or detach this satin train (sold separately) for different looks for your celebration.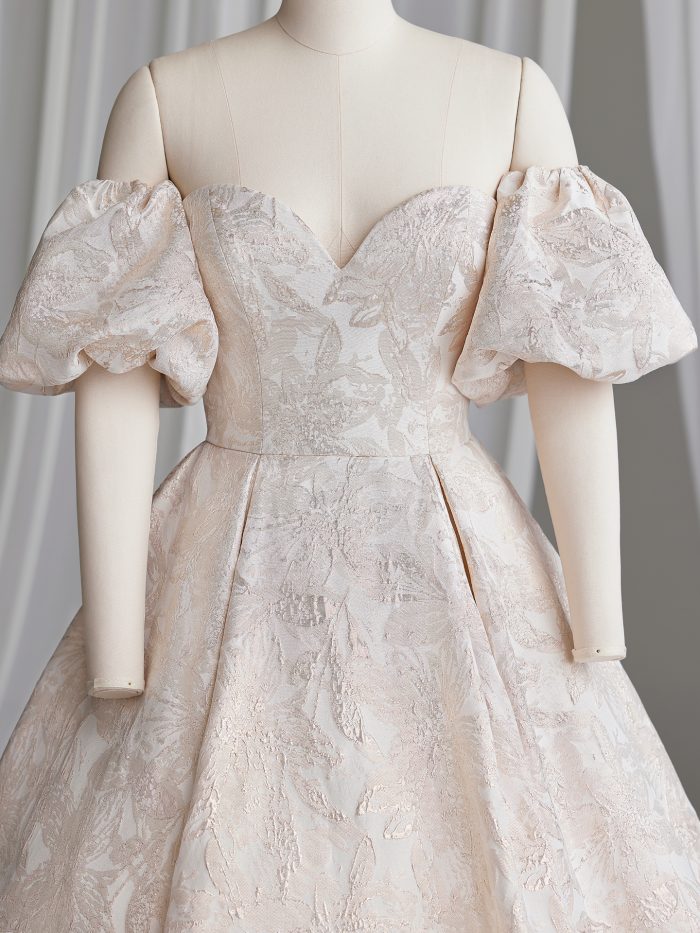 We're dreaming up all kinds of Bridgerton-inspired venues for this luxe satin ball gown… Imagine a stately ballroom lit by chandeliers, a garden lit by moonlight, or a romantic manor with tons of vintage character. Gorgeous!
Here are your options for personalizing:
Remove the train for a more casual look through special request
Add the floral Jacquard voluminous arm bands, sold separately
Add the floral Jacquard off-the-shoulder fitted long sleeves with soft flared cuffs, sold separately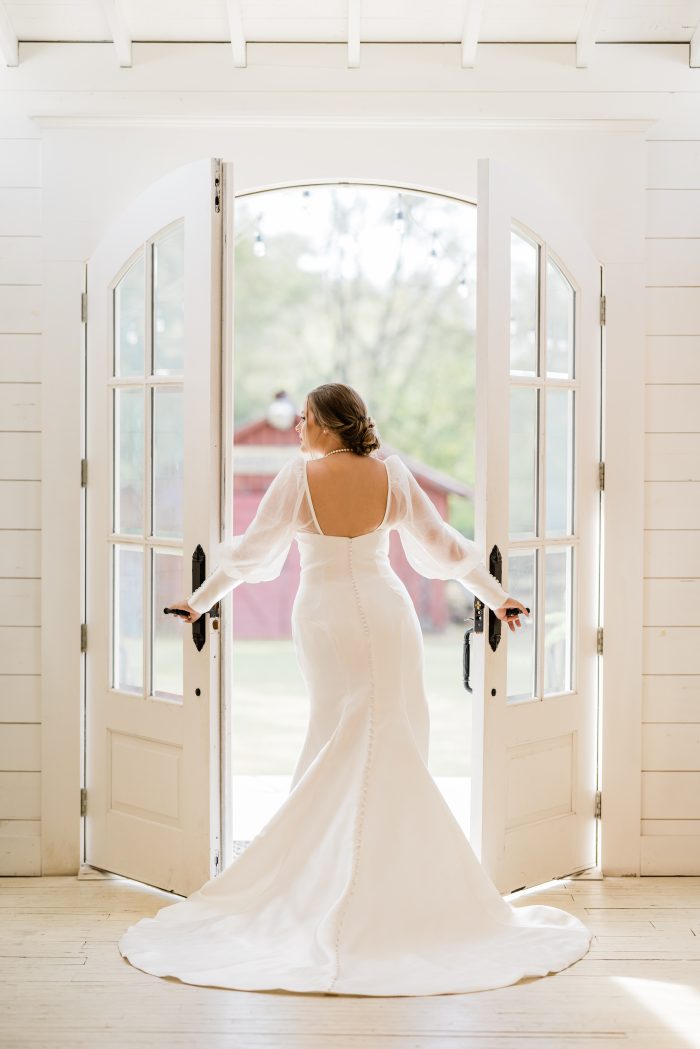 PC: Nathan Garner
Fancy satin for a black tie Bridgerton? It's a match made in heaven! From the gauzy puff sleeves to the long, graceful train, Pippa is all about the vintage glamor.
Pippa is also perfect for personalizations: add or remove the puff sleeves, the illusion jacket, or detachable overskirt to make it your own. (And here are more style ideas and shopping tips to add gloves and detachable sleeves to personalize your bridal look.) 
Bridgerton Accessories for Vintage Wedding Dresses
Love all these vintage wedding dresses and Bridgerton style inspo? Shop these dresses IRL by visiting a boutique near you! Your stylist can help you personalize your look, understand delivery times, place orders, and make a plan for alterations and accessories. 
More Blogs Like This:
We can't wait to see what Bridgerton-inspired magic you create for your big day!
Yours Truly,
Maggie Sottero