Dresses
Tips and Trends
|
February 7, 2023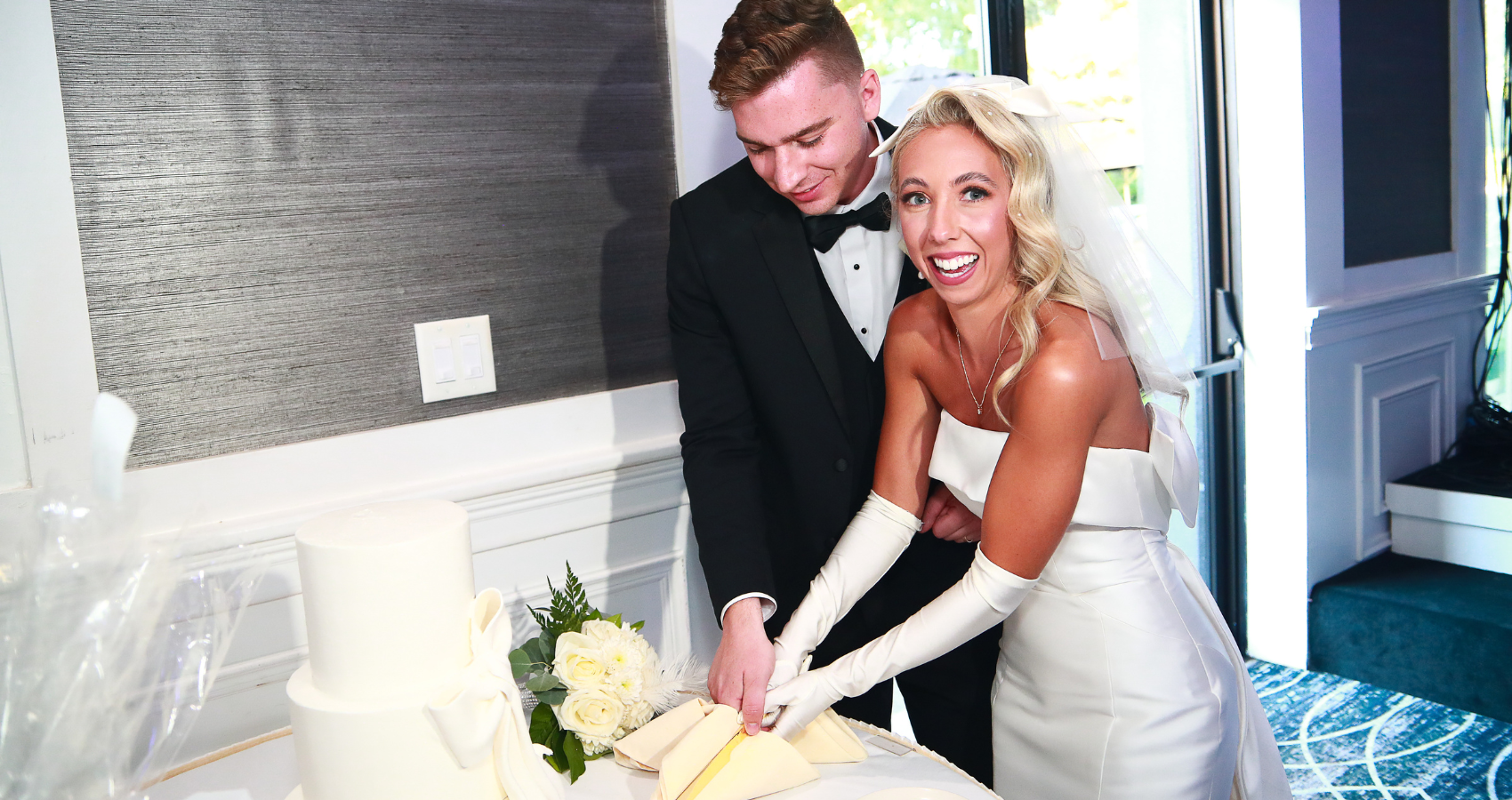 Ok, we get it, trends are cyclical. But we have to admit — we have a major soft spot for the return of 90s wedding aesthetics. (Is it the punk and grunge vibes? Supermodel charisma? Sporty chic and effortless cool? We just can't get enough!). If you too are loving the return to slinky minimalism and iconic glamour, look no further than our picks for 90s wedding dress trends and personalized accessories. Keep scrolling for our latest collections and use our Store Locator below to find a boutique near you! 
What Are 90s Wedding Dress Trends?
"90s vibes" conjures a range of eye-catching aesthetics, from funky "90s does 60s" nostalgia to tailored chic and edgy Y2K core. We're focusing on a few unforgettable highlights:
Nostalgic, ultra-feminine vibes and other trends inspired by vintage wedding dresses. This could refer to throwback trends that took place during the 90s, but also the current trend of reimagining the clothing many brides loved when they grew up. 
Clean lines. While "over the top 80s" trends were still in full force in the 90s, the forward-looking aesthetics were all about slinky, effortless silhouettes. Think off-duty supermodel muses like Shalom Harlow and Kate Moss.  
Luxe fabrics. Think satin, velvet, and silk. 
Classic styles with whimsical and playful details. 
Puff "babydoll" sleeves, a nod to the punk resurgence in the 90s. 
Sheath silhouettes, or a nod to grunge.
Square necklines to echo the sleek, structured silhouette of a gown. 
Halter necklines, a "beachy glam" trend with plenty of 90s inspo. 
Elaborate veils and fascinators.  
Elbow-length gloves, another nod to vintage glam. 
Big necklaces, chunky chokers, and statement pendants. 
"Romcom core" inspired by movies and TV shows like Runaway Bride, Sex and the City, Sleepless in Seattle, and more.
Wedding Gowns with 90s-Inspired Sleeves
Kashlynn by Maggie Sottero
To channel the romance and charm of 1990s "supermodel couture," look first to Kashlynn by Maggie Sottero. This maximalist-meets-minimalist design makes a gorgeous impact, from the over-the-top puff sleeves to the long, graceful train. 
Other features we love:
Sheath silhouette
Square neckline
Clean crepe fabrication
Stretch jersey lining
Endless accessory potential
This wedding dress would also look STUNNING with a dramatic bridal veil. And best of all, it's a nod to the 90s without looking dated. You'll love your bridal portraits for decades to come.
Pippa by Maggie Sottero
Another chic puff-sleeve 90s style is Pippa by Maggie Sottero, and this one is all about the personalizations. Start with a sleek fit-and-flare in luxe satin to highlight your curves and decolletage. It's a stunning style on its own, but the accessories make it that much better:
Add the illusion puff sleeve jacket for extra coverage and detail
Add the detachable train for extra drama. (Very regal.)
Accessorize with the illusion beaded lace jacket.
Opt for a different neckline with Pippa Lynette. 
These accessories are sold separately, so speak with your Authorized Retailer for details!
Patricia by Maggie Sottero
For a sexy and luxurious take on 90s wedding dresses and trends, look to the off-the-shoulder neckline on Patricia by Maggie Sottero. This bridal gown combines the feminine charm of puff sleeves with the glam yet effortless vibes with an off-the-shoulder neckline. This style is long, lush, and layered, featuring allover shimmer and a cascade of vintage-inspired lace.
Other personalizations on Patricia:
Change the glitter tulle to plain tulle
Extend the train for extra drama
Add a boho lace veil
Louisa by Maggie Sottero
"Boho" may be typically associated with the 2010s, but you can't ignore the "90s whimsigoth" vibes in this chic and captivating style. Louisa by Maggie Sottero is all about layers, dimension, pops of color, and easy ways to personalize.
First, start with the strappy A-line silhouette. There's 3-D floral lace, strappy sleeves, square neckline, and a lushly layered train — four things giving us 90s wedding "whimsigoth revival" á la Buffy the Vampire Slayer and Practical Magic.
Then, if you're so inclined, add the detachable bell sleeves for extra enchantment! You can also personalize with a matching bridal veil or change the sparkle tulle to classic tulle. 
For more sleeve inspo, you'll love our gallery of sleeved wedding dress trends.
90s Wedding Dresses with Square Necklines
Mitchell by Maggie Sottero
PC: Gustavo Glorioso Photography
Minimalism makes a couture statement in Mitchell by Maggie Sottero, a "90s does Old Holllywood" aesthetic that's ideal for a black-tie celebration. We're smitten with the statement bow detail on the back — it's chic, playful, and the perfect throwback to pre-2000s maximalism.
If you love this style of vintage wedding dresses but you're not totally sold on the bow, you can also order as Mitchell Marie. This sleek fit-and-flare wedding gown is the perfect balance of style and sophistication. 
Italiana Lane by Sottero and Midgley
Turn up the drama with Italiana Lane by Sottero and Midgley, a red-carpet fit-and-flare featuring subtle bodice embellishment and gorgeous accessories. Here's how to razzle-dazzle in this one-of-a-kind style:
Play it up with glam accessories like statement earrings or a bejeweled choker
Add the detachable train with sequin lace motifs and bubble hem finish, sold separately
Add the detachable train finished with waistband closure and bubble hem, sold separately
You can also order sister-style Italiana, featuring a gorgeous ball gown silhouette with dramatic pickup draping. Fabulous!
Victoriana by Maggie Sottero
Another square-neckline classic is Victoriana by Maggie Sottero, an A-line meets ball gown featuring allover lace and gorgeous bodice details. 
To personalize Victoriana, consider:
Shortening or removing the train through special request
Adding covered buttons down the back for a vintage vibe
Ordering with the fully lined bodice
Adding the cathedral length tulle veil with sequined lace motifs, sold separately
Vivien by Rebecca Ingram
The 1990s were all about soft ruching and draping. For a chic update to the trend, look the subtle bodice details and silky fabrication on Vivien by Rebecca Ingram. This "couture princess" aesthetic is effortless to style and accessorize for a variety of seasons, venues, and visions.
Vivien is also part of our Rebecca Ingram line, romantic wedding dresses at budget-friendly price points. Shop these full collections for more affordable gowns with exceptional details!
Satin Wedding Dresses for 90s-Inspired Brides
Selena by Maggie Sottero
PC: Wildflower Photography
For a crown jewel of 90s minimalism trends, look to Selena by Maggie Sottero. This satin ball gown wedding dress fuses luxe fabrication with a tailored silhouette, a perfect balance of timeless, nostalgic, and modern aesthetics. 
Talk to your Authorized Retailer for all the pretty details on these vintage wedding dresses!
Cameron by Maggie Sottero
Gorgeous things are happening in Cameron by Maggie Sottero, a "90s supermodel" silhouette with timeless Old Hollywood flourishes. We're getting major Cindy Crawford vibes from this irresistible fit-and-flare design. 
To personalize 90s wedding gown Cameron, consider these options:
Opt to shorten or remove the train, through special request
Add the detachable stretch Mikado train accented with 3-D lace flowers, sold separately
Add the two-tier floor length wedding veil accented with 3-D lace flowers, sold separately
Magdalena by Sottero and Midgley
Magdalena by Sottero and Midgley offers demure coverage in a chic and tailored silhouette. We love the light embellishments on the sleeves and shoulders — the perfect accent to an otherwise simple 90s wedding design. We promise every generation of guests at your celebration will adore! 
Dinah by Rebecca Ingram
MInimalism meets decadent in Dinah by Rebecca Ingram, a satin slip style reminiscent of the cool-girl Kate Moss 90s era. To give this style a premium princess vibe, add the detachable overskirt featuring tiered layers of illusion tulle and lace. There's nothing like it for stunning bridal photos and an unforgettable ceremony entrance. 
90s Wedding Dress Accessories
If you're picking out a perfect bridal veil, start with these chic classics:
Why these are perfection for a 90s wedding dress: tiered layers, dramatic details, and pearl accents are all (it's a 90s theme; we had to say it) all that and a bag of chips!
If you love the return of bridal gloves trend, you'll be smitten with these: 
And for fabulous bow accents, get inspired with: 
And that's just the beginning! Other ways to accessorize 90s wedding dresses are all about chokers, pearl jewelry, platform heels, strappy heels, and even combat boots if you're feeling goth-chic or stylish grunge.
Looking for more gorgeous style ideas for a 90s wedding dress theme? Take a look at more blogs like this, and make sure to follow our socials below to be the first to know about all wedding dress trends! 
More Blogs Like This:
Finding a Wedding Dress for Your Body Type to Promote Body Positivity
Trending Engagement Ring Styles for Your Dream Wedding Look
8 Corset Wedding Dresses And What To Know About Them
We love everything about these chic, effortless, and playful bridal looks inspired by pre-21st century trends. Best wishes!