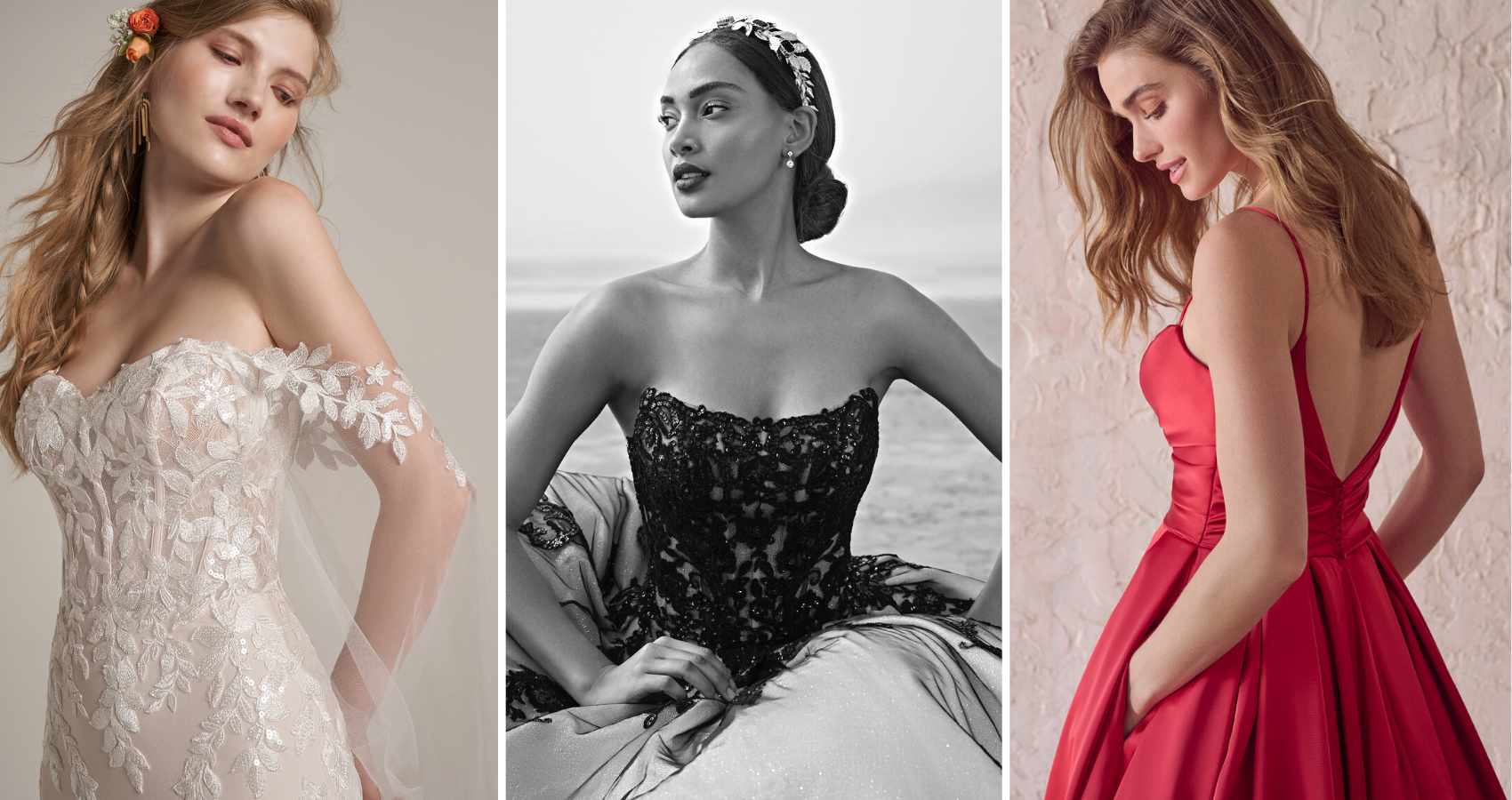 Hi brides! Maggie here! We hear you're looking for the perfect pop of color for your wedding day. Well, you've come to the right place. You might think florals and linens are the only ways to incorporate color into your wedding, but it's 2023, and colorful wedding dresses are so in!
Before we get into the gorgeous bridal gowns in color, we have to share with you though, make sure to follow us on Pinterest by clicking the button below so you can pin the styles below to your wedding board ASAP!
What are Colorful Wedding Dresses?
In recent years, we've noticed that brides are looking to go beyond the traditional ivory or white gowns and dress in fabulous colored wedding dresses! Many of our gowns have the option to personalize the gown in one of our daring colorways:
Black
Blush
Gold
Ivory
Red
French Blue
Rose Gold
Now keep scrolling to find the unique colorful wedding dress of your dreams!
Romantic Red Wedding Dresses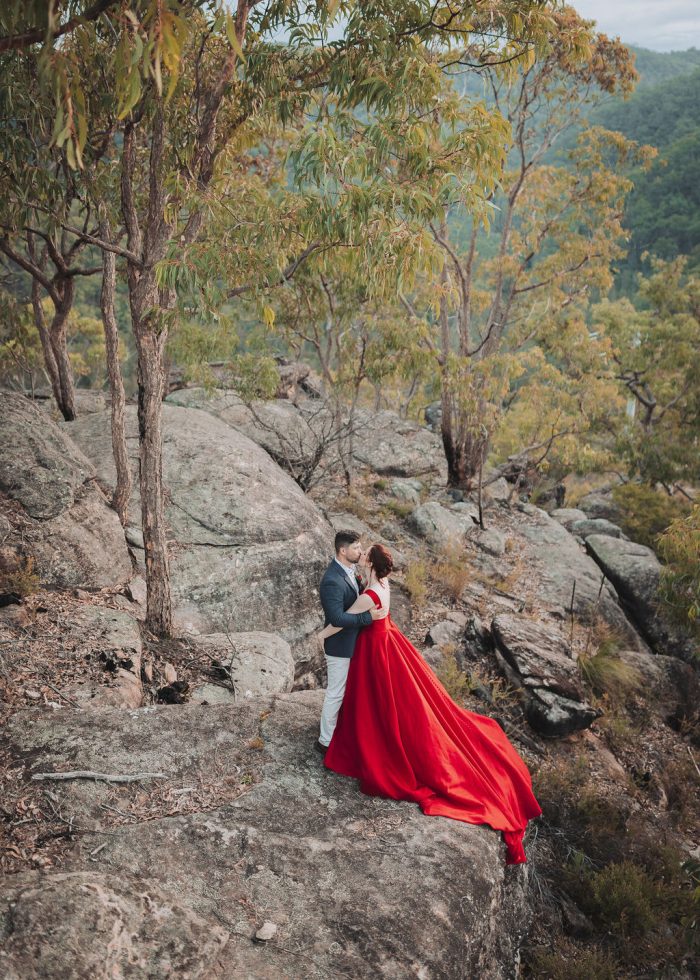 PC: Sarkodie Photography
Alera by Sottero and Midgley is the perfect example of a statement wedding gown in red. This vintage-inspired A-line is just one of our wedding dresses with color, but it is a popular choice among our most chic brides! To personalize Alera, extend the train or opt for its detachable bow for added drama, sold separately.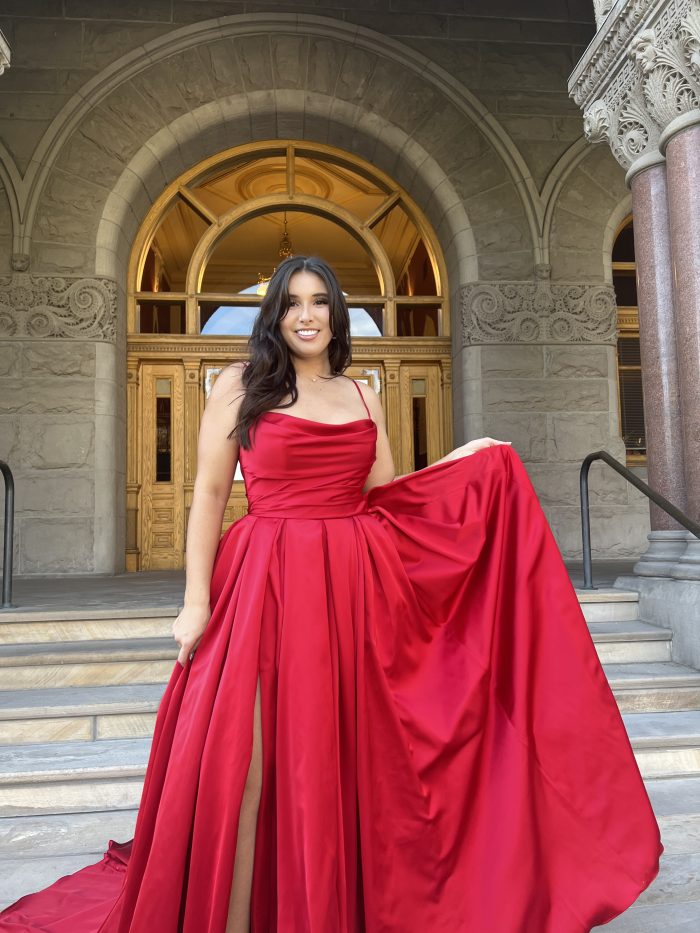 Since red is SO in, one of our top bridal gowns in color is Scarlet by Maggie Sottero. This absolute show-stopper is a satin A-line gown that exhibits the most regal of vibes. In Red, Black or Ivory, Scarlet is simply destined for brides seeking drama (the good kind!) on their wedding day. Personalize this gown for your love story by extending the train or adding a thigh-high slit!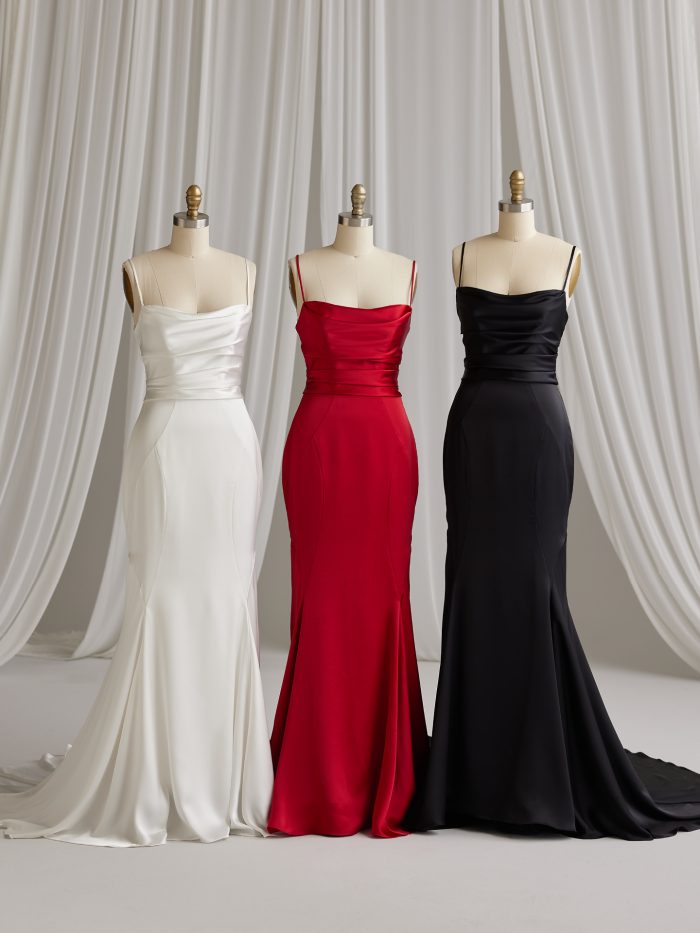 Psst… Love Scarlet but are looking for a sexier option? Consider its Sister Style, Scarlet Lane by Maggie Sottero! With a sexy fit-and-flare silhouette, ruched bodice, and satin fabric it's sure to be a showstopper for your wedding day!
If you love these romantic wedding gowns, make sure to read our blog to see more gowns like this!
Bold Black Wedding Dresses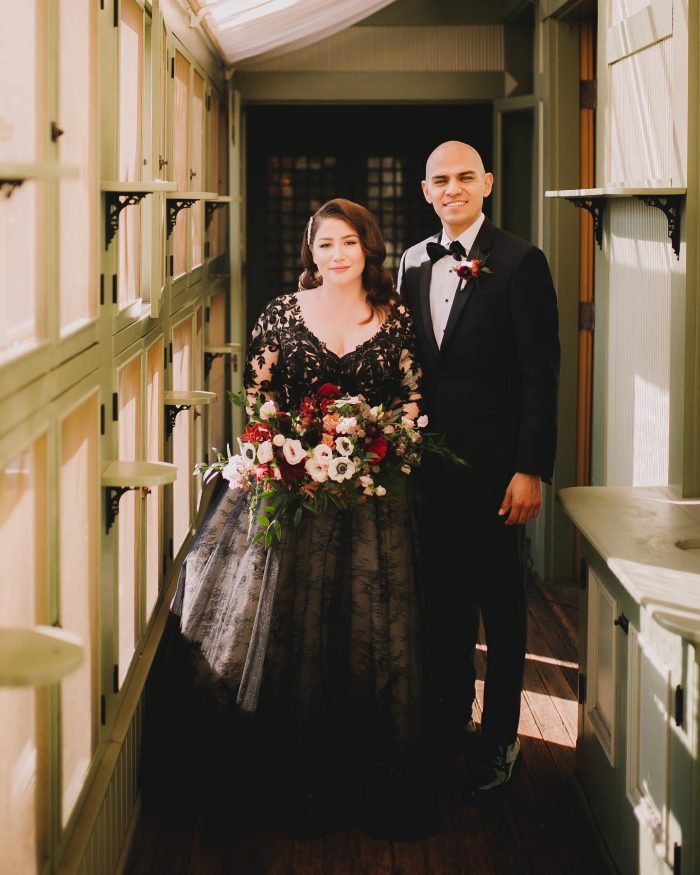 PC: Archerinspired
Lately, we're OBSESSED with black wedding dresses, and Zander by Sottero and Midgley is one of THE most popular styles out there! This sexy black ball gown is breathtaking and sure to wow on your wedding day! This gown is part of our Quick Ship program to support our brides with fast-approaching weddings. Did we mention Zander has a matching veil and sexy Sister Style, Zander Lane by Sottero and Midgley? So, swoon-worthy!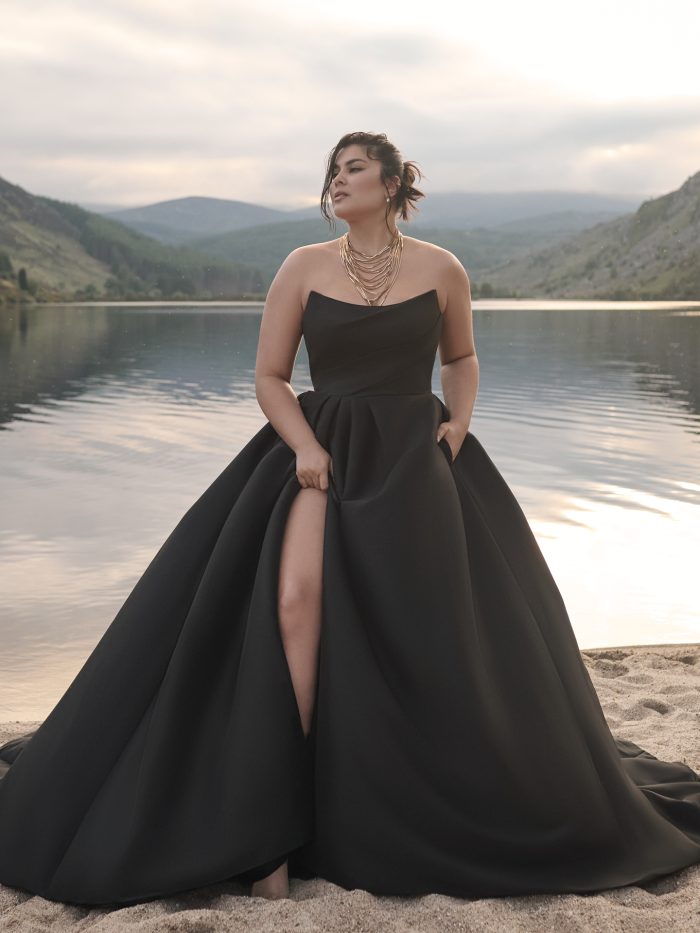 Another one of our popular black wedding dresses is Aspen by Sottero and Midgley. This daring gown has many details that we love for a wedding dress: Unique color, a thigh-high slit, and a cat-eye neckline. AKA, the perfect couture gown for your high-class wedding day!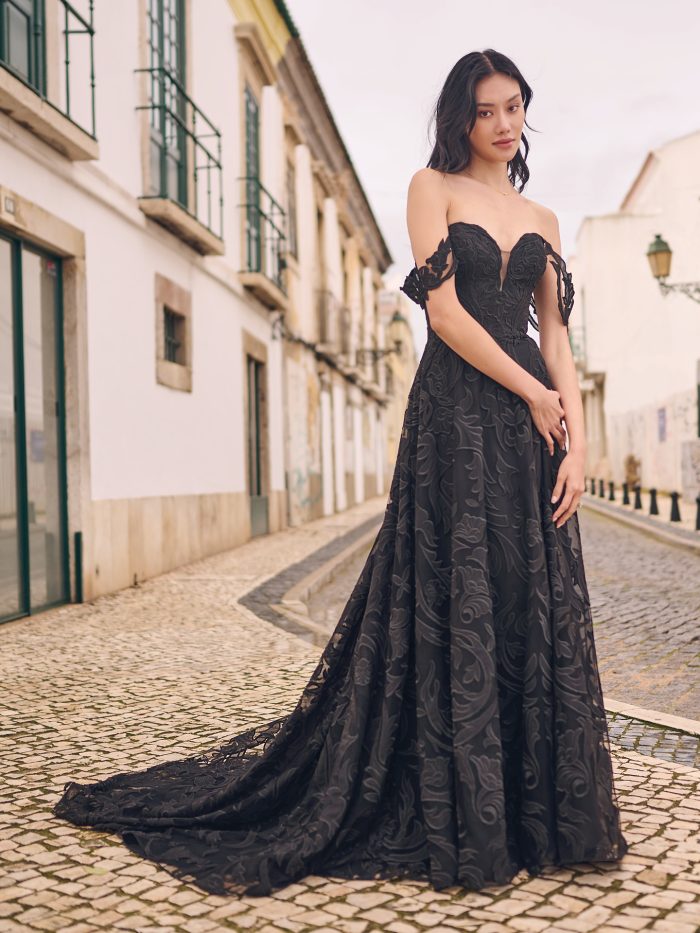 If you're looking for sexy colorful wedding dress with a unique lace pattern, plunging sweetheart neckline, and off-the-shoulder straps, look no further than Penny by Maggie Sottero! We imagine this romantic gown in an earthy rustic location with wildflowers, string lights, and nature surroundings!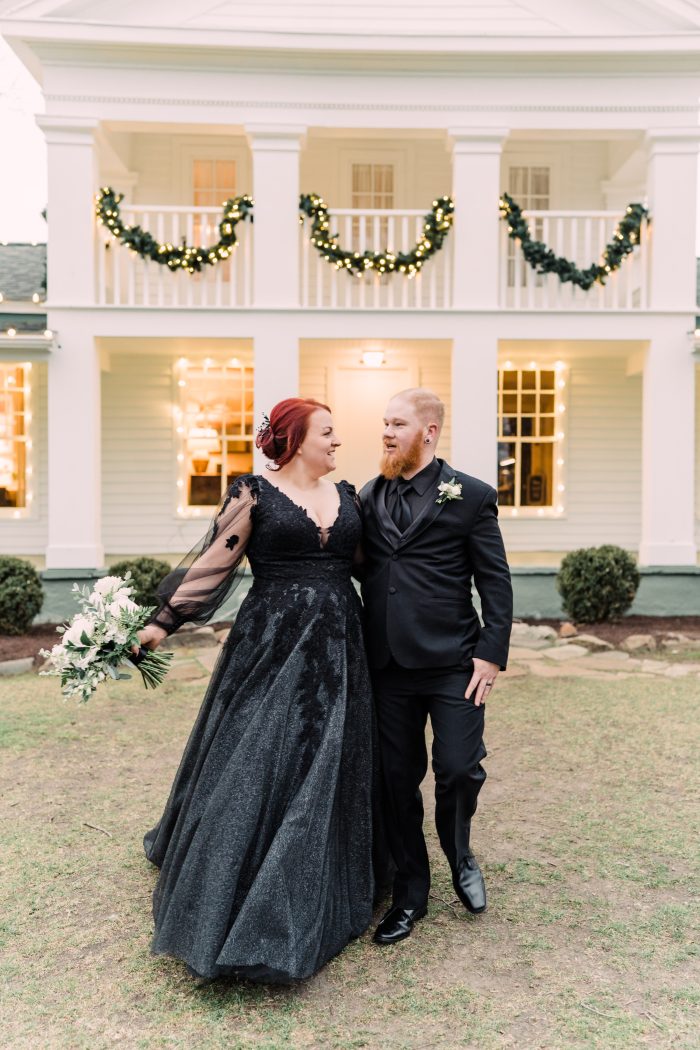 PC: Lola Grace Photography
Alexandria by Rebecca Ingram is another one of our stunning black wedding dresses that is the ideal choice for your unique wedding day and personality. With head-to-toe sparkle, puffy bishop sleeves, and a plunging sweetheart neckline, this gown is perfect for brides who want to channel a dark fairytale romance for their wedding.
Psst… This wedding gown comes in five of our exclusive colorways! See it in all black, ivory over blush, all ivory, ivory over misty mauve, and ivory over mocha.
Make sure to explore our blog to see all of our black wedding dresses!
Chic Blush Wedding Gowns
Who doesn't love pink? Who doesn't love colorful wedding dresses? For brides who want to incorporate subtle color into their wedding day look, blush bridal gowns are the way to go!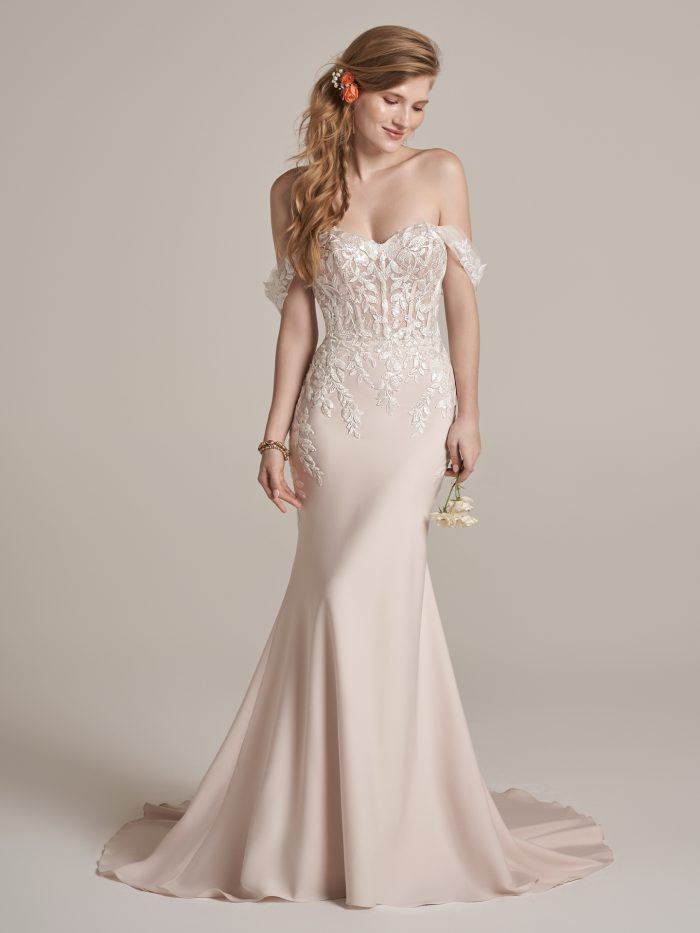 Lily by Rebecca Ingram is a perfect example of a beautifully whimsical bridal dress featuring just a hint of color. It's sweet, boho, and ready for an enchanted garden wedding, with its floral lace motifs, exposed boning bodice, and delicate, off-the-shoulder sleeves. You can make this look truly your own by shortening the train or opting for a different sleeve type, like Lily's off-the-shoulder cap-sleeves, off-the-shoulder long sleeves, or detachable spaghetti straps.
Want more coverage? Lily's Sister Style Lily Lynette offers just the right amount!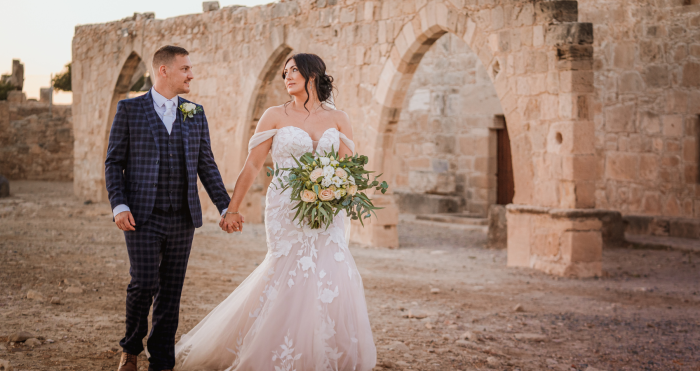 When it comes to wedding dresses with color, Hattie by Rebecca Ingram never fails to excite! This dress is destined for the mermaid-style bride who loves wedding dresses with color! With colorways including Ivory over Blush, Ivory over Misty Mauve, and Ivory over Mocha, brides can choose the best color for their skin tone. Not only is Hattie suited for the spotlight, this dress has several Sister Styles for brides to choose from, including Hattie Lane, Hattie Marie, and Hattie Lynette.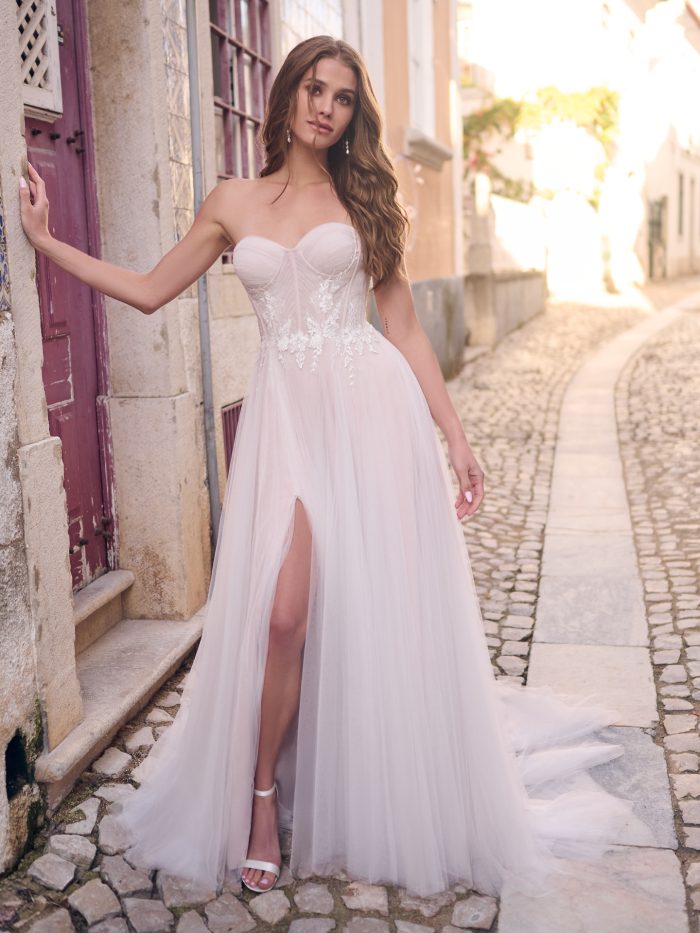 Another option for a wedding gown with a splash of blush is Gwen by Maggie Sottero. This strapless gown embodies romance and whimsy with its exposed boning on the bodice, airy tulle fabric, and 3D floral appliques!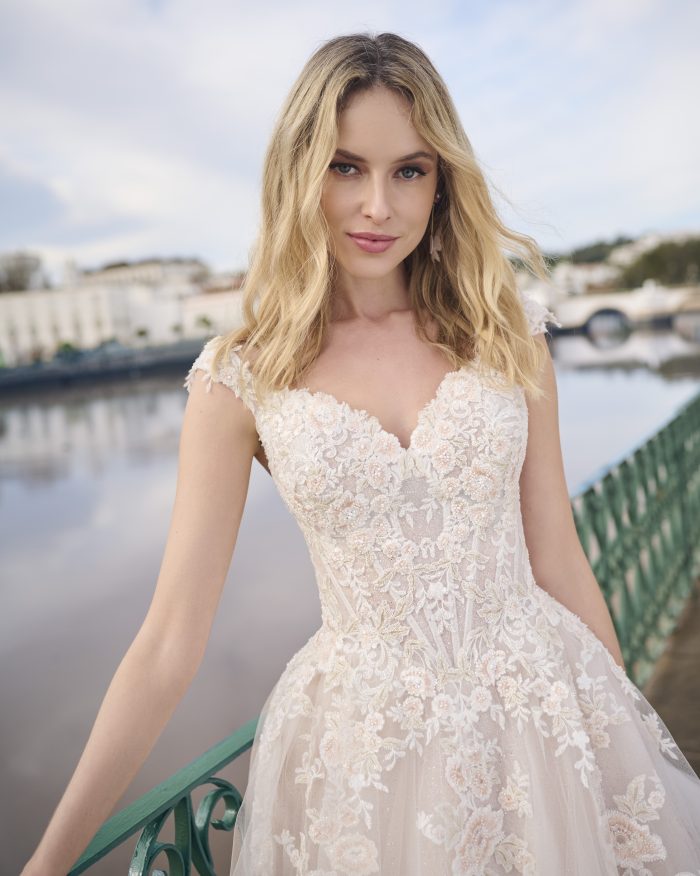 If you're looking for a gown with more lace and pompous, look no further than our pretty pink gown, Bisette by Sottero and Midgley. This wedding gown features a portrait neckline, a lace cap sleeve, and our favorite aspect, 3D florals with pops of color!
Unique Multi-Colored Bridal Gowns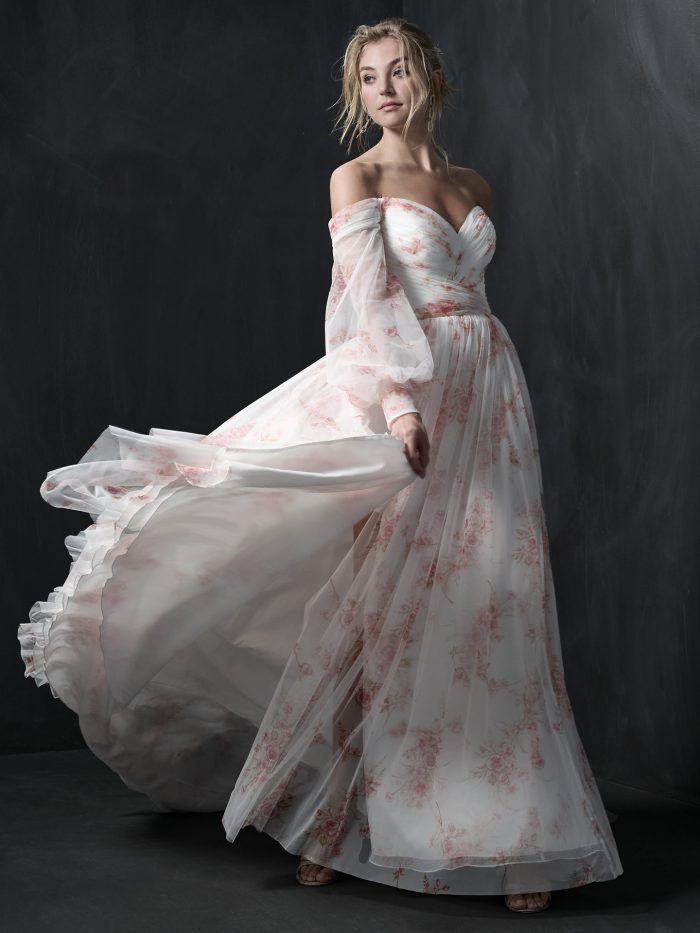 Sometimes the best way to incorporate some color into your wedding dress is through some splashes of color! If you're looking for subtle color in a rustic gown, consider Nerida by Sottero and Midgley! This dreamy, colorful wedding dress features soft tulle, a fully lined bodice with asymmetrical ruched tulle, a V-neckline, and beautiful off-the-shoulder bishop sleeves. Nerida is as unique as you are. If you're looking for a more casual look, remove the train, or add buttons down the back for a more elevated look.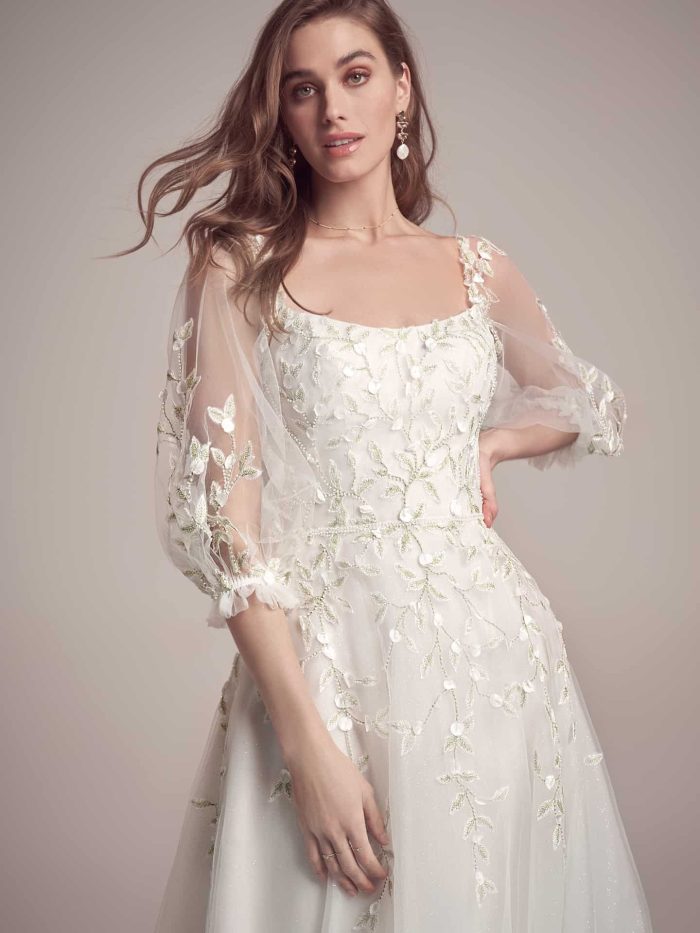 If you're searching for colorful wedding dresses with vintage-inspired lace, look no further. Louisa by Maggie Sottero is a sweet, sophisticated, simple style with beautiful green 3-D petals. Louisa's matching garden-inspired cathedral length bridal veil adds to the whimsical vibes of the dress. Personalize this gown for your wedding day by adding its matching detachable sleeves.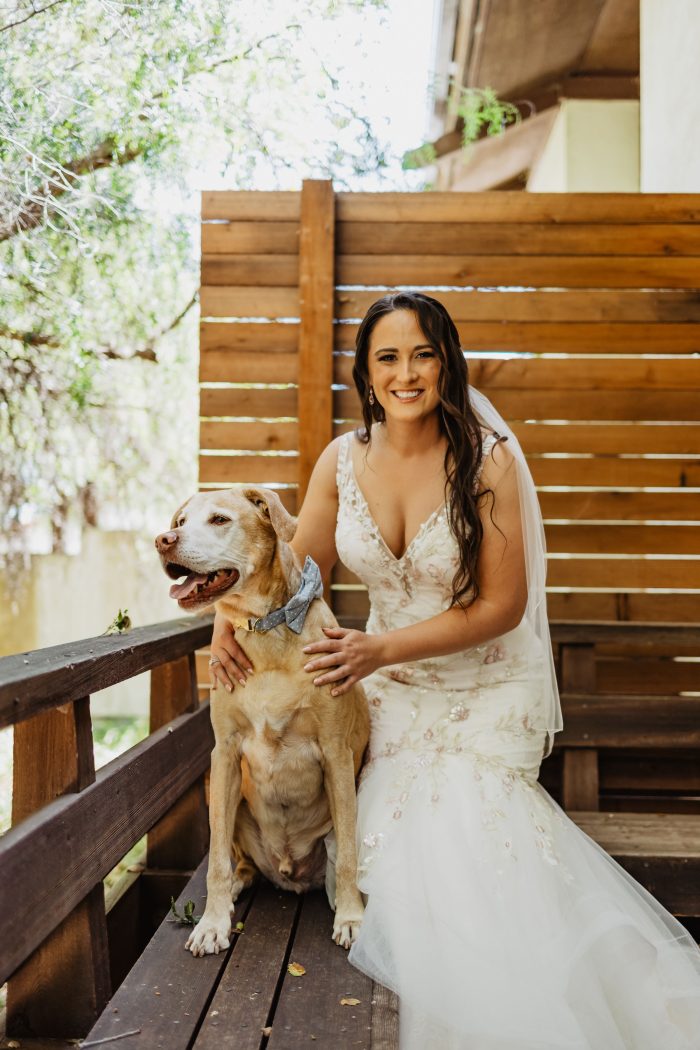 PC: Brad and Lisa
The trend of colorful wedding dresses doesn't get any better than Kenleigh by Sottero and Midgley. This ultra-unique trumpet wedding dress features colorful floral lace motifs that are delicately charming. Opt for its matching veil or add buttons down the back for a more elevated look.
If you've found the dress of your dreams but want accessories that add color to your look, the Lavinia fingertip veil, chapel veil, and detachable train are beautiful accessory options accented in 3-D flowers that look exception in ivory or color.
Gold & Rose Gold Colorful Wedding Dresses
Yes, you heard it here! The shiniest thing on your wedding day doesn't have to be your wedding ring! We have a selection of gold and rose gold wedding dresses that will bring some additional sparkle to your wedding day look.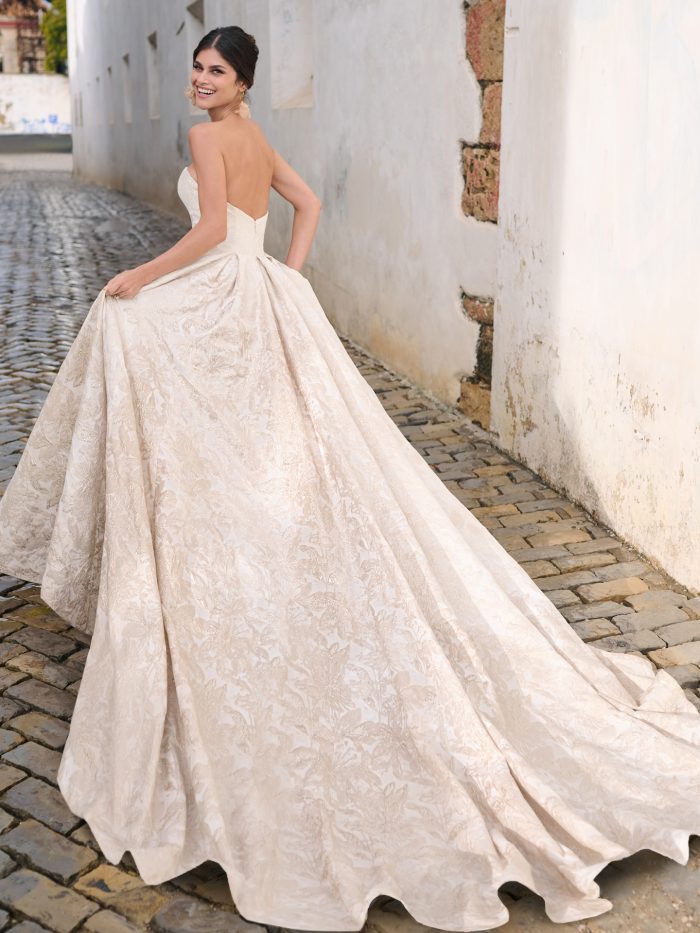 First, take a look at one of our newest rose gold wedding gowns, Cyprus by Sottero and Midgley! This floral Jacquard satin gown is all about drama, regality, and elegance with its sweetheart neckline, metallic floral motifs, and detachable sleeves (puff and long of course).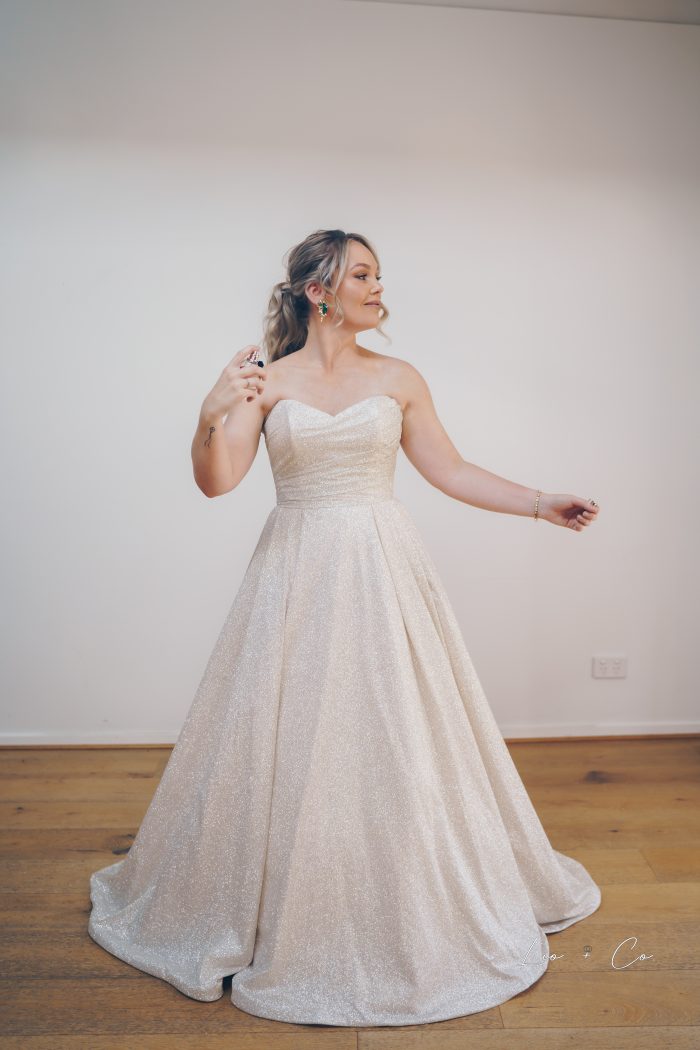 PC: Lio and Co Weddings
If you would like a golden ballgown with more sparkle and simplicity, look no further than Anniston by Maggie Sottero. We can't get enough of this wedding dresses full skirt, sweetheart neckline, and ruched bodice! Just look at our gorgeous Real Bride!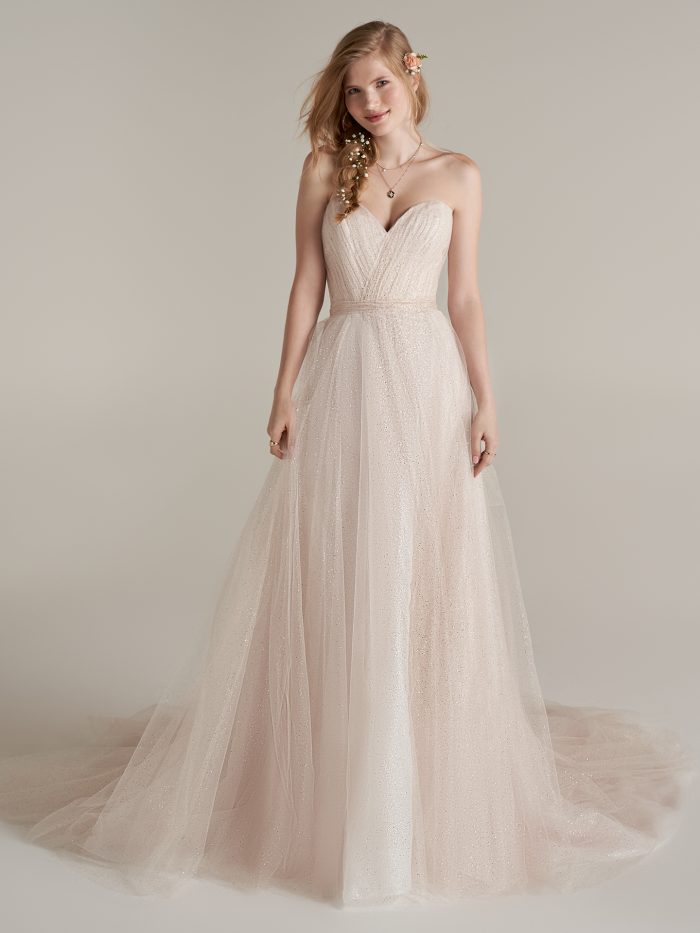 Florie by Rebecca Ingram is another one of our sparkly wedding gowns that feature gold shimmer to give you that Tinkerbell-like glow! With detachable puff sleeves, tulle fabric, and a sweetheart neckline you will be the belle of the ball (or the bride at your wedding!) in this whimsical bridal gown.
French Blue Bridal Gowns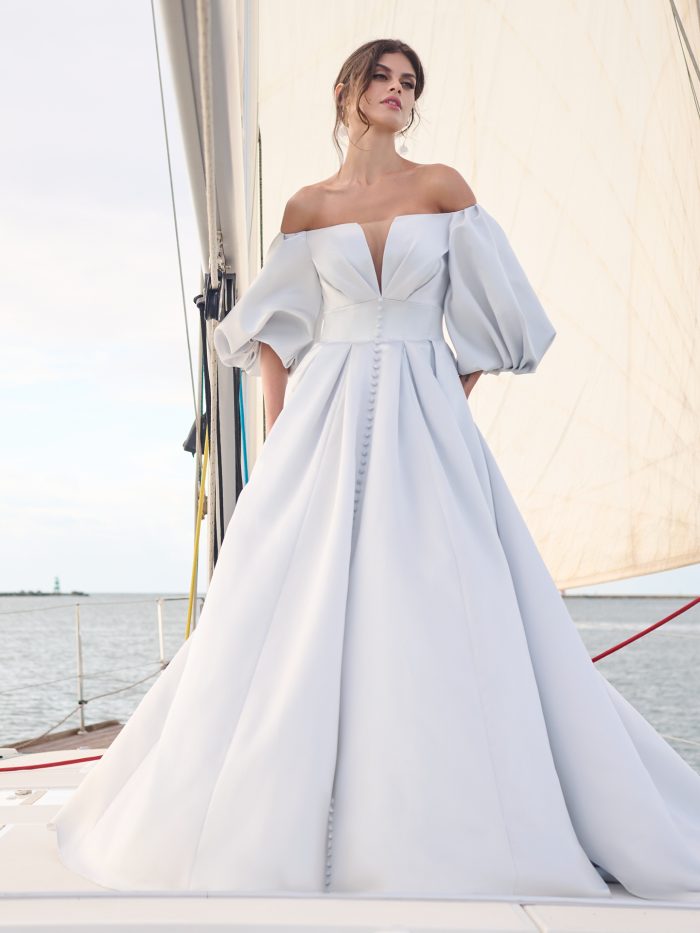 Last but certainly not least, we can't forget our jaw-dropping Bridgerton-inspired wedding gown, Juniper by Sottero and Midgley! This stunning ballgown features yards of French blue satin, vintage off-the-shoulder puff sleeves, a plunging neckline, and chic buttons down the front of the gown. It's the perfect colorful wedding dress for brides who love a modern twist on a vintage look!
We hope that you're feeling inspired by these colorful wedding dresses and accessories! We can't wait to see you shine on your special day.
Be sure to follow our socials to keep up with Maggie online!
More Blogs Like This:
10 Wedding Dress Trends in Maggie Sottero's Fall 2023 Collection
Same Dress, Different Styles: Beautiful Wedding Dress Sister Styles
Wedding Dress Customization & Personalizations with Maggie Sottero