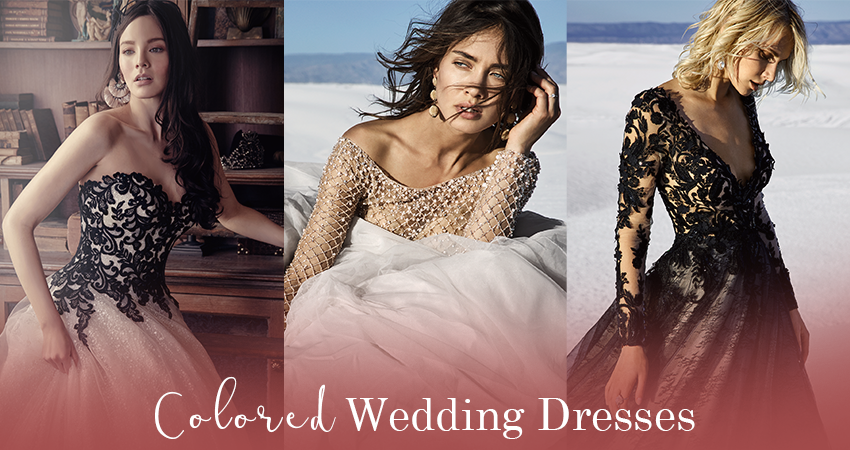 There's no doubt about it: a white wedding dress is classically gorgeous. But with the increase of unique gown styles in recent years, many brides have fallen for the subtle and captivating charms of the non-white color wheel— colored wedding dresses featuring romantic hues from the softest blush to boldest black. We've incorporated several of these top color trends in all three of our Maggie Sottero lines. Keep scrolling for our favorite colored wedding dresses for the bold and unconventional bride!
Black Wedding Gowns
Let's start with the opposite of white: a bold, striking, and gorgeously unconventional shade of black. Gothic-chic brides love this colorway for its mystery and romance, while couture brides favor its stylish and charismatic glamour. We especially love how black complements a fall or winter wedding. And it's also a perfect pairing for jewel tones, shimmery accents, and long evening celebrations lit by candelabras and chandeliers.
For your consideration: black wedding dress Zander by Sottero and Midgley, as well as black and white wedding dress Tristyn by Maggie Sottero. Zander is a striking choice for head-to-toe color and sexy nude details, whereas Tristyn offers a whimsical take on the trend while still showcasing a classic colorway and silhouette. Head to an Authorized Retailer near you to try on your favorite!
Wondering how a black wedding gown works with your skin tone? While black is a chic and versatile choice for a variety of features and complexions, it works especially well with fair tones and light to medium hair colors. (For reference, consider how your skin tone photographs when you wear an all-black ensemble—does it create a slimming and striking effect, or does it tend to dominate your complexion?) Take into account the effects of your wedding venue, season, and final beauty look as well.
Wedding Dresses with Silver or Pewter Accents
Love a white gown but itching to embellish? Consider wedding dresses with silver or pewter accents, an effortless way to incorporate color without losing that "white wedding" magic.
Vincent by Sottero and Midgley offers a royal-esque vibe with long illusion sleeves and a ballgown skirt, all trimmed in embroidered lace and shimmery tulle. Go for subtle silver with our Ivory and Pewter Accent colorway. Or you can turn up the color with our Lavender and Pewter Accent over Champagne. Both look incredible on a variety of skin tones—and especially with fair complexions.
Colored wedding dresses are extra graceful when paired with a boho silhouette or nature-inspired motif, á la Demi by Maggie Sottero. This gown is a vintage-chic style featuring palm-like lace in silver-embroidered thread. Your wedding portraits are sure to dazzle with this unique and ladylike style!
Ball Gown Wedding Dresses with Rose Gold Accents
If glitzy vintage is your wedding vibe, we are pleased to offer two variations of the vintage ball gown wedding dress. Of course, you're allowed to tone your vintage style down to a simple A-line or sheath, but where's the fun in that?
Our first long sleeve ball gown wedding dress, Fitzgerald by Sottero and Midgley, is named after an author of several iconic and ultra stylish female characters—all of which would fall madly in love with the dazzle and charm of a rose-gold beaded bodice and ballerina-inspired skirt.
Our second rose gold gown, Allen by Sottero and Midgley, works perfectly for classic, whimsical, Hollywood glamour, and modern fairytale bridal styles. Featuring a Soft Nude over Rose Gold Accent colorway with a voluminous tulle skirt, this gown is your go-to for all things glitzy and glamorous.
Nude and Blush Colored Wedding Dresses
Looking to add dimension and subtle contrast to your lace and fabrication? Opt for nude and blush colored wedding dresses in dare-to-bare silhouettes. Roxanne by Sottero and Midgley shows how a blush underlay accentuates the texture and patterns of your lace layers, particularly when paired with nude illusion trim and geometric embroidery.
Likewise, Corinne by Rebecca Ingram uses a blush underlay to add dimension to the chiffon skirt and beaded bodice. These colorful wedding gowns are a perfect choice for darker skin tones, adding a fresh and summery glow to your complexion and overall look.
Mauve Wedding Dresses
Love the unique shades of blush-like grey and soft pink that have hit the red carpet lately? Consider our Misty Mauve colorway to emulate that sweet and sophisticated glamour.
Go full-tilt Old Hollywood with Elaine by Maggie Sottero, an Art Deco-inspired style in chic beaded lace and a sexy silhouette; or go bold with blooms in Sasha, a nature-inspired A-line in soft tulle and embroidered lace. Both dresses feature our Misty Mauve hue, with Elaine also featuring an all-black colorway. What more could we ask for?
Looking to complement Misty Mauve with your skin tone? Like blush, this spectrum tends to work best with darker skin, but still looks radiant with medium and light complexions. In a word, it's perfection!
Ivory Colored Wedding Dresses
And finally, back to one of our favorites — a beautiful shade of white! Ivory colored wedding gowns are a lovely nod to a traditional colorway, but offer a more flattering and versatile shade for a variety of skin tones, seasons, and wedding palettes.
Get inspired by Althea from Maggie Sottero, featuring gorgeous crepe embellished in soft illusion lace; or Cory by Sottero and Midgley, a couture lace gown in a stunning pearl-like shade of ivory. Both are designed for major bridal romance!
A Note About Dye Lots
Looking to order a colored wedding dress for your upcoming celebration? Speak with your Authorized Retailer about dye lot variability, or how gown colors (especially popular ones like blush) tend to fluctuate from style to style. Most brides report loving their final colorway regardless of variability. But keep in mind that if you order a gown in a non-white colorway, it may differ slightly from the sample color you tried on.
Feeling inspired to shop for a non-white wedding dress? Check out the inspiration on our Pinterest boards. These gorgeous styles are available at a boutique near you! Take a chance with an ultra-romantic black gown, or keep it chic with blush, ivory, and pewter accents. Best wishes for your special day!