Dresses
|
February 19, 2023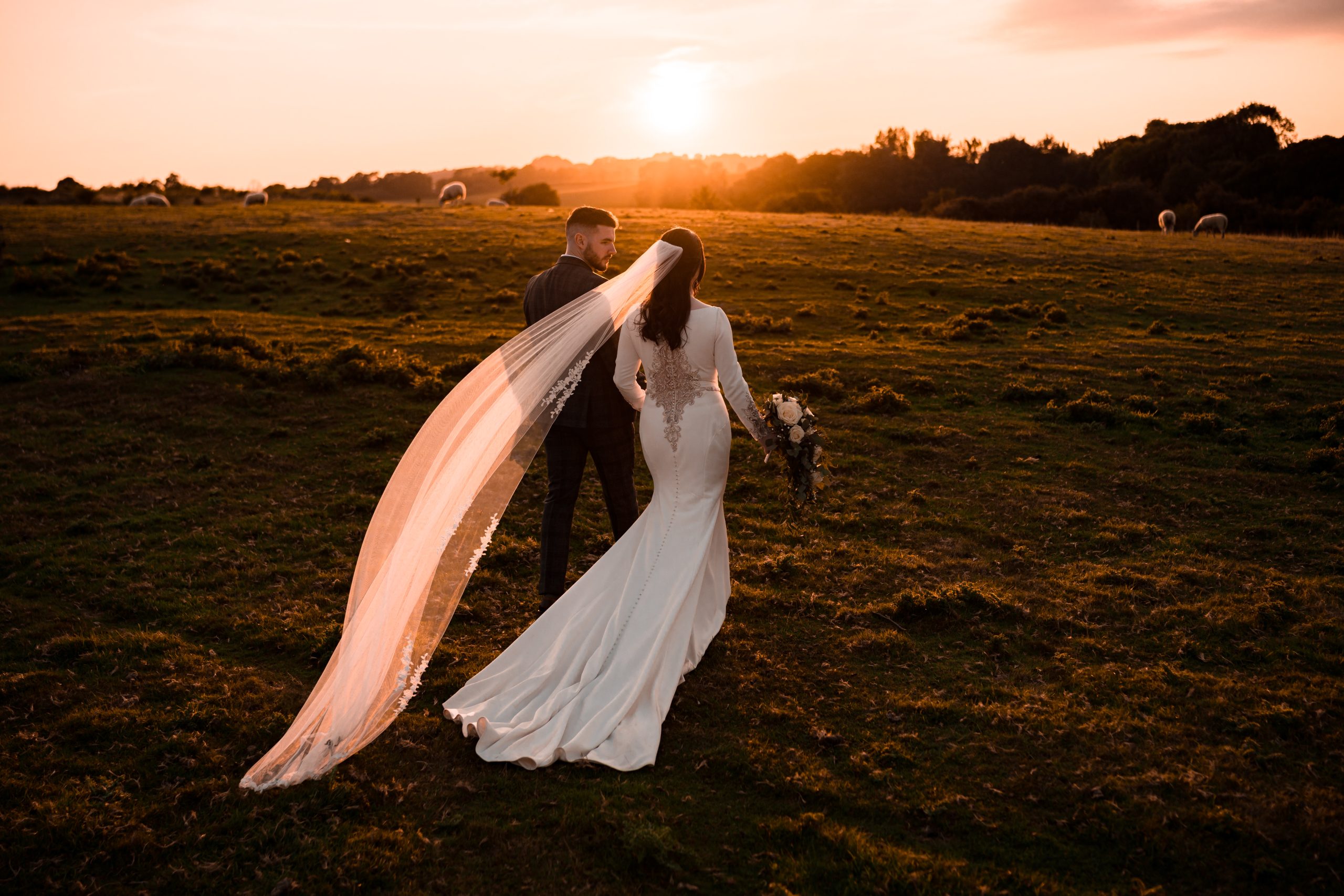 Happy (almost) Spring Equinox! With March around the corner, it is officially the best part of the year to look forward to beautiful spring weather. To honor the occasion, we've curated a collection of the best wedding dresses for each zodiac sign. From feisty Aries to artistic Aquarius and every fabulous chapter in between, we've consulted the horoscope and have the chicest gowns for each star sign's personality (and budget!).
Make sure to keep reading, and to take our Style Quiz below to find the perfect gown for you!
What is a Zodiac Sign?
First of all, what is a zodiac sign? We're sure you're used to reading your daily horoscope, but how does it define your personality? While not set in stone, each of the 12 signs are indicative of your strengths, weaknesses, traits, and desires (and your fashion sense)!
Now get to scrolling to find the best zodiac wedding dress for you and watch our Tiktok to see some of these gowns in action!
Aries: March 21-April 19
First up, bold and audacious Aries. For this aesthetic, we're inspired by Cezanne by Sottero and Midgley… This vintage-inspired A-line leads the pack with romantic draping, an ultra-flattering silhouette, and daring bodice details. These striking details appease your spontaneous side, while the sexy silhouette complements your confident and trendy taste. Bottom line, Cezanne has a big presence — just like you.
Our second pick for Aries-inspired confidence — Elaine by Maggie Sottero makes a red-carpet-worthy entrance. Wow your guests with allover shimmer (compliments of our glitter tulle), a sexy V-neckline, and curve-hugging silhouette. There's nothing like this over-the-top, vintage-inspired wedding gown to embody your passion, confidence, and audacious personality.
Taurus: April 20-May 20
In a nutshell, a Taurus bride's mantra is "serene elegance." These ladies are looking for something…
Earthy
Sophisticated
Nature-inspired
Never gaudy or showy
If this sounds like your style wavelength, get inspired with Keisha by Maggie Sottero. This Taurus wedding gown is the perfect balance of soft, romantic, and effortlessly organic. From the sultry fit to the classic flowers, it's the perfect icon for Taurus's chic and feminine style.
PC: Christina Tooley Photography
Firmly rooted in nature, Taurus zodiac sign wedding dresses are all about form, flourishes, and effortless embellishment. Another gorgeous choice is Alberta by Maggie Sottero, a simple and lushly draped crepe wedding dress with gorgeous accessory options. Divine!
Gemini: May 21-June 20
Hey there, Gemini brides. You may be feeling indecisive about your ideal horoscope wedding dress right now, but don't panic. Give yourself time to research options, consult your friends and family, and feel out your intuition. You're destined for an exceptional and transformative design.
PC: Maggshots Photography
Our first recommendation for Gemini brides is Tuscany Royale by Maggie Sottero. This is one of our most popular fit-and-flares with plenty of sister styles and ways to personalize. Since Geminis are naturally expressive, they're often attracted to these chic and distinctive clothing details… shimmer, color, unique texture, and accessories, such as:
Illusion lace long sleeves (you can order attached to the gown)
Detachable tulle lace train
Detachable illusion lace scallop train
A gorgeous lace bridal veil
Next in zodiac wedding dresses for Gemini brides is Laura by Rebecca Ingram. This vintage-inspired lace gown calls to a Gemini's quirky and expressive side. It's a little modern, a little boho, and 100% romantic. You'll feel like everything a Gemini is meant to feel: dynamic, vibrant, and playful from head to toe.
Cancer: June 21-July 22
Are you an ever-elusive Cancer? You range from introverted and intuitive to wise and energetic… ruled by the moon and ocean and prone to moody and mysterious influences. You tend to be —
Cozy and comfortable
Happiest in private spaces and havens
A lover of books, art, and music
Always the homemaker
Wedding-wise, look to elegant and comfortable styles like Clover by Rebecca Ingram. This traditional and ultra-feminine wedding gown channels major Cancer energy. It's an effortlessly glam satin wedding dress with gorgeous accessories… sure to complement a Cancer bride's tranquil yet imaginative sensibilities.
PC: Black Rider Photography
Nikki by Maggie Sottero is another comfortable and feminine silhouette with a little bit of spice. It's soft and sexy, effortlessly detailed, and perfectly suited for a Cancer bride. Get inspired with more crepe wedding dresses like this in our gallery!
Leo: July 23-August 22
PC: Fontana Lane
Look out, it's Leo season! If you embody the bossy and daring side of this strong-willed earth sign, we have two stunning wedding dresses for your consideration. First, Seneca by Sottero and Midgley is sexy, dramatic, and unabashedly romantic — a perfect match for your Leo heart and soul.
Another dramatic and charismatic Leo gown is Anniston by Maggie Sottero. A few features we adore:
The unique fabric and texture
The classic and comfortable strapless silhouette
The "classic meets new" aesthetic
Virgo: August 23-September 22
Say hello to the aristocratic and refined aesthetic of a Virgo. These brides love anything with exquisite construction… i.e., the tailored lace silhouette and illusion details in Bronson by Sottero and Midgley. If you're channeling Virgo's archetype of femininity, your wedding gown is sure to be a portrait of grace and sophistication.
PC: Wisner Photography
Our second choice for Virgo brides is Josie by Rebecca Ingram, featuring:
Allover satin in a tailored silhouette
Beautifully constructed sleeve detailing
Easy, practical ways to style and accessorize
Libra: September 23-October 22
Looking to channel the sweet harmonious aesthetic of Libra season? Noah by Maggie Sottero is the epitome oft femininity and harmony, featuring:
An ultra-feminine, perfectly symmetrical silhouette (inspired by your emotional intelligence, of course)
A figure-hugging silhouette to play up your favorite assets and complement your charming personality.
PC: Zane Corlett Photography
Another lovely Libra style is Minerva by Rebecca Ingram, a beautiful and flowing style inspired by love, harmony, and all things calm, cool, and collected.
Scorpio: October 23-November 21
If you're a sexy and sultry Scorpio bride, look no further than Aspen by Sottero and Midgley. This bold and mysterious wedding gown is the epitome of the season's intrigue and drama.
Our second pick for Scorpio brides is Hayes by Maggie Sottero. It's business in front and party in the back, featuring:
A gorgeous crepe silhouette
Delicate illusion details
A statement back embellished in lace
Personalization options for the sleeve length
A detachable lace train, sold separately
Enjoy more sexy wedding dresses like Hayes in our gallery!
Sagittarius: November 22-December 21
Curious, energetic, and free-spirited, a Sagittarius bride is all about a playful, lighthearted, and effortlessly boho wedding design. First up, Tierney by Rebecca Ingram appeals to that sweet and subtle aesthetic — from its delicate floral motifs to daring neckline and strappy low back.
For a Sagittarius vibe with a bit more drama, consider Mindel by Maggie Sottero. This silhouette has that effortless glow to match your fire sign's energy and optimism, with just enough floral and flourish to appease your adventurous side.
Capricorn: December 22-January 19
If you're a Capricorn bride, it's likely you're searching for zodiac sign wedding dresses with clean, contemporary silhouettes and timeless embellishments:
"Perennially fresh" trends that manage to feel new and classic at the same time
Striking fabrics that command any venue, season, or aesthetic.
Sexy but tailored silhouettes — the embodiment of your stately Capricorn vibe
A touch of indulgence, with an eye for statement detail.
Our first pick for your modern and independent spirit is Cameron by Maggie Sottero, a clean yet luxe silhouette with vintage-inspired details. It's the perfect "something old" meets "something new." (See more of these trends in our bridal gallery.)
PC: Sky Photography UK
Our second pick for Capricorn brides is Aston by Sottero and Midgley — a statement in bedazzled minimalism. This subtle silhouette is the perfect contrast to the over-the-top, crystal-embellished back.
Aquarius: January 20-February 18
As a free-spirited Aquarius bride, you don't get stuck on fussy traditions or stuffy rules for your wedding. For that, we choose luxe bridal gown Saratoga by Maggie Sottero as the perfect complement to your laidback and confident personality. Channeling that chic and romantic Aquarius vibe? Piece of cake.
Another quirky twist on a classic style is Mischa by Sottero and Midgley, featuring:
A gorgeous ballgown silhouette
A unique geometric motif paired with florals
An eye-catching neckline
Soft, lush layers of tulle and shimmer
If you love this nontraditional colorway, you'll be smitten with our selection of unique wedding dresses with color.
Pisces: February 19-March 20
And finally, Pisces brides just might be the dreamiest and most ethereal of wedding personas… And their ideal gowns are nothing short of divine. Channel this goddess-like style with a style like Harriet by Rebecca Ingram, featuring:
A shimmery beaded bodice
A unique ballerina-inspired skirt
Soft and flowy illusion and layers throughout
Our second wedding gown for Pisces brides is Louisa by Maggie Sottero. She offers more of that shimmer, illusion, and fantastical lace — the perfect complement to a Pisces' dreamy and imaginative nature.
Did we conjure up the perfect wedding dresses based on your stylish astrological sign? Head to an Authorized Retailer near you to manifest your style IRL! And as always, follow our social channels for more inspiration, shopping tips, styled shoots, and more:
More Blogs Like This:
Magical Disney Princess Wedding Dresses For Your Fairytale Day
Harry Potter Wedding Dresses For Your Hogwarts House
Celebrity Wedding Dresses Inspired By Glamourous Women In History
As for bridal magic based on your zodiac sign? You're sure to have a beautiful wedding celebration — it's written in the stars!