Dresses
|
September 24, 2021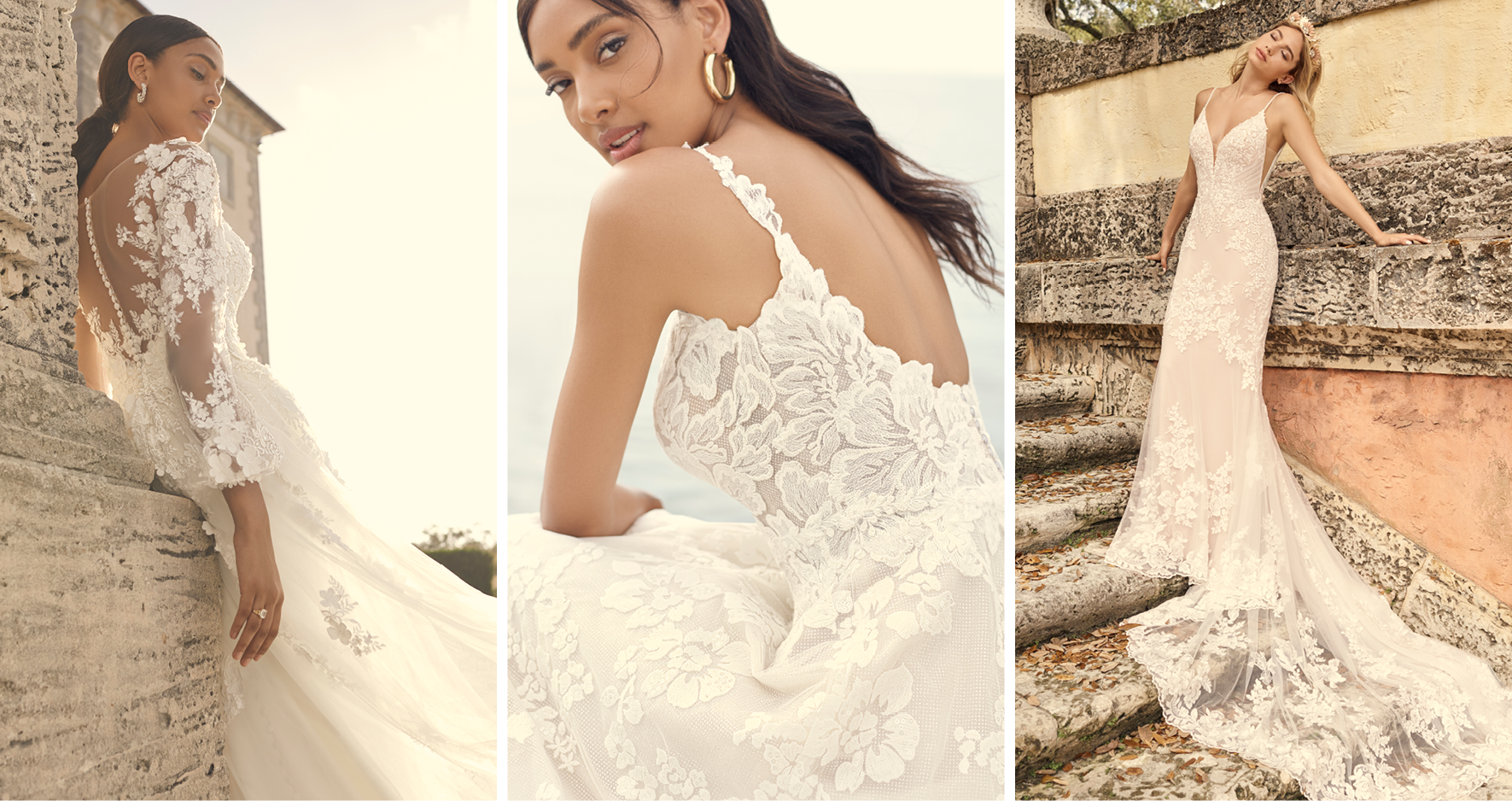 Shopping for zodiac sign wedding dresses to fit your mood, personality, and style? We've consulted the horoscope: These are the chicest, most romantic, and personalized wedding dresses for your star chart!
Aries Wedding Dresses: March 21-April 19
Your bold Aries aesthetic will be inspired by Roxanne by Sottero and Midgley . This vintage-inspired A-line leads the pack with romantic lace motifs and an ultra-flattering silhouette. These striking flourishes appease your spontaneous side, while the sexy bodice details also complement your confident and trendy taste. Bottom line, Roxanne has a big presence—just like you.
Second, for the Aries bride with a taste for bling, Andrew by Sottero and Midgley makes a jaw-dropping entrance. Not only would it "wow" your guests with allover shimmer, but it has divine 20s-inspired fringe as well. There's nothing like an over-the-top wedding gown to embody your passion, confidence, and audacious personality.
Zodiac Sign Wedding Dresses for Taurus: April 20-May 20
A Taurus bride's mantra is "understated elegance." They are looking for something sensuous and sophisticated, stately yet feminine; never gaudy or showy. Arta by Sottero and Midgley will influence your decision if this describes you. This Taurus wedding gown is the perfect balance of simplicity and romance, from the clean crepe (with perfect stretch), to the 3D floral lace motifs along the bodice and straps.
Firmly rooted in nature, Taurus zodiac sign wedding dresses are all about form, flourishes, and effortless embellishment. The lace and illusion on Hamilton by Sottero and Midgley will inspire you. It's reminiscent of greenery and garlands, but still chic and sophisticated in form and tailoring; an ideal balance of lushness and subtlety.
Gemini Wedding Dresses for Zodiac Signs: May 21-June 20
Hey there, Gemini brides. You may be feeling indecisive about your ideal horoscope wedding dress right now, but don't panic. Give yourself time to research options, consult your friends and family, and feel out your intuition. You're destined for an exceptional and transformative design.
Our first wedding dress for Gemini brides is Fiona by Maggie Sottero. This wedding dress is an exquisitely detailed fairytale fit-and-flare with shimmery lace and sexy bodice details. Since Geminis are naturally expressive, they're often attracted to chic and distinctive clothing details. The shimmer, color, unique texture are only a few examples. This dreamy beaded style lets you step into that spotlight and play up your bright and creative personality.
Next in zodiac wedding dresses for Gemini brides is Orlanda by Maggie Sottero. This princess ball gown showcases your diverse taste in clothing and accessories. It's a little regal, a little boho, and 100% romantic. You'll feel like everything a Gemini is meant to feel: dynamic, vibrant, and playful from head to toe.
Cancer Wedding Zodiac Signs Dresses June 21-July 22
A Cancer's character can be a bit elusive, ranging from introverted and intuitive to wise and energetic. Ruled by the moon and ocean, a Cancer is prone to moody and mysterious influences. They tend to cozy away in comfortable, nest-like havens and retreat to their private spaces to read, write, and create, as they are always the homemaker.
Look to elegant and comfortable styles like Kennedy by Sottero and Midgley to channel this Cancer energy in your wedding-dress shopping. This fit-and-flare bridal gown features luxe details in the sleeves and back. It's a lovely, ultra-romantic design that's sure to complement a Cancer bride's tranquil yet imaginative sensibilities.
You may be attracted to a more classic and demure horoscope wedding dress like Iris by Rebecca Ingram if your Cancer personality is a bit more traditional. This lovely A-line appeals to both the timelessness and intrigue of a Cancer aesthetic with plenty of lace flourishes to spare.
Leo Wedding Zodiac Signs Dresses: July 23-August 22
Look out, it's Leo season! If you embody the bossy and daring side of this strong-willed earth sign, we have two stunning wedding dresses for your consideration. First, Nikki by Maggie Sottero is sexy, chic, and unabashedly romantic—a perfect match for your Leo heart and soul.
Silver-screen charisma combines with modern romance in Joss by Sottero and Midgley. This off-the-shoulder mermaid style complements your Leo charm, energy, and warmhearted nature for your best day ever. These wedding dresses will help you channel the fierceness of your inner lioness.
Virgo Wedding Dresses: August 23-September 22
To appease the aristocratic and refined aesthetic of a Virgo, give attention to your flourishes and details. A Virgo bride loves anything with exquisite construction. This could mean a tailored bodice or a romantic train. After all, you're the archetype of femininity; your wedding gown is sure to be a portrait of grace and sophistication.
Two zodiac wedding dresses for Virgo brides we adore? Charmaine by Maggie Sottero and Marlow by Sottero and Midgley. These two designs both feature delicate floral details and stunning silhouettes.
Libra Zodiac Sign: September 23-October 22
Looking to channel the sweet fall aesthetic of Libra season? Hattie by Rebecca Ingram is designed for the femininity and harmony of this mellow, emotionally intelligent bridal persona. This Libra pick shows off your figure, plays up your favorite assets, and complements your charming personality.
Another soft and sentimental choice for Libra brides is Mirra by Maggie Sottero. This style features 3D floral motifs and a fairytale silhouette. There's nothing like this regal silhouette for a high-style celebration inspired by your romantic personality.
Scorpio Wedding Dresses October 23-November 21
Inspired by the intuitive and magnetic personality of a Scorpio bride, Fontaine by Maggie Sottero is a gorgeous choice for this late-fall earth sign. This sparkly lace fit-and-flare bridal gown is classic with a few nods to sexy: a formfitting bodice, delicate floral motifs, and the perfect layer of illusion in the train.
To complement your sultry and mysterious Scorpio vibe, look to a couture silhouette like Cambridge Dawn by Sottero and Midgley. Above all, this sleeved wedding dress is equal parts chic and romantic – an ode to your calm, cool, and mysterious side, but with just enough flourish to keep you fearless and energized.
Sagittarius Wedding Dresses November 22-December 21
Curious, energetic, and free-spirited, a Sagittarius bride is all about a playful, lighthearted, and effortlessly boho wedding design. First, Lorraine by Rebecca Ingram appeals to that sweet and subtle aesthetic—from its lightweight chiffon skirt to delicately embellished bodice.
For a Sagittarius vibe with a bit more drama, consider Sawyer by Sottero and Midgley. This silhouette has that effortless glow to match your fire-sign energy and optimism, with just enough floral and flourish to appease your adventurous side.
Capricorn Wedding Dresses: December 22-January 19
If you're a Capricorn bride, it's likely you're searching for a wedding dress based on horoscope sign with a streamlined strategy and a no-frills mindset. You're drawn to clean, contemporary silhouettes and timeless embellishments. Those perennially "fresh" trends that manage to feel new and classic at the same time.
Our picks for your bridalwear? First is Selena by Maggie Sottero, a striking satin ball gown that commands any venue, season, or aesthetic.
Second is luxe and lovely Fernanda by Maggie Sottero—the embodiment of your stately Capricorn vibe, but perfect for indulging in those statement bridal accessories.
Aquarius Wedding Dresses: January 20-February 18
The Aquarius trendsetter is inspired with the free-spirited, adventurous vibe of Dallas by Rebecca Ingram. This cascade of lace and beading is sure to appeal to your forward-thinking sensibilities and easy bridal aesthetic—almost like you yourself invented the silhouette and embellishments!
Next, a second option of a covetable wedding dress for Aquarius brides is Leota by Rebecca Ingram.
You don't get stuck on fussy traditions or stuffy rules for your wedding. This affordable bridal gown is the perfect complement to your laidback and confident personality. Channeling that chic and romantic Aquarius vibe? Piece of cake.
Pisces Wedding Dresses: February 19-March 20
Pisces brides are the dreamiest and most ethereal of wedding personas. Their ideal gowns are nothing short of divine. Channel your goddess-like style with a vintage-inspired silhouette, oversized ruffles and tiers, and soft layers á la Houston by Sottero and Midgley. It's theatricality and imagination in its most bridal-chic of forms.
If your astrological chart calls for a Pisces fairytale, look to Marisol by Rebecca Ingram. She offers more shimmer, layers, and lightweight lace. We're smitten with this bodice and skirt treatment. It's perfect for the dreamy and fantastical nature of a Pisces personality.
Now that you've narrowed down your zodiac sign wedding dresses, head to our rundown of wedding dress colors to match your astrological inspo to your favorite palettes. Lastly, we've also curated our favorite new runway styles from Spring 2022; all of which are heading to Authorized Retailers near you in the coming weeks, just in time for engagement season. Whatever your star chart has in store for you, we can't wait to see you in your meant-to-be wedding gown for your best day ever. Best wishes!