Dresses
Runway
|
September 12, 2022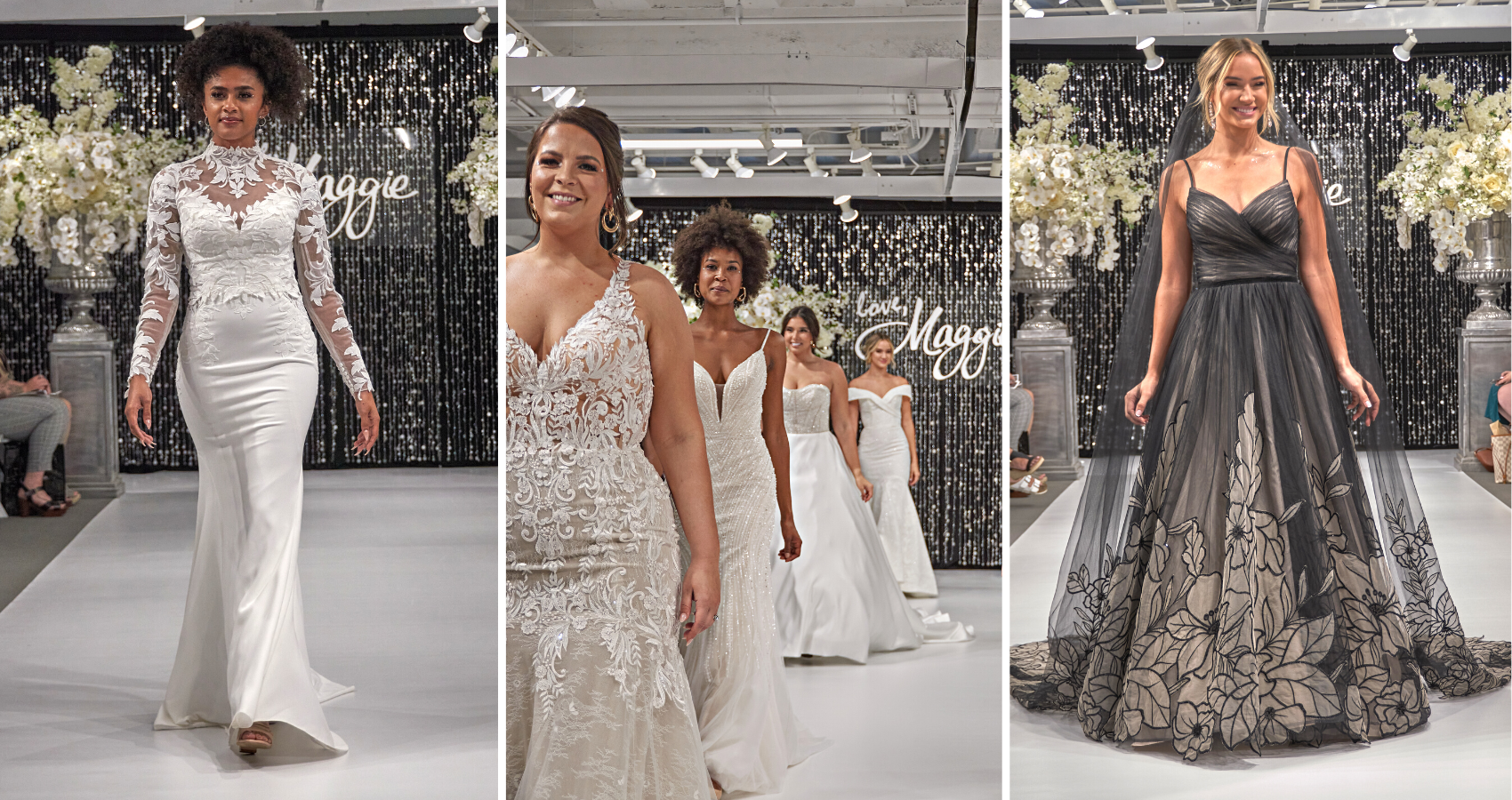 There are a few things that we love about August: chilly days around the corner, beautiful summer sunsets, and the Chicago Bridal Market, where we get to debut our brand-new Spring 2023 runway wedding dresses!
Our newest gowns are full of glittering details, celestial drama, and infinite romance—swoon-worthy, right? Though it was hard to pick and choose from these gorgeous wedding dresses, we came up with a list of nine gowns we think embody the feel of Maggie Sottero Design's Spring 2023 collections. We hope you enjoy this sneak peek before gowns hit our website on October 3rd.
Before you start oohing and ahhing over these stunning dresses, make sure to sign up for our exclusive Maggie text messages below to be the first to know when these gowns hit stores!
Bridal Trend: Striking Silhouettes and 3D Appliques
Nothing is better than a wedding dress with showstopping silhouettes and stunning details. What do we love most about these gorgeous details? They're universal no matter the style, bride, or price range.
Whether you're a boho bride who wants 3D floral appliques, a glamorous bride who craves feather details, or a classic bride who loves textured beading, there's a look in these runway wedding dresses for you! You'll truly be a work of art on your wedding day in one of our striking silhouettes that hug and complement every curve.
Recurring Trend: Simple and Chic Wedding Dresses
Simple and chic wedding dresses will never go out of style, so of course, they're back for another year! This sexy and elegant vibe is incorporated into beautiful ballgowns, sleek fitted dresses, and sexy backless gowns.
Updated Trend: Corseted Bodices
Are you a fan of Bridgerton? Romantic vintage looks? Maybe you love that gorgeous green dress that Zendaya wore on the red carpet? If so, we definitely have the looks for you.
This season's Spring 2023 runway wedding dresses are all about visible boning under intricate bodices and gorgeous lines with gorgeous fabrics. Sexiness mixed with romance and classiness. Whether you are looking for a wedding dress that compliments your free-spirited side or a bridal gown to enhance your bougie side, you're sure to find it here.
Trend Becoming a Staple: Colorful Wedding Dresses
Move over traditional ivory colorways for wedding gowns! Colorful wedding dresses are dominating bridal fashion. Maggie Sottero Designs hopped on this trend early with our collection of black, blush, and red wedding dresses, and we've continued to carve this unique path in bridal by designing even more colored wedding gowns!
Psst… for all our Barbie-loving brides out there, make sure to keep an eye out for our newest colorway: Ice Pink!
Recurring Trend: Versatile Bridal Accessories
This season Maggie serves up another stunning selection of bridal accessories, from statement capes and classic veils to removable sleeves and blingy embellishments. We're loving these trends for their versatility; brides have more options than ever to personalize their wedding aesthetic, switch up their ensemble between their ceremony and reception, and create a one-of-a-kind look for wedding photos.
And as if this trend couldn't get better, we have a unique line of bridal gloves coming out as well. From sparkly gloves to lacey, gothic-inspired gloves, you're sure to feel like royalty walking down the aisle.
Fresh Trend: Skirt Slits and Wedding Bows
Sexiness and glamour go hand-in-hand at Maggie. So, introducing the bridal trend of skirt slits and wedding bows felt like a natural next step for our Spring 2023 wedding dress collection.
Now that we've covered the most popular bridal trends of the season, we'll dive into our gorgeous lineup of our hottest runway wedding dresses. Scroll on!
Runway Wedding Dresses from The Maggie Sottero Collection
Our Spring 2023 Maggie Sottero gowns remind us again of what we love about bridal fashion: unique lace patterns, beautiful silhouettes, fashion-forward designs, and classic details.
Keep reading to see these inspirations come to life in the form of flowy fabrics and timeless beading, inspired by our bride's love stories, the glamour of a starry night, and the intricacy of time.
Black Floral Wedding Dress: Watson by Maggie Sottero
Is there anything more fashionable than black? We don't think so. That's why we're starting off our newest collection sneak peeks with our black floral wedding dress, Watson by Maggie Sottero.
Designed with head-to-toe tulle, this black wedding dress features a chic V-back with vintage-styled buttons, and a large floral lace reminiscent of early Spring. This black runway wedding dress is the perfect mixture of mod and classic – causing your (and your guests') hearts to flutter as you walk down the aisle.
Love this dress? Keep reading to see the matching veil and read our blog on our other black wedding dresses!
Celestial Glitter Wedding Dress: Anniston by Maggie Sottero
Our Spring 2023 collection is all about ethereal energy, channeling our internal starlight, and celebrating the universe, so it only makes sense to have a celestial wedding dress to emphasize that. Say hello to Anniston by Maggie Sottero!
This head-to-toe glitter wedding dress will not only feel great as you walk down the aisle, but you'll look great too! With a strapless sweetheart neckline, full ballgown skirt, and detachable off-the-shoulder straps, you might just be mistaken for a falling star on your wedding day.
Floral Lace Fit-And-Flare: Estella by Maggie Sottero
Want to have a fresh look for your wedding day? Look no further than our newest fit-and-flare wedding gown, Estella by Maggie Sottero.
Swirling floral lace and a dreamy train are just some of the highlights of this romantic wedding dress. A plunging V-neckline and V-back are also featured in this style along with a subtle shimmer to complement any accessories you choose to wear with it.
Don't worry if you're not a fan of illusion bodices—we've got you! This timeless wedding dress can also come with a lined bodice to suit your style.
Love floral wedding dresses? Us too! Read our blog to find more styles like this.
Sexy Corseted Bridal Dress: Danielle by Maggie Sottero
We've heard that visible boning is all the rage right now, so let us introduce you to Danielle by Maggie Sottero.
This mermaid wedding dress is sexy yet sweet. Classic yet modern. Romantic yet daring. We are absolutely obsessed with the sultry sweetheart neckline, impeccable fit, and miles of modern lace that this gown offers. With a corset bodice that's swoon-worthy, we have no doubt that you'll be saying "yes!" to this dress.
Boho A-Line Wedding Dress: Keisha by Maggie Sottero
Last on our Maggie Sottero lineup is a boho wedding dress, Keisha by Maggie Sottero! If you're a bride looking to have a romantic wedding day with lush florals, an organic color palette, and a beautiful summer sky then this gown is the one for you.
With a unique floral pattern, flowy A-line skirt, and a scalloped neckline, Keisha puts the BEAU in boho. Additionally, this gown is made picture-perfect with its sexy plunging details, subtle shimmer, and summer-loving spaghetti straps.
Don't just take our word for it though! Look how our gorgeous model is rocking this gown down the runway. Keep reading to see some more styles for you!
Runway Wedding Dresses from The Rebecca Ingram Collection
Effortless love stories, warm summer light, and the wildness of a passionate heart were a few of the inspirations behind the one-of-a-kind Rebecca Ingram Spring 2023 Collection.
These styles are the perfect combination of modern designs, classic details, effortless beauty, and delicate details. Dive into the newest Rebecca Ingram collection by exploring five runway wedding dresses that define this brand.
Romantic Black Wedding Dress: Alexandria by Rebecca Ingram
Don't worry brides—we have another black wedding dress for you. Meet Alexandria by Rebecca Ingram!
This fairytale-inspired dress is made unique by its 3D florals, dramatic bishop sleeves, and open V-neckline. If you're more of an Aurora than a Maleficent, don't stress. This gorgeous A-line wedding dress comes in a variation of colorways including ivory and champagne.
This wedding dress also comes with the personalization option of sparkle tulle if that fits your bridal fancy!
Versatile Crepe Bridal Gown: Dionne by Rebecca Ingram
Are you more of a fan of Marilyn or Audrey? Whomever you'd like to channel on your wedding day, Dionne by Rebecca Ingram will deliver your perfect bridal vision!
This crepe gown is one of the most versatile in our collection. With the lace, high-neck jacket, you'll be the picture of elegance. Take off the jacket to reveal the sexy cutouts and ultra-low back, and you become a beach beauty!
Love the versatility of this bridal look? Read our blog to learn more about our detachable sleeves personalization!
Whimsical Cottagecore Wedding Dress: Matilda by Rebecca Ingram
Do you dream of running through a field of wildflowers? Conversing with fairies? Marrying the love of your life at sunset? Well, do we have the wedding dress for you!
Matilda by Rebecca Ingram, a lacy A-line style, is for the whimsical, free-spirited bride. It's for those who love tulle and sexy open backs. Someone who dreams of floral lace and dreamy details! If this sounds like you, make sure to say "yes!" when it hits stores!
Chiffon Beach Wedding Gown: Tierney by Rebecca Ingram
Are you looking for the perfect beach wedding dress? Look no further! Tierney by Rebecca Ingram was made for a ceremony on a sandy beach with picturesque waves, and preferably, a sunset.
Featuring a flowy chiffon skirt with a slit, a plunging V-neckline, an open back, and a lacy bodice with shimmery details, you'll look like a real, live mermaid on your wedding day!
Looking for more beach wedding dress options? Read our blog to find the gown for you!
Strapless Lace Bridal Dress: Helen by Rebecca Ingram
Last but not least, the strapless bridal dress, Helen by Rebecca Ingram, is classic bridal. This sweet sheath gown will fit you to a T with its impeccably fitted bodice and elegant silhouette.
Featuring miles of floral lace and a timeless sweetheart neckline, it's the ideal gown for a rustic wedding. We picture this elegant gown in a cabin venue with hundreds of fairy lights, a rose-inspired color palette, and a scenic backdrop for you and your partner's vows.
Runway Wedding Dresses from The Sottero and Midgley Collection
To put it simply, the Sottero and Midgley Spring 2023 Collection was inspired by starlight. It embodies the meaning of sophisticated drama. It's a perfect combination of Victorian flair with modern details. Featuring bold colors, luxe textures, and dramatic silhouettes, this fashion-forward collection truly embodies the couture spirit of Sottero and Midgley.
Couture Strapless Wedding Gown: Aspen by Sottero and Midgely
You didn't think we'd leave you wanting more black wedding dresses, did you? For our chic and simple loving brides, we have Aspen by Sottero and Midgley!
With a strapless couture neckline, vintage-inspired buttons, and thigh-high slit, this gown makes the perfect vogue statement for your big day. For an even more regal-inspired look, pair it with our newest Clark veil!
Not a fan of the black colorway? Don't worry. It also comes in ivory to appeal to your traditional side.
Sexy V-Neck Wedding Dress: Dove by Sottero and Midgley
Want some sparkle and sexy details in your wedding dress? That's where Dove by Sottero and Midgley comes in.
This fit-and-flare bridal dress is the definition of showstopper. Its head-to-toe lace and luminous sparkle are sure to turn heads, while its sultry V-neckline, open back, and illusion cutouts will leave your partner and your guests drooling over this gown.
Our favorite aspects? The delicately beaded spaghetti straps.
Simple and Glamorous Bridal Gown: Fabienne by Sottero and Midgley
Fabienne by Sottero and Midgley truly puts the FAB in fabulous with its striking silhouette and sweetheart neckline.
This gown channels fabulous icons like Marilyn Monroe, Cher, Selena, and Diana Ross with its crystal-encrusted off-the-shoulder neckline, never-ending elegant satin, and perfectly fitted fit-and-flare silhouette. At Maggie, we pride ourselves on our internal boning to emphasize your figure, and it's obvious in the fabulous Fabienne!
Are you a fan of the fabulous and simple wedding dress style? Read our blog to find more simple wedding dresses for you!
Ethereally Beaded Ballgown: Royce by Sottero and Midgley
Wearing Royce by Sottero and Midgley, you'll feel like a constellation come to life with its celestial-inspired beading!
In this dramatic tulle ballgown with a plunging V-neckline, sexy open back, and sexy cutouts, you'll feel like Venus herself walking down the aisle towards your partner!
Sexy Boho Sheath Wedding Dress: Bronson by Sottero and Midgley
Last, but certainly not least, is our sultry and bohemian wedding dress Bronson by Sottero and Midgley! If you're looking to feel like a boho goddess, this is the gown for you! With a unique and organic lace pattern and a sweetheart neckline, it's the perfect combination of sexy and boho.
If you love a little bit of pizzazz in your wedding dress, this gown will come with the personalization options of adding a layer of sparkle tulle and dramatic off-the-shoulder bell sleeves when it becomes available in October!
Runway Wedding Dress Accessories from the Spring 2023 Collection
What is a wedding dress without its accessories? For our Spring 2023 runway wedding dresses, we are offering more accessories than we ever have! Keep scrolling to get a sneak peek of some of our favorites.
Floral Watson Veil by Maggie Sottero
First on our list of accessories is the Watson by Maggie Sottero veil. This dramatic and unique veil is destined to accompany our Watson wedding dress, but you can match it to any of our gorgeous gowns!
This floral, chapel-length veil is the perfect accessory to your uniquely bohemian look!
Love the veil look? Read our blog about picking your perfect bridal veil!
Regal-Inspired Crystal Cape Clark by Sottero and Midgely
You know Daenerys from Game of Thrones? We are pretty sure that she would have worn our Clark cape by Sottero and Midgley for her wedding day.
A unique alternative to the bridal veil, this regal-inspired bridal cape is giving all sorts of whimsical and couture energy with its floor-length tulle and crystal-encrusted shoulders.
Boho Detachable Bridal Jacket Dionne by Rebecca Ingram
Another type of bridal accessory we are offering this season is our unique bridal jackets, and first on the list is Dionne by Rebecca Ingram!
This romantic lace jacket offers a modest look to any bridal dress you have your heart set on. With its high neckline and dramatic long sleeves, you'll feel like the belle of the ball while appealing to your modest side as well.
Detachable Bridal Sleeves Orianna by Maggie Sottero
If you're looking to add a little something extra to your strapless wedding dress, the off-the-shoulder Orianna sleeves by Maggie Sottero are the perfect accessory.
These romantic beaded sleeves will help emphasize your whimsical nature while being as trendy as can be with their 3D details.
3D Floral Veil Knox by Sottero and Midgley
Speaking of 3D Details, say hello to our chapel-length veil, Knox by Sottero and Midgley!
This beautiful veil features a 3D lace pattern, subtle beading, and dramatic length to help you greet your partner at the end of the aisle.
Excited to shop these off-the-runway wedding dresses and accessories for your upcoming celebration? Find A Boutique near you to see which gorgeous new styles are headed your way and keep an eye on our website for these styles, which drop on October 3rd! Shop an array of stunning runway wedding dresses to create your perfect head-to-toe bridal look. You can personalize any of our gowns with all kinds of fabrics, accessories, and details—from veils to layers to embellishments—just ask your bridal stylist.
Oh, before we go, have you heard about our 25 Days of Giveaways? Follow us on TikTok and jump in for the chance to win amazing prizes. We start on October 4th! See you over there!
More Blogs to Help You Pick Your Wedding Dress:
Wedding Dress Size Chart: How To Measure For Your Wedding Dress
The Ultimate Guide To Choosing Your Wedding Dress Fabric