Media
Runway
|
September 9, 2021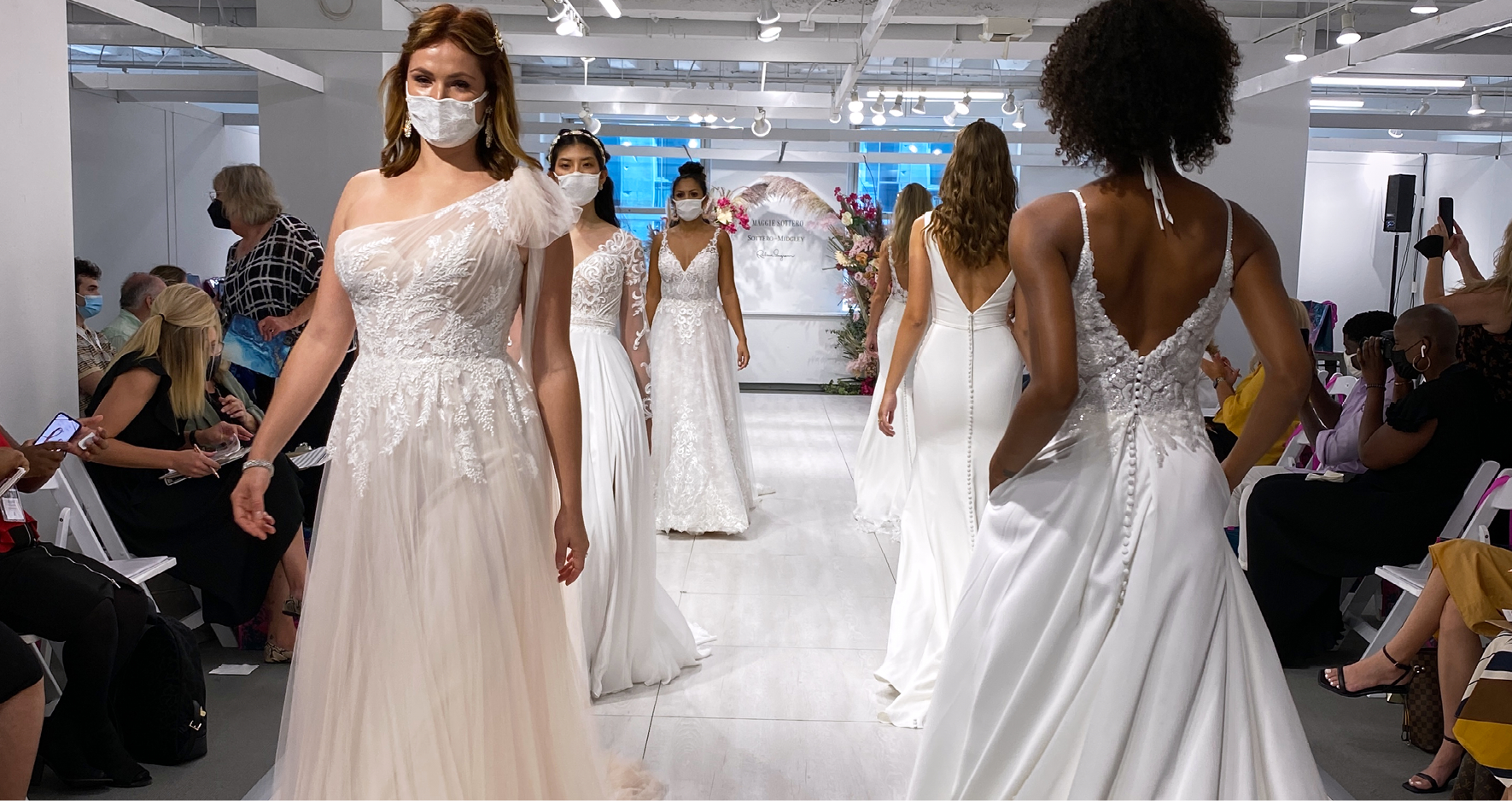 We're fresh from Chicago and ready to debut our brand-new bridal collections! When we asked our boutique stylists to list off their favorite features for Spring 2022, the descriptions came easy. Narrowing down their favorite bridal gowns from the new lineup? That was much trickier. These are the latest trends and runway wedding dresses that made the cut!
Bridal Trend: Cottagecore Wedding Dress Styles
Call it boho, call it folksy—the latest "free spirit" bridal aesthetic is all about soft, billowy, ultra-romantic wedding gowns that look straight out of a woodland fairytale. Our take on the cottagecore bride trend? We believe exposed boning, vintage bishop sleeves, and fresh princess silhouettes in a variety of shimmer, illusion, and lace embellishments are the way to go.
Recurring Trend: Wedding Gowns with Low, Bare Backs
The return of the low, bare-back wedding dress is here—AKA another bridal trend we can't get enough of for Spring 2022. You'll find plenty of this sexy, chic, and elegant design in our newest collections, from plunging V-back minimalist styles to scoop-back princess ball gowns with open-back illusion.
Updated Trend: Bridal Gowns with Romantic Sleeves
This season's sleeve trends are designed to create nostalgic, whimsical silhouettes—elevating classic wedding dresses with voluminous shapes, draping, illusion, and structure. We've designed dozens of gorgeous sleeve options for this season's runway, many of which are detachable to create a versatile and ultra-personalized wedding aesthetic.
Trend Becoming a Staple: Bridal Pants and Jumpsuits
Bridal jumpsuits have become bit of a staple in recent seasons; brides are loving the lightness, ease, and chic versatility of this ultra-modern silhouette. What we love most about this trend is its delightful surprise. Guests will swoon when you step out in this distinct and covetable silhouette!
Recurring Trend: Versatile Bridal Accessories
This season serves up another stunning selection of bridal accessories, from statement capes and classic veils to removable sleeves and blingy embellishments. We're loving these trends for their versatility; brides have more options than ever to personalize their wedding aesthetic, switch up their ensemble between ceremony and reception, and create a one-of-a-kind look for wedding photos.
Fresh Trend: Bridal Gowns with High Slits
If you're all about this season's sexy wedding trends, get inspired with brand-new styles with high slits. This trend is chic yet sensual, classic yet surprising, and so effortless to pull off. (Not to mention you'll love the photo ops.)
Without further ado, here are some of our top runway wedding dresses we debuted in Chicago! You'll be able to shop these stunning new designs in the next few months. Be sure to contact an Authorized Retailer near you for more information.
Now that we've covered the most popular bridal trends of the season, we'll dive into our gorgeous line up of hottest runway wedding dresses. Scroll on!
Simple Wedding Dress Phaedra by Maggie Sottero
Minimalist wedding dresses make another stunning debut this season, from slinky satin designs to stately crepe and ultra-simple chiffon. One of our top new bridal gowns is Phaedra by Maggie Sottero, a Grecian-inspired A-line with a truly stunning draping effect.
This wedding gown showcases two key trends for Spring 2022: the thigh-high slit and the gorgeous open back. It's simple in design yet makes a stunning entrance—perfect for elegant wedding photos you'll love for decades to come.
Elegant Crepe Wedding Dress Calista by Rebecca Ingram
Subtle lace and crepe combine for a chic yet ultra-romantic statement in Calista by Rebecca Ingram. This is one of our favorite runway wedding dresses to complement a simple yet sophisticated wedding aesthetic. It's flattering, stylish, and perfectly tailored for a sweet summer celebration. (Not to mention it's part of our budget-friendly Rebecca Ingram line.)
Off-the-Shoulder Bridal Gown Ralston by Maggie Sottero
No gallery of runway wedding dresses is complete without a romantic off-the-shoulder silhouette, á la this svelte and flattering fit-and-flare featuring soft lace and a stunning neckline. Style Ralston by Maggie Sottero with simple jewelry and a polished updo for a fresh yet timeless vibe, or go bold and boho with a flower crown and loose waves. This silhouette is primed for all kinds of styling potential.
Delicate Boho Wedding Gown Evora by Rebecca Ingram
For a sweet and effortless bridal look, get inspired with lightweight runway wedding dresses like Evora by Rebecca Ingram. This affordable wedding dress feels both modern and timeless, featuring a romantic lace pattern and (subtly) sexy plunging neckline. Opt for the detachable illusion train to add a perfect dose of fairytale charm; it's easy to remove and looks fab in photos.
Unique Fit-and-Flare Bridal Dress Rashida by Sottero and Midgley
This season's runway wedding dresses are all about one-of-a-kind fabrications, and this textured lace fit-and-flare showcases one of our most flattering combinations. Rashida by Sottero and Midgley gives you a divine silhouette with perfect stretch and perfect contrast—a stunning choice for your 2022 celebration.
Shimmery Princes Ball Gown Wedding Dress Symphony by Maggie Sottero
Love the princess trend, but nothing too on-the-nose? If you opt for soft shimmer and a simple silhouette, you'll step out feeling like nothing short of iconic. Symphony by Maggie Sottero flatters all body types and dazzles any photographer. This is one of our favorite regal bridal gowns of the season.
Vintage Lace Bridal Dress Winnie by Rebecca Ingram
One-shoulder makes twice the statement with Winnie by Rebecca Ingram, a sweet yet sexy variation on the "romantic sleeves" (or lack of sleeves!) trend. This gorgeous neckline is a little Old Hollywood, a little Grecian goddess, and a little runway vixen—a one-of-a-kind feature for a one-of-a-kind celebration.
Looking at Rebecca Ingram styles for your big day? This line features classic and romantic designs at an array of affordable price points. Shop our latest budget-friendly wedding dress collections in the link.
Couture Ball Gown Wedding Dress Zulima by Sottero and Midgley
Eyeing off the runway wedding dresses with statement details? Get inspired with Zulima by Sottero and Midgley, one of our most glam and luxurious ball gowns from the Spring '22 collections. Start with a stunning bodice treatment, add some over-the-top satin, and finish with serious sparkle—there's nothing like it for a black-tie celebration.
Unique Vintage Wedding Gown Yates by Maggie Sottero
On its own, Yates by Maggie Sottero is divine. It's simple, flattering, and feminine, embellished with delicate beading over a perfectly tailored crepe silhouette. Add a unique accessory, however, and it reaches a whole new level of sophisticated. Fall in love with this illusion bolero jacket for over-the-top details—the most romantic bridal statement of the season.
Love this accessory? Our latest collections feature a stunning array of add-on designs, including veils, overskirts, trains, and capes to complement your one-of-a-kind bridal aesthetic. Find styles in the link!
Bridal Jumpsuit with Overskirt Gibson by Sottero and Midgley
Looking for a unique alternative wedding dress idea? Look no further than a perfectly tailored and undeniably stylish bridal jumpsuit and accessories, á la Gibson by Sottero and Midgley. This spaghetti-strap bodice and menswear-inspired pants combo is both fresh and timeless—not to mention a gorgeous surprise for your photographer and guests.
This bridal jumpsuit is also a stunning choice for a "Second Look" ensemble—a perfect design for the dance floor and reception. (Nothing says glamour like a mid-party outfit change!) It's also super chic to style with a detachable train or overskirt—a perfect flourish for its sleek and elegant tailoring.
Romantic Lace Wedding Gown Mayuri by Maggie Sottero
For an ultra-romantic bridal look, get inspired with Mayuri by Maggie Sottero. This lace bodice was one of our retailers' favorite off the runway wedding dresses, and we can see why. It's flattering, exquisitely tailored, and embellished with illusion—very likely to be one of our most popular bridal gowns in the coming season.
Sleeved Princess Bridal Gown Norvinia Lynette by Sottero and Midgley
A fresh update to the royal wedding dress trend, Norvinia Lynette by Sottero and Midgley offers a luxe and lovely combo of lace, sleeves, and ballroom-ready layers. This princess-inspired style is a little Grace Kelly, a little Kate Middleton, and a whole lot of modern romance. We're especially smitten with the statement silhouette. It's fitting for a black-tie celebration but still effortless to wear all evening long.
Excited to shop these off the runway wedding dresses for your upcoming celebration? Check in with an Authorized Retailer to see which gorgeous new styles are headed your way! Shop an array of stunning runway wedding dresses to create your perfect head-to-toe bridal look; you can personalize all kinds of fabrics, accessories, and details—from veils to layers to embellishments—with your bridal stylist.
Love these hot off the runway wedding dresses from Maggie Sottero? They will be available in boutiques and will be live on our website in the coming months, so keep an eye out on our social media for when this season's collection drops!
In the meantime, you can explore more bridal gowns, accessories, and trends from our recent bridal market in Chicago in the link! We can't wait to see every gorgeous bridal look and real wedding gallery in the year to come. Be sure to tag your looks on social with the hashtags #Maggiebride, #Midgleybride, and #Rebeccabride for the chance to show off your style. Best wishes!