Dresses
Wedding Inspo
|
July 8, 2022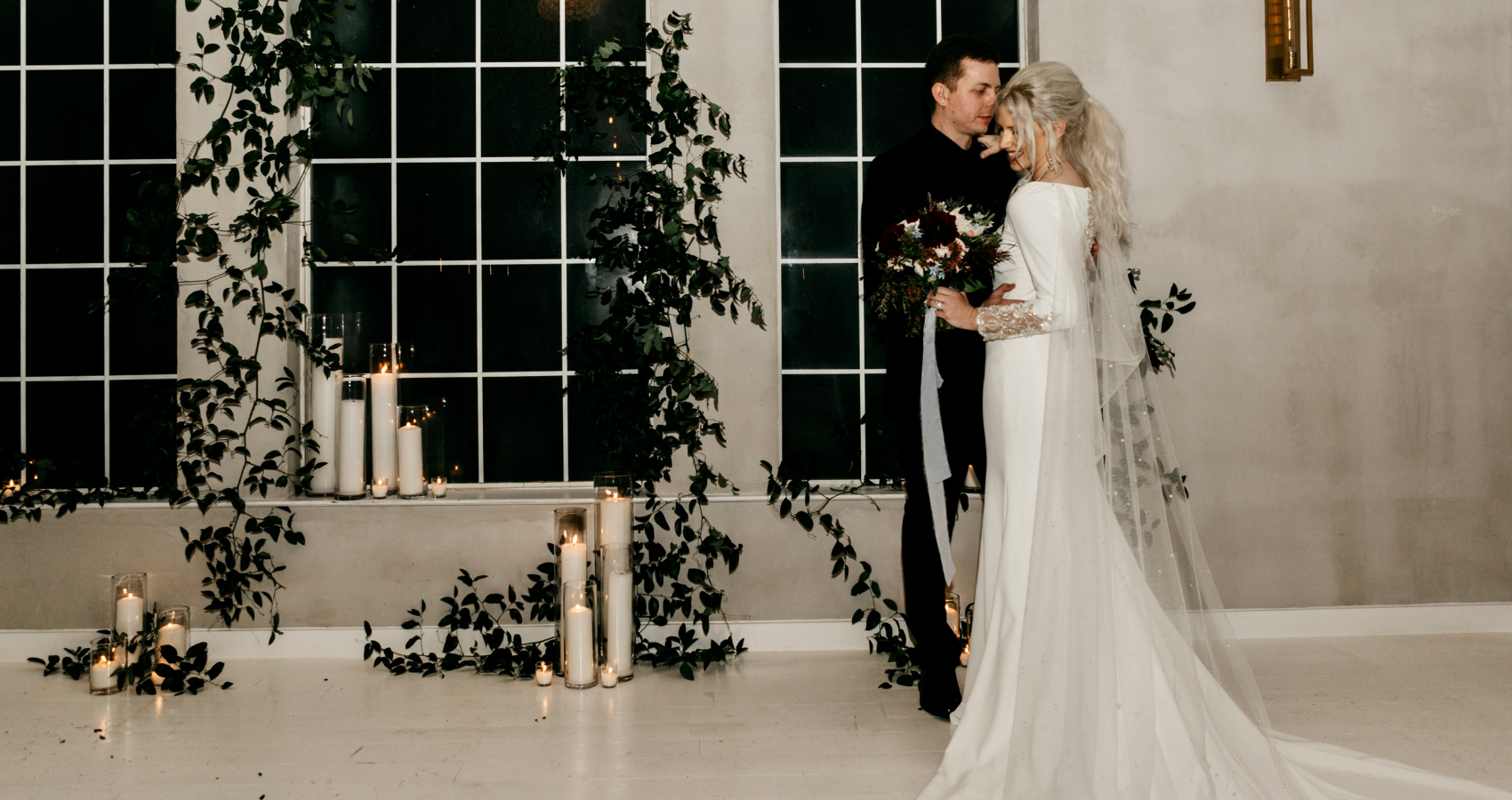 If you're the type who bookmarks famous wedding dresses and pins over-the-top Oscar gowns, this style gallery is for you. These silhouettes are unique, elegant, and truly luxurious — everything we love about glam women in history and their most iconic formalwear. Keep scrolling for our picks for celebrity wedding dresses and all the ways to make them your own!
Don't forget to take our Style Quiz! This will help you narrow down by trend, silhouette, price range, and more. It's also a great way to get started with wedding gown options when you head to your Authorized Retailer.
Though Audrey Hepburn is typically categorized with Hollywood icons like Marilyn Monroe and Grace Kelly, her style is a unique departure from the "Golden Age bombshell." So, if Holly Golightly is your muse, look for a few distinguishing features: a statement silhouette, elegant, highly tailored minimalism; and chic and modern details.
Alera by Sottero and Midgley is the first of our Hepburn-esque wedding dresses, a sleek yet fabulous ball gown made for a black-tie celebration. This design could be straight out of 1954's Sabrina — a timeless silhouette featuring impeccable draping and a stunning train.
To personalize this elegant wedding dress, shorten or remove the train for a more low-key vibe. To turn up the embellishment, add the matching Mikado bow. It's a whimsical accent perfect for bridal portraits.
If your favorite Hepburn movie is Breakfast at Tiffany's, look to a sheath silhouette like Fernanda Lynette by Maggie Sottero. This wedding gown channels the simple yet high-impact effect of Hepburn's little black dress in the movie. It's statuesque, sophisticated, and ultra-glamorous from head to toe.
Fernanda Lynette is a perfect canvas for personalizations. Opt for its long fitted sleeves for more demure coverage, or add a simple or dramatic accessory. (Think fingertip bridal veil, a cape, or a jacket.) This style also has a sister variation, Fernanda, featuring a deep V-neckline.
It's no surprise a Monroe-inspired celebrity wedding dress is all about the curves. Our first choice? Boston by Sottero and Midgley, an ultra-feminine and super sexy red-carpet number in soft shimmer and beading. Think the "Happy Birthday, Mr. President," dress. Lucky for you, with Boston, you won't have to worry about damaging a historical artifact.
Personalizations for Boston include gorgeous accessories and the option to change the neckline. Talk to your Authorized Retailer for more details!
Margot by Rebecca Ingram is another classic silhouette resemblant of the Marilyn Monroe style. Its bodice and skirt echo the iconic white dress Monroe wore in The Seven Year Itch in 1955, but the tailored satin gives it a more formal black-tie vibe. (AKA it won't give you trouble with windy subway grates.)
To personalize Margot, ad upgrade your aisle walk, add pockets or the matching statement bow to the dress. These are sweet, ultra-stylish ways to make this you're your own!
Love these Monroe-inspired celebrity wedding dresses? Fall in love with 10 more sexy wedding dresses in our gallery.
Okay, so "sparkly" doesn't even begin to describe Diana Ross's star power. But if you're looking to channel a little of this style icon's glamour and charisma, you can get pretty close with a glitzy wedding gown. Aerona by Sottero and Midgley, a figure-flaunting and boudoir-inspired silhouette, is THE gown meant to evoke Studio 54 fabulousness.
You can personalize Aerona by changing the buttons or the bodice lining. You can also add to your wedding day look by adding the matching detachable train and beaded belt.
PC: Maria Atchia
Another gorgeous '70s-chic wedding dress is Aston by Sottero and Midgley. This sophisticated silhouette channels the long, sleek lines and glitzy beading of Diana Ross's iconic stage gowns. It's fabulous, couture, and perfectly on-trend for a glam wedding theme.
Aston is a quick ship wedding gown. Perfect for brides heading down the aisle soo! Head to your Authorized Retailer for details on how you can get Aston in time for your wedding!
There are a few ways to go with a Grace Kelly bridal look. First, you can channel her red carpet and onscreen vibes — feminine silhouettes, slinky necklines, and romantic embellishments. Second, you can channel the star's real-life wedding look — demure, classic, and perfectly poised.
If you love Kelly's movie style, get inspired by Ekaterina by Maggie Sottero. This off-the-shoulder bridal gown makes an elegant yet luxe statement. It's soft, effortlessly sexy, and just the perfect amount of extravagance.
For a Grace Kelly bridal look that's a little bit of both worlds, look to Holden by Sottero and Midgley. This gown combines a Hollywood mermaid silhouette with lovely illusion sleeves and beaded embellishments — a perfect blend of Kelly's drama and class.
Cher is an icon and if she were here to make a wedding dress selection, we're sure Andrew by Sottero and Midgley would be the one to catch her eye. This gilded disco wedding gown features allover beading, fringe, a low back, and head-to-toe shimmer.
If Cher were to don a ball gown, our money is on a nontraditional colorway like her iconic Oscar dress from 1986. Our pick? Norvinia by Sottero and Midgley. This black wedding gown is bold, striking, and undeniably glamorous — just like the Goddess of Pop herself.
Norvinia is also available in an illusion-sleeved variation, Norvinia Lynette. If long sleeves aren't your vibe, add beaded spaghetti straps to the sleeveless neckline.
Looking for more divine and glitzy details? Browse our gallery of unique wedding gowns.
PC: Luke Fletcher Photography
For brides drawn to Jackie Kennedy's elegant and tailored style, Selena by Maggie Sottero is perfect for you! This vintage-meets-modern satin wedding dress is chic, flattering, and effortless to style.
Psst… Selena is also available in a strapless neckline!
PC: Zo & Chris Photography
Another simple-yet-stunning statement is Alice by Rebecca Ingram. We imagine Jackie Kennedy in this silhouette for a stately black-tie occasion — most likely with chic bauble earrings, long gloves, and a red lip. The high neckline is perfectly on point for her wardrobe.
To personalize Alice, add a dramatic bridal veil, cape, or extended train! For more vintage wedding vibes, find inspiration in our gallery of stunning jewelry designs.
The Elizabeth Taylor celebrity wedding dress aesthetic is all about the drama. Off-the-shoulder Harlem by Maggie Sottero delivers that feminine charm — a sweet and sexy silhouette we're sure Elizabeth would adore.
Harlem has several personalization options so if you're a bride who wants to make your dress unique, change the tulle, add buttons, line the bodice, add beading along the bodice. If you love Harlem but want a fitted silhouette, check out Harlem's Sister Style, Harlem Lane!
Cambridge by Sottero and Midgley is another Elizabeth Taylor-esque silhouette with eye-catching details! It's classy yet sexy, a couture design with waist-enhancing lines and a dramatic illusion train. This sleek fit-and-flare exudes pure 24 karat magic that's sure to be loved by all!
Sandra Oh is all about smart tailoring, edgy silhouettes, and sophisticated details, and what better style to complement her aesthetica than Gibson by Sottero and MidgleyThis bridal pantsuit is effortlessly chic for a stylish elopement, "Second Look" changeup, or courthouse wedding. But if you love the alternative wedding vibes, it's also formal and romantic enough to be the headliner.
Abbott by Maggie Sottero is another fashionable, cool, and eye-catching design that emulates several of Sandra Oh's statement red-carpet styles, from the Renaissance-inspired puff sleeves, to the long, sleek crepe adorned with jeweled accents.
This emulates several of Sandra Oh's statement styles from the red carpet, from the Renaissance-inspired puff sleeves to the long, sleek crepe and jeweled accents. If you want to look tall and graceful on your wedding day, there's nothing like this soft fit-and-flare silhouette.
Looking for a sleeveless variation? Take a look at Abbott's Sister Style Abbott Dawn!
PC: Megan Rachel
Laverne Cox is the red-carpel ideal, "showing up to events in extraordinary silhouettes, gorgeous fabrics, and form-fitting bodices. Tuscany Royale by Maggie Sottero, a sexy, ultra-feminine fit-and-flare with gorgeous lace details and a statement train is the celebrity wedding dress inspired by Lavern Cox's style. This gown is sure to make quite the entrance!
Tuscany Royale is a popular wedding gown with several variations, including options for sleeves, bodice coverage, train, silhouette, and more. Check out Tuscany Royale's Sister Styles on the gown's style gallery for all the options.
Another irresistible wedding gown is Bailey by Sottero and Midgley. This sleek fit-and-flare is a little vintage, a little modern, and a whole lot of glitzy. The lace pattern complements your curves and plays up your décolletage. It's effortlessly sexy and picture-perfect for a variety of glam wedding aesthetics.
Bailey is available with several personalization options. You can change up the tulle, remove the train, add buttons, modify the bodice and neckline, or go for Sister Style Bailey Lane or featuring a soft tulle skirt.
Excited for more famous wedding dresses and style inspo? Follow our Socials:
And make sure to watch our TikTok for more celebrity-inspired wedding dresses!:
And browse through a few of our latest blogs:
Your glitzy, glamorous, irresistible, and ultra-chic red-carpet entrance awaits! Happy shopping!