Tips and Trends
|
May 19, 2022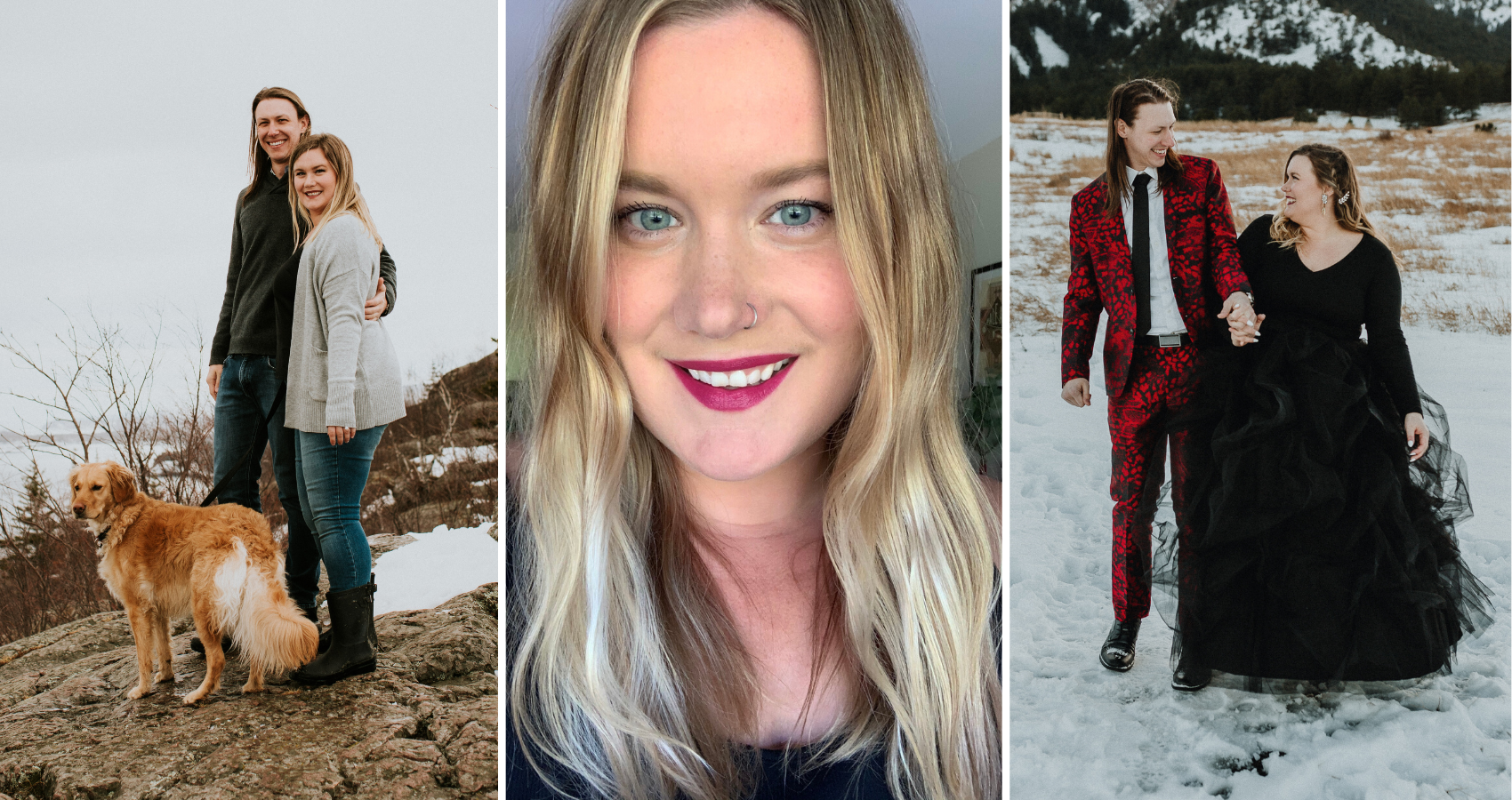 Let's be honest, as magical of a time as it is to shop for your wedding dress and find your style it can also be stress-filled and anxious – especially when it comes to staying body positive. But you don't have to buy into the negative! Our Real Bride, Emery Heuer (who found her GORGEOUS gown at the Wedding Shoppe in St. Paul, Minnesota) has some insight on staying body positive while wedding dress shopping.
Maintaining body positivity is one of the most important things you can do for your mental health because all brides are beautiful. Period. So, keep reading and hear from a real bride's experience in body positivity, mental health, and self-love.
Before learning from Emery's love story with her body and her partner though, make sure to sign up for our exclusive #MaggieInspiration text messages for more mental health, and wedding tips and tricks for your big day!
How did you begin your journey with mental health and body positivity?
PC: Jenna Dailey
When Emery Heuer saw the quote "Loving yourself is a practice, just like yoga. Nobody ever got good at yoga by believing in it. You have to do it. Even when it's hard. Especially when it's hard." by Emily McDowell, she framed it and it's guided her self-love journey ever since.
"For many years, I am sure I looked 'healthy' from the outside looking in. However, I wasn't mentally healthy at all. After an ER doc was treating me for a stomach illness that had nothing to do with my weight, my eating disorder gained a lot of ground. He had observed me for five minutes and told me he didn't like my weight. I was 'overweight' according to BMI and he told me I needed to lose 40 pounds. It took over after that, but it only made the cycle of depriving and binging worse. The weight gain was inevitable (it's been proven by studies that dieting only actually leads to weight gain). The harder I tried to lose weight, the more I gained. The cycle spun out of control."
"Finally in January 2021, I realized how bad of a place I was in and had to admit that I had a serious problem. Whatever 'healthy' looked like, I knew in my gut it could not be how I had been treating myself. I was a complete mess. I spoke to both Micah (my fiancé) and my sister, Logan, and told them that I needed help and was going to call an eating disorder clinic."
"As I started to heal, I started to feel like myself again. I hadn't realized how much I missed Emery. My true vibrancy started to emerge. I started to take note of what my eating disorder had stolen from me and what it had cost me. Healing is a journey that I take a day at a time and continue to work on it every day."
Emery's fiancé, Micah, was an anchor throughout her recovery. Her love story with him grew as her love story with her body blossomed! After the two met on Bumble (and had a magical third date kiss), Micah and Emery have loved and supported each other ever since.
What does being body positive mean to you?
PC: Jenna Dailey
"Body positivity is getting to know your own body. Because of diet culture, I really did not know my body. I always trusted someone else to tell me when and how to eat or how/when/what type of exercise to do. My body was a stranger when it should have been something I know as well as I know my best friend."
"I've slowly learned to love what I was blessed with. It took seeing that beauty standards are simply made to be unattainable so that someone, somewhere can profit from us not feeling like we are not good enough. This body has endured so much from me. Now that I am caring for it and myself, I realize how much it gives me. This body has the endurance to go for miles. It is strong and can sled push over 350 pounds."
"Health at every size is important. Weight is not the only factor. My blood pressure was in a bad place when I weighed less, but now it is perfect, and I weigh more. I know how we care for our bodies is how we should judge our health."
"Body positivity is caring for yourself, trusting yourself, and most importantly, finding ways to love and appreciate yourself. What we all seek is already inside us."
How was your wedding dress shopping experience?
"One of the reasons that I was interested in the Hattie dress, outside of the fact that it is a stunning dress, was a blog post that I had read from Maggie Sottero's website, Staying Body Positive while Shopping for your Wedding Dress. Even if you're not currently shopping for a wedding dress, I would say read it."
"That blog shared exactly what I needed to hear before walking into my appointment. I think it's so easy to let negative talk or your 'eating disorder voice' take control when you're trying on clothes. This was the one time in my life I was going to try on wedding dresses, and I wanted it to be a great experience—one that I could look back fondly on."
"I was excited and still nervous the day of the appointment. I don't know a ton about dresses and what would flatter my body, so I knew I had to trust my stylist, Belle. When she and I first spoke about dresses, I was honest with her. I told her that I was in eating disorder treatment and if she could avoid putting me in anything that would not zip up or fit, I would appreciate that."
"The dress is meant to fit YOU not the other way around. She was wonderful and totally understood. I told her that I didn't know what would look best and that I had one dress that I had my eye on (the gorgeous Hattie by Rebecca Ingram), but outside of that, I would try on everything she thought would look great on me. Belle was amazing. She picked out dresses that looked stunning on me. It made me feel incredible. I know that being honest with Belle (the stylist) about where my head was is one of the most helpful things I did for myself that day."
What made you choose your dream gown by Maggie Sottero?
"I had no idea what type of gown I wanted or what would highlight my features. I did truly feel clueless! As I said, I saw a picture of Hattie and LOVED it, but I eventually decided on the Hattie Lynette by Rebecca Ingram because of the flowing ease of the gown! I also adored the off-white, deep mauve color and how the design is delicate and ethereal. It's a gorgeous balance of pattern and simplicity."
Psst… As much as we'd love to show off Emery in her Hattie Lane Lynette, we're saving the first look for her wedding day. However, if you're also a lover of style, ease, and ethereal designs go check out Ainsleigh by Rebecca Ingram, Ellington by Maggie Sottero, and Kingsley by Sottero and Midgley!
How did you overcome negative self-talk before and during your bridal appointment?
PC: Jessica Lane
"I've learned how to talk about what I was struggling with. It was hard at first because I never talked about my eating disorder or body dysmorphia, out loud, to anyone. However, when I started to share with Micah, I felt lighter. It got easier to tell him when I felt off and over time; I noticed how much less emotional weight those feelings carried."
"The night before my appointment, I found a letter on my bedside table. Micah had written me a letter. He wrote that he knew I was having deep feelings and emotions about it. He told me to remember how much work I had put into healing in eating disorder treatment, and he reminded me of all the things that I had overcome by going to treatment."
"One of those reminders was all I let go of and all the peace that I had gained because I continued to choose my true voice instead of my 'eating disorder voice'. He reminded me to have fun, because it should be fun. He made me laugh by writing a few inside jokes. Lastly, he reminded me how much he loves me and how was so excited to marry me."
"His letter reminded me of something really important that an eating disorder can take away. An eating disorder likes to shame us and have us believe that our bodies and beauty are the only things that should matter to the world. In that moment, I remembered I don't care what anyone else thinks about me or my body, because I love it. The person I adore beyond words loves my body and more importantly, he loves who I am.
"That day, I reminded myself that my worth is not tied to what my body looks like. I reminded myself that I once only dreamed of having this kind of compassion for myself and my body, and I knew that only I could turn it into a reality that day."
What made you choose Maggie Sottero and how did Maggie help you in your self-love journey?
PC: Jessica Lane
"I first found Maggie Sottero by seeing the Hattie dress posted on social media. It was the first dress I had seen since getting engaged that I truly thought could be my dress. Of course, after that, I hopped on Maggie Sottero's website and got on the email list."
"I really connected with Maggie Sottero's models on the website. They were all different sizes and races. You could really look through the dresses and think, 'Hey! She looks like me and if she looks that stunning in that dress, I bet I would too!' Representation does truly matter!'"
"I also came across a Maggie blog post about staying body positive while shopping for your dress, and I just knew the Maggie brand is the kind of brand I wanted to support. Not only does Maggie Sottero make beautiful dresses that are designed not to break the bank, but they also make them for REAL women and have a commitment to mental health as well."
Do you have any advice for brides-to-be as they're planning a wedding and dress shopping?
"Bring people with you who are only going to lift you up and make good suggestions. You are the bride! Tell them exactly what you need from them that day. You have enough going on in your own head, you don't need anyone adding to that! There may be some hard conversations that have to be had surrounding that, but I promise that protecting your peace and headspace is extremely important to the process. (Not just in wedding dress shopping, but in life!)"
"Write a list that you can lean on when you feel like you're starting to struggle. This list is everything you love about yourself and everyone you love who wants to see you happy. You deserve to feel beautiful, loved, and supported. The person we all need that from the most is ourselves—do not be afraid to be your own hype girl. Know that you have a hype girl in me and that I am rooting for you!"
PC: Jenna Dailey
The road to body positivity can be an uphill climb, and no one knows that better than Emery. Surrounding yourself with positive influences like the people you love, mental health sources, brands that support your journey, and self-love resources are the ultimate ways to begin your path towards body positivity.
To begin your journey towards self-love, follow the above tips from Emery, and take a look at our Social for our Mental Health Monday tips!
For more mental health tips from Maggie:
8 Tips For The Soon-To-Be Bride During Mental Health Awareness Month
Green Wedding Ideas Inspired By Earth Day For A Sustainable Celebration
10 Tips for Writing Romantic Wedding Vows For Your Wedding Day