Tips and Trends
Wedding Inspo
|
March 17, 2022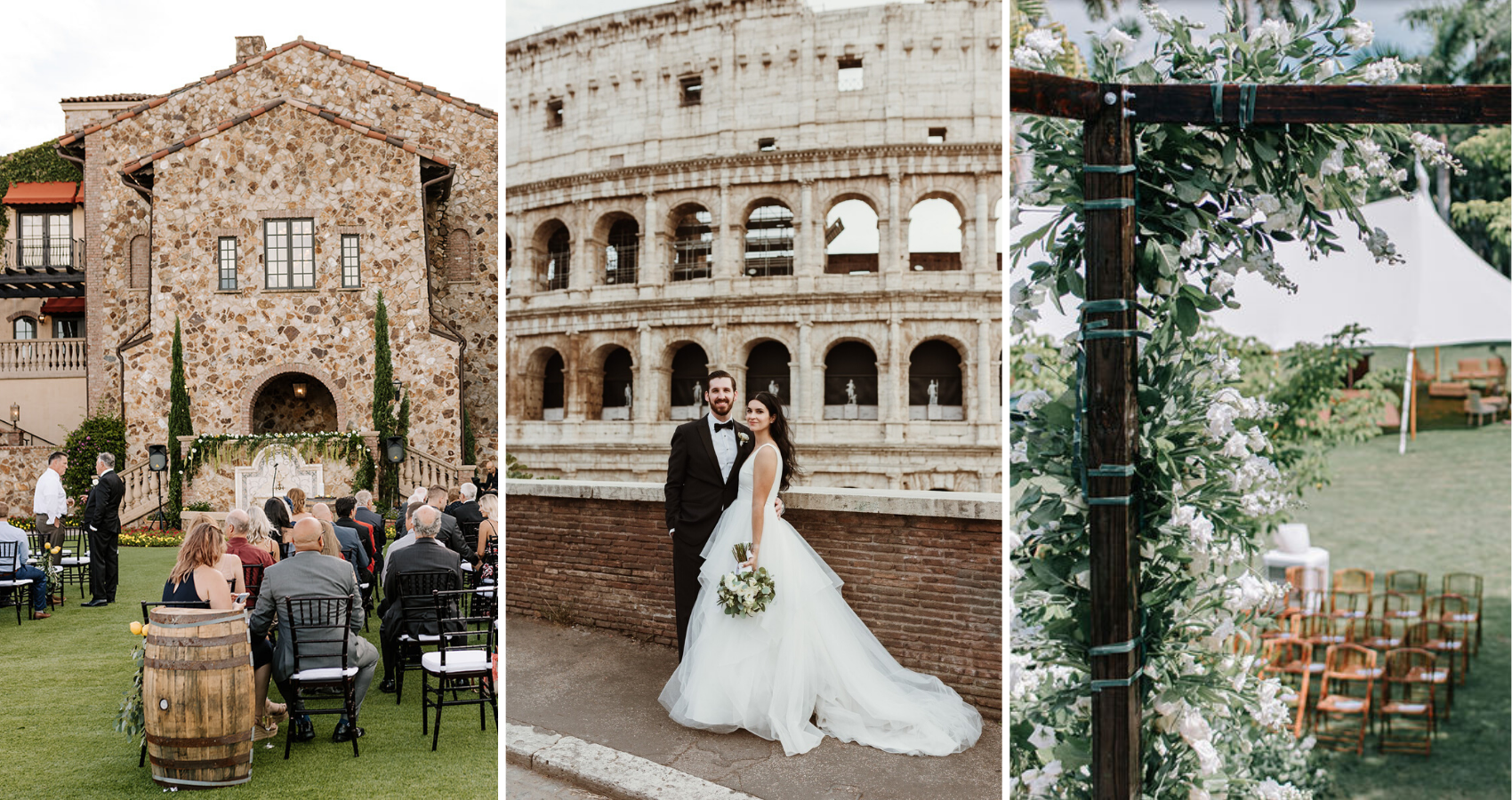 Any bride-to-be in the first wave of wedding planning knows how important a wedding venue is. It's the backdrop, the photo op, the atmosphere, and the keynote. It's the investment that determines all other investments! It makes the biggest impression on your guests and the most lasting effect on your photos. So, without further ado, here are some of our favorite wedding venue ideas for the season. From chic outdoor backdrops to snazzy manors and art galleries (and the wedding dresses to match), you'll feel inspired for your big day.
However, before you start scrolling, make sure to take our Style Quiz to narrow down your dream gown. Then, head to one of our Authorized Retailers to start off your love story with your perfect wedding day look!
Lastly, to be the first to know about all the best wedding inspo, click the link below and sign up for some exclusive #MaggieInspiration text messages:
Outdoor Wedding Venue Ideas
Seaside Wedding
PC: Sami Kathryn Photography
Our unofficial (official) prediction: This summer will be all about beachside celebrations! Certainly, with post-pandemic concerns, intimate outdoor weddings are becoming more favorable than larger, indoor affairs. There's no question this year's celebrations will likely take place in smaller outdoor locales. You'll find wedding celebrations from beach town to shoreside—from New England to Florida, Mexico, and beyond.
With more luxe and unique options available than ever before, these breezy celebrations are sure to be stunning! Get inspired by this real bride in Charlene by Maggie Sottero. This A-line gown is glitzy yet lightweight with a beaded bodice and floaty ballerina skirt.
Woodsy Wedding Venue Ideas
PC: Wandermoore Photos
Full of sunny greenery, fairy lights, and cool breezes, forest weddings are an irresistible venue trend for the new decade! More and more couples are loving this casual, cozy, and enchanting outdoor idea. It's all about turning your outdoor wedding venue ideas into magical safe havens—straight out of a "midsummer night's dream."
If you love the woodsy venue idea, find inspiration from this real bride! She's wearing Raelynn by Maggie Sottero, a soft and boho classic with subtle illusion. Divine!
Places to Have a Wedding: National Parks
PC: Keana Lee Photography
There's nothing like a Southwest desert scape to elevate your bridal portraits! Near or far, your guests will love the idea of celebrating in the breathtaking scenery and unique landscapes of a National Park.
Likewise, while we're partial to red-rock backdrops, there are countless options for brides looking to celebrate in their favorite public lands. National Parks and Monuments are another of those inexpensive wedding venues to choose from. Just make sure you follow proper procedures and book ahead.
Get inspired with this gorgeous wedding set in Bryce Canyon, Utah. The bride is wearing Brenda by Rebecca Ingram, a classic lace wedding gown from our budget-friendly line! (Also a perfect choice for inexpensive wedding venues.)
Unique Wedding Venue Ideas
Stately Mansion
PC: Paperboys Photography
If you're on the venue hunt, you've likely come across several exceptional options for mansions, manors, and castles. This is a timeless and ultra-romantic setting for your celebration. It doesn't hurt that it's always a hit with your guests.
This bride chose a stately mansion for her elegant autumn wedding. She's wearing Alistaire Lynette by Maggie Sottero— a curve-hugging, figure-flattering trumpet silhouette with a stunning lace motif.
PC: Paperboys Photography
For More Vintage Vibes
Love the vintage aesthetic of a mansion or manor? Then explore our blog on some gorgeous vintage wedding rings in unique settings, gorgeous gemstones, and timeless flourishes (a small but essential part of your overall vision!).
Wedding Venue Ideas for a Destination Celebration
Romantic European Elopement
PC: Sarah Joy Photography
Ok, it's really hard to top the charm and adventure of a European wedding! As industry experts, we've seen it time and time again: Couples who choose to skip the big to-dos and expenses of a large wedding and jet-set to Paris or Barcelona… there's just nothing like it!
If you're on board for a once-in-a-lifetime trip with your loved ones, then get inspired by this real bride's gallery from her wedding in Rome, Italy. If you're wondering about what she's wearing, it's our chic and minimalist wedding gown, Fatima by Maggie Sottero. A stunning choice for an adventure abroad!
Alaskan Getaway
PC: Sam Starn Elopements
Additionally, another stunning elopement destination is Alaska. From the dramatic scenery to the unique recreation and remote access areas, the Land of the Midnight Sun is an outdoor-loving couple's dream.
Searching for style inspo for a wintery backdrop? This bride chose a black wedding gown to contrast Alaska's stunning white and blue backdrops. We're smitten with the stunning visuals!
In conclusion, explore Zander by Sottero and Midgley in both traditional and nontraditional colorways. (And be sure to scroll down to read the 5-star reviews from real brides!)
Simple Wedding Venues: Traditional Churches
PC: Simply Captivating Photography
If you've got your heart set on a classic church ceremony, look to unique and meaningful wedding location ideas in your area. Stained glass windows, mid-century architecture, peaceful gardens, beautiful light displays—even the smallest towns are sure to have a gorgeous piece of religious history tucked away.
This real bride wore Josie by Rebecca Ingram for her lovely church ceremony. It's classic and feminine, with the perfect dose of Old Hollywood glam. A perfect choice for a timeless and ultra-personal wedding venue.
Wedding Location Ideas: Vineyard Setting
PC: Jessica Jones Photography
If you've got elegant taste, but you don't want to get married somewhere stuffy or overly formal, look to a chic and stylish vineyard! This is a go-to choice for West Coast brides, however gorgeous vineyards can be found all over the world! Find your dream venue in Napa to upstate New York, Tuscany to Australia, and beyond.
PC: Jessica Jones Photography
This real wedding features a gorgeous summery backdrop, a charming villa, and lovely rustic embellishments. The bride is wearing Roxanne by Sottero and Midgley, an effortlessly beautiful A-line for a dreamy boho vibe. The bold, abstract lace motif is truly one-of-kind.
Charming Hotel Venue
PC: Love To The Core Photography
Another gorgeous and versatile venue is a swanky hotel. It's easy to find unique historical or ultra-stylish options in your area, and most have plenty of inclusive perks like catering, bar service, and DJs. Similarly, it's also a great option for out-of-towners and overnighters; just reserve a block of rooms and include booking info in your invites.
PC: Love To The Core Photography
This bride chose Mallory Dawn by Maggie Sottero. This wedding dress is classic with a hint of sexy—so chic and feminine for a hotel wedding venue.
Cute Wedding Venue Ideas: Dreamy Garden Location
PC: Lyndah Wells Photography
We all know gardens are foolproof for weddings. From the natural décor and sunshine to the charming reception potential, there's nothing like nature to throw an easy-breezy celebration. This year's trends are all about maximizing the space and adding thoughtful touches. From unique food carts and botanical spirits to elegant tents, outdoor dance floors, and more your wedding will be head-to-toe dreamy.
This bride's gorgeous wedding dress is Orlanda by Maggie Sottero. From the floral lace to illusion accents and ball gown skirt, this princess style is picture-perfect for a flirty garden celebration.
Fun Wedding Venues: A Sweet Barn Wedding
PC: CocoMcKown Photography
Barn venues have made a big splash in the last couple of decades, and this rustic trend isn't going anywhere! A few updates we're loving for this year: simple, golden lighting in lieu of traditional chandeliers. We also love wildflower accents, elegant meals rather than picnic-style buffets, and romantic wedding ensembles. (Think classic silhouettes rather than cutesy or overly vintage designs; these may look costume-y in a barn setting.)
This bride chose classic Meryl by Maggie Sottero for her barn celebration. This look is subtle and sweet, with a delicate lace pattern and ultra-flattering silhouette. Perfect for all-night dancing!
On the hunt for more rustic-inspired wedding gowns? Explore our top picks for plus-size styles.
Simple Wedding Venues: Intimate Backyard Wedding
PC: Kyrsten Le Photo
Another post-pandemic wedding trend is the return to the intimate backyard wedding. We're swooning over these small gatherings of friends and family. Hire a food truck or crowdsource a potluck, mix up some summery cocktails, and make sure to invite the neighbors; a backyard wedding is always a party!
This bride wore Tuscany Lane by Maggie Sottero for her chic garden soiree. This is one of our most popular wedding gowns and comes in a variety of variations for sleeves, lace patterns, silhouettes, and personalizations. Talk to a boutique for all your options!
Fun Wedding Venues: Swanky Art Gallery
PC: Genesis Imagery
With all the wedding customizations and new inspo out there, brides are looking to unique and unexpected venues to make an ultra-stylish statement. One of our favorite trends is the art gallery venue. It's chic, surprising, and so easy to style for décor, palettes, and accoutrements. Plus, photo ops!
This bride is wearing Josie by Rebecca Ingram. This gown is the perfect blend of Old Hollywood and new-school styling. It's a classic choice for classy venues, but also unique and charming for chic and nontraditional backdrops.
Ready to start shopping for venues and dreamy wedding dresses? Find a boutique to discuss accessories, delivery dates, and ways to customize your bridal look. We're so excited to see your head-to-toe style; be sure to submit your wedding gallery after the big day.
Love what you're browsing? Bring on the wedding inspiration by exploring these blogs:
10 DIY Wedding Projects To Do With Your Family Over The Holidays
8 Must-Have Tips On How To Shop For A Wedding Dress For The First Time
Seven Types of Lace to Know While Shopping for a Wedding Gown
For even more wedding venue inspo, take a look at Taylor (wearing Burke by Maggie Sottero) and Jacob's sun-kissed destination wedding in Hawaii:
As always, happy shopping and best wishes!