Events and Boutiques
|
April 4, 2023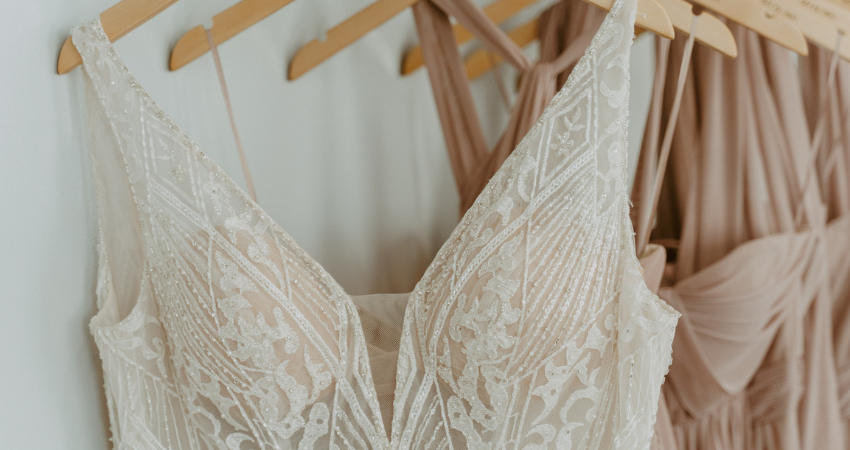 Hey there, bride! Is your wedding date quickly approaching? Is your Pinterest filled to the brim with all your dream wedding dress looks? If so, then it's time for you to find some wedding dress boutiques near you! Read our blog for the best tips on how to find a wedding dress shop near you so you can say "yes!" to the dress.
Psst… Are you still stuck on the style you want? No worries! Take our Style Quiz to find the best wedding dress for you based on aesthetic, price, and must-haves.
When Should You Start Looking for a Wedding Dress?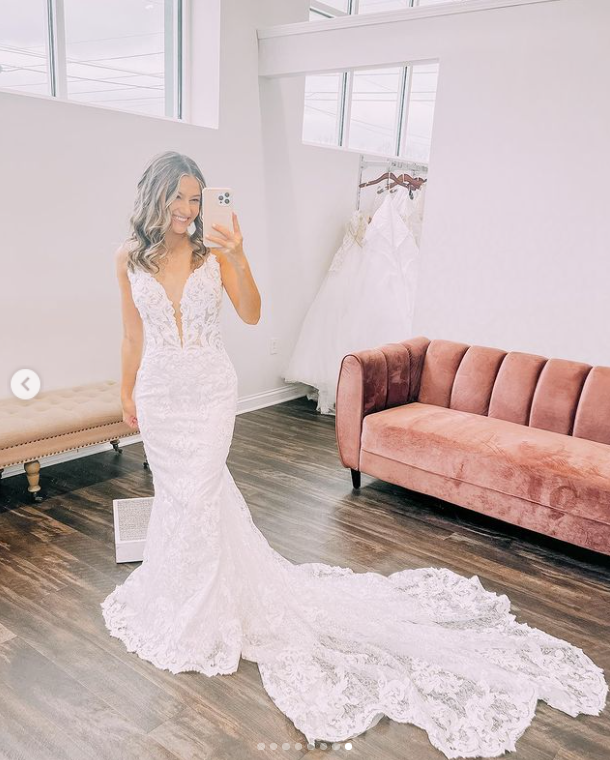 PC: Julia K. Crist
First and foremost, when should you start your wedding dress shopping journey? Our opinion? The sooner the better! While the sweet spot to find your bridal gown is around 10-12 months in advance, we suggest starting your shopping journey as early as you can. Whether your wedding is in three months or three years it's best practice to start looking for wedding dress boutiques as soon as you can!
How to Find Your Wedding Dress Style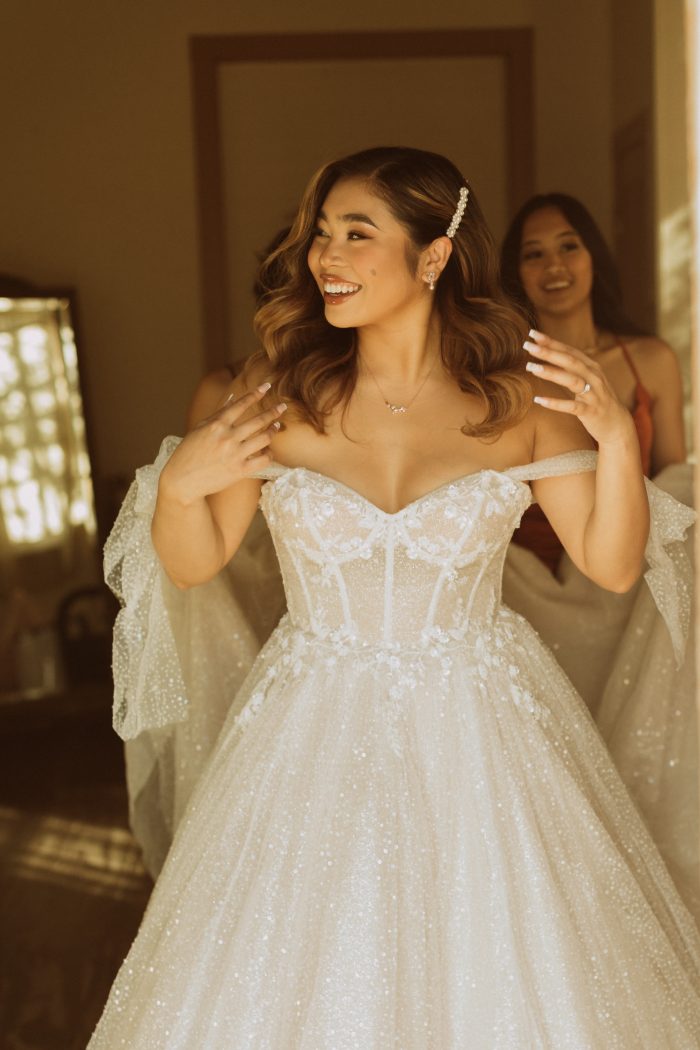 PC: Cass Heen
The first step to booking a wedding dress shop appointment? Finding your wedding dress style!If you're a bride who hasn't discovered your ideal bridal look yet don't worry! We're here for you.
Start by taking our Style Quiz and exploring Pinterest (it's a gold mind!). These resources will give you some good ideas on what you do and don't like in wedding gowns and the kind of descriptive words to use in your appointment. 
If you're a trendy bride, it's also worth looking at some of the most popular styles that brides are looking at to get some inspiration (and maybe say yes to!):
Popular Wedding Dresses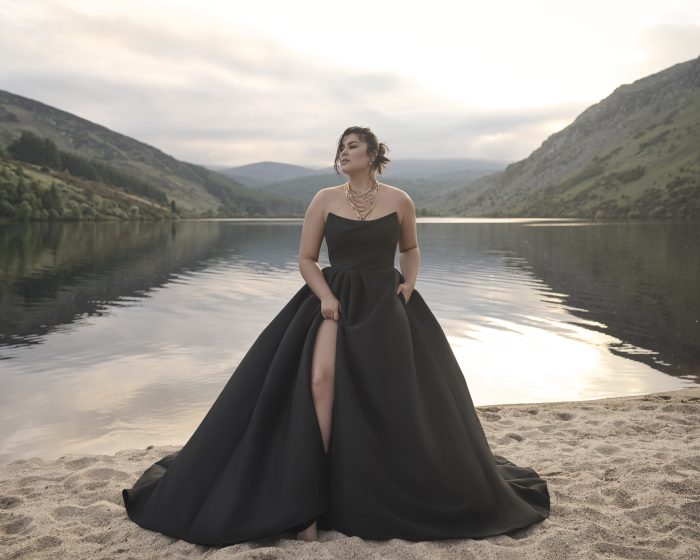 First up is Aspen by Sottero and Midgley. If you're heading into your wedding dress shopping appointment and looking for a unique look, this black wedding gown is the one with you. With sleek satin, a cat eye neckline, and thigh high slit, this gown is perfect for channeling some witchy energy on your big day.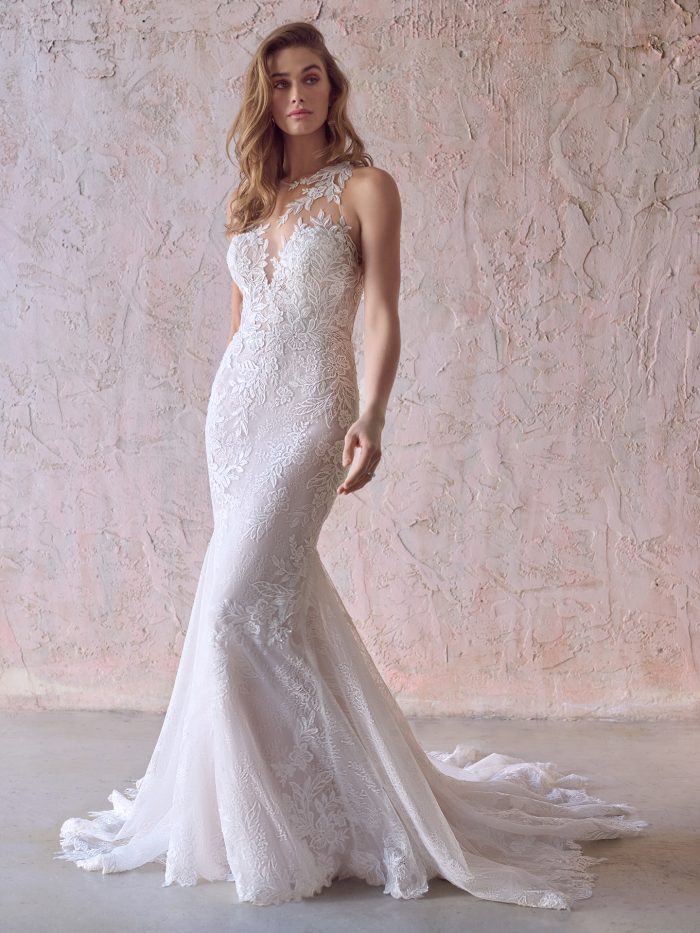 Kern by Maggie Sottero is another unique option that's a bit on the sweeter side. This fit-and-flare wedding dress features an illusion lace back, floral lace motifs and a plunging sweetheart neckline that will draw all eyes to you and your gown as you walk down the aisle.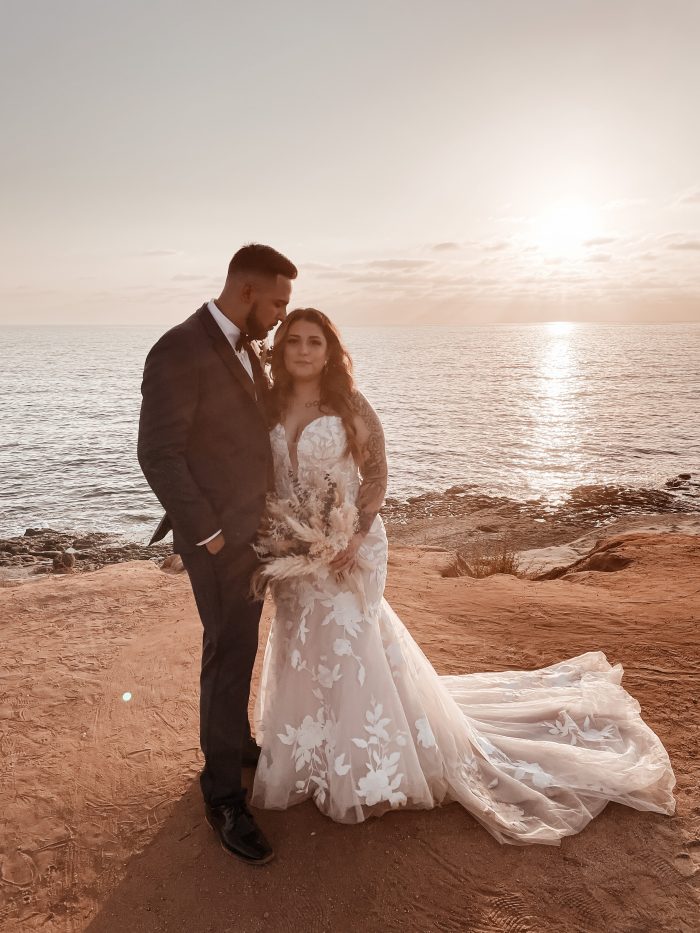 PC: Erica Cervantez Photography
For brides who are dreaming of a beach wedding then Hattie by Rebecca Ingram is the gown for you. This sultry wedding mermaid gown has been a favorite for Maggie brides over the years for a reason! Oversized lace florals, a sexy plunging neckline, and strapless style are what dreams are made of. Get ready to rock a "sexy hourglass" effect as you walk down the aisle!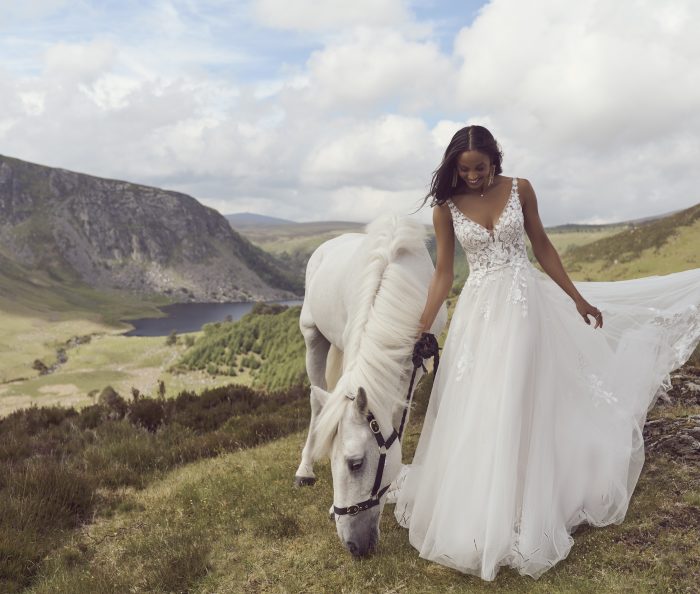 Matilda by Rebecca Ingram is another romantic floral gown that we can't get enough of. Floral wedding dresses are all the rage right now and Matilda is a perfect option for brides who want to rock dreamy details and 3D flowers on their gown.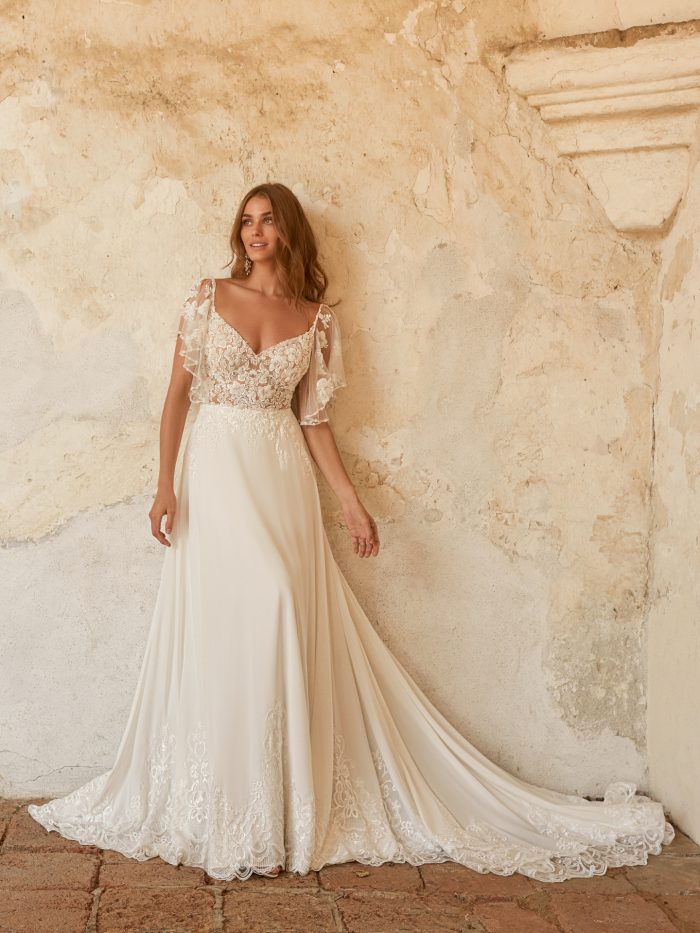 If you're more of the "casual and comfy" sort of bride, then consider wearing Primrose by Maggie Sottero. This chiffon A-line wedding dress features subtle beading, chic floral lace, and detachable flutter sleeves if you want to add a few more layers to your wedding dress look.
While these are some wonderfully trendy examples of wedding gowns to wear on your wedding day, don't worry about having your decision made by the time of your appointment! As you're shopping around at wedding dress boutiques, keep an open mind, and make sure your future wedding dress feels like you!
How to Find Wedding Dress Boutiques Near You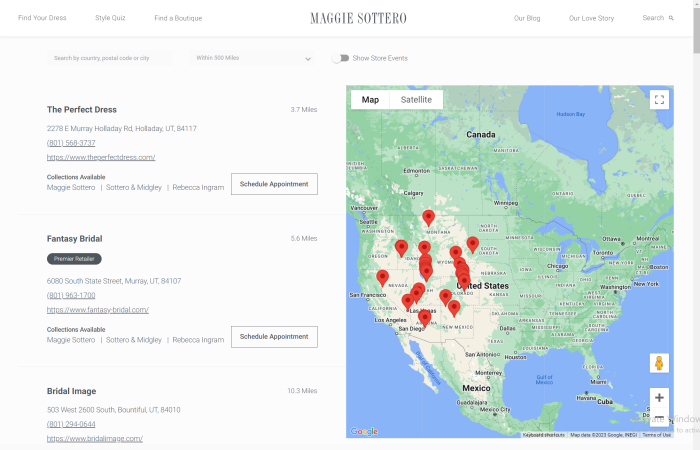 Now that you have a good idea of how to find your wedding dress style, let's get into how to find a wedding dress shop!
While you can always go the "wedding dresses near me" route, we have a much faster and easier way for you to book your appointment. Luckily for you, the Maggie Sottero website is your one stop shop for all your wedding dress needs!
Follow these steps to find a few wedding dress boutiques near you:
Once you're on the Homepage, click our "Find a Boutique" tab.
On this page, you'll see a text box where you can search for one of our Authorized Retailers near you by inputting your country, postal code, or city! In this section you can narrow your search by changing the miles. You can look for wedding dress boutiques between 25-1000 miles of your desired location.
The Map function on the page is also a great resource as you look for a bridal boutique! This visual aid is beside the listed results of boutiques near you so you can look throughout your location for a boutique that works best.
Once you find a boutique near you in the results that appear beside the map, make sure to check our their website by clicking the link underneath the name, and then click "Schedule Appointment" or "Contact Boutique" to schedule an appointment!
Psst… If you want to make your appointment is extra special make sure to click "Show Store Events" at the top of the page to see some of the exclusive events our wonderful retailers host for brides all year round!
Want some tips on what to expect at your first wedding dress appointment? Make sure to read our blog for all the must-have info to have in your bridal appointment.
How to Find Wedding Dress Boutiques When You Fall in Love Online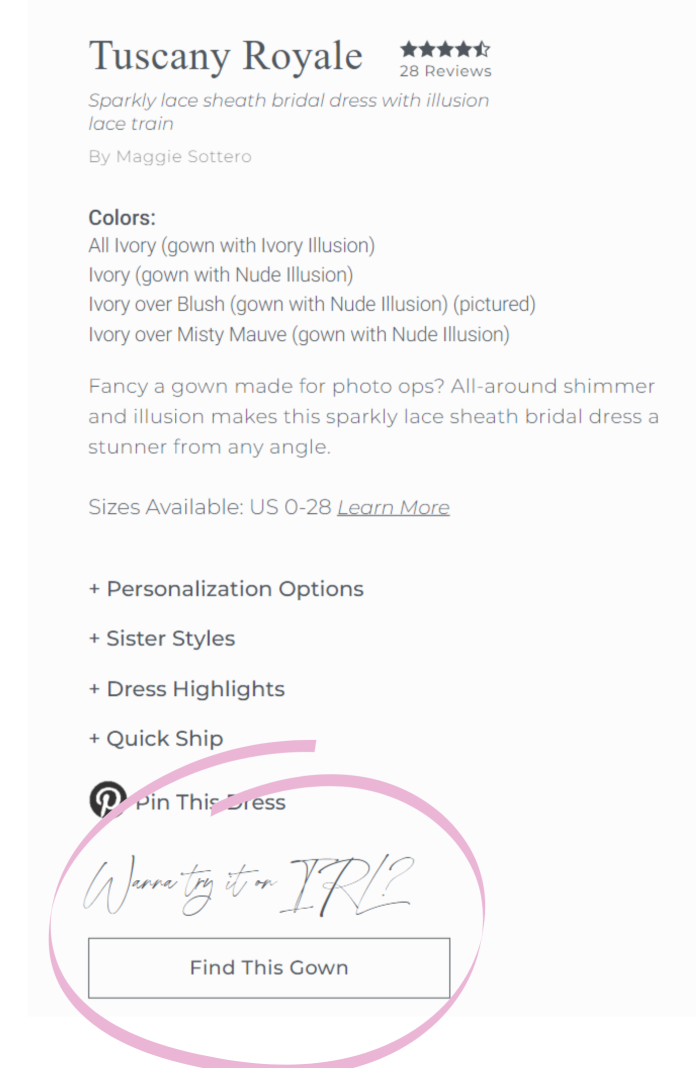 There's not just one way to find a Maggie gown for your wedding! There are TWO! If you've fallen in love with one of our wedding dresses online there are a few simple ways to book an appointment to try on the gown IRL.
If you've scrolled through our website and clicked one of our gowns and can't get it out of your head, first click the "Find This Gown" button on the right side of the page.
Once you've clicked the button, enter your zip code or city in the text box and hit "Search" to see which retailer carrying this gown is closest to you.
When the results load, scroll until you find the boutique that will work best for you and then click the "Schedule Appointment" or "Contact Boutique" buttons to book an appointment to see your dream dress!
Pro Tips: Maggie Sottero is a global brand so you can find your dream dress all over the world! Once you've clicked the "Find This Gown" button, you can change your country at the top of the tab. Underneath each Retailers address, phone number, and website, you can see which Maggie brands they carry!
How Does Our Loan Sample Program Work?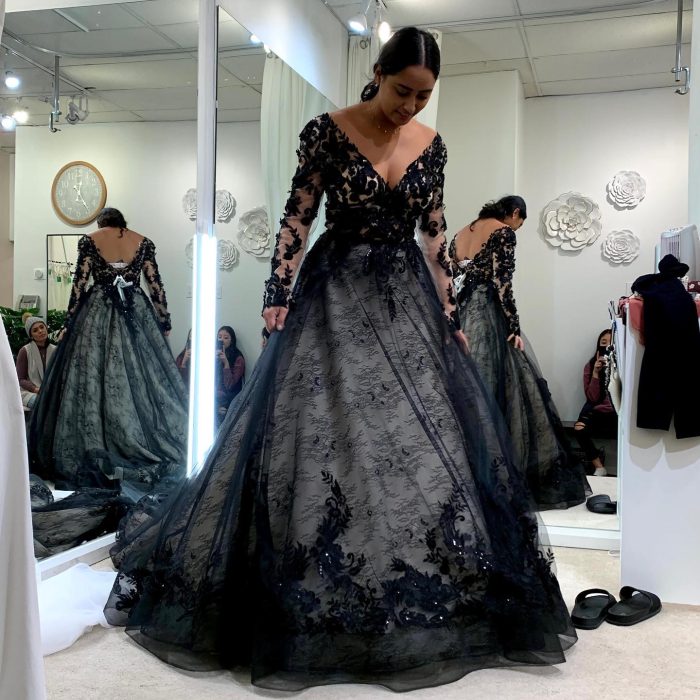 If you don't see your dream wedding dress at an Authorized Retailer near you, don't stress and instead say hello to our Loan Sample program!
Through this wonderful option, you're able to try on your dream gown at your appointment by "borrowing" or asking for a "loan" wedding dress sample if the store you're shopping at doesn't have the specific style on hand. With so many of our gowns trending right now, it's the perfect option to ensure your dream look on your wedding day.
However, there are a few things to keep in mind: While many of our gowns and style variations are available for loan sampling, some of our most popular styles will have limited availability so make sure to contact your boutique early. And if you love a dress but the boutique you are planning on going to doesn't carry the same label, your loan sample request won't apply.
To learn more about this program, make sure to read our blog for a step-by-step guide on how it works. And if you're a bride on a time crunch, keep reading to see some of our Quick Ship gowns!
What are Our Quick Ship Gowns?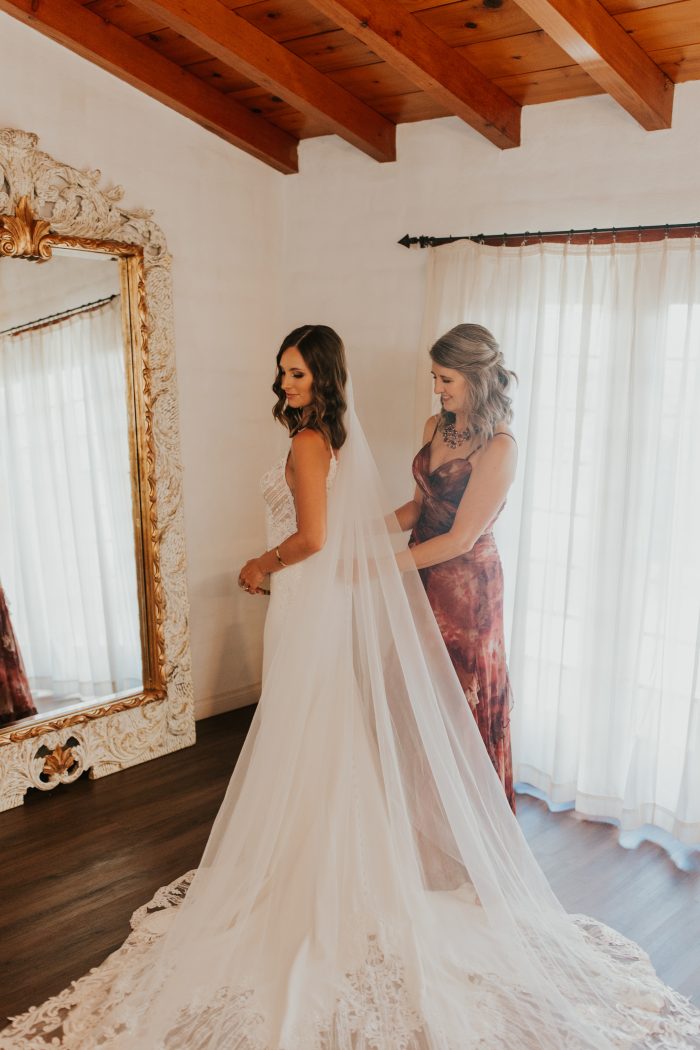 PC: Meghan Knight
Finding a gown is fun, but if you're on a shorter than normal wedding timeline then it can feel stressful. Thankfully, many of our Quick Ship dresses arrive faster than our normal delivery window! With this, you can breathe easy and get your bridal gown on time. 
Take a look at some of our top Quick Ship gowns that you can get at a boutique near you:
To see more Quick Ship gown options make sure to read our blog!
Congratulations on your wedding dress shopping journey! Make sure to get started by finding an Authorized Retailer near you by clicking the button below. Then, take a peek at some of our other blogs so you're an expert in bridal for your appointment.
[LINK]
More Blogs Like This:
Wedding Dress Customization & Personalizations with Maggie Sottero
The Ultimate Guide to Setting Your Wedding Budget