Wedding Inspo
|
July 5, 2022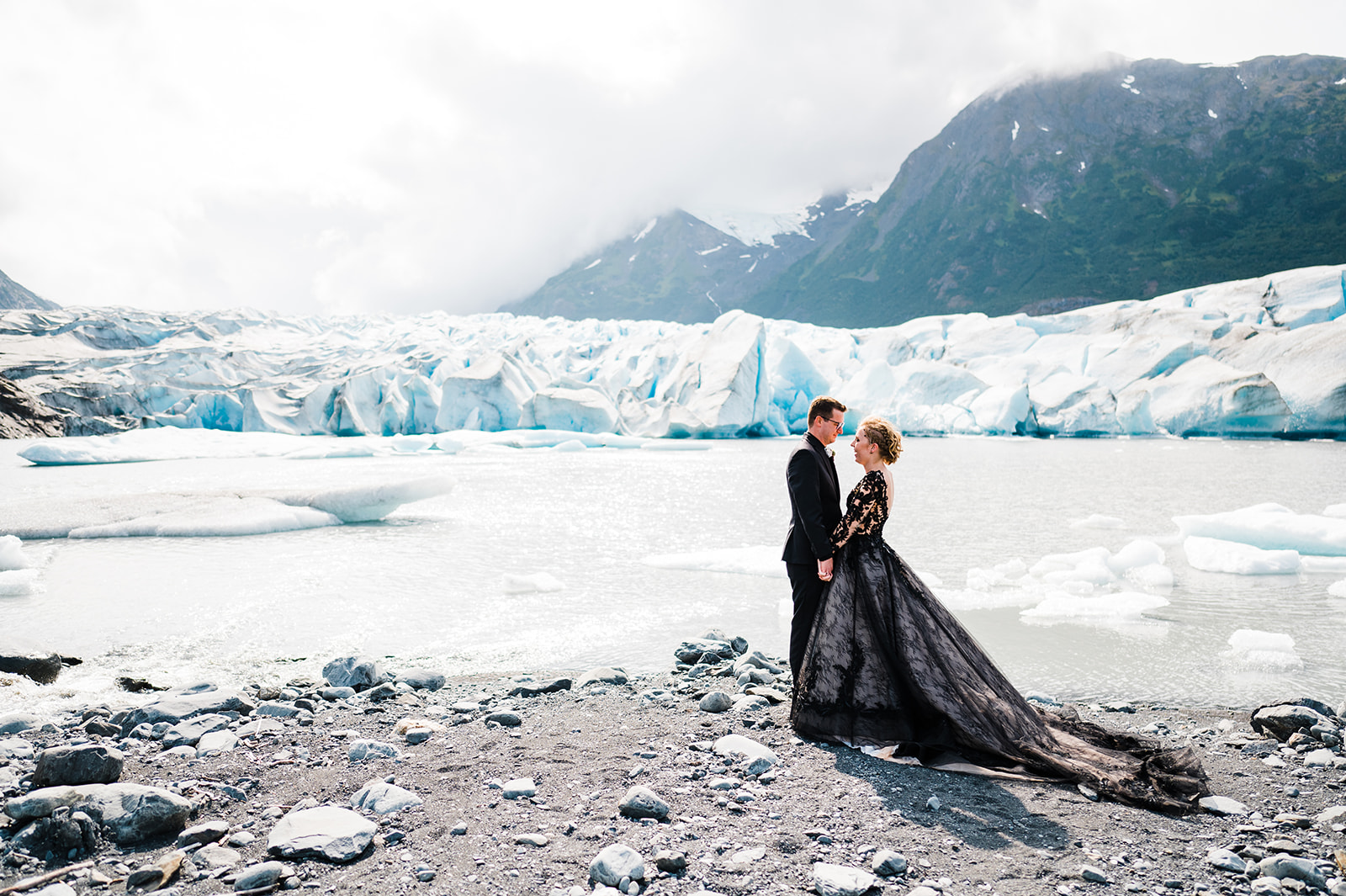 So, you're engaged! You're elated with thoughts of the beautiful memories to come, and you just can't wait to spend the rest of your life with your partner! You're excited to get started on your wedding journey, but you know you want a small, intimate ceremony… Well, we have the ultimate tips to keep focused on yourself, your partner, one of our gorgeous elopement wedding dresses, and your love story for an elopement-style wedding.
There is always the question of whether weddings must follow a certain set of rules—and the answer is no! You have complete freedom to decide exactly how you want to celebrate your love story, and for some couples, elopements are the way to go!
You may be wondering… what is an elopement? The definition has changed over the years. Traditionally, elopements occurred in secret as a way for couples to exercise their love for one another without needing the approval of their families. However, today, elopements can mean a simple ceremony without a reception or party to follow!
Want to know the most amazing thing about elopements? You can still wear the dress of your dreams! And guess what? We're here to help guide you to the wonderful elopement wedding dress for your special day.
Before we dive into the incredible elopement wedding dresses we KNOW you'll love, take our Style Quiz to find out what key elements you're looking for in your wedding dress, then pin these gowns for later!
Now, let's get started.
Beach Elopement Wedding Dresses
If you can't imagine your wedding day without a stunning sunset or the calm sounds of the waves, a beach elopement just might be perfect for you!
Want a stunning, shimmery fit-and-flare gown for your beach elopement? Ambreal by Maggie Sottero is a gorgeous vintage-inspired V-back fit-and-flare wedding dress with delicate beading and shimmery motifs that will glisten in the sunlight!
PC: Dana Lynn Photography
If strapless is more your style, Hattie by Rebecca Ingram is a sexy mermaid dress fit for a beach bride! In this elopement dress, you're sure to shine in the spotlight! Take a look at this beautiful Real Bride wearing Hattie! Personalize this style for your love story by wearing the Faye tulle veil edged in sequined lace motifs or choose one of Hattie's Sister Styles!
For our go-with-the-flow beach brides, Lorraine by Rebecca Ingram is the one for you! This beaded chiffon sheath wedding dress is soft, dreamy, and effortlessly flowy. It's light and airy—perfect for the cool beach breeze. Want a vintage vibe? Personalize this gown by adding buttons down the back!
City Elopement Wedding Dresses
PC: Haley McElroy Photography
There's nothing like the hustle and bustle of the city, and if you're one who thrives in the fast-paced excitement of an urban setting, we have THE perfect elopement dress for you! Burke by Maggie Sottero is an iconic, sexy wedding dress featuring bold oversized florals. We're OBSESSED with the uniqueness of this gown that will have you looking like the fashionista you are! If you're dreaming of an even more casual elopement look, remove the train through Special Request.
If you're a city-lover, we know you want to make a statement through your elopement dress. Cambridge by Sottero and Midgley is a sexy, embellished sheath wedding gown that is so chic, you'll want to strut down the city streets! Make a statement with long sleeves by choosing its Sister Style Cambridge Dawn.
PC: Simsational Memories
We can picture it now: you're wearing Josie by Rebecca Ingram, walking down a cobblestone street to the love of your life, ready to say "I do" to your forever—looking as elegant, romantic, and dreamy as possible! Josie is a timeless off-the-shoulder fit-and-flare wedding dress that is simply meant for cityscapes. Not only is this gorgeous style to die for, but it's also part of our Quick Ship program! Check out this gorgeous Real Bride wearing Josie!
Have your eye on a NYC elopement? Read our blog post on wedding dresses great for the city that never sleeps!
Mountain and Forest Elopement Wedding Dresses
PC: Jason Hicks Photography
When we think of an elopement wedding dress destined for fairytales in the forest, Mallory Dawn by Maggie Sottero is the first to come to mind! We adore this long-sleeved ballgown's sexy, romantic style. Add more drama to this gown by changing the second tulle layer to sparkle tulle through personalization, or opt for its sleeveless Sister Style Mallory. Need this gown for your fast-approaching wedding date? Lucky for you, it's part of our Quick Ship program! Look at this lovely Real Bride wearing Mallory Dawn!
Calling all boho brides! Looking for an elopement wedding dress to perfectly fit your mountain-inspired vibe? Keating by Rebecca Ingram is just what you're searching for. This A-line gown features an illusion V-neck, a scalloped skirt and unique lace that fits in flawlessly with beautiful mountainous landscapes. Personalize this gown for your love story by adding buttons down the back!
Winter by Maggie Sottero is the whimsical lace A-line elopement wedding dress designed for the delicate-yet-dramatic, sweet-yet-striking bride who dreams of enchanted gardens and fairytale forests. This gown might be named for one season, but it is perfect for mountain or forest elopements anytime! Make this gown as unique as you are by adding buttons down the back or detachable illusion lace long sleeves! Want more fairytale gown inspo? Check out our blog post for more dresses fit for princesses!
Las Vegas Elopement Wedding Dresses
They say, "What happens in Vegas stays in Vegas," but your love story knows no bounds! A Las Vegas elopement is such a fabulous way to incorporate travel fun into your unforgettably special day. And lucky for you, we have the perfect gowns for this special occasion!
PC: Wild + Untamed Photography
Elevate your Las Vegas elopement by dressing in Tuscany Royale by Maggie Sottero. This gorgeous sparkly lace dress features a grand illusion lace train, ideal for all the photo shoots you're destined to be part of in Vegas! Be sure to explore the many ways you can personalize this gown for your love story, or check out Tuscany Royale's Sister Styles!
If you're looking for more of a sexy, elegant look for your Las Vegas elopement, Bailey by Sottero and Midgley is the way to go! This gown has many personalization options so you can make this gown your own! If you LOVE Bailey (like we do!) but are more of a mermaid-style bride, Bailey Lane is Bailey's Sister Style with a mermaid silhouette—yay!
We can't imagine a Las Vegas elopement without a little glamourous sparkle! Elton by Sottero and Midgley gives the show-stopping, magical moment you've been looking for. This ultra-sparkly strapless princess ballgown is THE dress for your glamourous Las Vegas elopement. Personalize this dress for your love story by removing the train for a more casual look through special request!
Destination Elopement Wedding Dresses
PC: Sarah Joy Photography
Who said you couldn't have a destination elopement? We're ALL for tying the knot somewhere special to you and your partner. Fatima by Maggie Sottero is a sweet, fun ballgown that is the perfect combination of chic and elegant. Fatima is also available with fitted long-sleeves (in case you're traveling somewhere chilly!). Personalize this gown by opting for its matching detachable beaded belt! If you're looking for more coverage, check out Sister Style Fatima Lynette.
PC: Sam Starn Elopements
No matter where you say "I do," Zander by Sottero and Midgley is sure to astonish. This ballgown (which comes in an all-black colorway, by the way!) is simply breathtaking. It's absolutely for the unconventional elopement bride. Zander features layers of contrasting fabric, including tulle and lace. Along with that, it has a sheer bodice with illusion long sleeves, a sexy plunge V-neck, and a scoop back.
PC: Sam Starn Elopements
You can truly do no wrong with Zander, and you can even make it your own by adding drama with the matching lace-accented veil! Love the edginess of Zander but not the black colorway? Opt for one of the ivory options (which are just as gorgeous!). This gown is also part of our Quick Ship program! See this dress in action on this fabulous Real Bride.
When we think of romantic, intimate, destination elopements, we think of Valona by Sottero and Midgley. This ballgown features shimmery lace motifs and an array of sleeve options to fit any climate. Whether you love the look of cap sleeves or dream of gorgeous, lace illusion long sleeves, Valona will look spectacular whichever route you take (and wherever you elope!). Personalize this gown by adding buttons down the back or changing the Chantilly lace to Chantilly lace with sequins.
And that's a wrap on elopement wedding dresses! We hope this has inspired your vision for your elopement… the only thing left to do is start the search! To get started on this, make sure sure to Find A Boutique near you to book your appointment to find the dress of your dreams, and follow our socials below:
Want more inspo? Check out more of our blogs here:
Cheers to your big day bride, and bon voyage!