Dresses
Wedding Inspo
|
February 24, 2022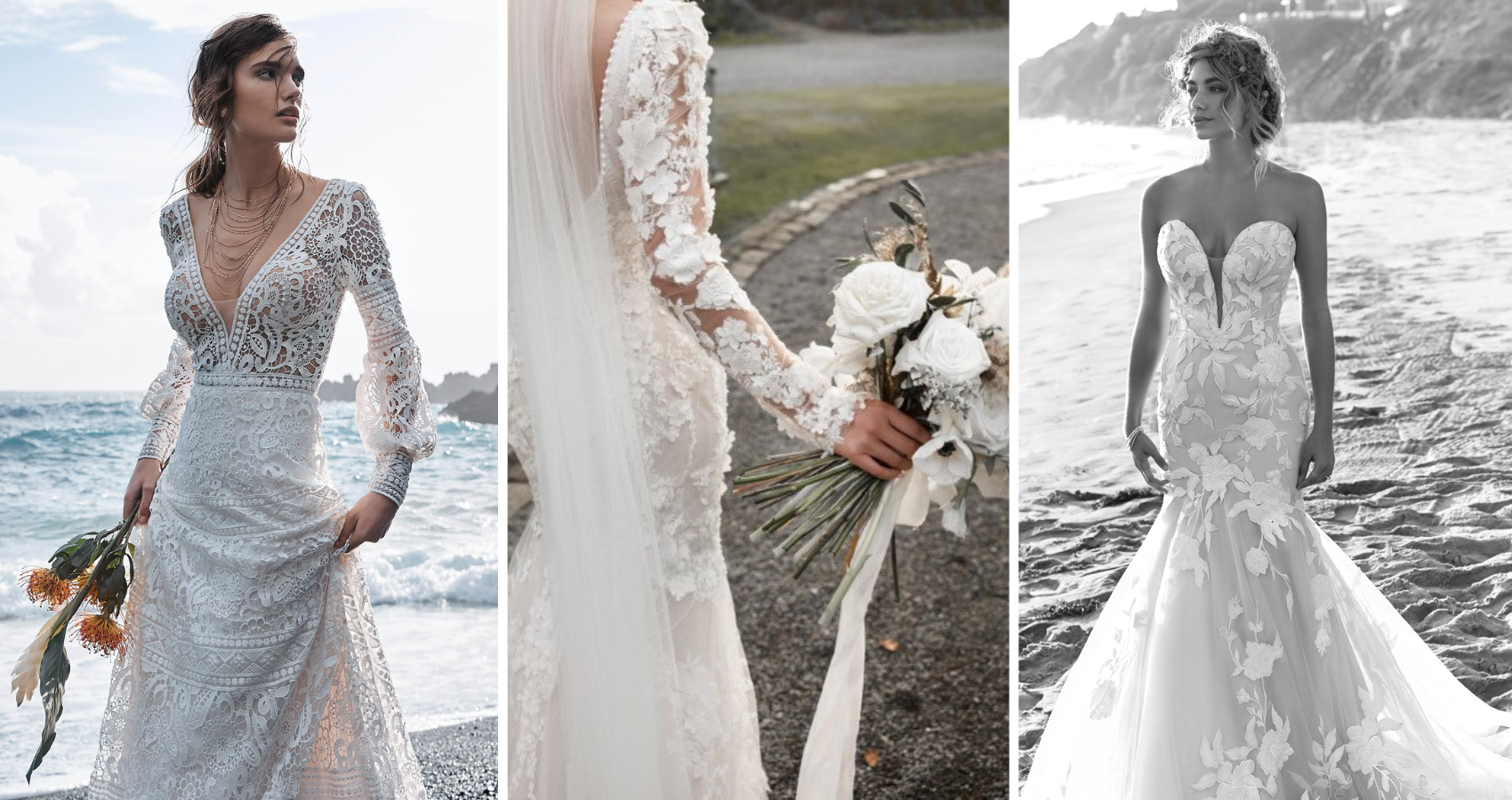 Classic V neck, meet boho. With the versatility of a V neckline, there's nothing like a chic, soft, and romantic bridal aesthetic to feel like absolute magic on your big day! If you've taken our Find Your Style quiz and made an appointment to shop at one of our Authorized Retailers, here is the perfect place to start browsing our top v neck wedding dresses with sweet and dreamy styling. Keep scrolling for our favorites!
Before you start reading though if you want to be the first to know on all things bridal make sure to sign up for texts from Maggie below!
V Neck Bridal Gowns with Bold Boho Sleeves
Boho babes, we know you love a good illusion sleeve on a deep V wedding dress. Drita by Maggie Sottero is a soft and romantic, sweet yet sultry, and effortlessly sophisticated style with the perfect sleeve treatment. It's all the classic tailoring of a regal vintage style, but with a sexy plunging neckline and low back—so chic!
If you're all about a decadent 60s silhouette, get inspired with Benson by Sottero and Midgley. This whimsical wedding dress features a stunning lace pattern and divine details. You'll love to flaunt from every angle, from the lace-up back corset to the booty-hugging silhouette and delicately embellished V neckline.
Benson is also a V neck lace wedding dress with several personalization options. On its own, this stunning fit-and-flare features a strappy bodice with a unique neckline. Sheer eyelet creates a sexy, playful feel, while a long train adds classic drama. Color-wise, opt for classic Ivory or a tasteful Ivory over Nude Illusion. (You can further personalize to complement your natural skin tone.)
Want to add a bit more coverage? Add the long illusion sleeves or long bell sleeves. These decadent coverage options are perfect for a fall or winter vibe. Talk to your Authorized Retailer for more information about customization and accessories.
Lavish, feminine, and uniquely tailored, Finley by Sottero and Midgley proves "dazzling" need not be limited to crystal bodices and tiered skirts. This V neck ball gown wedding dress is all about a lush silhouette, decadent lace, subtle illusion, and nude details along the V neck bodice. It's demure yet daring, soft yet sophisticated, and effortless to style for your boho wedding vibe—all without going over-the-top with bells-and-whistle embellishments. Divine!
Fitted V Neck Bridal Gowns
PC: Antonio Pro Photography
Looking for a V neckline on a soft and sexy fit-and-flare? Chic lace Greenley by Maggie Sottero is a dream to wear. This nature-inspired silhouette hugs your curves in all the right places, shimmers in the sunlight, and shows off your back and decolletage—what's not to love?
Take it from this 5-star review for this V neck wedding dress from Priscilla: "I felt like a literal princess in my dress… so much that I cried when I stepped in front of the mirror."
If you love the lace but are looking for a bit more volume and princess-y vibes, check out sister style Greenley Lane. There's nothing so divine as that V neck bodice!
Another fitted silhouette with lots of personalization options, Hattie by Rebecca Ingram is a stunning choice for boho brides. Sister styles Hattie Lane Lynette Marie (lushly layered with a classic sweetheart neckline) and Hattie Lane Marie (the same, but as a deep V neck wedding dress) are just two more of this wedding gown's covetable variations.
These soft and lovely lace variations are a little sweet, a little sexy, and 100% sophisticated. It's especially gorgeous on a soft V neck ball gown wedding dress or fit-and-flare silhouette. The oversized florals make an irresistibly feminine statement. (Trust us; you'll feel so sweet and elegant when you step into one of these designs.)
Funky Floral V Neck Wedding Dresses
PC: Chelsea White Photography
If you love florals and shimmer, look no further than Cruz by Sottero and Midgley. This 3D lace wedding dress is top-tier chic. It's undeniably couture. It's perfect for personalization and accessories. The plunging V neckline makes a perfect statement. It's true "wow" factor in an over-the-top silhouette you'll love for decades to come.
For this V neckline trend with extra flourish, opt for Cruz with the detachable puff sleeves. These nature-inspired accessories feature more lush florals and illusion details. We especially love the delicate lace cuffs that extend a bit past your wrists.
You can also choose from a variety of unique colorways that bring out the gorgeous contrast of lace, illusion, shimmer, and underlay in this deep V wedding dress.
Softer V Neck Wedding Dresses
For a gorgeous V neck lace wedding dress on a budget, get inspired with Minerva by Rebecca Ingram. This affordable gown is layered with lace, illusion, and a lushly layered skirt. This fairy-forest wedding gown is made for a soft, sweet, and uniquely modern vibe. It's perfect for the beach, a nature-inspired forest wedding, a garden celebration, or a romantic elopement abroad.
There's a lot of fabulousness going on in Nakara by Rebecca Ingram. This soft V neck A-line wedding dress is sweet and flattering, from the soft bodice and butterfly-inspired lace to the lush, layered skirt. The V neck bodice features asymmetrical ruching… a classic statement for a Grecian goddess vibe. The skirt is subtly layered with lace and shimmer along the waistline.
This gorgeous V neck wedding dress is a stunning choice for curvy brides. All our gowns come in plus-size options, but this one is especially flattering.
For a bit more coverage, opt for a classic bridal veil in matching lace motifs. This look is whimsical, playful, and gorgeous for bridal portraits. Nakara makes a stunning statement with a range of accessories. Play up the shimmer and you'll feel nothing short of exceptional.
View these affordable wedding gowns at a boutique near you!
V Neck A-line Wedding Dresses
Looking for the perfect combination of A-line and V neck? Winter by Maggie Sottero is an icon of romance. The lace is stunning. The illusion is over-the-top. The bodice makes a soft and sexy statement. And that neckline? DIVINE.
Winter is a perfect V neck wedding dress for boho wedding venues. If you love a vintage vibe for your reception, get inspired with alternative and unexpected backdrops. National Parks, ritzy theaters, museums, music halls, and enchanted gardens make a one-of-a-kind setting for your one-of-a-kind celebration.
Winter also serves up gorgeous inspiration for wedding florals, from over-the-top cascades to wildflower nosegays and non-floral arrangements in jewels, feathers, and ribbons.
For the luxe and ultra-feminine bride, Reeve by Sottero and Midgley makes an unforgettable statement on your big day. We love the delicate lace and unique layers of this 3D embellished wedding gown and its classic bridal veil. For your best day ever, why choose anything less than irresistible?
Simple Boho Wedding Dresses
PC: Kate Nolan
Striking, elegant, and perfectly tailored, Joanne by Rebecca Ingram is an exceptional design for the classic bride with an eye for couture. This V neck A line wedding dress is also a stunning choice for plus-size brides; the bodice is SO flattering on your waist and bust.
The Renaissance-y styling of Joanne makes it ideal for vintage bridal accessories.
For a sweet goddess-inspired look that's super easy to wear, consider Bobbi by Rebecca Ingram
from our affordable Rebecca Ingram line. This simple V neck wedding dress is exceptionally lightweight, looks gorgeous on a variety of body types, and won't sabotage your wedding budget. She is everything you need for a high-style, zero-stress vibe on your best day ever.
Love this affordable bridal design? Check out our full collection of Rebecca Ingram wedding gowns for more stylish and budget-friendly wedding gowns and accessories.
Combine simple tailoring with statement details in Sahar Marie by Maggie Sottero—a flirty, ultra-feminine, and vintage-chic wedding dress featuring a striking bodice and shimmery pearl skirt. This simple V neck wedding dress is the perfect package.
This style marries a classic silhouette with whimsical flourishes, a timelessly yet surprisingly romantic combo that's picture-perfect for spring, summer, and fall weddings. This look is a little coy, a little decadent, and everything you love about a soft and boho-chic bridal look.
V Neckline Wedding Gowns with Unique Boho Backs
Shopping for something simple yet ultra-romantic? Keating by Rebecca Ingram features an elegant and feminine design with oodles of accessory potential. On its own, this lace wedding dress is all about the allover lace silhouette: an effortless deep V neck wedding dress with a gorgeous back. It's an effortless combination of tailoring, flourish, and volume. (And at the perfect price for your budget.)
Another statement back option is Petra by Sottero and Midgley. We love the crisscross illusion details with a keyhole flourish. It's a gorgeous complement to the all-over lace and ultra-feminine bodice. (And that Mocha colorway? So divine.)
Love this lineup of V neckline wedding dresses? Dive into more style with our gallery of inspiration from our real #MaggieBrides on their best days ever. Additionally, you can also pin your favorites on Pinterest—the best way to curate a gown vibe before heading to your Authorized Retailer. Lastly, we've also compiled more V neck wedding dresses for plus-size brides in the link, and more romantic A-lines in a variety of lace, shimmer, and layers. As always, happy shopping!