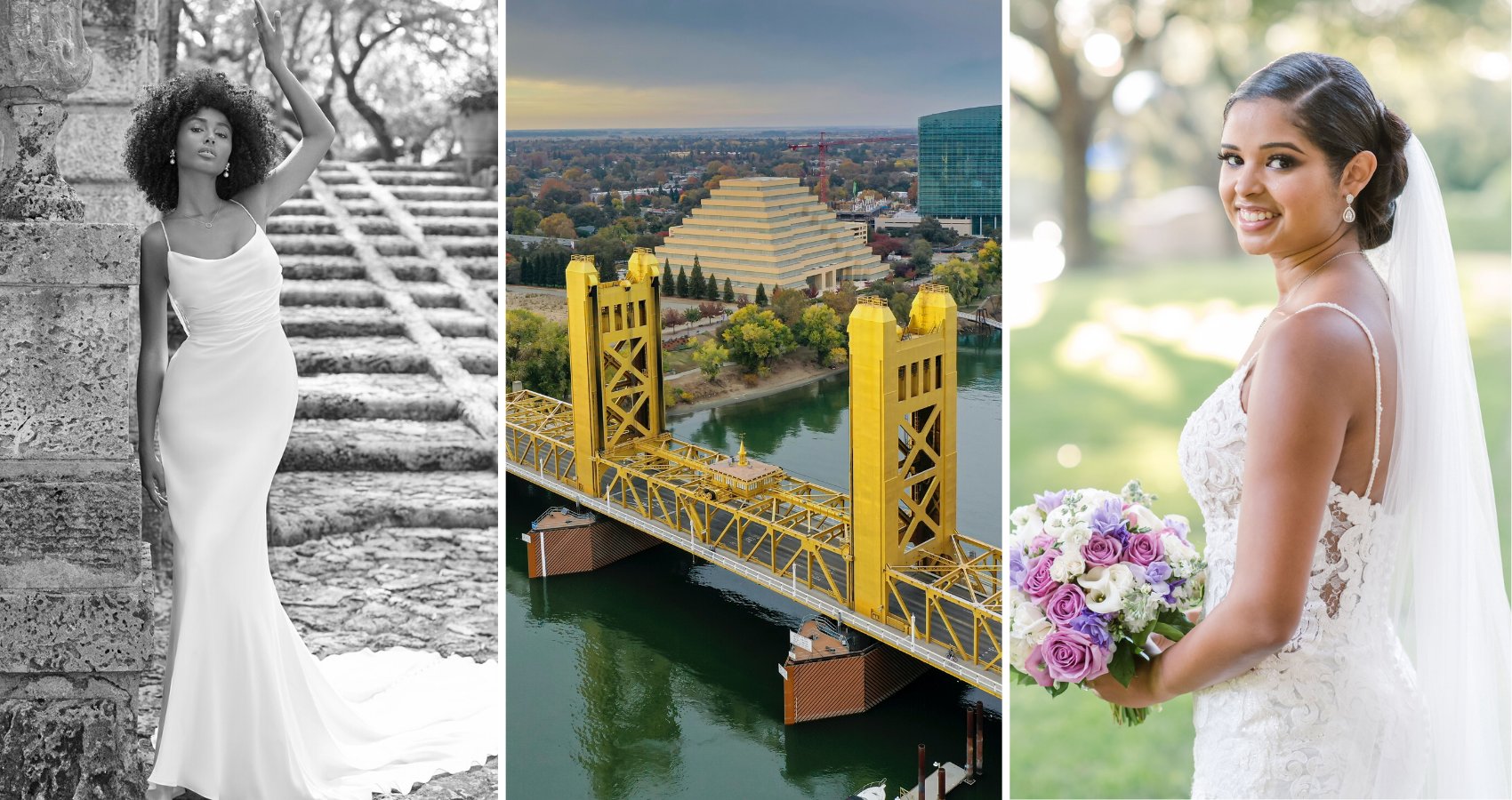 California is host to many cities we know and love — San Francisco, Los Angeles, and one of our personal favorites, Sacramento! We hold this city (and all its brides) in the Golden State near and dear, which is why we've compiled a list of our favorite wedding dresses Sacramento to celebrate our brides from the California State Capital.
These Sacramento dresses are created with lace and fabrics inspired by cool Cali breezes, and their structure as breathtaking as the California redwood tree. You'll want to take our Style Quiz as soon as possible to find your perfect Maggie gown, inspired by this stunning city.
Before you start drooling over all our gowns with the River City feel, make sure to sign up for our #MaggieInspiration text messages below to get bridal insider tips to get prepped for your big day:
Bridal Shops: Sacramento
California is one of the fashion hubs of the nation, so it only makes sense to get your bridal gown there! Northern California has many Maggie Sottero Designs, but an expert in all things Maggie is expert bridal boutique, Miosa Bride.
With over 20 years of experience in guiding and celebrating brides, this wonderful boutique was created for, and because of, our Sacramento brides (and inspired by the trendy bridal fashion found in the city).  
Whether you're a sweet boho bride or a sexy fit-and-flare loving bride, you will have absolutely no issue finding the Maggie gown of your dream amongst their collection!
Make sure to follow their social media and make an appointment today!
PC: Maggshots Photography
Sacramento is a city filled with a lot of history and influence, so Tuscany Royale by Maggie Sottero naturally fits into this vintage-loving town. Tower Bridge, the Cathedral of the Blessed Sacrament, and Leland Stanford Mansion State Historic Park are just a few of the historical landmarks that remind us of the ornate finishes on this lacy deep V-neck gown.
The detachable scalloped train was made for gliding over marble steps, while the matching cathedral tulle veil is the perfect accessory for a decadent garden wedding in one of Sacramento's many parks.
If you love this sparkly sheath bride dress, but you're looking for a little bit more coverage, consider adding vintage-inspired lacy sleeves to personalize the gown for your love story!
Find more vintage-inspired gowns to wear in one of America's favorite historical cities by heading to our blog to find the vintage wedding dress of your dreams!
PC: Annie Ryan
Sacramento was aptly nicknamed the River City due to the thunderous Sacramento River that flows directly through the town. So, what better gown to wear in the River City than a mermaid wedding dress?
Our wedding gown, Simone by Sottero and Midgley, is the clear choice when we think of rivers, and dreamy waters. The twisting, curving water of the river is reminiscent of the beaded, romantic lace that weaves throughout the gown.
Like how the Sacramento River flows into the San Joaquin Delta, this gown flows into an illusion back. There are so many ways to personalize Simone for your love story like changing out the tulle and adding buttons down the back. Or, if you prefer a lined bodice and raised neckline, you can explore Simone's Sister Style, Simone Lynette!
Are you familiar with Oscar-winning actresses, Brie Larson and Jessica Chastain? Or maybe Greta Gerwig, the writer of the famous film, Lady Bird, or detailed ceramicist Sunshine Cobb? All these incredible artists came from or flocked to the sunny city of Sacramento. It's a town made by, and for, artists, so it only makes sense to pair one of our artsiest gowns with this imaginative city!
Shasta by Sottero and Midgley is the perfect choice for this artist's haven.
This sparkly ballgown is a work of art. With its sparkly tulle, illusion bodice, and intricate beaded lace floral motifs, you'll feel like the finest painting, most stunning sculpture, or most intriguing indie film on your wedding day.
Fairytale gowns are one of the styles we specialize in at Maggie Sottero. Explore this wedding gown theme more on our blog!  
Wedding Dresses Sacramento: Royal-Inspired Gown, Josie by Rebecca Ingram, For the Golden 1 Center
PC: Gabriella Vanstern Photography
When you think of wedding dresses, basketball probably isn't the first thing that comes to mind. However, with a stadium as iconic as the Golden 1 Center, home of the Sacramento Kings, we couldn't help but think of one of our most iconic gowns, Josie by Rebecca Ingram.
The Golden 1 Center might be for the Kings, but Josie is for the queens. This Huron Mikado gown is iconic and gorgeous in a lot of ways. However, the vintage-inspired buttons are what make this gown fit for royalty!
And bonus! If you're a soon-to-be bride with a short engagement, Josie is one of our many Quick Ship wedding dresses! Quick Ship gowns arrive faster than our normal delivery dresses and can be found at many of our Authorized Retailers.
Most people would say living in Sacramento is like living in a park. Sacramento is filled to the brim with gorgeous elms, classic oaks, romantic sycamores, and hundreds of other types of trees. So, obviously we had to pair one of our most botanical gowns, Ivy by Maggie Sottero, with the City of Trees.
Ivy shines with head-to-toe lace (and we absolutely love it!). This intricate gown is decorated with floral, vine, and leaf motifs reminiscent of the canopy of trees that practically covers the city. We love the elegant, classic feel of this gown with its beautiful sweetheart neckline and fit-and-flare silhouette. Personally, we think that this gown is the perfect choice for a classic, garden wedding for our Sacramento brides. Don't you?
To personalize this gown for your love story (and perfect botanical wedding), make sure to add detachable off-the-shoulder cap sleeves. For an extra bit of flair, add buttons down the back for a vintage feel!
There are many ways to describe California: cool, relaxed, chic, romantic. We could go on and on. There's no better dress that matches the "Cali vibe" than Alberta by Maggie Sottero.
This silky sheath dress is the definition of cool and collected. And, the scoop neck and buttons are as romantic as you can get. The real showstopper is the beaded scoop back that is chic, elegant, and the personification of what California is all about! We can totally imagine this gown on the beaches, the mountains, or the cities in California!
Read our blog find a trendy, simple wedding dresses for your day!
Sacramento is home to hundreds of species of flowers. Therefor, it only makes sense that floral Nora by Maggie Sottero made our list! We love this gorgeous, garden-inspired gown and think it is the epitome of "wedding dresses Sacramento."
This strapless, deep v-neck is classic Sacramento, while the sparkly tulle A-line skirt is a gorgeous reminder of the California sun and sparkling sand beaches!
City brides deserve a gown with city vibes. That's why we recommend a gown inspired by the metropolitan aspects of Sacramento, Montgomery by Sottero and Midgley!
Montgomery is all about drama with its sexy, illusion lace cutouts and deep V-neck. The structure of this beautiful mermaid gown is no less than architectural. We love the beautiful boned bodice and delicate, floral lace. AKA, this gown is the perfect dress for a big city wedding in Sacramento!
Be sure to add a royal-inspired tulle and beaded bridal cape to add a little bit more flair to your big day!
Lucky you, Sacramento brides! Sacramento is one of the most beautiful (and affordable) cities in California! That's why we think our affordable wedding dress, Aubrey by Rebecca Ingram, is a great option for our Sacramento brides who value the affordable, finer things in life.  
Aubrey is just that–luxe but affordable. This fit-and-flare boho gown sports a stunning illusion lace back that flows masterfully into it an elegant crepe skirt. Aubrey is a perfect choice for our brides who want to feel sexy without sacrificing any grace. Its deep V-neck and thin straps allow brides to show off their assets, while still feeling like Grace Kelly.
We think most people would agree… when thinking of Sacramento, these words come to mind: beautiful, relaxed, diverse, and unique. That's why for our last dress in this collection of wedding dresses Sacramento. We think Keeva by Maggie Sottero is an obvious choice!
This beautiful mermaid gown is the perfect choice for any bride looking to show off her curves, classically and romantically. The unique, deep v-neckline is extra flattering with the illusion lace covering the bodice. The off-the-shoulder sleeves will make all your guests ooh and ah as you walk down the aisle.
As if this dress couldn't get better, you're able to personalize this gown for your love story by adding a detachable lace train!
Sacramento, California holds a special place in our hearts. So, we are so excited to share some of our favorite gowns inspired by the city! If you're a bride who found one of these dreamy gowns at our Authorized Retailers, make sure to share your wedding photos with us.
If you're still shopping for your perfect wedding day look, make sure to sign up for our exclusive newsletter to get all the best tips and tricks. Also, make sure to Pin these gowns to save for your big day!
Happy shopping bride!
More Blogs Like This:
 8 Must-Have Tips On How To Shop For A Wedding Dress For The First Time
10 Beautiful Wedding Venue Ideas For The Romantic Bride
Customized Wedding Dresses & Personalizations With Maggie Sottero