Tips and Trends
Wedding Inspo
|
May 20, 2021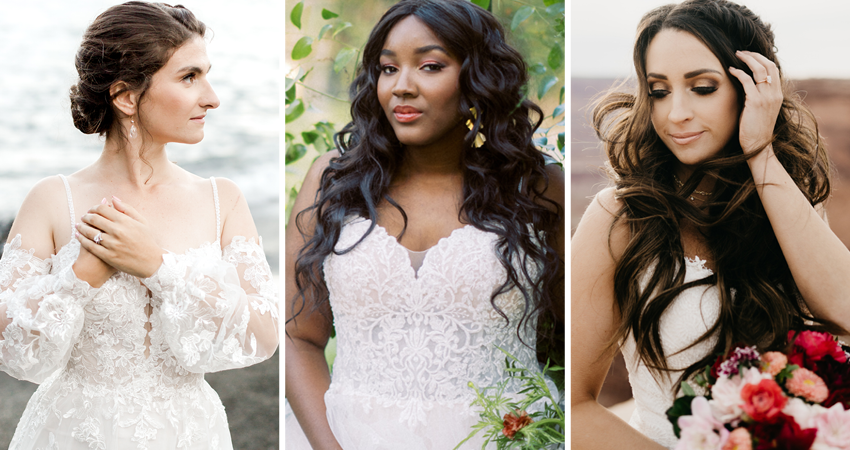 You hear it all the time: Your bridal beauty treatment should make you feel like the "best version of yourself." And whether that's an au naturel boho vibe, a vampy jewel-toned aesthetic, or a fabulous red-carpet explosion of shimmer and glitter, we've got your perfect inspo. Scroll on for wedding makeup looks from our real brides and styled shoots, plus gorgeous bridal gown designs for a chic and stylish celebration.
Spring Bridal Makeup Inspo
PC: Rachel Laxton Photography
Moisturized skin, effortless eyes, a pop of lip color—spring wedding makeup looks are all about soft light and ultra-feminine palettes. For an aesthetic that's easy to achieve and flattering to behold, get inspired with this real bride's fresh-faced glow and relaxed updo.
For this bridal beauty look, ask for:
Lined eyes with soft blending.
Softly defined brows.
Subtle eye shadow with a little definition in the brow bone.
Moisturized skin with a light BB cream. (Full coverage foundation or dramatic contour will look a bit heavy for an outdoor setting.)
Natural pink lips in a satin or balm finish.
And of course, plan on a few pre-wedding beauty regimens, including a professional or at-home teeth whitener, a glow-y face mask routine, a skin supplement (think collagen or biotin), and some weekly hair masks. You'll look positively radiant for your spring soiree!
Love this bride's sleeved wedding dress? It's Mallory Dawn by Maggie Sottero, a shimmery ball gown with sexy bodice details and ultra-romantic flourishes!
Light Yet Romantic Winter Makeup Look for Classic Brides
PC: Jessa E Photography
Jewel tones and heavy shimmer often take center stage for winter weddings, but they are by no means your only options. For a fresh and radiant winter HAMU aesthetic, stick to soft metallics and soft skin treatments, á la this real bride's natural yet radiant complexion.
How to plan this wedding hair and makeup look:
Work with your natural brows—light, medium, or heavy.
Browse peachy, bronzy, or light copper eyeshadow tones and match to your lip tone.
Consider natural-looking lash extensions along the top lid only.
Keep your foundation light and natural—not too much contour or coverage.
Add soft blush in a similar palette as your eyeshadow and lip.
As for hair and accessories, opt for a polished yet relaxed hairstyle (a half updo or soft curls would do nicely) and light shimmer (i.e., classic drop earrings). A tulle veil is also destined to make a timeless bridal statement for your winter celebration.
Gown-wise, a winter wedding is all about extra coverage and a flattering silhouette. If you love this bride's shimmery lace wedding dress, click here to find Tuscany Leigh at an Authorized Retailer near you!
Luxe and Modern Bridal Makeup for a Sultry Wedding Vibe
PC: Hannah Mac Photography
Embrace the many facets of elegance with a sultry, yet sophisticated wedding makeup look. Think masterpiece symmetrical lines, luxe texture, and minimalist definition.
Beauty details from this styled shoot wedding look:
Defined and arched brows.
A natural, bronzy glow.
Soft highlight along cheek and brow bones.
Nude lip in a satin finish.
Dark eyelash extensions.
Blended eyeshadow to accentuate the eyes.
This model looks ultra-chic with a slicked-back bun and minimalist jewelry to complement her striking off-the-shoulder wedding gown, Admina by Sottero and Midgley. A pearl-accented veil (details here) also adds a stunning flourish to this couture bridal ensemble.
Light Beach Wedding Makeup Inspiration
PC: Alexandra Robyn Photography
Is there such thing as a no-makeup look that still gives you definition? A little bronzer, soft brows, and the perfect base shade prove you can lift and accentuate your whole look instantly—without losing a bit of your gorgeous glow. If you're getting married in the great outdoors (read: a romantic beach locale), this is exactly the HAMU look to play up your features while working the natural elements.
For this beachy wedding makeup look, ask for:
Full, soft brows.
Light eyeshadow in a brown or copper hue.
Cream-powder foundation.
Natural lashes with a few coats of mascara.
Light contour that defines the cheekbones.
A natural lip color.
As for hair, consider a braided updo or soft bun to keep your strands snug and photo-ready. This model showcases a Dutch-braided side bun—the perfect hairstyle for a beach venue or outdoor celebration. Gown-wise, consider a soft and romantic style like Stevie by Maggie Sottero, a relaxed, feminine, and subtly embellished A-line wedding dress to give you that "beach goddess" je nais se quoi.
Classic Makeup Look for Princess Brides
PC: Haley Rae Brown Photography
A fairytale wedding gown is exquisite on its own, so your HAMU look should be equally as shimmery and inspiring. As demonstrated by this real bride's royal-wedding vibe, one winning formula goes like so:
Shimmery lids in a shade that matches your contour.
Defined upper lids with blended eyeliner.
Light contour to add definition in photos.
Defined natural brows.
A shimmery nude lip.
Hair in a soft yet polished updo.
Shimmery accessories like a bridal tiara and drop earrings.
A classic veil. (This one is attached as a hairpiece and the trim matches her bridal tiara.)
This princess wedding dress is Taylor Lynette by Maggie Sottero, a sparkly ball gown featuring tulle, beaded lace, illusion details, and a stunning bodice treatment.
Bridal Makeup Inspo for a Garden Wedding
PC: Christina Bernales Photography
If you're getting married surrounded by dahlias and trumpet vines, look to fresh yet distinctive wedding day makeup with a unique palette and easy wearability. This model's look complements her whimsical backdrops without losing style or sophistication.
For a similar wedding day vibe, check off:
Fun pops of color on the lids and lips.
A rosy orange tone with a touch of shimmer.
A lip stain or crayon for a little boho vibe. (You can also pair with a lip plumper to achieve volume without overly defining your pucker.)
Soft contouring with blush in the cheeks.
This beauty look is beautiful with long, loose hair or a relaxed updo, and pairs perfectly with statement earrings in a nature-inspired motif, á la this leaf drop style in gold. We love that this look was chosen for Marisol by Maggie Sottero; a romantic bodice lace and tulle skirt make this a chic and lightweight choice for your garden, forest, or desert backdrop.
Glamorous and Romantic Wedding Day Makeup
PC: Nicole Aston Photography
We can't resist it; we love this bold and sultry HAMU vibe! If you love a more dramatic makeup look, this bridal style is great for a range of face and skin types because it adds plenty of definition and highlight. Here are the main components:
Smoky eyes with definition along the outer lids.
Highlight in the inner lids.
Shimmery or smoky eyeshadow.
Lush lash extensions.
Defined, arched brows.
A bronzy glow.
Nude lips.
Contour that lifts and accentuates your face shape.
This is another beauty look where teeth-whitening is extra important, so be sure to start an at-home or professional treatment a month or so in advance of your wedding. As for hair, play with options that make you feel glam and romantic, such as full, side-swept curls, braided flourishes, a flower crown style, or a full bun with loose tendrils. (This bride achieves the perfect balance of "red carpet" meets "desert glamping" with her long, wavy hair in a braided half-updo.)
Eyeing this slinky lace Narissa wedding gown? This style is discontinued, unfortunately, but you might also love the sexy silhouette and flattering fabrication of Aubrey by Rebecca Ingram.
Two Wedding Makeup Looks for a Bicultural Celebration
Whether you're planning to change up your hair and makeup for two different cultural ceremonies or simply love a little variety, look to this bride's gorgeous styling for perfect inspo!
This bride styled two distinct but complementary wedding makeup looks for her bicultural celebration. For her blue, gold, and red ensemble, she wore:
A lovely updo accented with red, gold, and pink jewelry.
A glow-y makeup look that works with her colorful accessories and fabrics.
A deeper berry lipstick that brings out her glow and complements her earrings.
Bold lashes and soft shimmery lids.
When she changed into her white wedding dress (lace sheath Tuscany Lynette by Maggie Sottero), the bride switched her berry lip to a natural nude hue, removed her jewelry, and styled her hair in glamorous Hollywood-inspired curls. Irresistible!
Sleek and Simple Wedding Makeup Inspiration
PC: Partografia
So you've fallen in love with a minimalist bridal gown like Selena by Maggie Sottero. This kind of high-style design makes an effortless statement on its own, so it's important to choose a bridal beauty look that makes you feel as chic, radiant, and timeless as your gown does. Here's what this real bride chose for her HAMU:
A dewy base with a little highlight in the cheeks.
A rosy-nude lip.
Full, dark, and natural brows.
Simple eye makeup: a little mascara and soft eyeshadow.
Bronzy, exfoliated, and moisturized skin.
A low bun with loose tendrils.
Unique drop earrings with a vintage-inspired flourish.
The bride looks chic and sophisticated for her vineyard wedding—a stunning complement to her stylish wedding gown.
Gothic Wedding Makeup Inspiration for the Nontraditional Bride
PC: Francesca Hill Photography
"Bold and vampy" is a tragically undervalued aesthetic in the bridalsphere, which is why we'll take any excuse to show off a posh, moody, and stylishly nontraditional bridal beauty look. Get inspired with this jewel-toned palette and black wedding dress (Zander by Sottero and Midgley)—gorgeous fundamentals for a Gothic-chic HAMU vibe.
Details from this styled shoot beauty look:
Dark lips in a statement color.
Ice-hued hair. (Not for everyone, but it's lovely inspiration!)
An over-the-top bridal crown featuring lush jewel-hued blooms.
Bold, arched brows.
Smoky eyes in shimmery burgundy.
A light skin tone to turn up the contrast of brows and lip. (If you have a medium or dark skin tone, add intensity with a variety of jewel tones like vibrant blue, purple, or shimmery bronze. For lips, consider matte burgundy or an eye-catching lip gloss.)
No matter how dark and edgy you choose to go with your Gothic bridal makeup look, it's easy to add romance and radiance with lustrous accents and shimmery embellishments. If you're willing to make the leap into sultry-vampy territory, it's a truly exceptional aesthetic.
Alternative Makeup Inspiration for Relaxed Brides
PC: Wild Hearts Collective
Our final look is all about the vintage boho vibes. This model is wearing Charlene by Maggie Sottero in a beaded champagne colorway—a stunning A-line wedding dress for relaxed, romantic, and shimmery wedding aesthetics. Here's what we love about these types of wedding makeup looks:
A relaxed half-updo with curls and layers.
Unique color and highlights in the hair.
Vintage embellishments, á la this Grecian-inspired hair crown.
Bronzy eyes with bold lashes.
Soft, arched brows.
Nude lips.
Tattoos! (If you've got 'em.)
Cheekbone-defining contour.
Bottom line, you'll feel like a goddess in this glitzy-glam-rustic beauty aesthetic.
Looking to dive into more wedding makeup looks and bridal beauty trends? Head to our How to Find the Perfect Bridal Makeup for Your Wedding Style blog to browse wedding makeup inspo based on your vision and creativity. We've also rounded up gorgeous hairstyles to complement an array of our latest wedding dresses in the link.
And, if you're planning on doing your own makeup, make sure to check out this blog: 37 Wedding Makeup Ideas and Top Tips if You're Doing Your Own. Happy planning!