Wedding Inspo
|
July 22, 2017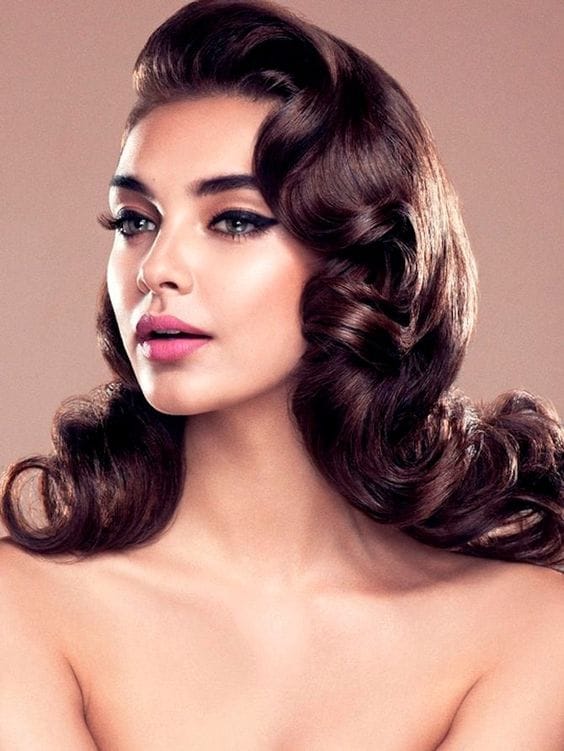 You've taken our Find Your Style quiz, surveyed our dreamy gowns, and found your ultimate bridal-style bouquet; now it's time to play with hair and makeup! Whether you're a glamorous, boho, beach, classic, statement, or vintage bride, we have the beauty inspiration you need.
Glamorous
Glam makeup is all about the eyes. And the lips. And the brows. And the contouring. Really everything, because you have the charisma and star-quality to pull it off. Go Old Hollywood with red lips and dramatic eyes, or nouveau red-carpet with nude lips and smoky eye shadow. Love falsies? Go for it! Mad for plums and magentas? You're a knockout! Don't let anyone hold you back from the luxe, shimmering, too-much-fun bridal beauty look you've always dreamed of.
As for hair, glam is all about movement and polish. Style your blowout in side-swept barrel curls with teased roots for extra bounce. Or opt for a pretty ponytail, fixed low on the scalp but lush with volume and curl.
Products:
Dolce & Gabbana Dolce Matte Red Lipstick 
Bumble and bumble Thickening Hairspray
Boho
Plenty of sweet-but-sultry options for boho, usually falling in one of two camps: bronzed and dewy or striking and whimsical. Shimmering lids, bold brows, and natural lips make for a cool festival-inspired look, while bright blues, pale pinks, and rhinestone decals evoke swirling galaxies and fairytale wanderlust. Style your long hair in textured curls for relaxed romance, or evoke magic and mystery with artful plaiting and elaborate floral accents.
Products:
Smashbox Fusion Soft Lights Bronzer
Living Proof Instant Texture Mist 
Beach
Another nature-inspired look, because you don't mind exposure to the elements. Choose breezy hues and fuss-free products, including waterproof mascara, blendable moisturizer, and tinted lip balm. Achieve the ultimate sun-kissed glow with our 10 bridal beauty essentials, and ask your hair stylist for a carefree up-do that looks more easy-breezy, less collapsed umbrella.
Products:
Josie Maran Pure Argan Oil
Philosophy Amazing Grace Body Spritz
Classic
A classic bridal look is similar to glamorous, but less vampy. (Think Audrey Hepburn's timelessness.) Think subtle lines and flattering hues that play up your feminine charm. Opt for a simple yet polished hairstyle, complete your complexion with a fresh, dewy highlighter, and don't neglect the manicure!
Products:
Wander Beauty On-the-Glow Blush and Illuminator
Nails Inc. Nailpure Nail Polish in London Court
Statement
Work it, girl! You're the kind of bride to stockpile gold mascara and goth-inspired lipstick, right? Like you'd live and breathe at the cosmetics counter if you could, right? Your wedding day is a declaration of love and commitment, so say it with a STATEMENT! Revel in bold hues and surprising-yet-chic hairstyles, play with contrast and proportion, and don't neglect the accessories.
Products:
Urban Decay Eyeshadow Primer Potion
Urban Decay Electric Pressed Pigment Palette
Vintage
Eyebrows are major. Lipstick is non-negotiable. Voluminous hair essential. Plenty of vintage brides choose the rock-n-roll route, but if you want to skip the cat-eye flick, pair corals and soft metallics for Gatsby-infused glamour. Or choose simple eye makeup and bold lips for art-deco elegance. (Anything hopelessly romantic and lavishly attended to will do.) As for the hair, consider a sophisticated-yet-intriguing marcel wave, or refresh your long locks with a faux bob.
Products:
Yves Saint Laurent Radiant Lipstick in Vibrant Peachy Pink
Clinique Superfine Liner for Brows