Tips and Trends
Wedding Inspo
|
April 5, 2022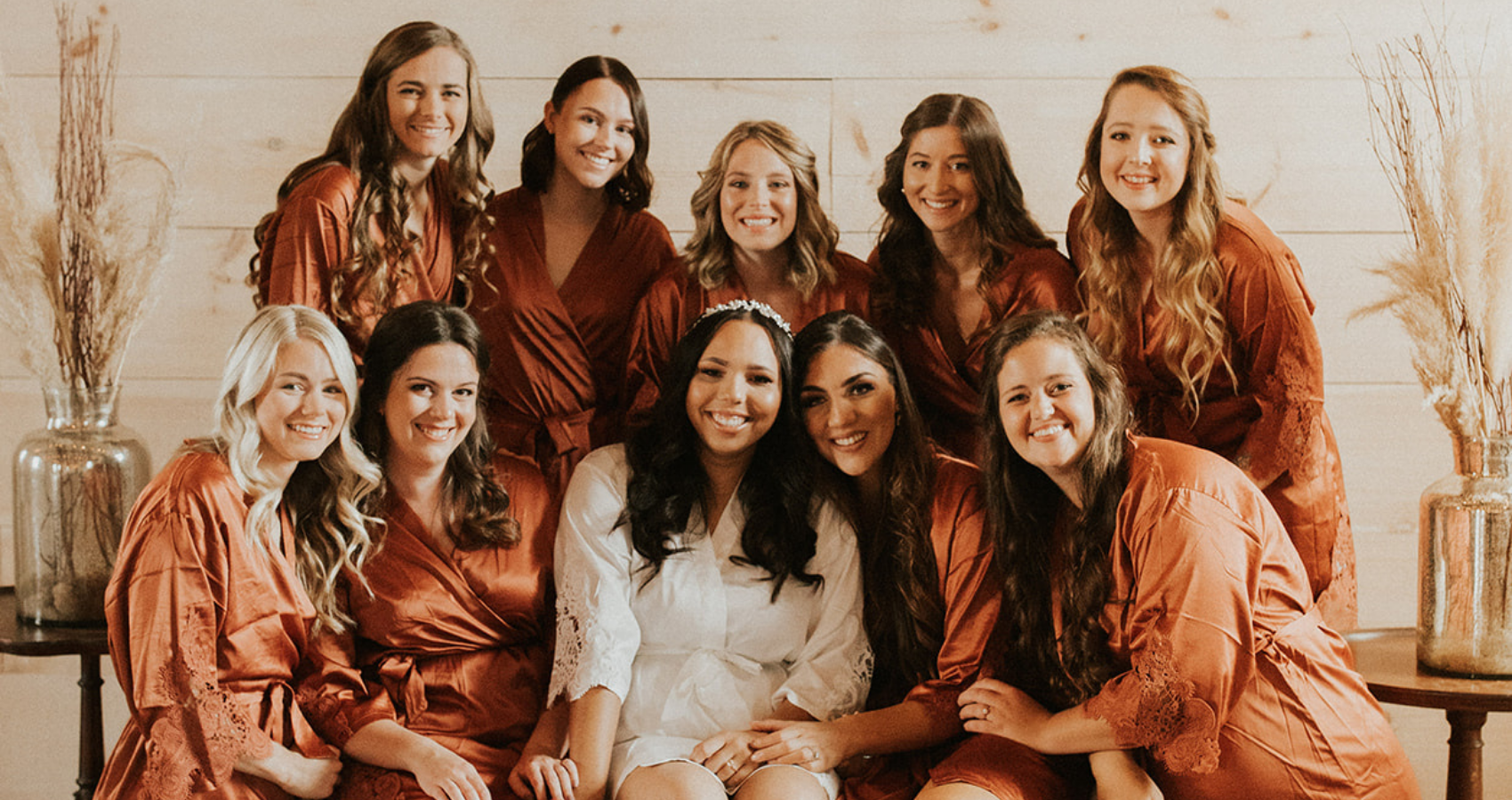 The happy couple is (obviously) the most important part of a wedding day, but where would the bride be without her besties? While not required, it's a lovely tradition to give your bridal party a sweet, personalized, or luxurious gift before or on the day of the wedding. To help you get started, we've curated a chic and happy gallery of bridesmaid gifts below!
One thing to do before the big day is to get your besties in pre-party and planning mode. From the engagement party to bachelorette weekend, gown shopping to DIY craft sessions — there's plenty for bridesmaids to help with before you tie the knot. Start with our Find Your Style quiz to map out your vision and preliminary details; the rest will follow naturally.
When you're ready to gown shop, set a date with your MOH and bridesmaids (or one of two of them) and ask them to help prep style inspo, moodboards, accessory ideas — all that magic. Find An Authorized Retailer!
If you want more tips and tricks and #MaggieInspiration for your big day, make sure to sign up for some exclusive text messages below!
Bridesmaid Gift Ideas: Personalized Gifts
PC: Rebecca Ashley Photography
Ok, so "personalized" might be a little redundant when it comes to bridesmaid gifts — but hear us out. There's nothing so cute as customizing a gift with initials, a date, or a quote. Start with something pretty, unique, or functional, then add a "BFF" monogram or silly movie quote… The options are plenty.
Best bridesmaid gifts we've seen over the seasons include:
Canvas Tote. Stylish and practical wedding gifts for bridesmaids! Your friends will love to show it off at farmer's markets, coffee shops, and road trips.
A Water Bottle, Flask, or Tumbler. More chic and eco-friendly gifts for bridesmaids, and so functional! Treat your wedding party to something high-quality and durable (they get enough junky swag from the office Christmas party). For wine and cocktail lovers, consider a chic leather flask or picnic tumbler. You can add a craft mixer kit or Pinot Noir to sweeten the deal.
A T-shirt or Sweatshirt. For certain wedding-party personalities, these actually make really sweet (potentially hilarious) gifts for bridesmaids. Enlist your maid of honor to create a design to be printed. It can be wacky, weird, or downright embarrassing. It can be all about an inside joke or favorite band or movie inspo. Wear them for your bachelorette party and wedding-day photos… but give it the right combination of silly, stylish, and personal — your ladies are sure to wear it plenty of times after the wedding.
Jewelry. If you know your bridal party's taste in shiny things, jewelry can make thoughtful wedding gifts for bridesmaids they'll treasure forever. Here are a few classics to consider:

Initials or Pendant Necklace. A gold or silver letter pendant is especially on trend.

Bracelet with Coordinates. This could commemorate your wedding location, a special place with you and your BFFs, the location of your hometown, or your favorite vacation spot together.

A Birthstone Ring. We love the small, delicate knuckle rings… a chic setting for birthstones like emerald, ruby, turquoise, and more. And you don't have to shell out big bucks for the real thing; there are plenty of high-quality dupes on sites like Etsy, Artfire, and Amazon Homemade.

A BFF Necklace. Throwback to your sleepover days with a matching "Best Friends" charm.
Bridesmaid Gifts: Matching Outfits
Bride Wearing Selena by Maggie Sottero
PC: Partographia Photography and Videography
You've seen plenty of cute bridesmaid gifts with matching clothing on Pinterest. Now's your chance to show off yours! Our favorites include:
Bridal Party Robes. Comfy ladies, rejoice! Your bridesmaids will love a luxe bridesmaid robe for flirty #gettingready vibes. Browse this inspo gallery from Brides.com for all the top styles. There's everything from feathers and fringe to mismatched pastels and vintage velvet.
Matching Pajamas. This is a great alternative to bridal robes. PJs make cute getting-ready photos. Your ladies will definitely be wearing a silky, jersey, cotton, or linen set for months after the wedding.
Wedding T-Shirts. These make chic and affordable bridesmaids gifts, and so easy to DIY. If you're not totally sold on the "single wear" vibe, choose a T-shirt style with a cute matching emblem. (Your maids will be more likely to wear on repeat.) Think symbolic flower from your wedding bouquet, a horoscope icon, a favorite band, or a beloved pet.
Hats. You've got a bunch of cute bridesmaid gifts to choose from: embroidered baseball caps, chic Western styles, beachy sunhats, and campy vintage visors. The photo ops will be divine.
Cute Bridesmaid Gifts: Fun Trinkets
You don't need to go crazy with the big-ticket purchases for a chic and stylish wedding vibe. A small treasure or cute flourish is all you need to show the love. Here are a few sweet and versatile items to start:
PC: Hannah Balan
Candles. Indulge in something luxe and stylish for your maids. Burning a candle is a lovely reminder of your friendship!
Blankets. This is luxe, cozy, and easy to purchase at a variety of price points. (If you're feeling especially posh, get it monogrammed.)
Mugs. Some of our favorite styles are rustic pottery, glazed marble designs, and color changers. This is another sweet option for personalization.
Fuzzy Socks. These are perfect bridesmaids gifts for winter weddings.
Crystals. These are all the rage for witchy, woodsy, and boho wedding themes. You can personalize the crystal for each maid, or choose a stone that speaks to you and your intentions. You can learn the meaning behind various crystals here.  
Disposable Camera. This is a wedding trend that's been around for a while — and shows no sign of dropping off! Old-school film photos are definitely in vogue for modern weddings. Pass them out, take cute photos, get them developed, and enjoy the chic and moody memories in a format that's just so much more tangible. We love this wedding-themed design you can shop online.
PC: Bady Abbas
Treat Your Bridal Party to Beauty and Spa Products
PC: Jay Doherty Photography
A wedding is the perfect excuse to get luxurious! Your bridesmaids will love a spa-inspired gift to add to their at-home beauty regimen.
A "Treat Yourself" Package: different lotions, essential oils, face masks, bath bombs, nail polish, and bougie soap. You could also splurge on perfume, beauty oil, or a top-of-the-line facemask. Start shopping gorgeous presents from Lush, Sephora, and Ulta… Whatever your budget or bridal-party vibe, you're sure to find some goodies.
Bridesmaid Gifts: Skip the Things and Give Experiences
PC: Usen Parmanov
Looking to simplify your wedding vibe? De-clutter the whole to-do by giving the gift of time and good company. These are experience gifts your ladies are sure to love:
Foodie Gift Card. One of our favorite bridesmaid gift ideas? Treat your bridal party to their go-to coffee shop, cookie delivery service, cocktail bar, or tapas restaurant. This kind of group gift card is the perfect excuse to get back together with your ladies after the wedding… Just set a date and meet up for your favorite treats!
Mimosa Bar. This "gift" experience can be repurposed as a party. Therefor, set up a gorgeous spread of fruit, mixers, and spritzers before or on the day-of celebration — just for the bridal party.
Spa Gift Certificate. Another down-the-line way to sync up with your besties! Treat your inner circle to a mani-pedi gift card, a facial, or a day at the spa.
Plan a Fun Brunch. Once the chaos of wedding planning has died down a little, enjoy some time with your bridal party with a DIY brunch at home or at your favorite weekend spot. To make this a true treat for your besties, keep the potluck requests to a minimum… All they need to do is dress up (or not!) and grace you with their presence 😉
Shopping for the perfect bridal gown? Find A Boutique near you to book your appointment to find the dress of your dreams! You can also browse bride inspo on our real wedding page: Share Your Wedding | Maggie Sottero, and sign up for weekly wedding inspo with our newsletter.
Here's a quick preview of our most popular articles for brides planning their perfect day:
Tips for Wedding Dress Shopping, including pre-appointment research, curating the look and feel of your wedding theme, adding accessories, and managing your entourage. This is a perfect article to share with your MOH and wedding party.
A 12-Month Beauty and Wellness Rundown to prep for your wedding. This includes tips for mental health, diet, vitamins, skincare, and more. (In other words, all the ways you dazzle.)
DIY Wedding Projects your friends and family can help with. These range from the simple (greenery and party favors) to the deluxe (wedding arches and photo booths). Your maids are sure to feel extra crafty, so get inspired!
As always, happy shopping for bridesmaid gifts and best wishes from Maggie! Cheers to your wedding besties!