Tips and Trends
|
January 6, 2022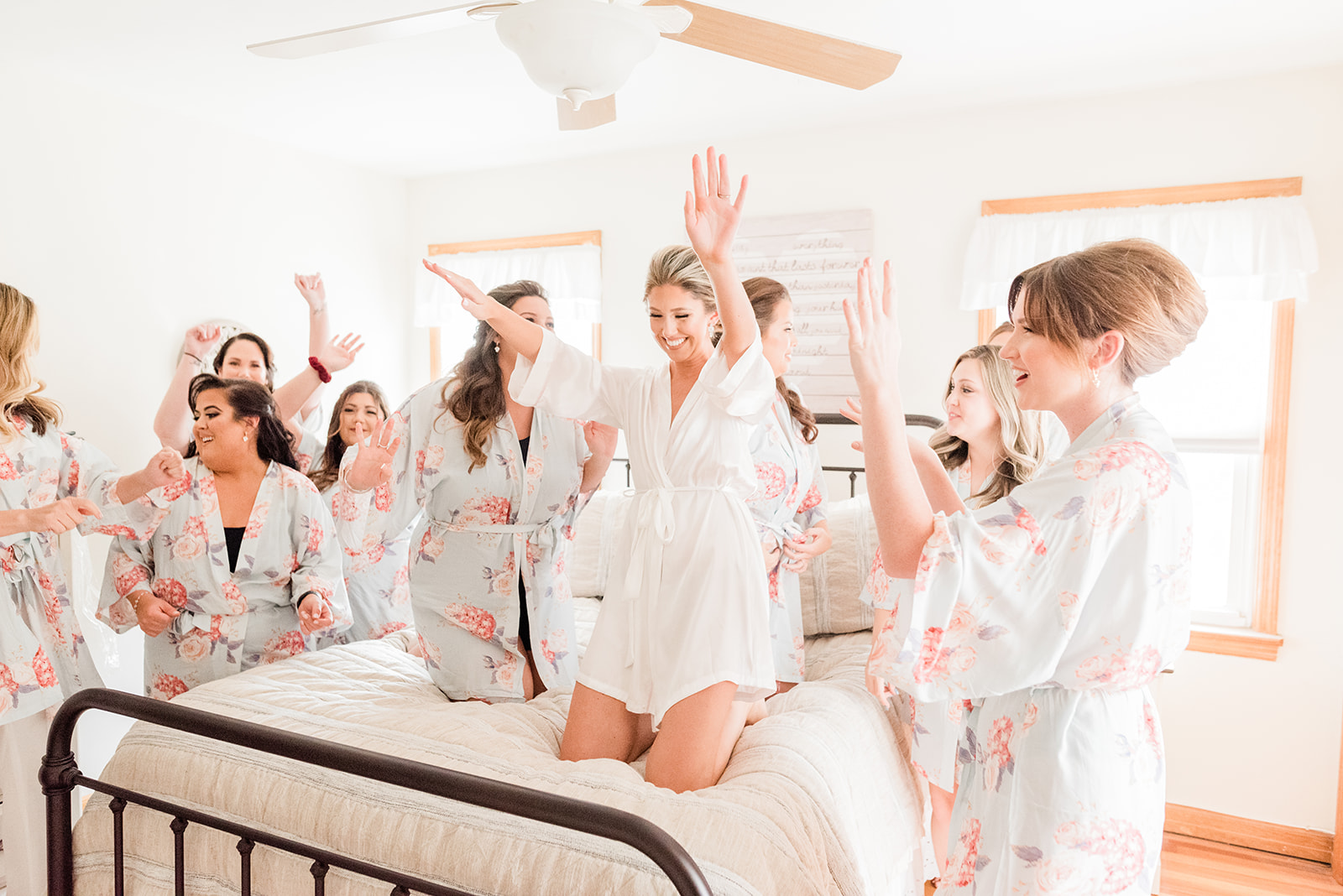 We know what you're thinking. Do I really need a whole calendar year for a bridal beauty and wedding health plan? Essentially, yes! Rather than touting harsh detoxes, short-term cosmetic procedures (so stressful! so temporary!), or ruining your mental health, we wholeheartedly approve of you taking an enjoyable, effective, and long-term wellness approach to your health and beauty tips for wedding preparation.
In the end, building up small and sustainable changes (and adding some fun pamper sessions and beautifying treatments along the way) leads to a far more confident body image and mindset for your best day ever. No soul-crushing liquid fad diet necessary!
If you're getting married in late 2022 or 2023, treat the months of prep and planning ahead of you as a luxury. Ease into your wedding resolutions with grace and intention, remembering that no matter how velvety your complexion looks on your big day, your sweetheart will be way more smitten with your personalized vows or killer dance moves. Let that adoration be your main source of support and inspiration in the coming months. Everything else can just be icing on the cake.
For our 12-month pre-wedding health, wellness, and beauty tips for wedding preparation read ahead and become the most bougie bride-to-be you can!
11-12 Months Before: Make a Sustainable Plan for Health and Beauty Tips for Wedding Preparation
PC: Fields Photography
With 365 days to go before your wedding date this is the time to set intentions, create mindful habits, uptick your hydration, and create long-term beauty plans. The keys to feeling like your "best self" a year from now are patience and planning. With this mindset, you'll have everything you need to knock this out of the park.
With time on your side, if working out is part of your beauty plan, focus on regular strength-training regimens to build your long-term muscle and metabolism. Workouts that involve resistance, free weights, or bodyweight will prep you for any future progress. It's the perfect foundation for muscle toning and those sweet, post-workout endorphins.
Next, focus on consistent water intake and intentional meal planning. No need to go overboard on hydration. Just add three cups a day to your current intake. This will vastly improve your mood, sleep, skin health, and energy levels!
Beauty Tips For Wedding Preparation: Glowing Skin
PC: Kyla Jeanette Photography
This is also the time to start your skincare routine! Visiting the dermatologist, finding the skincare for you, and drinking lots of water will have your skin butter soft by your wedding day.
9-10 Months Before: Find Your Wedding Dress, Focus on Nutrition, and Get Beauty Tips For Wedding Preparation
Shopping for your wedding dress is part of your big-picture wedding plan and fits ever so nicely into your wellness timeline for two reasons. First, it's an issue of mental fitness (you don't want to be stressing about your gown delivery just as you hit your morning-yoga stride). Second, if you plan to gain or lose weight as part of your wedding health plan (but remember, you're perfect the way you are!), you'll want to give yourself plenty of time for wedding dress fittings.
Visit our website to find styles just for you. Then, head to one of our Authorized Retailers to start trying on gowns!
Nutrition and Mental Health
PC: Rachel Laxton Photography
Starting your journey to healthy eating has never been more important than now. Potential weight loss aside, there are multiple studies showing that eating healthy can help relieve stress (believe us, you'll need to be as stress-free as you can!).
According to the University of Michigan Health, these are some healthy nutrition tips you can take before your big day:
Avoid or limit caffeine to reduce headaches, increase concentration, and make stressful situations less intense.
If you drink alcohol, do so moderately.
Make mealtimes a calm and relaxing part of your day. Meal skipping can make stress-related symptoms worse, and can cause headaches and indigestion. Use mealtimes to reflect and relax from your day!
Don't binge eat to relieve stress as this can actually cause MORE stress and indigestion.
7-8 Months Before: Focus on Mental Health, Supplements, and a Few Bookings
Here's the thing we all forget about a wedding health plan. We focus way too much on cutting calories and adding skin treatments to feel "healthy," yet manage to completely neglect our cortisol levels (i.e. the stuff that makes you feel yucky and out-of-whack when you're stressed). It's basically self-sabotage in the guise of "shredding for the wedding."
At 7 months before your wedding, take some time to decompress and realign with your intentions. Taking care of your mental health is just as important as taking care of your body, especially with a high-energy event coming up! Meditation, yoga, and starting (or continuing) a therapy program is a great way to help improve your mental health.
Vitamins and Exercise
Consider incorporating a few high-quality vitamin and mineral supplements to help you glow-ify and destress as you tweak your food and exercise plans. A daily dose of collagen, for example, aids with shiny hair growth and happy skin, while an Ashwagandha supplement can combat those onsets of planning fatigue (sometimes referred to as too-many-late-nights-on-wedding-Pinterest syndrome).
Once you've taken a beat for holistic health, start looking into potential makeup artists for your big day. Aestheticians can be in high demand for engagement and wedding season, so don't let procrastination get the better of your bookings.
5-6 Months Before: Confirm The Glam Squad, Prepare With Your Partner, and Secure The Wedding Bands
PC: Kyla Jeanette Photography | PC: Sami Kathryn Photography
Whoa, you're halfway to your wedding! Seriously, don't panic. This might be a high-stress moment, but trust that you've already built some healthy habits and self-care practices to get you through it.
Keep going with your wedding workout plan and nutrition, make meditation a weekly check-in, and start keeping written track of items on your beauty timeline. (If you haven't booked a makeup artist, get on it! And if you don't know what's happening with your hair, find a professional!)
This is also the perfect time to get your partner involved (if they haven't already). Not only is this a great time to pick out each other's wedding bands, but investing in some premarital couples counseling will allow you to have a strong marriage before it even begins.
PC: Haley Nord Photography
Fair warning, however: your next 6 months will fly by way faster than your previous 6 months.
3-4 Months Before: Dress, Hair, and Beauty Tips For Wedding Preparation
PC: Brittany Martorella Photography | PC: Payton Hartsell
Here comes the luxurious part of your wedding health plan: treating yourself to skincare, beauty inspo, and another trip to your bridal boutique.
At this point, you should have already booked your hair and makeup artists. Now it is time to set up a couple of appointments to test out your potential beauty looks! (As part of your mindfulness routine, remember to keep an open mindset with your stylist's ideas!)
Additionally, with the wedding day so close make sure to treat yourself a bit! Book a facial, make a massage, and get a mani-pedi to help ease any stress that you might have. Additionally, if you haven't already, book a session with a dermatologist or facialist for skincare to discuss any major skin concerns. If you're worried about persistent hormonal acne or a rosacea flare-up for your big day, now is the time to ease into a preventative treatment and adjust for any side effects.
Beauty Tips For Wedding Preparation: Alterations
PC: Joshua Veldstra Photography
This is also the time to dial in your bridal gown alterations. Once your wedding dress is delivered and confirmed, talk to your boutique specialists about your projected fitting schedule. Alterations will depend on a variety of factors, including what gown size you originally ordered, your current measurements, your gown's silhouette, accessories, and any customizations for sleeves, neckline, and train.
1-2 Months Before: Pamper, Prep, and Soothe
PC: Jen Larson Photography
Congratulations—you've arrived at the 2-month homestretch before your wedding! This checkpoint is all about maintaining your established health and wellness routines while ticking off some fun new cosmetic items. First up, treat yourself to a professional facial session and a pack of brightening sheet masks.
Next, opt for an at-home or professional teeth whitening treatment, as these often need a few weeks or applications to take effect. Finally, consider applying a leave-in conditioner to your hair, especially if you have or plan to get it professionally colored.
1-2 Weeks Before: The Final Touches
PC: Shauneille Ross Photography
It's real! It's happening! You're about to get married, and you feel like magic! You've got just a few items left on your wedding health plan, including:
A final hair trim to ensure it looks natural before the wedding
Regular exfoliation and moisturizer
Your pre-wedding wax session (Eep!)
A glow-inducing spray tan
An eyebrow shape and wax session
A mani-pedi with your wedding party
Most importantly, keep drinking plenty of water and plan for a good night's sleep before your wedding day. If we have one piece of advice for how to get healthy before your wedding, it's to give yourself plenty of time for rest and hydration.
Bottom line, wherever you are in your wedding health plan, don't lose sight of your intentions toward wellness and moderation. There's already so much potential for extremes in wedding planning: big highs and stressful lows, impulse buys and overspending, and new conflicts between your partner, wedding party, and families. The very last thing you need to pile on is a crash diet and an impossible workout regimen.
Instead, focus on shifting your habits toward positivity and productivity (take care of your insides and out!). For instance, encouraging yourself to try an exciting new food rather than eliminating a "bad" one, or reframing workouts as a way to de-stress rather than making them a chore. Trust us, if you're kind to your mind, body, and soul before the big day, you'll be seeing far better beauty results than any "30-day mega-cleanse wedding diet plan" pretends to offer.
Remember, you've got this! Head over to Pinterest for more wedding ideas and inspiration, reset your focus, and let yourself savor every minute of your engagement. Cheers to your health and wellness!