Dresses
|
August 11, 2022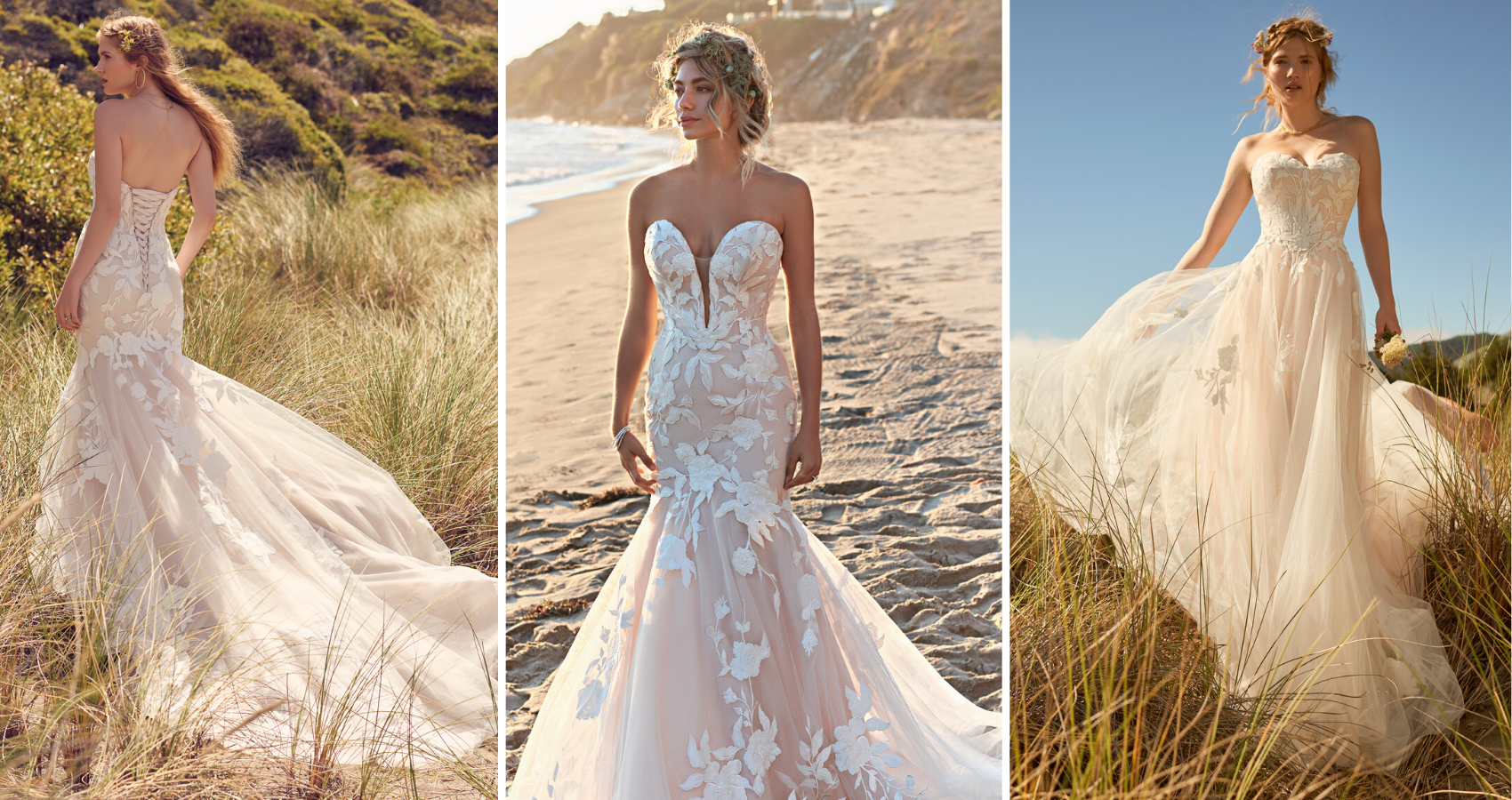 Hi, brides! We're hearing it's that time in your engagement when you've begun your search for a wedding dress. We're beyond excited for you as you begin this incredible journey, and we know how much brides LOVE our Hattie wedding dress collection by Rebecca Ingram, so we thought we'd break it down for you!
Ever wondered what the difference was between all our gorgeous Hattie gowns? Keep reading to find out more! First, make sure to take our Style Quiz to find the perfect Hattie gown for you!
What is the Hattie by Rebecca Ingram wedding dress collection?
You might be wondering: What is the Hattie by Rebecca Ingram wedding dress collection?
It's beachy romance. Bohemian lace. Impeccable fit and classic sweetheart necklines. It's everything our modern romantic brides love in a wedding dress!
The Hattie collection has gone far beyond the original Hattie mermaid gown. After the OG Hattie's release in 2020, we heard your cries for variations and came out with SEVEN other Sister Styles!
Let's start with the first one, shall we? Introducing, Hattie by Rebecca Ingram!
First up, Hattie by Rebecca Ingram! This one-of-a-kind, gorgeous, mermaid gown started it all. The strapless sweetheart neckline and beautiful fit have been coveted by brides since it launched– and for good reason!
This ethereal strapless gown also features a stunning bohemian-style lace with oversized florals and a hint of garden-inspired greenery.
Our favorite parts of this gown? The plunging sweetheart neckline, sparkle tulle, and colorway options! By the way, if you love the look of a corset back, you can order it with a lace-up back instead of the traditional zipper!
Hattie Lynette by Rebecca Ingram provides a subtle but significant difference from its Sister Style, Hattie by Rebecca Ingram!
Brides who choose this style probably gravitate towards the soft, coastal aesthetic, refer to their street style as "cottagecore," and are fans of the warm scented candles… Or maybe that's just us!
Hattie Lynette is a more classic and romantic variation of Hattie in the Rebecca Ingram wedding dress collection. While brides who choose this style still get the oversized floral lace, strapless neckline, and sexy mermaid fit of the gown, the neckline is designed to evoke a more timeless feel. This wedding dress variation puts the sweet in sugar-and-spice with a classic sweetheart neckline instead of a plunging neckline!
Love this beach-inspired gown? Read our blog to find other beachy wedding dresses to fit your fancy!
For brides who have been dreaming of an A-line Hattie variation, say hello to Hattie Lane by Rebecca Ingram!
This Hattie Sister Style is made for dreamy-meets-sexy brides– the brides who want to make a fairytale entrance on their wedding day with a few sexy details.
Like our other Hattie gowns, this beautiful wedding dress features more scattered oversized floral lace and the classic strapless neckline we all know and love. It also has the plunging sweetheart neckline and fitted bodice. One word for this style? Wow!
For brides who love the glittery look, this wedding dress is made with our signature sparkle tulle!
This Hattie wedding dress collection variation is for our brides who love a classic, mermaid silhouette. While Hattie Marie by Rebecca Ingram is very similar to its Sister Style, Hattie– with its silhouette, lace style, and plunging sweetheart neckline—Hattie Marie has plain tulle instead of sparkle tulle.
We imagine this dress in an elegant venue. Think opulent mansion, perfectly manicured garden, or mountain lodge. We think classic flower choices like peonies, white roses, or gardenias are the perfect accessory to this gown. A chic low bun, soft model waves, and diamond jewelry is also the go-to choice for this gown. Just look how this Real bride Styled the gown below!
By the way, you can personalize this wedding dress to have a corset-back! Make sure to read our blog to see more corset options!
If Hattie Marie is for the classic romantic bride, Hattie Lynette Marie by Rebecca Ingram is for our fairytale-loving brides! This gown is perfect for the brides who want to channel their inner princess on their wedding day, with its strapless sweetheart neckline, lace-up corset back option, and mermaid silhouette.
Want to know the difference between this gown and the others? This gown features a plain tulle rather than a sparkle tulle– perfect for our brides who adore understated elegance.
Speaking of understated elegance, meet Hattie Lane Lynette by Rebecca Ingram! This A-line variation in the Hattie wedding dress collection is perfect for brides looking to have a lowkey wedding day!
This Hattie variation features the following:
A demure sweetheart neckline.
Oversized floral motifs.
Flow A-line skirt.
Sparkle tulle to had some shine to your wedding day.
Need more wedding dress inspo? Take a look at our other flowy wedding dresses by reading our blog!
Calling all our sexy and romantic brides! The Hattie Lane Marie gown in the Hattie wedding dress collection is a wonderful choice for brides looking to make a sexy and romantic statement on their big day.
What's there to know about Hattie Lane Marie? This lovely style features:
Sexy strapless neckline with plunging V-neckline.
A-line silhouette.
Romantic oversized floral lace.
Classic plain tulle.
Five colorway options.
Last, but certainly not least, in our Hattie collection is Hattie Lane Lynette Marie by Rebecca Ingram! This stunning variation is a romantic sweetheart neckline style.
This beautiful gown is meant for dreamy mountain top ceremonies, forest fairy celebrations, or seaside romantic adventures. This nature-inspired wedding dress is perfect for a nature-inspired ceremony.
For brides who love this gown, here are some things you need to know: It is a strapless A-line bridal gown with oversized floral and strapless neckline. This wedding dress was also designed with plain tulle rather than our sparkle tulle option!
Hattie Wedding Dress Collection Accessories:
Love these wedding dresses and looking for some matching accessories? We offer our matching Hattie veil and Hattie cap sleeves! While both romantic floral options match perfectly with any of the Hattie gowns above, you can also mix and match these with any of our Maggie Sottero wedding dresses!
We know that there are a lot of Hattie styles to choose from and take in, and that's why we're here to help! To help navigate this collection a little easier, take a look at the key below:
Lane = A-Line
Lynette = Classic sweetheart neckline
Marie = Plain tulle (no sparkle tulle)
Happy shopping, brides! Make sure to follow our socials to get to know Maggie even better and read our other blogs below for more Maggie inspiration!
Colorful Wedding Dresses To Make You Feel Unique On Your Wedding Day
10 Simple Elegant Wedding Dresses To Channel Your Inner Starlet
Seven Types of Lace to Know While Shopping for a Wedding Gown