Tips and Trends
Wedding Inspo
|
July 1, 2020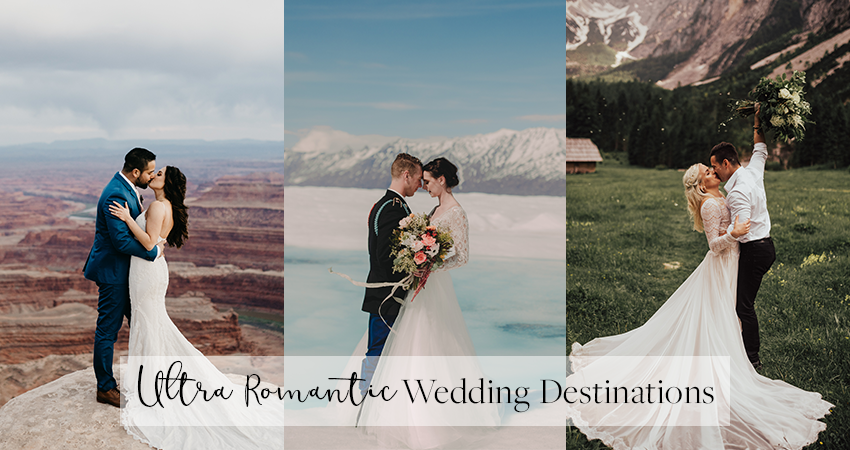 Maybe you and your S.O. are already a seasoned travel couple with your own hashtag (very cool!). Or perhaps you're planning an elopement celebration for your first time abroad (so exciting!). Either way, you'll love these 8 ultra romantic wedding destinations for your 2021 celebration. Check off some of your travel bucket list with these unique, stylish, and enchanting locales, plus the wedding dresses to match your destination's vision. Scroll on!
Fun Wedding Destination: Disney World, Orlando
PC: That First Moment Photography
If you have a soft spot for Disney, you can't beat the thrill, variety, and all-around fabulousness of a resort wedding! Your guests will love the access to parks, events, adventures, and dining options, while you and your sweetheart can look forward to unique celebrations both with and apart from your wedding party.
This bride wore Mylene by Maggie Sottero for her magical wedding—a stunning princess-inspired ballgown featuring a beaded bodice and voluminous satin skirt. It's a dazzling centerpiece for her ceremony at Pandora in the Animal Kingdom park of Disney World.
Romantic European Wedding Destination: Mountain Resort in Slovenia
PC: Jana and Simon Photography
So you've planned your wedding with the help of the ultimate boho wedding pinboard. Where will you be travel-bound to complete your fairy-forest vision? We vote Kranjska Gora—a super classy ski resort nestled among national parks, mountain villages, and historical sites in Slovenia, and nudged up against the Italian and Austrian borders.
The whole of Slovenia has plenty of charms for destination weddings and honeymoons, from the romantic and cosmopolitan capitol, Ljubljana, to the chic Alpine resort towns of Bled and Bohinj. Head to Kranjska Gora during the winter for big ski action. Or visit in the summer for stunning views, outdoor excursions, and candlelit dinners!
Want a chic wedding dress to complement your fairytale vision? Deirdre by Maggie Sottero features a soft sleeved silhouette and delicate Chantilly lace. Pair this style with a subtle flower crown and tousled waves to channel this bride's feminine and radiant aesthetic.
Romantic Winter Wedding Destination: Glacier Wedding in Alaska
PC: Joshua Veldstra Photography
Take your nuptials to new heights with a helicopter ride to an Alaskan glacier! This scenic wintery vista makes for stunning photo ops and an unforgettable ceremony.
This bride chose Mallory Dawn by Maggie Sottero for her celebration—a glamorous sleeved wedding dress to stand out against the snow, sky, and brilliant blue pools.
Unique and Romantic Wedding Destination: Tropical Beachfronts in Bali, Indonesia
PC: The Marvelous Pictures Photography
One of our all-time favorite romantic wedding destinations? The infinite blue sea and dreamy tropics of Southeast Asia, of course! Head to Bali for a celebration of paradise-like proportions, from stylish resort venues to fireworks displays and exotic options for food, drink, and décor.
Go for a slinky lace fit-and-flare wedding dress like Tuscany Lynette by Maggie Sottero for your warm-weather celebration. It's the perfect combo of style, romance, and comfort!
Fairytale Wedding Destination in Europe: Slovakia Castle + Shimmery Ballgown
PC: Lukas Vazan Photography
For the ultimate elegant wedding, head to a centuries-old European estate featuring lavish architectural details, hotel and dining accommodations, and rich cultural backdrops. Located in central Europe, Slovakia boasts an impressive array of beautiful and romantic castle venues, from the Halič Castle hotel near the Hungarian border to the Châteu Béla vineyard near Bratislava.
Pack a dazzling princess wedding dress like Allen by Sottero and Midgley, and you'll be the living-walking-breathing embodiment of happily-ever-after!
Desert-Themed Romantic Wedding Destinations: Moab, UT, and Surrounding Parks
PC: Nicole Aston Photography
Remember that incredible camping trip to Delicate Arch your family took when you were a kid? Time to relive the magic with a desert-chic elopement in the Utah southwest! Start with Moab as your HQ—a great spot for dining, farmers markets, local activities, and music events—then head to iconic sites like Dead Horse Point and Devils Garden for some dreamy and one-of-a-kind scenery.
You'll look like a couture goddess in a sexy wedding dress like Narissa by Sottero and Midgley, styled perfectly for your nature-inspired reception.
Mediterranean Wedding Destination: Positano, Italy
The Amalfi Coast has an undeniable draw for engaged couples and newlyweds as one of the world's most romantic wedding destinations, and for excellent reason! Celebrate where the mountains meet the sea in Positano, Italy. This cliff-side village features boutiques, cafes, narrow winding streets, and gorgeous pebble beaches along the Mediterranean.
And the loveliest lace wedding dress for the occasion? Presenting Wyatt by Sottero and Midgley. It's sexy, luxuriously soft, and perfectly sophisticated!
Classic Wedding Destination: Intimate Ceremony in Paris, France
And finally, what's better than the City of Love itself for a top-of-the-line romantic wedding destination? This couple chose Paris for their sweet and glamorous elopement, taking the day to stroll around iconic sites and enchanting streets before stating their vows in a local park.
For a vogue and feminine statement, this bride chose shimmering Taylor by Maggie Sottero featuring a flattering V-neckline and flowy ballgown skirt. Trés chic!
Do these romantic wedding destinations have you itching to travel for 2021? Find more international inspiration in our 11 Wedding Dresses for 11 Destination Elopements in the link! We've also compiled budget-friendly options in our post on Affordable Honeymoon Destinations—everything you need for a classy, effortless, and fabulous getaway with your betrothed. Happy jet-setting!