Real Weddings
Wedding Inspo
|
August 12, 2020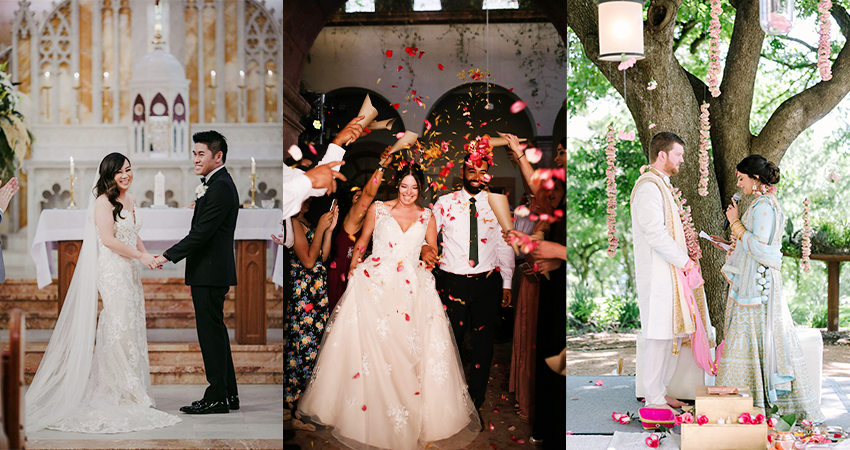 Weddings are all about bringing together friends and families, fabulous traditions, and unique backstories. And if you and your significant other happen to come from totally unique religious or cultural backgrounds, you have even more themes and details at hand to inspire your best day ever! At Maggie Sottero, we are honored to be a small part of these one-of-a-kind celebrations, so without further ado, here are 9 gorgeous multicultural weddings that will make you swoon!
Mexican Wedding Featuring Floral A-line Bridal Dress
PC: Jordan McDonnell Photography
What are the highlights of a Mexican wedding, you ask? Get a taste with this couple's multicultural wedding featuring a callejoneada (an "alley performance" with music), monjegangas (paper mâché puppets of the bride and groom), torta de tres leches (a yummy traditional cake), and a cute donkey guest!
From the bride—"I immediately felt so comfortable and confident in Meryl Lynette by Maggie Sottero, but I knew it was "the one" when I thought about walking down the aisle and dancing around the streets of San Miguel in it. I just always pictured myself in that specific dress. And it was the perfect complement to the romance of the location." We really are swooning over this #destinationwedding! Check out this couple's full love story in the link!
Hindu Wedding Featuring Lace Fit-and-Flare Wedding Dress
PC: Julie Wilhite Photography
If you've attended or been part of any Hindu multicultural weddings, you know they're all about vibrant rituals and traditions, big guest lists, artistic flourishes, and elaborate religious ceremonies.
For this multicultural wedding, the couple combined Hindu traditions in décor, attire, and ceremony traditions with Western-style reception details, from a white wedding dress (Tuscany Lynette by Maggie Sottero) to traditional toasts and dancing. We're totally inspired by this unique and colorful celebration!
Jewish Wedding Featuring Lace Sheath Bridal Gown
PC: Aaron Collett Photography
For a Western wedding with Jewish elements, it's all about combining classic traditions with the crowd-pleasers, e.g. smashing the glass and the horah chair lift. Get inspired with this couple's bright and airy reception venue and nature-inspired Chuppah canopy (meant to symbolize the home the couple will build together).
Their special day also featured a rustic lace wedding dress (Delilah by Maggie Sottero), a smashing-the-glass setup (with both husband and wife participating) and guests lifting the couple on chairs during the traditional horah circle dance. It's a joyous and meaningful fusion of the couple's cultures and heritages!
Egyptian / Coptic Orthodox Wedding Featuring Princess Wedding Dress
PC: Charming Images Photography
This couple held their wedding at a Coptic Church, fusing glam and formal Western wedding elements with Orthodox symbology and customs. In Coptic Orthodox tradition, this multicultural wedding featured a crowning ceremony, in which Marina and Pishoi wore embroidered garments to symbolize their status as the newly adorned rulers of their household. The bride then continued her festivities in a white wedding dress (Sybil by Maggie Sottero) in a gorgeous ballroom reception hall.
From the bride—"We had a summer wedding at my home church where I grew up. Our wedding was a traditional Coptic Orthodox Wedding. All the little details were perfectly captured by my photographer. My Sybil dress was one of the first dresses I tried on and I instantly fell in love with the design and floral detailing. My husband and I were filled with so much love, support, and joy. It was absolutely the best day of our lives!"
Chinese Wedding Featuring a Sophisticated Lace Wedding Gown
PC: Mandy Bowler Photography
In this multicultural wedding, the bride wore two wedding dresses: a traditional red wedding dress based in Chinese culture (symbolizing happiness, life, and good fortune) for her First Look, and a traditional white Western wedding dress (Tuscany Lynette by Maggie Sottero) for her ceremony.
Looking to incorporate more Chinese customs into your celebration? Consider a traditional tea ceremony and a six-course wedding banquet to wow your guests!
Hawaiian Wedding Featuring Sexy Crepe Bridal Gown
As with many Hawaiian multicultural weddings, the groom incorporated his heritage with a lei ceremony and a decadent Hawaiian/Filipino banquet table. Check out the full story here—the bride looks stunning in Alaina by Maggie Sottero!
From the bride—"Before the ceremony started, Travis put leis on his mother, my mother, and my stepmother. It was a symbol of honor for him, and I loved the sentiment of a man placing celebration on the women in his life. During our ceremony, we used the leis as a hand binding to symbolize our connection and devotion together."
Armenian Wedding Featuring Illusion Lace Wedding Dress
PC: Rene Zadori Photography
Planning an Armenian fusion wedding? It's all about the music and festivities! This bicultural couple sprung for Armenian-American singer Tigran Asatryan for a fabulous and one-of-a-kind treat for their guests.
You and your sweetheart will also love being showered with cash for your reception—an Armenian mainstay for newlyweds! (Psst, this bride is wearing chic Bradford Rose for her bridal gown look.)
Haitian Wedding Featuring Scallop Lace Ball Gown
PC: Rachel Laxton Photography
This Haitian-American wedding in Florida has us heart-eyeing! Featuring American traditions, Haitian cuisine, and a scallop lace ball gown wedding dress (Mallory Dawn by Maggie Sottero), this big celebration took the cake in the unique multicultural weddings category!
From the bride—"My dad spoke and prayed over us at the beginning of our ceremony and then we took communion with all of our guests. It was absolutely perfect from start to finish. Adson is Haitian, so the cuisine at our reception was a lot of blended cultures, and I have to say, the Haitian food was the most popular!" To see more of this #realwedding, click here!
Latin Wedding Featuring Boho-Chic Bridal Gown
PC: Erika Diaz Photography
This last multicultural wedding has been one of our favorites this season—a formal-meets-fabulous Latin celebration featuring an "Hora Loca" (a second-wave party refresh featuring late-night snacks, loud music, and costume changes), a traditional Catholic ceremony, and extended family portraits.
We can't help but feel the magic with this vibrant wedding gallery! (Btw, this bride is wearing gorgeously boho-chic Antonia by Maggie Sottero!)
Excited to incorporate bi-cultural wedding traditions into your totally unique celebration? We can't wait to see your gorgeous galleries! Be sure to share your multicultural weddings on our Real Brides page for the chance to be featured on Instagram and our upcoming blog posts.
And to see more diverse real weddings, make sure to check out this blog: Pride Wedding Ideas Inspired by LGBTQ Couples. Happy wedding planning and best wishes!