Events and Boutiques
Tips and Trends
|
February 5, 2021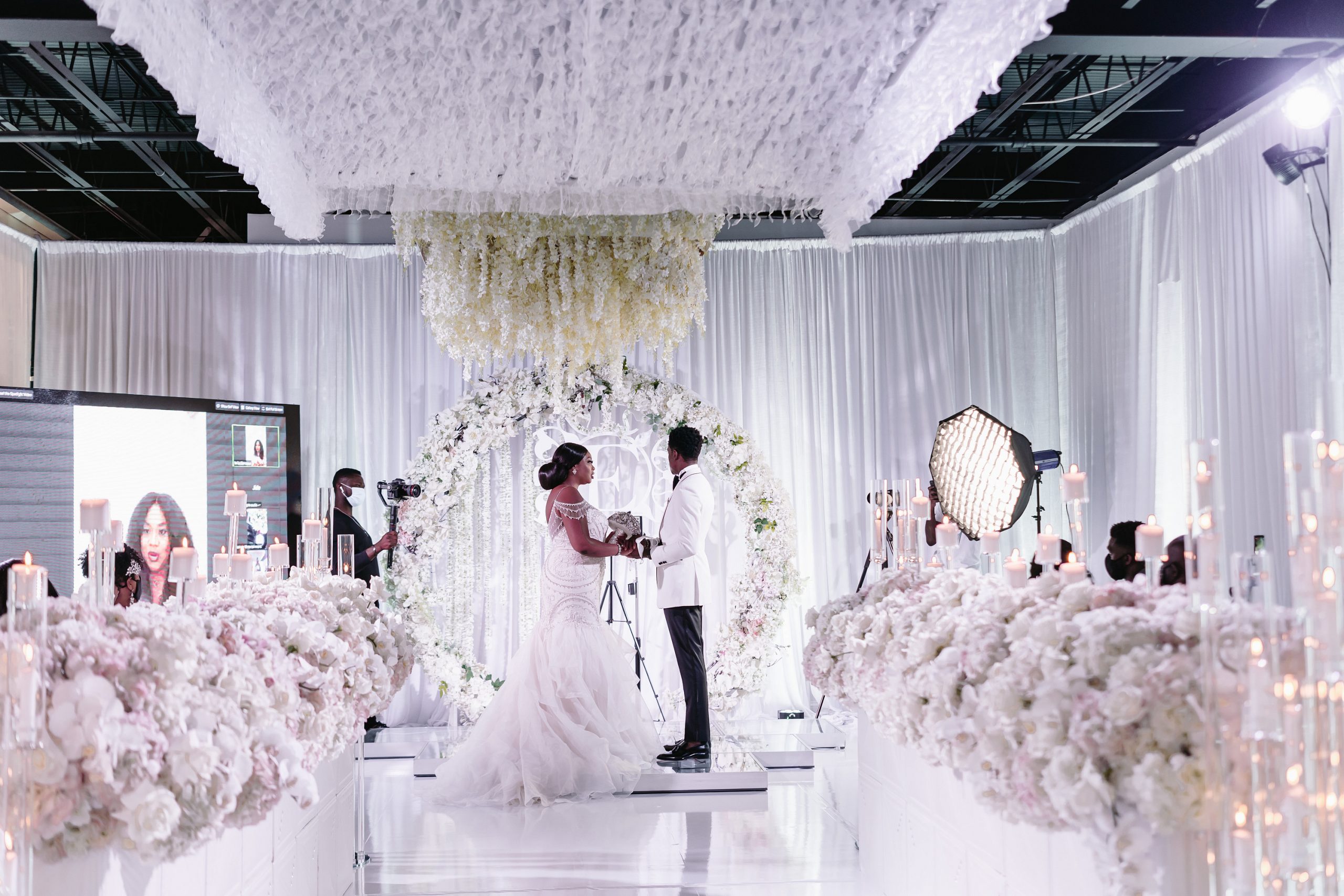 We are excited to present this Elysian wedding styled shoot featuring luxurious details, a socially distanced wedding ceremony, and the work of talented black wedding vendors. Coordinated by FTK Konnect Events, this gorgeous shoot shows that brides can still have the wedding of their dreams despite COVID restrictions.
Keep scrolling to see more of this Elysian wedding, as well as FTK's vision behind the shoot, and supermodel, Liris Crosse's, thoughts on how to have a successful socially distanced wedding. Enjoy!
Interview with FTK:
We've asked the talented FTK, wedding planner and founder of FTK Konnect Events, to answer some questions about this socially distanced styled shoot, the vision behind it, and how we can better support black-owned wedding businesses.
What was the vision behind an Elysian wedding?
The goal of an Elysian wedding was to show engaged couples that they can have the wedding of their dreams while still complying with CDC guidelines. The shoot featured 20 guests to show future brides and grooms, (who are open to having a micro wedding as opposed to a larger wedding), what a luxurious, socially distanced wedding can look like.
We simulated a ceremony in which our two models, Liris and Anuel, got married in a socially distanced ceremony. We wanted to go through the emotions of what a real wedding would be like so couples could really picture themselves having the wedding of their dreams with their close friends and family.
What was your creative inspiration for this styled shoot?
"Elysian" is a Greek word meaning "heaven on Earth." We wanted to create an "Elysian wedding" to give people a "slice of heaven," so we went with whites, silvers, and crystals.
To show couples they can still have a luxurious experience, we incorporated chandeliers, luxury chairs and tables, and two beautiful Maggie Sottero wedding dresses. It was everything a couple could desire from a big celebration, just created in a more intimate setting with the option of additional guests tuning in virtually.
What was your favorite moment of the shoot?
My favorite moment from the shoot was when the couple had their first dance. It brought the creative vision together because they were dressed in white while dancing "in the clouds." It really showcased the heavenly beauty we were trying to create.
How did you choose the models you worked with?
For this shoot, I wanted to ensure I chose models who looked believable together. I met Anuel a few years ago at a wedding I planned in New York. He was one of the photographers, and I thought he could also pass as a model. So, I reached out to him about this opportunity.
I met Liris two years ago when she was an MC for a wedding event in Atlanta that I had put together. Since then, we've stayed in touch. She has also been the MC for a luxury event I do every February in Tampa.
As fate would have it, I introduced Liris and Anuel on Instagram a couple weeks before the shoot. They met a day before the event and were the best pairing ever. They were super organic, and the +10 guests also did a phenomenal job. I still have clients who view our page and say, "This couple's wedding looked really beautiful. How did they meet?" No one can believe they met just a day before the shoot!
How did you choose the wedding dresses featured in the ceremony and reception?
For the ceremony, Liris wore Brinkley Lynette by Maggie Sottero. This luxurious mermaid wedding gown was a no brainer! I felt like it was hand-crafted by Maggie Sottero for our Elysian wedding shoot. It had all the elements we were looking for, including crystal embellishments and bling on the arms.
For the reception, Liris wore Natalie by Maggie Sottero, a romantic ball gown wedding dress that fit perfectly into our "heaven on Earth" theme. Featuring a sparkle tulle skirt and illusion lace cap sleeves, it made Liris look like a princess!
Could you tell us a little about the black wedding vendors that collaborated with you on this shoot?
I can't rave enough about the vendors that worked on an Elysian Wedding styled shoot. We thought about the best black wedding vendors we could collaborate with and handpicked amazing artists who used their expertise to make this styled shoot look real.
Real Fairytale Weddings did the décor and styled the gorgeous floral pieces for the reception. Hava Concepts designed the logo for an Elysian wedding, and Femstar Productions built the beautiful white wrap floor and back drop. Body Work Jewels came up with all the beautiful bling we used to embellish the cake, cake cutter, and the bling heart box.
Cupcakes by Tiffany came all the way from Pennsylvania to provide the beautiful luxury cake for the reception. Sab Events created the beautiful backdrop for the glam room where the bride and groom got ready, while Khazel Planning and Designs decorated the glam room. Our makeup artist was Makeup by Ashabee, and our hair stylist was Dulled by Nueye. Stanlion designed the outfit that Anuel wore, and Maggie Sottero designed the two wedding dresses that Liris wore.
I'd like to thank URC for the top-notch video production and Tunji Studios for the incredible photography. I'd also like to thank the members of my team who helped with this shoot as well. We really did bring the best vendors on board. They are all talented and passionate about their craft.
How can our audience support black-owned wedding businesses more?
People can be more inclusive of black wedding vendors by visiting their websites and booking them for events. Websites that feature black-owned wedding businesses and diverse vendors include SupportBlackOwned.com, BlackBride.com, and MonuluchiBridal.com. There is also a new general black business directory. It's called National Black Society of Weddings and Event Planners. I've worked with the owner and board of directors in the past.
At the end of the day, the more diverse we are, the better. I'm Nigerian but have been blessed to work with clients and vendors from so many different cultures. And of course I'm a little biased, but I also encourage readers to check out the amazing black wedding vendors that worked with us on this Elysian wedding, myself included!
What is your advice for couples who still want to have a wedding celebration during this time?
My advice for couples who want to create a socially distanced wedding celebration is to bring on highly informed vendors who are experienced in their craft. You can start by looking up reviews on Wedding Wire, The Knot, and Google Reviews to find vendors who are a good fit for your personality.
And for those brides who want to plan their own wedding, I would suggest still hiring a wedding planner. Now more than ever you need professionals who will help you navigate unexpected obstacles and tie up loose ends. Wedding vendors know how to follow venue requirements and health precautions. This will help you relax and know that your vendors are going to make your wedding smooth-sailing.
So, brides-to-be, don't give up on your dreams! Remember, in this "new norm," you can still have a safe and luxurious wedding. Don't feel that because 100+ guests cannot attend your wedding, it has to be a lose-lose situation. It could still be win-win and be even more intimate and special than a larger wedding.
Interview with Supermodel Liris Crosse:
We're excited to now present talented supermodel, Liris Crosse. She has modeled for Maggie Sottero over the past three years and has also been an advocate for diversity in the bridal industry. To read her thoughts on the styled shoot as well as how to support black-owned wedding businesses, scroll on!
What made you want to be a part of an Elysian wedding shoot?
I love modeling for bridal, and since our world has shifted with COVID-19, I thought that being part of this shoot was a unique way to showcase what a luxurious, socially distanced wedding can look like. Also, who doesn't love being a bridal queen for a day?!
I also wanted to help show the beautiful work that black-owned wedding businesses can produce in the bridal space. FTK Konnect Events always does top notch productions so I also couldn't resist being a part of their event!
What was your favorite design element of the styled shoot?
I don't think I can pick just one element from the shoot. I loved everything—from my hair, makeup, and wedding dresses, to the candles, dangling florals, and beautiful bedazzled masks. Seriously, I could go on forever about this Elysian wedding styled shoot!
What was your favorite part of this styled shoot?
My favorite part of this shoot was being able to connect with Anuel and the other vendors to make it feel like a real wedding. Anuel is a known figure in Nigeria and is now staking his claim in the U.S. He was committed to telling the story that FTK had envisioned, and there's nothing like a model and actor who is really focused on the moment.
To make things feel more real, Anuel and I did little things during the shoot like not seeing each other until I walked down the aisle. Our chemistry was amazing, and a lot of people on Instagram thought it was a real wedding. We had so much fun throughout the whole day. It's something I'll always remember!
What impressed you most about the black-owned wedding businesses you worked with?
The vendors' teamwork and professionalism were amazing as they came together to make the shoot possible. They were all creative, kind, and protective. They followed the safety protocols while bringing #AnElysianWedding to life. I encourage couples to book them because they even travel around the country!
You wore Brinkley Lynette by Maggie Sottero for the ceremony. What do you love about this wedding dress?
Brinkley Lynette is my favorite Maggie Sottero wedding dress of all time. I mean, what's not to love about it? I've always been obsessed with the beaded cold shoulder sleeves, the V-back, and the tiered skirt. This wedding dress is a showstopper!
What is your advice for brides planning a socially distanced celebration during this time?
For brides planning their wedding right now, my advice is to research the black wedding vendors that were part of this shoot because they get it! They really knew how to pull off a safe, socially distanced wedding. If not those from this shoot, find vendors who are experts in their fields and who have a plan for your and your guests' safety.
Also, embrace this opportunity to save on costs and guest counts. Being able to invite less people means you can be even more specific in who you choose to attend. Remember, you want people there who truly support you and your partner. Focus on the intimacy of the event, and for those who cannot attend, find interactive ways to include them via Zoom, Facebook Live, Instagram Live, etc.
A Video and Note from FTK
I hope you enjoyed this Elysian wedding. We really poured our hearts and souls into creating this socially distanced styled shoot to inspire couples who want to have their dream wedding during this time.
I also want to thank Maggie Sottero Designs. It has been a dream collaborating with them. We look forward to collaborating with their team in the future. Please enjoy this video of an Elysian wedding!
A huge thank you to FTK, Liris, and the talented black wedding vendors who collaborated to bring us this gorgeous Elysian wedding styled shoot! For more tips on how to plan a wedding during coronavirus, click here. Happy wedding planning!
Curator & Planner: @FTKKonnect
Décor, Rental & Floral: @RealFairyTaleWeddings
Photographer: @TunjiStudio
Videographer: @URCStudio
Models: @LirisC@_Anuel
Actor Publisher & Virtual Officiant: @StellaDamasus
Dancefloor, Lighting, Draping & Logo Print @Phemstar_Event_Productions
Branding & Stationery: @HavaConcepts
Bridal Attire: @MaggieSotteroDesigns
Groom Attire: @Stanlion_Clothing
Glam Room Draping & Cloud @Sabeventproductions
MUA: @MakeupbyAshabee
Hair: @DolledByNueye
Cake: @_cupcakesattiffanys_
Wedding Accessory Designer: @bodywerkjewels
Virtual Photobooth & Experience @Jydiel
Virtual DJ: @DJPhemstar
Glam Room Decor @khazelplanninganddesigns