Tips and Trends
Wedding Inspo
|
September 21, 2020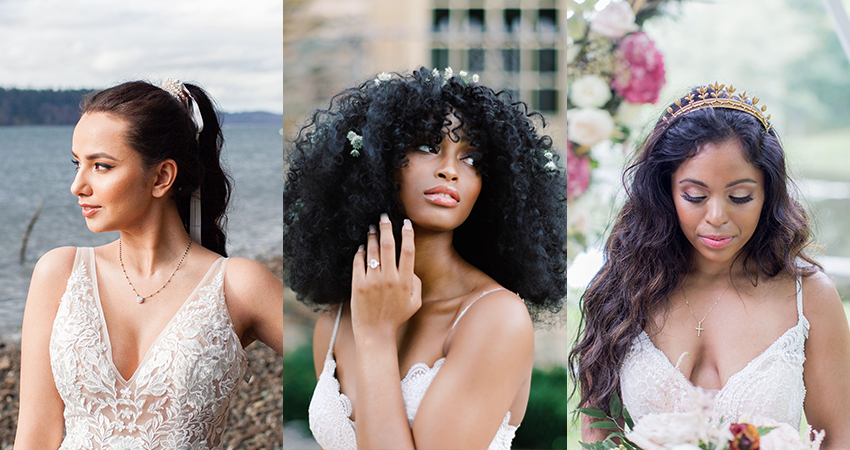 To all our curly-haired brides—we know how tricky it can be to keep your bold and beautiful locks luscious, frizz-free, and red-carpet ready. We feel you! That's why we've teamed up with fashion and style blogger Alissa for tips on how to style your curly hair for your wedding. And we've also included our fav curly wedding hairstyles from our #realbrides to get the inspiration rolling. Scroll on!
Hi! I'm Alissa, the writer behind Honestly Relatable, where I write about life, style, and you guessed it—curly hair! I consider my curls my trademark and wouldn't trade them for anything in the world. It's been a journey to find my best curls, but it's been worth it. You can learn more about that here! For now, let's dive into how to successfully style curly hair for your wedding day.
Have you dreamed about the dress, venue, and flowers but groaned when thinking about what to do with your curly hair?
For most people, dreaming about their wedding day is fun and, well, dreamy! They think about their partner, the dress, flowers, the accessories and—oh yeah, the hair. For most occasions, even when I was a bridesmaid, all I thought was how I was going to do my hair.
Many people curl their hair for special occasions, but ahem, we already have that one covered. So what are curly-haired gals supposed to do? Straighten their hair to get the same effect that straight-haired gals do who when they curl their hair? Googling this topic was no help because all I found was other women asking the same question!
Curly Hair Wedding Tips
Because I couldn't find any answers online, this question was something I struggled with until I decided to take things into my own hands. So, below I've compiled 6 tips for how to style curly hair for your wedding. Enjoy!
1. Don't cut your hair at least two weeks before your wedding day.
This goes without saying, but if you're going to get a hair cut, get one at least two weeks before your big day. It takes natural curls time to adjust to any change, and I don't leave anything to chance when it comes to a wedding!
2. Listen to your gut about what your hair will do.
PC: Claire Eliza Photography; PC: Heather Marie Photography
If there's a style that looked AMAZING on you once but hasn't quite since, your gut will tell you if this hairstyle is still right for you. Just like when you are picking out your perfect wedding dress, you'll often just "know!"
3. Use your curls to your advantage!
This one is—well, duh! A while ago, I realized that one of the benefits of my curls was being able to have a more refined and elegant look when creating a loose ponytail, pinning up some curls to hide the elastic, and pulling some small tendrils to frame my face. This is one of the best ways I know of how to style curly hair for a wedding.
PC: Lindley Battle Photography; PC: Amberlee Namini Photography
I pulled my curls into a soft updo when I was a Maid of Honor, and it literally took me 10 minutes to do my hair from start to finish. It was amazing that I was able to enjoy the day without worrying about my hair. And looking back at photos, you'd never have any idea I spent only 10 minutes on it!
4. Don't be afraid of doing your own hair.
I am ALL FOR hiring professionals! Let me repeat that: I am all for hiring professionals. However, sometimes, unless your gut says otherwise, you might have the best luck doing your own hair on your wedding day. I know, I know. It sounds crazy. But remember when I said trust your gut? You know if you are the best person to work with your hair.
Also, don't be afraid to make it a whole night of pampering your hair. I love a coconut oil moisturizing mask. A personal indulgence of mine is taking a shower and then soaking up the steam while conditioning my hair and having Netflix playing in the background. You and your curls deserve a night off from wedding stress!
5. At the end of the day, your natural beauty is going to shine.
You, your partner, and the memories you two make together are going to stand out on your wedding day, not your hair. Remember "the why" behind your wedding during those stressful moments of trying to manage those curls.
PC: Claire Eliza Photography; PC: Love to the Core Photography
It can be a bit daunting to think about how to deal with your curls on the most important day of your life, but you can do it! I hope you've enjoyed these tips for how to style curly hair for your wedding. Happy curls!
– Alissa
Curly Wedding Hairstyle: Volume + Wild Flowers
We want to thank Alissa for sharing her curly-hair wisdom with us. Now, to get the inspiration rolling, we present our most favorite curly wedding hairstyles from our real brides. Scroll on!
PC: Lindley Battle Photography
Go big and go bold by ramping up the volume of your natural curly hair. We're head over heels for this bride's voluptuous curls, which give a personalized, relaxed look. This curly wedding hairstyle is larger than life, featuring wild flowers amidst textured locks, the perfect look for a bohemian wedding vibe.
Mermaid Waves for Days
PC: Amberlee Namini Photography
Dreaming of a beachy and sun-filled day? Try mermaid waves! This curly wedding hairstyle is all about texture and dimension. Let your curls flow freely for an unfussy look. We promise you'll have no problem tossing those locks around while you get your groove on! And for a whimsical, princess vibe, add a bridal crown!
Curly Wedding Hairstyle: Natural Curls with Flower Crown
PC: Claire Eliza Photography
Curly-haired beauties—you probably had no idea that your locks are super envied right now. Brides everywhere are taking extreme measures to up the volume and curl in their hair. So take advantage of your organically curly locks and leave them down to keep things au naturel! And if you're going for boho vibes, add a flower crown with oversized florals. Gorgeous!
Unique Platted Braids for Thick Curls
PC: Peterson Design & Photography
If you've got thick, curly locks, consider platted braids for a trendy, non-traditional look. This curly wedding hairstyle will keep fly-aways from your face and is great for an outdoor celebration. Wanting something even more unique? Try dying your braids a different color!
Slicked-back Ponytail for Flyaways
PC: Claire Eliza Photography
For a sophisticated look, consider pulling your luscious locks into a high pony. This way, you won't have to worry about touching up your curls throughout the day. A slicked-back ponytail will also showcase your face and shoulders and looks stunning with a dramatic back wedding dress. So chic!
Wedding Hairstyle for Textured Hair: Ballerina Bun with a Braid
PC: Love to the Core Photography
If you have natural texture and volume and want an easy way of taming your lovely curls, pull everything back into an updo to create a chic look. This curly wedding hairstyle features a ballerina bun with a side braid. It's a perfect way to pull back gorgeous locks without losing texture or volume. Tip: Tuck your veil under your chignon to show off your gown's neckline and bodice!
Romantic Curls for Less Volume
PC: Jacqui McGrail
If your hair is on the curlier side but doesn't hold a lot of volume, opt for romantic waves styled to perfection. Leave your hair down for an effortless look. Or go with a half-up, half-down 'do to show off your features while letting the rest of your locks fall around your shoulders. Either way, this is the perfect curly wedding hairstyle to show off your soft, bouncy curls!
We hope you've enjoyed Alissa's tips on how to style curly hair for your wedding, as well as our line up of curly wedding hairstyles from our real brides. For ideas on how to style your hair for different hair types, check out our blog: Five Wedding Hairstyles for Every Hair Type. Cheers!