Wedding Inspo
|
March 30, 2020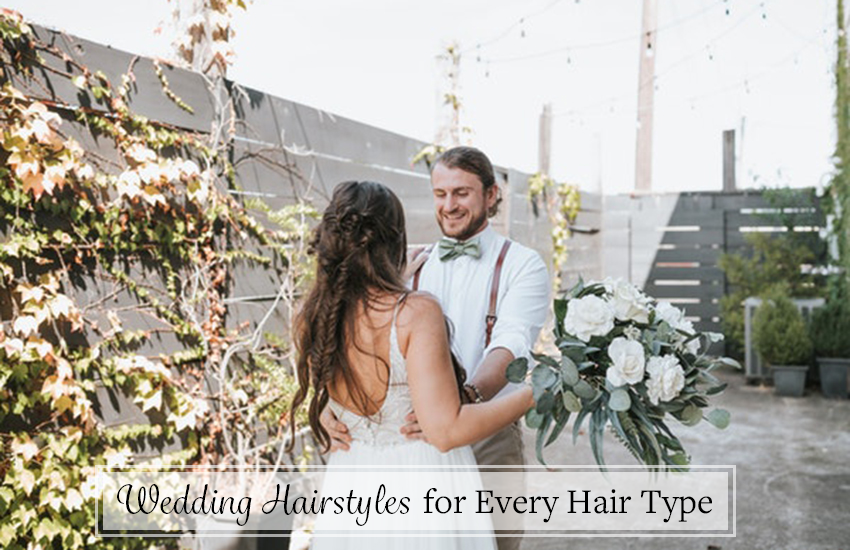 If you've hit the bridal beauty portion of your wedding checklist, you're ready to consider which wedding hairstyles work for your hair type, gown aesthetic, season, and reception plan. And to help you narrow down that browsing, we've compiled a gorgeous selection of five wedding day hairstyles for every hair type.
Once you've found something you love, head to your stylist to chat options, products, accessories, and budget to create your perfect look. Scroll on!
Wedding Hairstyle for Curly, Textured Hair: Ballerina Bun with a Braid
PC: Love to the Core Photography
If you have lovely curls and natural texture but want to pull everything back in an updo, look to braids, tendrils, and pins to create a chic and formal style.
This real bride combined a ballerina bun with a braid—a perfect way to pull back her gorgeous locks without losing texture or volume. We're especially smitten with how she tucked her veil under her chignon to show off her hairstyle, shoulders, and gown's bodice!
Love this look? This bride is wearing Tuscany Lynette by Maggie Sottero, a beautiful lace gown that adapts to a variety of wedding hair options, from polished updos to loose, voluminous curls. The delicate spaghetti straps and bodice lend well to veils, jewelry, and unique makeup looks as well—the best of any world!
Wedding Hairstyle for Thick Hair: Soft Updo
PC: Dani Toscano Photography
If you're blessed with luscious locks, you can't go wrong with a soft updo to accent your tresses. This wedding hairstyle showcases this bride's thick hair while still feeling soft, polished, and poised—the perfect trio for wedding-day glamour!
This crepe and beaded lace gown, Darshana by Maggie Sottero, is another versatile style for updos, featuring a formfitting silhouette and graceful bodice lines.
Boho Hairstyle for Long Hair: Half Updo with Soft Waves and Fishtail Braid
PC: Jessica Robinson
Have you fallen in love with a flirty and relaxed boho gown? We recommend choosing an equally romantic hairstyle for your long and luscious locks! This real bride paired her beaded Charlene style with a sexy "undone updo" with soft waves and fishtail braid.
This wedding hairstyle feels special and unique, yet totally wearable for an outdoor wedding or relaxed reception. Plus, a loose hairstyle is a great way to create visual interest along an open back or low neckline, especially when paired with boho jewelry and accessories. Fabulous!
Wedding Hairstyle for Wavy Hair: Soft Waves with Boho Flower Crown
PC: Erika Diaz Photography
If you have wavy hair and love it, or have straight hair and want gorgeous curls, then we say go all out with the volume and accessories.
This real bride wore her hair in soft waves for a romantic and feminine feel, adding a boho flower crown and classic veil to keep her look portrait-ready.
Love this bridal style? This bride is wearing Antonia by Maggie Sottero, a unique lace boho wedding gown featuring long illusion sleeves and an ultra-comfy slip underlay.
This chic and flattering style is the perfect complement to a romantic bridal hairstyle, from soft waves to flower crowns, loose braids and buns, and everything in between!
Wedding Hair to Control Frizz: Half Updo with Beachy Curls
PC: Paige Grace Photography
If you've never wanted for texture, frizz, and volume, a loose and beachy bridal hairstyle could be your meant-to-be. When browsing and planning your beauty look and hair products, talk to your stylist about working your frizz and texture into voluminous beachy curls.
From there, a half updo and/or a few choice accessories help to elevate and polish—creating a chic and versatile hairstyle to stand up to any season or elements.
Whether you're getting married outdoors, or just want to emulate the natural glamour of a beach wedding, a relaxed gown like Nola by Maggie Sottero offers the perfect combination of fit, comfort, and embellishment. This shimmery dress features allover lace in a soft fit-and-flare silhouette—a stunning choice for an effortless and easy-breezy occasion!
A Note About Bridal Hair Accessories…
Looking to elevate wedding hairstyles for short hair? Wondering how to style fine, straight, or thin hair? Say hello to the chic and transformative charms of bridal hair accessories!
Headbands, baubles, and birdcage veils offer a gorgeous and affordable way to transform your hair type—especially if it feels limited in options or difficult to style.
See our real bride wearing a gorgeous hair accessory with our Zander gown by Sottero and Midgley below! Then check out our Pinterest gallery of wedding hair and beauty looks to get inspired!
PC: Hailey Williams
Excited to see more? Check out our selection of wedding hairstyles to complement your wedding dress, featuring ideas for pairing your beauty look with your gown's neckline, silhouette, and fabrication, as well as your wedding season, venue, and aesthetic. And for your curly-haired beauties, make sure to check out our How to Style Curly Hair for Your Wedding + Curly Wedding Hairstyles!
Additionally, if you can't get enough HAMU inspiration, be sure to check out our Instagram for our daily feed of tips, tricks, real bride inspo, runway previews, and gown spotlights to curate your perfect look. Happy planning and best wishes from Maggie Sottero Designs!