Real Weddings
|
January 31, 2023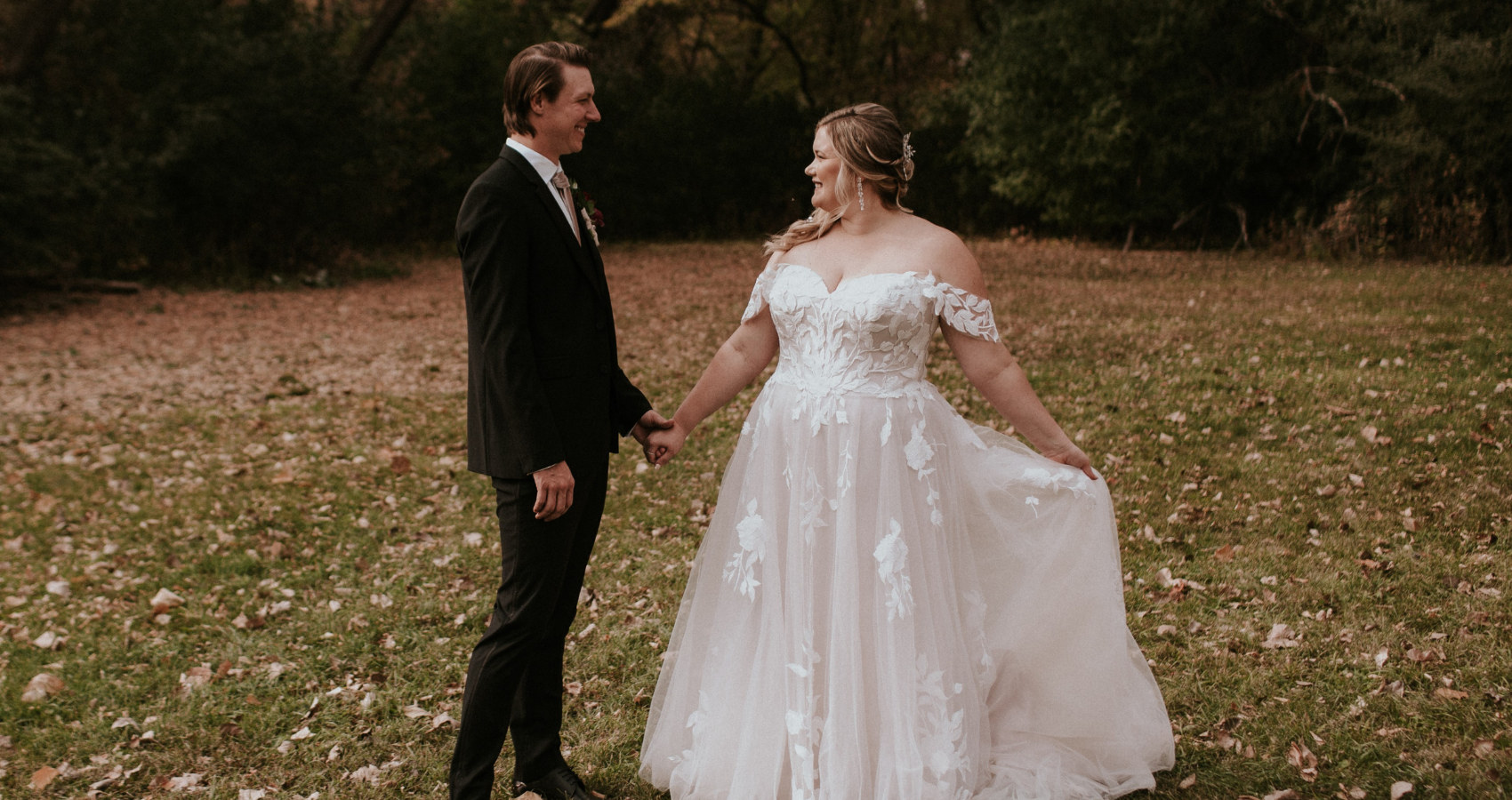 Welcome back, brides! We know how much you loved our blog in May about Emery Heuer's journey in body positivity while shopping for her wedding dress, so we are happy to present part two of our series on this gorgeous Real WIFE and her journey towards self-love on her wedding day! Keep scrolling for the best tips on how to practice self-love for your wedding day, and make sure to sign up for our exclusive Maggie text messages for some expert bridal tips!
Who is Emery Heuer and what does body positivity and self-love mean to her?
PC: Jenna Dailey
If you can't remember the lovely Emery, she's one of our amazing Real Brides whose journey in body positivity inspired many in our Maggie family! Her journey through body dysmorphia, diet culture, and negative self-talk led her to a life more focused on self-love as she approached her wedding date.
Since her wedding day in Medicine Lake, MN on October 20th, 2022 wearing Hattie Lane Lynette by Rebecca Ingram, she has come up with some more advice for our brides on how to practice self-love for their wedding day!
Keep reading to get to know your body and mind more with Emery.
Previously, you talked about your journey toward body positivity and self-love. How has this journey progressed since we last featured you?
"The imperfect journey continues! It has really great days and challenging ones as well. I try to soak up the great mental, emotional, and physical health days and really enjoy them."
"When they're rough, I give myself a lot more grace, support, and compassion. (I like to remind myself that I tend to learn so much more about myself and my resiliency when I am tested with a tough day). Of course, there are a lot of go-to strategies when I am feeling low:
First, I check in with myself by taking a step outside of myself. I look at myself as if I was looking at my best friend. How would I support my best friend in a rough patch? Would I berate her and speak cruelly to her? NEVER! So why do we do that to ourselves?
Secondly, I check in with my 'best friend.' I ask 'her', how much water has she had today? How did she sleep last night? What has she had to eat today (HAS she eaten today?! Because she should have!)? What are some stressful things she could be going through in her life that are impacting her mental, physical, and emotional health?"
PC: Jenna Dailey
"I have found it's so much easier to be kind to yourself and pick the best next action for yourself when you think of yourself as the person you're trying to help as your best friend. I also remind myself that there are some days that a mental health walk or extra water/rest/etc. won't completely fix the day or get me to 100%. But, that's ok because not every day is going to feel 100%. If you only have 20% to give today and you gave 20% – that is giving 100%. Full stop. You gave 100%. It doesn't matter what happened yesterday or last week."
"I personally love that – it allows me to wade through the days that are harder with compassion for myself and learn how to practice self love. I've noticed when I have less compassion for myself, my eating disorder voice can creep in and holds so much more power."
"I have also found that finding a lot of self-love is also utilizing a lot of your deep emotions (for me it was anger that dealing with crippling ED gave me) and not ignoring them or trying to shove them down. I have found healthy and safe ways to release challenging emotions. Be intentional – direct it right back at that voice that wants to pull you down instead of those around you. I've listened to a lot of angry music directed at that voice. When a cruel thought pops up – I tell it to back off before allowing it to sink in."
"I reminded myself that someone else profits off of me hating my body (which always fires me up) to take care of myself! Whatever you're feeling – use it as intentionally as you can. I still see a therapist weekly and she has helped me an incredible amount with recovery and the stressors of day-to-day life. I remind myself that I am worth taking care of – plain and simple. When there is a lot you 'can do' to take care of yourself – just go back to the basics!"
Planning your wedding is a very stressful time! What are some self-love and mental health practices that you did as you headed towards your wedding day?
PC: Jenna Dailey
"I listened to my gut a lot. If it didn't feel good, I didn't do it! If you're planning a wedding, you know that a lot of your spare time is planning and organizing. It is a part-time job! So I adjusted accordingly. I gave myself the freedom to skip whatever was not necessary so that I could have time for the things I needed to do!"
"I made space for fun things as well – I painted and did different types of art to let my brain relax and check out of planning. I also wanted to make sure that we enjoyed our last few months as fiancés – so we made sure there was time for us to have date nights and have FUN. Frequently checking in on my 'self-battery' was also important to me. I made it a rule that I could not let my battery get below 25%. I was not perfect at it, but more than not it really helped me to not overextend myself leading up to our wedding."
"Lastly, I vowed that I was not going to diet at all leading up to the wedding. It would have been a recipe for disaster for me. Truthfully, I know I ate so much more balanced leading up to the wedding because I wasn't trying to stick to an intense/restrictive diet (where there would inevitably be severe starving and binging). When I wanted to diet, I asked myself why I wanted to diet. I would constantly ask myself questions to get at the deeper reasoning. Did I not think I wasn't going to look good? What is MY definition of good? FEELING good was important to me! Plus, I knew I had picked such a flattering dress – I was in good hands, wink, wink. I KNOW that just eating intentionally helped me stay level and calm – especially in times when it was really stressful!"
Learning how to practice self love is the MOST important bridal shopping tip in our opinion! For more expert wedding planning tips though, make sure to read our blog!
How did you include your partner in practicing self-love?
PC: Jenna Dailey
Micah has always been a person whom I can be completely honest with (and vice versa) so a lot of self-love has been us both sharing what we're struggling with and of course all the happy things too. We make sure to check in a lot with each other's state physical, mental, and emotional states. We've both learned that we can't always fix the other person's struggle (and that is not our job), but we can support them! It's amazing how much of a weight is lifted off your shoulders when you can just share what you're going through with a person who loves you."
"I tend to think about it like a boxing match – I might be going 10 rounds with my eating disorder, stress, or just getting down on myself but when I can step back into my corner – Micah is always there either as a coach (advice) or a sweat wiper (listening and giving encouragement). I like to visualize things and when I can see him in my corner telling me that he knows I'm stronger than whatever is in the ring with me, it gives me the boost to keep doing what I need to do to take care of myself."
PC: Jenna Dailey
"Self-love is taking care of yourself and when the days are hard, I lean on him. We both know we can count on the other person in whatever situation we find ourselves in – even when we disagree."
How did choosing your Maggie Sottero wedding dress help you learn how to self-love before your wedding day?
"I know I mentioned it in my last post – but I love what the brand stands for! Maggie Sottero really does stand for love and love for ALL."
"It was important to me that Maggie Sottero has a mission to support all brides of all shapes and sizes. I picked a dress that I FELT amazing, and I know it showed through in my photos (the happiness in a lot of the photos is unmatched)! When I tried on Hattie Lane Lynette at my bridal appointment, I was instantly attracted to the flowiness of the dress. It was exactly what I had hoped for. I remember someone saying how you FEEL in the dress is really important, so when I tried it on, I just knew!"
"Overall, I felt good and comfortable in the dress! I got the size that was perfect for my body, and it fit me like a GLOVE. I picked the dress for myself and no one else and I absolutely loved it. I cannot wait to put it on for every anniversary (oh and I will be – believe me)!"
Did you make time to focus on your mental health as you got ready on your wedding day?
PC: Jenna Dailey
"I did have a small moment two weeks before my wedding where I panicked a bit… Thoughts like, 'What if I didn't like the photos?' 'What if my body dysmorphia got the best of me that day?,' ran through my head. My body is different than it used to be and I wanted the photos to capture how I felt."
"I thought about how I could prep myself for that day and how to practice more self-love. I ended up calling my amazing photographer Jenna and asked if we could do some test shots a few days before the wedding so I could get comfortable with taking as many photos as I knew we would be taking. Jenna was incredible and made time in her schedule to do test photos together which was incredibly helpful for the day of the wedding because she knew exactly what I was going for! It made me so much more confident because we had practiced together."
Psst… Brides, if you think an extra session like this would be helpful for you, keep in mind that it's a service so be prepared to pay a little extra! For Emery though, it was 100% worth the cost.
"I also made sure to go to bed earlier than normal the night before because I knew I would be so excited. When I woke up, I meditated and gave myself time to relax. I allowed myself to just enjoy the day with all the people I love. The planning was done so I told myself, 'no need to stress!'
"We also had an incredible day of coordinator named Savannah. It was insanely helpful to have someone 'run the day' so that my loved ones and I could just be present and not have to worry about details. It was a HUGE help."
"The day ended up being perfect. I just did my best to enjoy and be in every moment as deeply as I could because they are not kidding when they say it goes fast! So, Micah and I took moments during the day for just the two of us, to soak it all in. It was so special."
Finding the time to better your mental health while wedding planning is difficult but absolutely necessary! For more mental wellness tips for your wedding day make sure to read our blog!
What are some tips for future brides-to-be on how to self-love as they plan their wedding and get ready for their wedding day?
PC: Jenna Dailey
"Well, first of all, congrats!! It is an exciting time! Enjoy being fiancé's during this time and lean into that especially when the planning gets stressful! Here are some of my top tips, however:"
"Take care of yourself! Learning how to practice self-love is difficult, so take time now to write down what that looks like. I reminded myself that I wouldn't be able to do anything if I wasn't taking care of myself first. If you get off track, don't sweat it or beat yourself up. Go back to basics; look at your list of what taking care of yourself looks like. Do what you can and sometimes the best call is rest (a 20-30 min nap does wonders) and a glass of water."
Carve out time for you and your fiancé where you're not discussing the wedding or planning something for the big day. Go do something fun together! I always found it was one of the best ways to feel calmer and happier. It also reminded me why we were planning a wedding in the first place.
When you two are discussing the wedding, figure out what you both want. We designed our wedding 100% with what we wanted, and it made it even more special to us.
Skip the diets while you plan for your big day. I know it seems weird; we're so programmed that we have to diet for these big events in our lives! But diets just pull your focus to the wrong place and we know they don't work (and only make us feel stressed, anxious, and totally off balance the entire time we're on them). Make sure to focus on the good for your wedding day and skip the diet. Enjoy this time. No need to add unnecessary stress to your life. And if eating stresses you out, don't be afraid to ask for help! I've been there, and asking for help is the best gift you can give yourself.
"Any bride will tell you – planning a wedding in addition to your normal life is QUITE the balancing act! If you've never done it before, it can be very overwhelming. Take breaks, give yourself all the grace, love, and compassion during this time, lean on your partner, ask for help when you need it! You have got this! I am sending you all my love and support as you prep for your big day!"
We couldn't have said it best. Maggie Sottero stands for love and love for ALL and that includes love for yourself! If you'd like to share your wedding with us and inspire brides like Emery, make sure to leave a review of you in your wedding dress by clicking the button below!
More Blogs Like This:
Maintaining Body Positivity In Your Bridal Appointment
Feel Good Friday: A Real Brides Journey To Kleinfelds