Real Weddings
|
July 23, 2022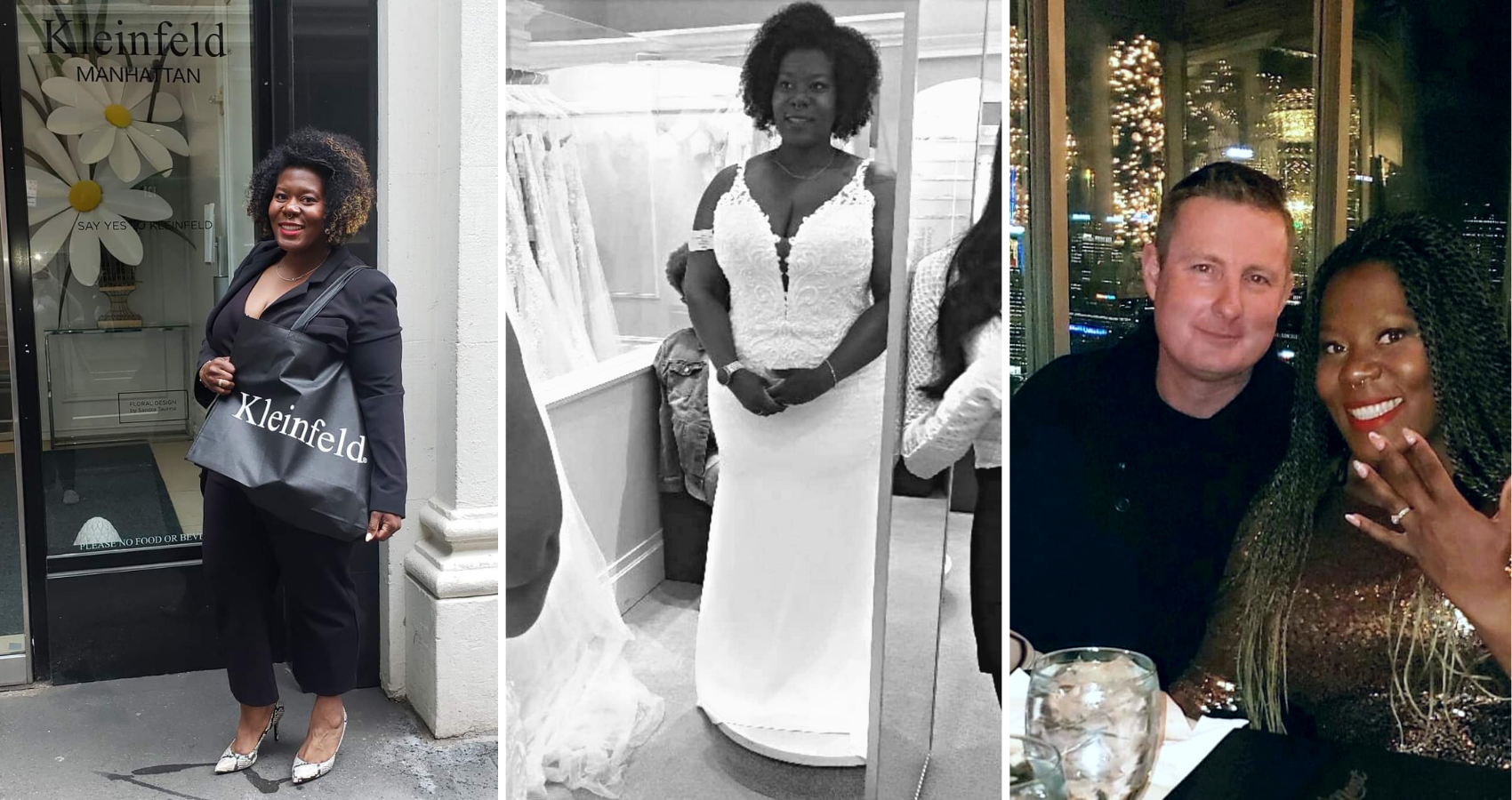 Happy Feel Good Friday, Brides! We all love a good love story between a bride and her dream wedding dress, so we are so happy to present one of our Real Brides, Sarah Hill, who got to say "yes!" to the dress at one of our Authorized Retailers, Kleinfelds!
Before you get reading all about this beautiful bride's journey though, make sure to sign up for our exclusive text messages below for more tips and tricks, shopping tips, and #MaggieInspiration for your big day!
At Maggie, we love, love. There's nothing like a bride saying yes to their partner and to their dream wedding dress to make our hearts flutter! That's why we do everything we can to celebrate them throughout their journey. From tips and tricks for the engagement, wedding dress shopping 1:1, to planning your wedding, we have everything you'd need!
Keep reading about the importance of wedding dress shopping, and Sarah Hill's incredible journey to choosing her dream gown.
Why is shopping for your wedding dress so important?
Wedding dress shopping is one of the most important things you can do after you get engaged. Traditionally, a wedding dress symbolized the end of a woman's life as an individual, and the beginning of one in a partnership!
While it's still the outfit you wear while you cross over the threshold into marriage, it represents more than that in this modern age! It's also representative of who YOU are as a person and a bride! Some word of advice? Always say "yes!" to the dress that feels the most like you and represents you as a bride!
Don't just take us for our word alone though! Keep reading to hear all about Sarah Hill's bridal experience in Kleinfelds.
Sarah Hill's Kleinfelds Experience
How long have you and your fiancé been together, what is their name, and how did you two meet?
Christopher and I have been together for one year and 2 ish months! Our first date was April 3, 2021. We actually met one another online (thanks, Bumble).
How did your fiancé propose to you?
He pulled off the ultimate surprise! It was my birthday and he wanted to take me to the restaurant we went to for our first date, The Lemont on Mt. Washington in Pittsburgh. Before going to the restaurant we went to the classic spot on Mt. Washington to look at the Christmas lights.
He proposed there! And to make things even better, at the restaurant my closest friends and family were there to celebrate my birthday and engagement.
Could you tell us more about your journey to Kleinfelds to find your dream dress?
It all started on my usual mail route. A customer on my route, Kara Klentzin Marmo, and I have been friends since I started on the route 6 years ago and have become even closer in recent years! I had shared the ups and downs of dating with Kara and when I met Christopher, she was elated. I even told her I was going to marry him after our first date.
The day after I got engaged, she took a photo of me with the ring on and started a GoFundMe to go wedding dress shopping as an engagement gift from the neighborhood! It is still the most generous thing anyone has ever done for me. The outpouring of love is still so strong. I love the neighborhood I serve.
What were your expectations for going into wedding dress shopping?
I wanted to keep my vision (boho-chic) while it being affordable.
Psst… Explore our collections of Boho Gowns and Affordable Wedding Dresses by following the link!
What was your experience like when finding your dream dress? 
It was like a dream! I had no idea I was coming to Kleinfeld's. My mother surprised me with the trip. But I knew every dress I loved was Maggie Sottero.
Upon arrival, I let my consultant know and to my surprise, the design team was there! God works in mysterious ways for our benefit.
What was your experience like at Kleinfeld's and what were your favorite aspects of the day?
Magical. From start to finish.
My consultant, Katherine, was divine. She was attentive, warm, and complimentary. She asked about my vision and stuck to it!
Walking out in your dream dress was the icing on the cake. Like a whirlwind of emotion befalls you that day all the wonder-ifs disappear the moment you look at yourself in a dress made for you (not from scratch of course), but a dress the heavens knew you'd love!
What Maggie Sottero wedding dress did you decide on, and what made you fall in love with the gown?
I say "yes!" to Kern by Maggie Sottero and paired it with the detachable cape. It makes me feel like I'm Queen of the County! That is how I describe it at least.
Psst… Love the look of a V-neck wedding dress? Read our blog to explore more options like Kern!
I look like "Your Majesty." She hugs every natural curve and accentuates every good thing on my body. It is expertly designed and couldn't recommend it enough!
When is your wedding and could you tell us about some of the details for the big day?  
Our wedding day is June 30, 2023 and will be held at Pinehall at Eisler Farms in Butler, Pennsylvania (so excited!).
I have it in my head that it will be a romantic dinner and dancing for my closest friends and family. The venue is a barn, so we are sticking with "boho-chic" as the palette.
What are you most excited about for your wedding day?
Honestly? Marriage. I have waited 37 years to be loved like Christopher loves me. I cannot wait to perfect this union. He is truly my helpmate, my Boaz.
Do you have anything else you'd like to share with us about your wedding dress shopping experience at Kleinfeld's?
Go. This is not your average try-on session. This is the Mecca of bridal. I was walking out on my way to the office to purchase a gown and a lady stopped me and asked how it was. I told her that no matter what she decides today, this would be her best experience shopping for a wedding gown!
Your mindset must be open. There are many dresses they could put you in, but you have to make the decision on what you want to look like on your day. And they do not try to persuade you in any way. It was solely my decision!
Falling in love with your partner and your dress are our top goals at Maggie and we were so happy to play a part in Sarah's love story!
For more wedding dress shopping inspo, make sure to sign up for our exclusive newsletter, and share your own love story with us by submitting them through our website!
For More Wedding Inspo, read our blogs below, and as always, good luck shopping brides!:
8 Must-Have Tips On How To Shop For A Wedding Dress For The First Time
Customized Wedding Dresses & Personalizations With Maggie Sottero
15 Trendy Wedding Dresses From Maggie Sottero's Fall 2022 Collection