Dresses
Tips and Trends
|
May 20, 2023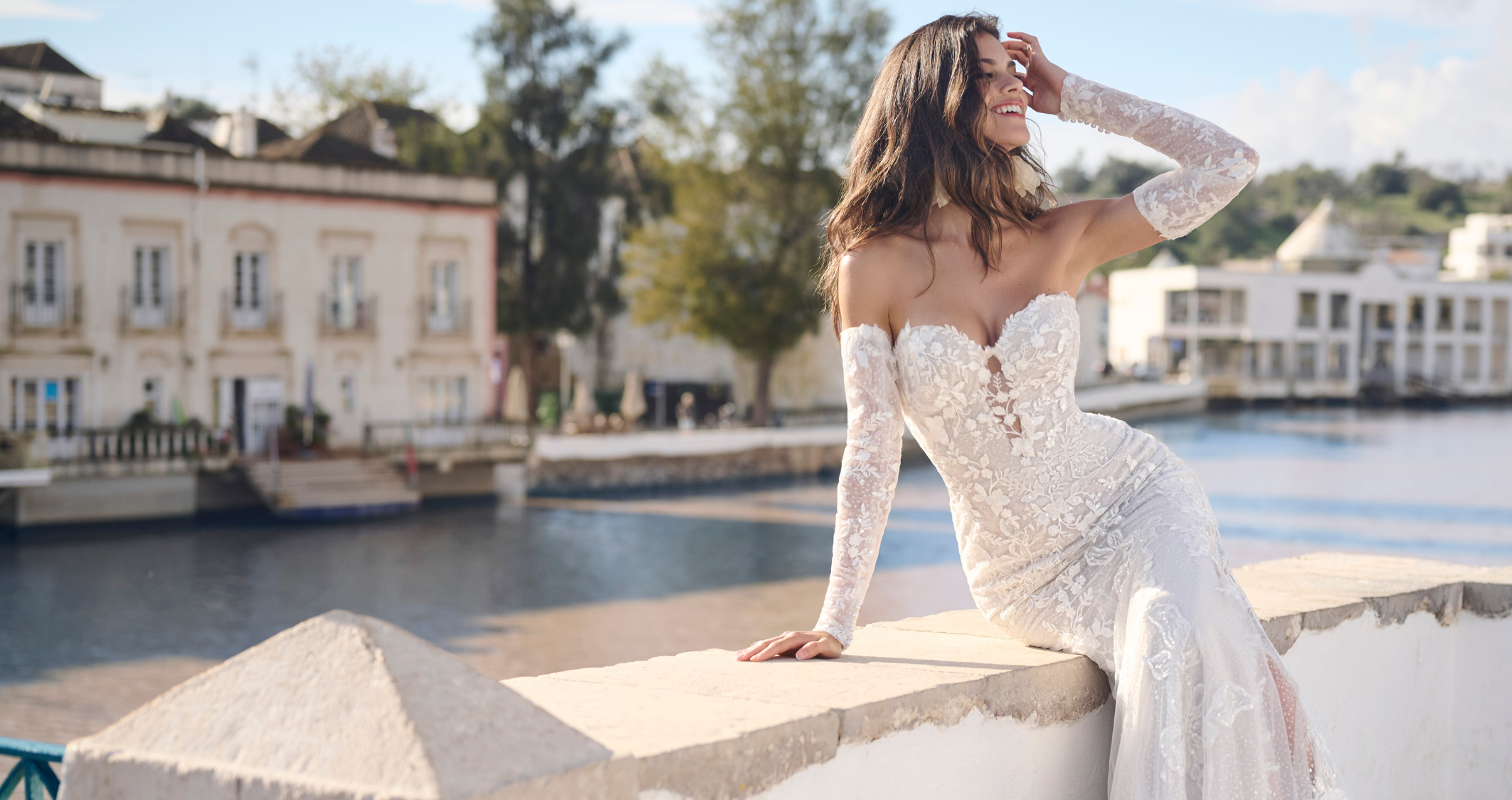 Interested in the newest bridal trend to hit Pinterest? Say hello to the "cool girl" wedding trend. The cool girl wedding aesthetic is all about effortless elegance and simplicity, with a touch of edginess or individuality to create a unique look that's both timeless and trendy! From choosing the right dress and accessories to incorporating personal touches in your decor and finding your perfect beauty look, keep scrolling to see how to rock the cool girl bride style like a pro. But first, make sure to take our exclusive Wedding Dress Quiz to begin your bridal shopping journey TODAY!
What is the Cool Girl Wedding Aesthetic?
If you're wondering what a "cool girl" even is, think historical cool girls like Audrey Hepburn and Farrah Faucet, and modern-day cool girls like Emma Chamberlain, Zendaya, and Hailey. These lovely ladies are known for their elegant, modern, and chic styles with personal and bold elements scattered throughout and that's the vibe you should take for your bridal look as well!
When it comes to choosing your wedding dress, look for luxe fabrics, organic elements, chic silhouettes and accessories, and subtly sexy details. Nothing is too much, as long as you have the confidence to pull it off! Whether you're looking for puff sleeves, a fun outfit change, chic beaded sleeves, or unique colorways, nothing is too much!
When it comes to your décor and venue, our cool girl icons typically go with something less cookie-cutter and more individual to you and your partner! Lots of personal thrifted touches, pops of color, organic designs, and out-of-the-box ideas.
To see examples of this chic trend, keep reading to see examples!
Cool Girl Wedding Dresses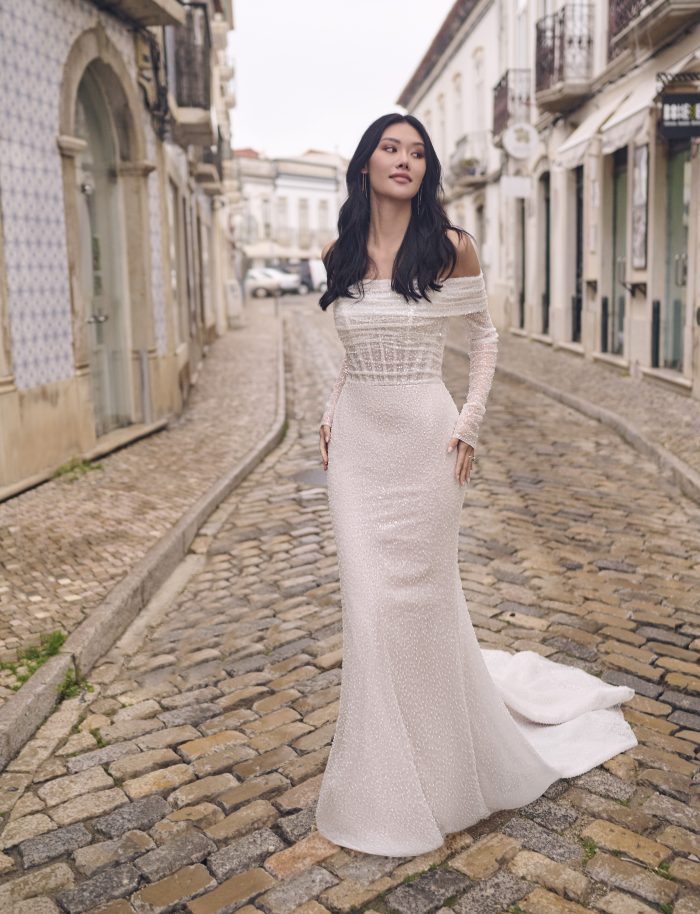 First up? Our collection of chic, modern, and unique wedding dresses to choose from for your big day! Drew by Maggie Sottero is our first gown to choose from. This fully beaded fit-and-flare gown is an inspiring choice for your "cool girl" wedding. With detachable off-the-shoulder sleeves and a luxurious satin lining, you're sure to feel like you should be on the cover of Vogue when you're in this gown!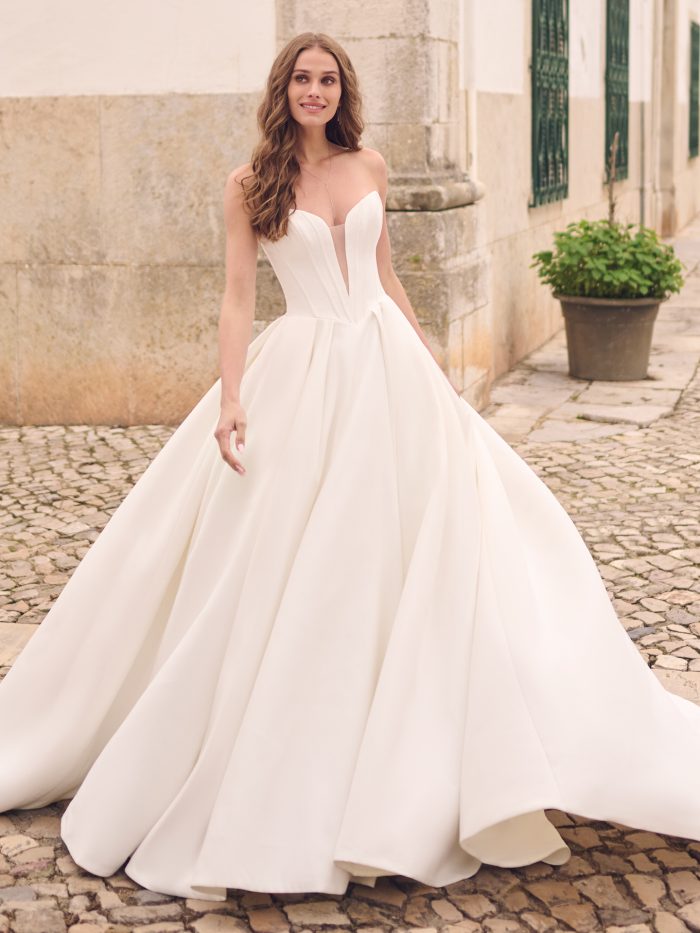 If you're fond of wedding gowns that are less embellished and more simplistic, look no further than Derrick by Maggie Sottero! This satin V-neckline gown is the perfect ballgown to pick if you're looking to show off your curves. With vintage-inspired visible boning and a soft basque waist, you'll feel gorgeous in this Swan Lake-inspired gown.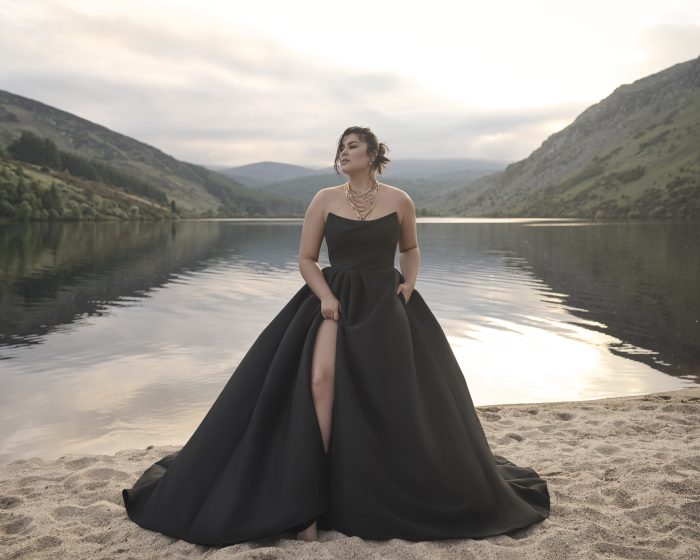 A cool girl wedding is nothing without a bold statement and Aspen by Sottero and Midgley is here to make it for you! This modern ballgown comes with three statement-making elements: a sultry cat eye neckline, a high side slit, and a daring black colorway. Perfect for the rock-and-roller inside all of us!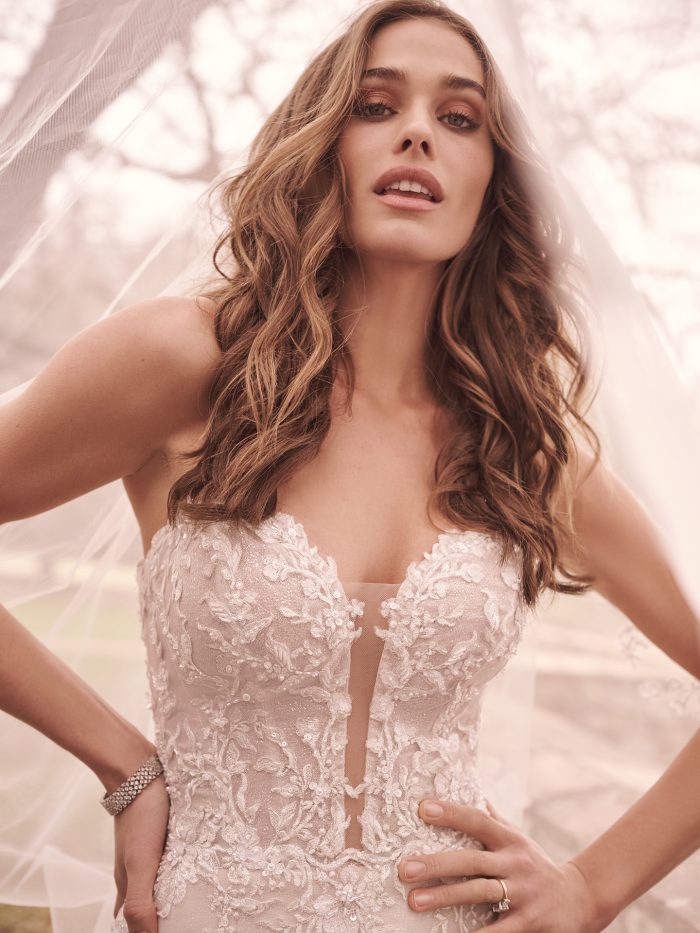 Mermaid wedding gown, Lennon by Maggie Sottero, comes with all the detail and all the romance a cool bride like you is looking for in your wedding day look. Whereas Aspen was simple and modern, Lennon is glamorous and classic. With a plunging neckline, beaded floral lace, and detachable off-the-shoulder sleeves your wedding look will stand out amongst all the emerging trends.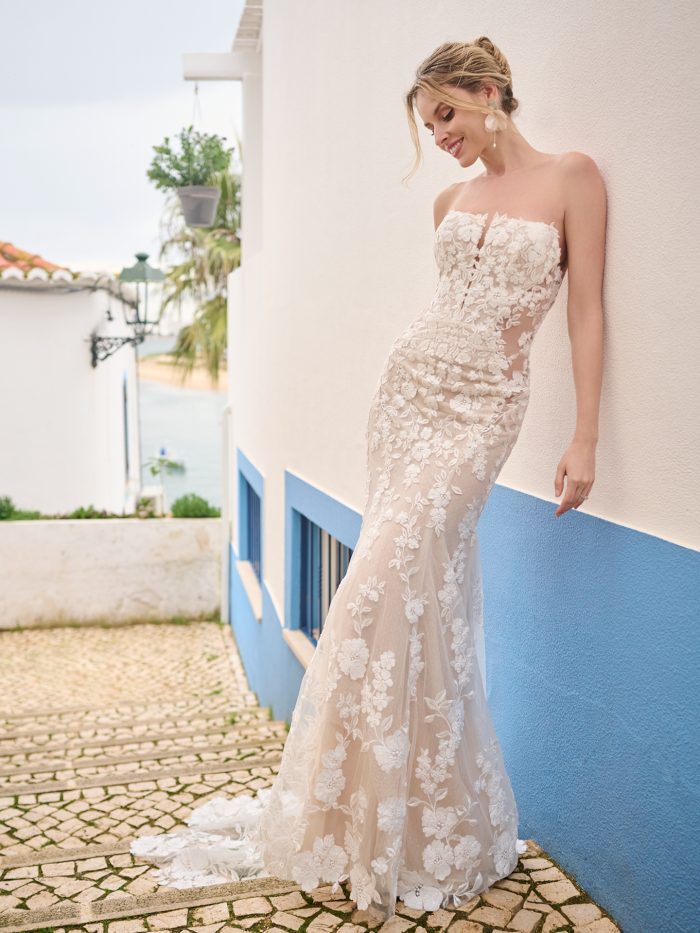 Speaking of statement gowns, look no further than one of our new wedding dresses, Adelaide by Sottero and Midgley, for a fearless bridal look reminiscent of Hailey Biebers wedding dress. This modern yet boho gown is the best of both worlds with its nature-inspired floral lace, and sexy side illusion cutouts. To make this gown even more uniquely yours, make sure to pair this gown with its matching detachable cap-sleeves!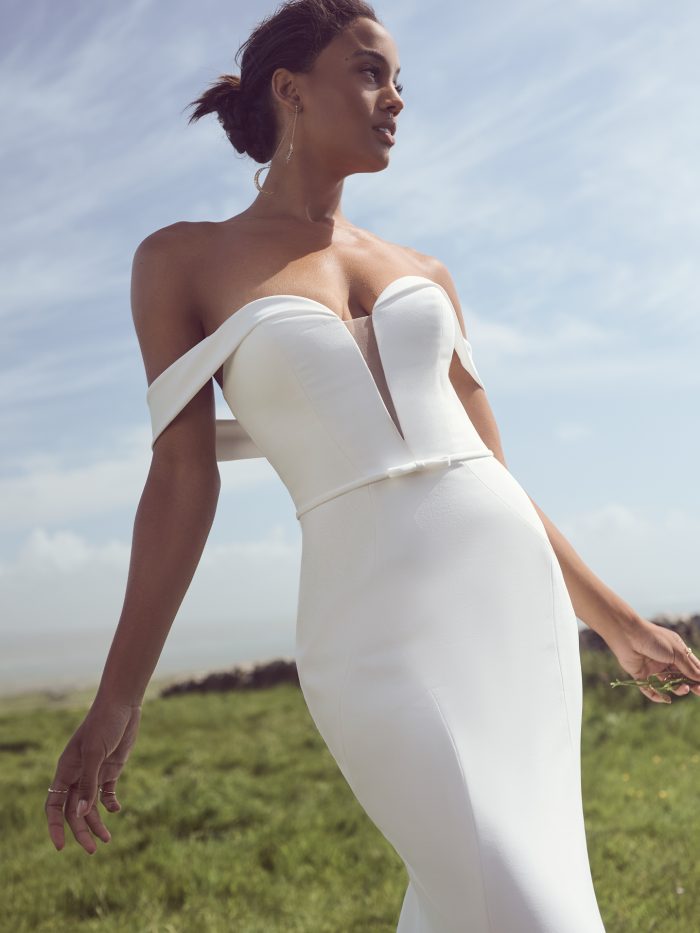 A cool girl wedding dress list would not be complete without a simple crepe gown. If you're looking for this type of gown, Moriah by Rebecca Ingram is the perfect choice for your wedding day. With a plunging neckline, sexy fit-and-flare silhouette and a beyond-dainty matching belt, get ready to say "yes!"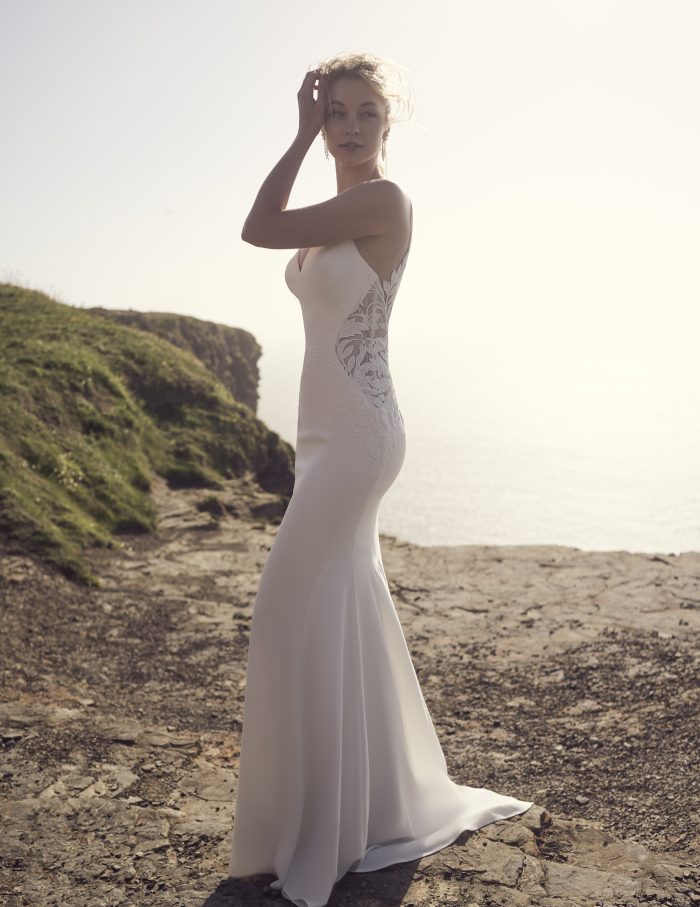 Dionne by Rebecca Ingram is another one of our chic crepe gowns that are perfect for a cool bride to say "yes!" to. This sexy fit-and-flare gown is a great choice for a beach wedding with its low back and sexy illusion lace cutouts. If you're a bride who wants a little bit more coverage though, don't worry! You can personalize your wedding look with its detachable lace jacket.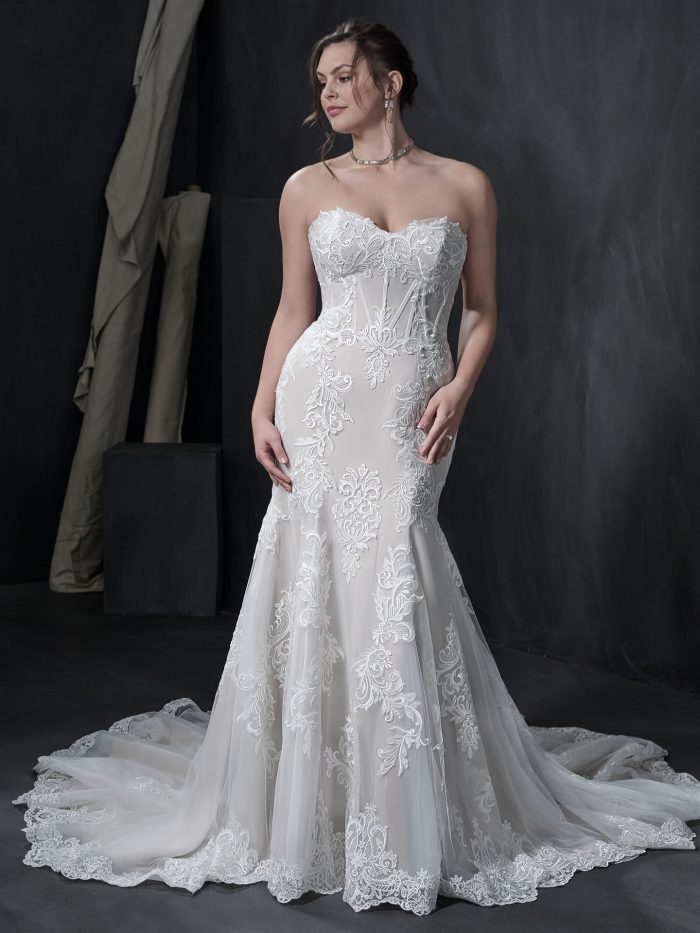 Next is Walker by Sottero and Midgley! This sparkly strapless gown is perfect for the cool girl in all of us and will make you feel like America's Next Top Model with its chic exposed boning, and charming lace details. Make sure to pair the following accessories with this gown to personalize it for your love story!: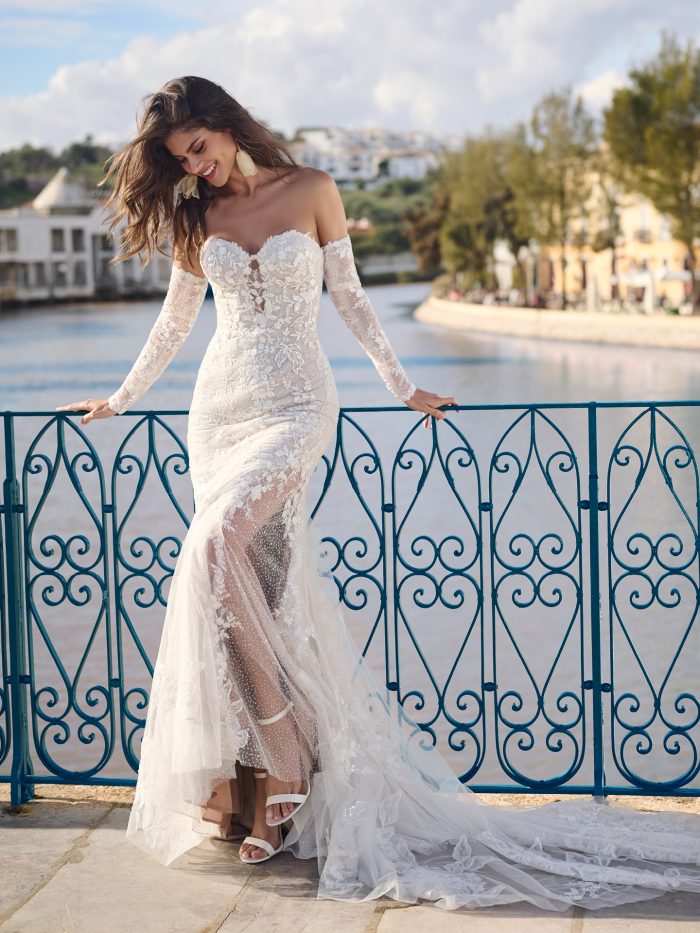 There are so many things to love about Kensington by Sottero and Midgley, but let's clue you into a few of our faves:
The sexy thigh-high side slit with beaded overlay.
The plunging illusion lace neckline.
The detachable long lace sleeves.
The matching chapel-length veil.
The whimsical fairytale-inspired lace.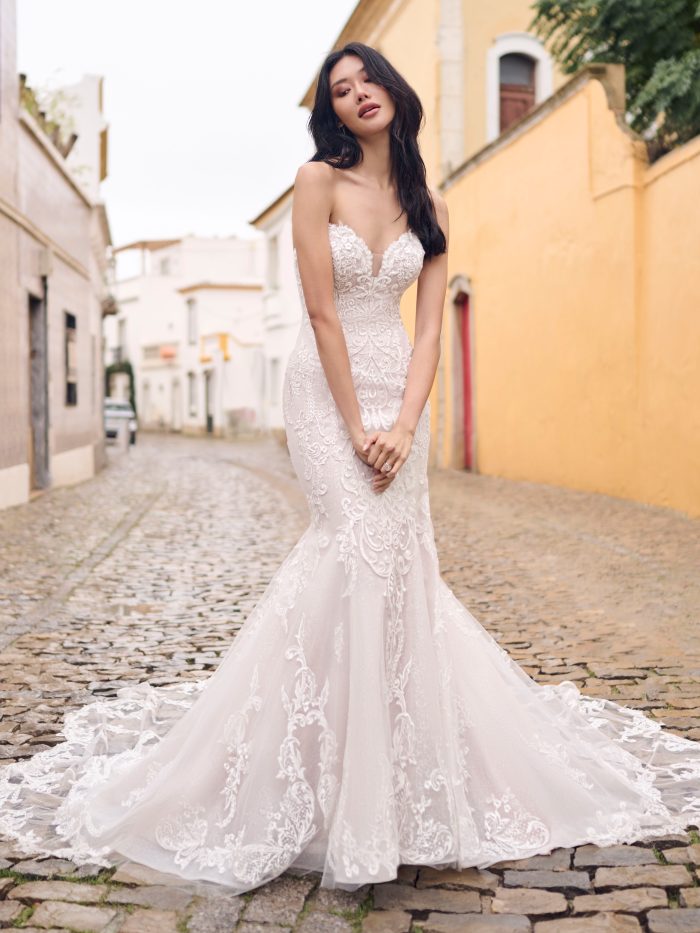 Last, but certainly not least, is Frederique by Maggie Sottero! This elegant lace fit-and-flare wedding dress is perfect for any venue and any type of bride! With all-over sparkle and lace, it's certainly a top contender for any cool girl wedding dress look!
Aesthetic Accessories
A cool girl wedding dress wouldn't be complete without some cool girl bridal accessories! From pearls, to ruffles, to unique colorways, to chic details, here are some of our favorites to choose from:
When it comes to bridal jewelry, the simpler the better for the cool girl aesthetic (other than your fabulous engagement ring of course). For this bridal look incorporate lots of minimalistic gold pieces and small hoops or studs to go with your timeless style!
Cool Girl Beauty
There are a few things to remember when you're thinking of cool girl wedding beauty: elegant, natural, chic, and classic. Whether it's for your hair, makeup, or nails one of these words will typically describe your beauty look for your day! First, let's start with hair.
Hair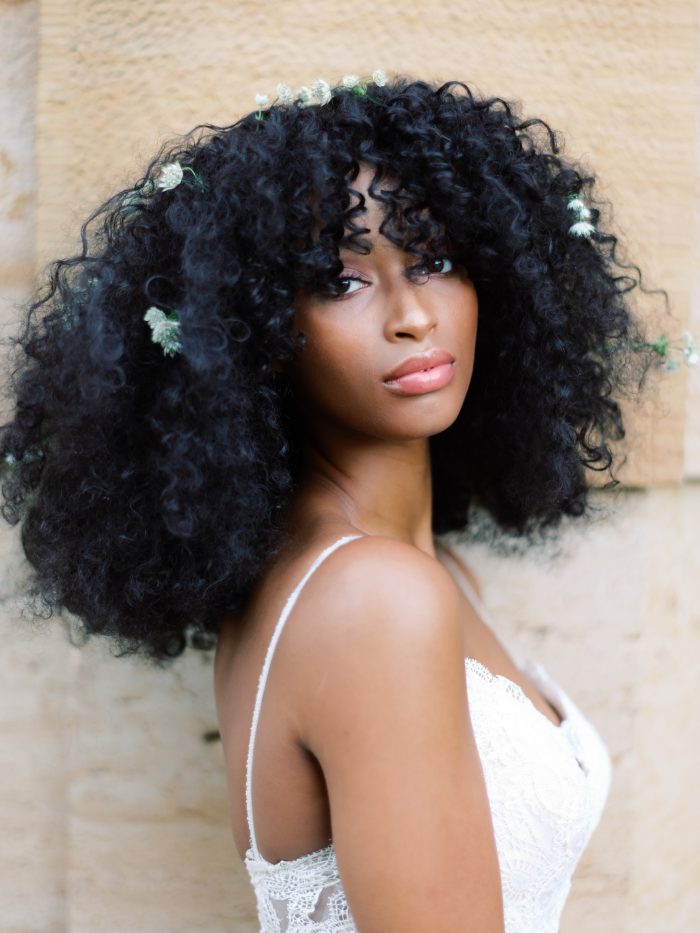 PC: Brooke Magee
Cool girl wedding hair is elegant and effortless. Think soft waves, or sleek looks! Take a look at these suggestions below for some inspo:
A sleek low bun or ponytail with face-framing pieces.
Natural hair or getting those perfect beach waves that you've been pinning for years.
Cute clips, headbands, headpieces, or pearls (take a look at our Pearlcore content to get more inspo!).
Bohemian braids.
Be bold and CUT your long hair into a chic bob between your ceremony and reception!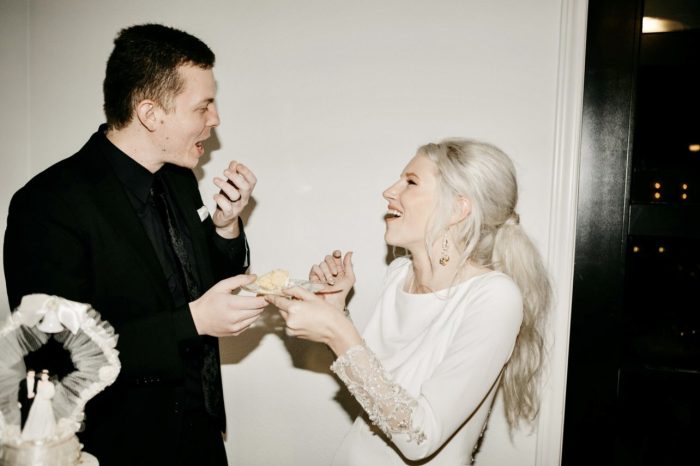 PC: Alyssa Caits
For more wedding hairstyle inspo, make sure to read our blog to learn about all the 'do's to compliment your bridal gown.
Makeup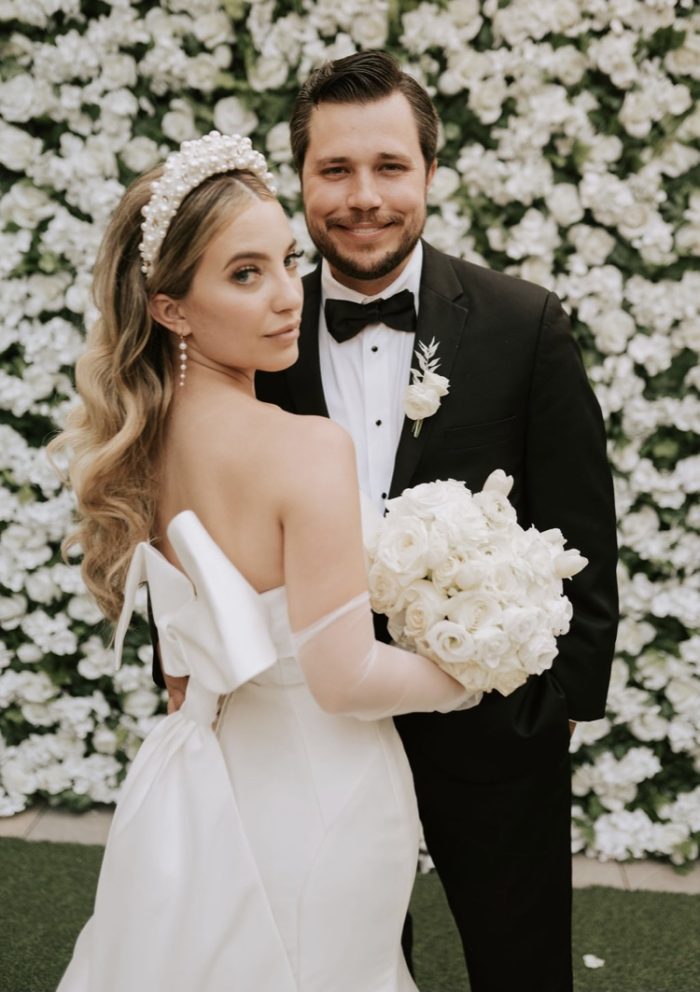 PC: Love Story Films | PC: Heirlume Photography
Your cool girl bridal makeup should be focused on glowing skin, and enhanced natural features! When you're chatting with your makeup artist, use terms like "satin," "dewy," "natural," and "medium coverage." With these keywords your makeup artist will know exactly what your vision is for your wedding day!
When it comes to your makeup look, consider the following ideas:
Angel Makeup: Glowing shimmer along the eyelids, subtle black eyeliner, and false eyelashes. For a gorgeous example look at SelenaMUP on TikTok!
Hailey Bieber Makeup: Lined lips, soap brows, a lot of highlight, and subtle, enhancing eye makeup.
A Modern Take on Old Hollywood Makeup: A more subtle smokey eye and winged eyeliner with a bold red lip and laminated brows.
With these terms you will have the bridal look of your dreams! For more makeup inspo, make sure to read our blog for all the trendiest ideas!
Chic and Personalized Décor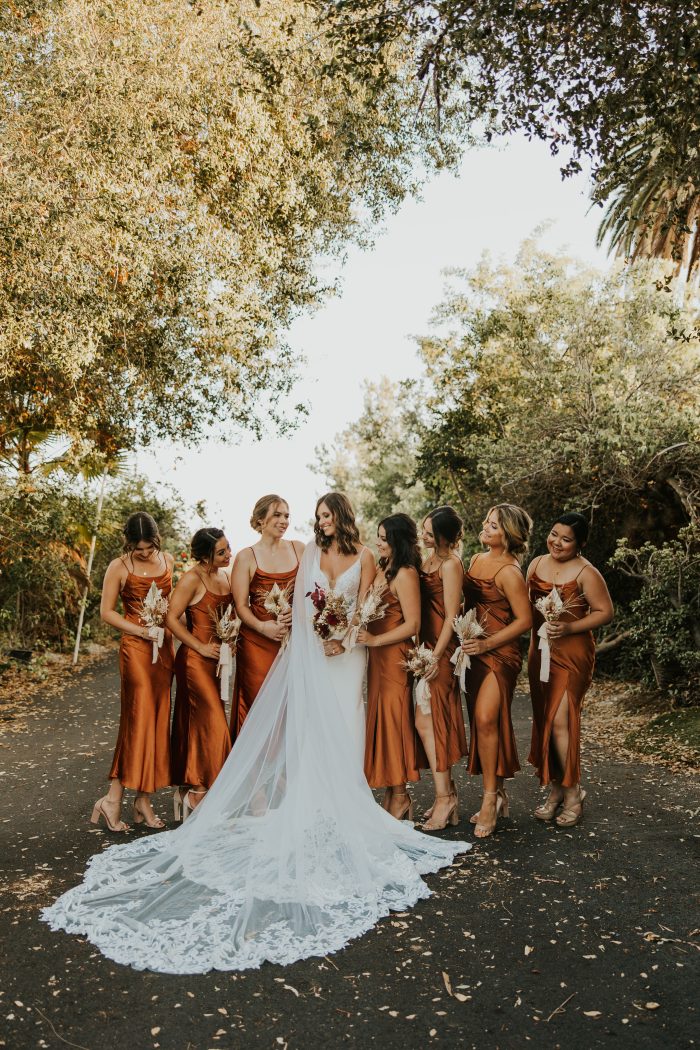 A wedding isn't complete without decorations that capture you and your hubbies personalities! Here are some of our favorite cool girl wedding décor ideas:
Thrifted & DIY Elements: Nothing says "cool" like thrifting your wedding! By thrifting, not only can you and your partner tailor your décor more to your personal styles, but you can also tailor it to your budget! Consider thrifting place settings (mismatched glassware is all the rage right now!), chairs, rugs, and DIY'ing your arch out of thrifted materials like books or doors! Read our blog for more ideas like this.
Disco Time!: If you're looking to have that classically cool disco-themed wedding consider incorporating disco balls into your décor (flowers, centerpieces, backdrops), and other disco-themed elements like flowers and pops of color scattered throughout. Psst… consider having your bridesmaids in mismatched gowns to pull this idea off even more!
Modern and Minimalist: Cool girl weddings are all about simple and modern elements and your décor is no exception! Think subtle twinkle lights, a neutral color palette, lots of greenery, and maybe a champagne tower for that extra bit of flare!
Well there you have it, brides! All the makings you need for the ultimate cool girl wedding. To see all these beautiful gowns and accessories IRL, make sure to find an Authorized Retailer near you! After, make sure to read more blogs like this to be in-the-know about all the other bridal trends right now!
More Blogs Like This:
Trend Alert: 10 Airy Wedding Dresses & Accessories for Ethereal Brides
How to Rock the 90s Wedding Dress Trend for Your Wedding Day
What Wedding Dress You Should Wear Based on Your Zodiac Sign