Tips and Trends
|
September 13, 2016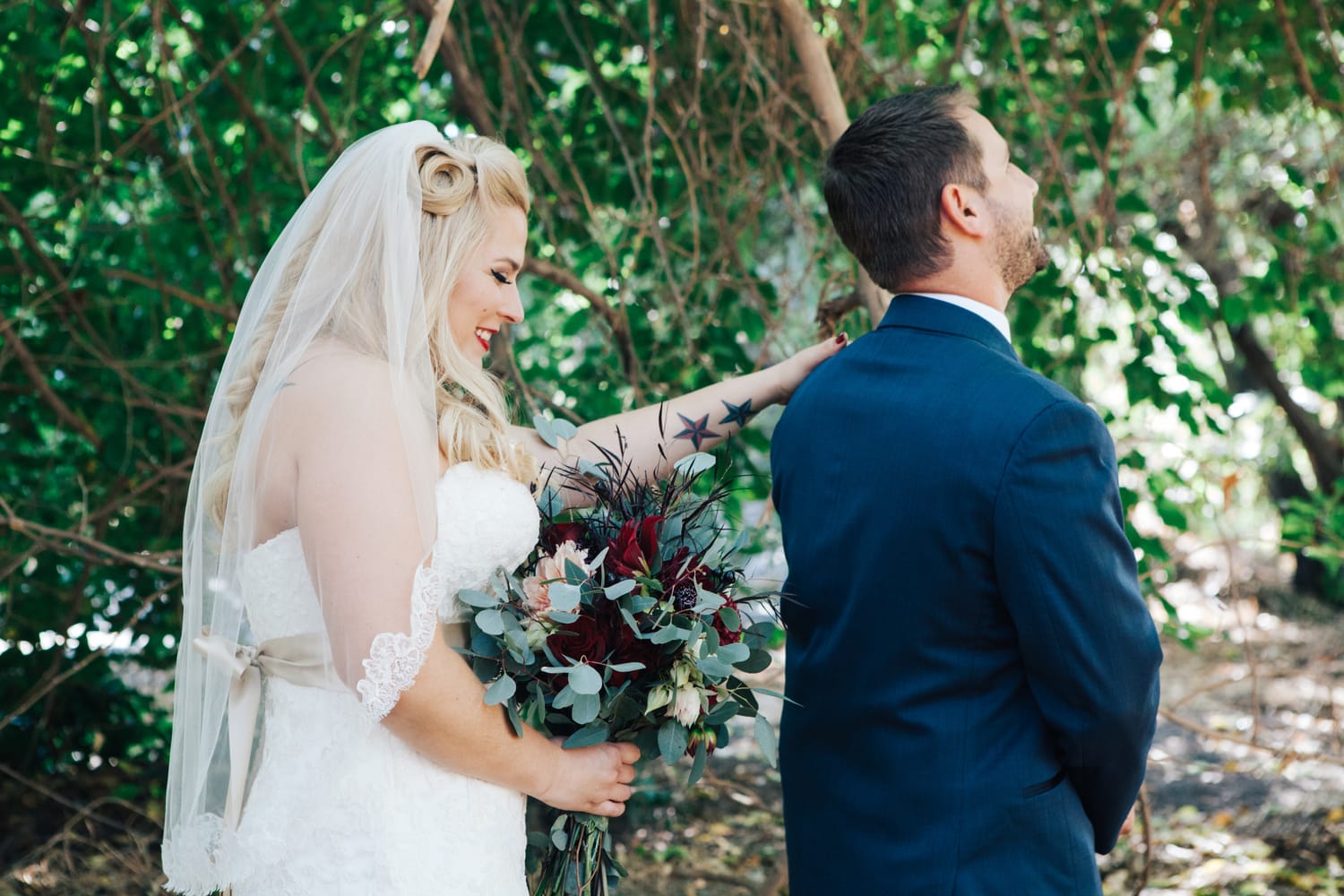 First Look sessions are quickly becoming a mainstay in wedding photography, and for excellent reason! Here's why we think a First Look session is hard to top…
It's super romantic.
A couple rarely gets time to themselves on the big day, and a First Look session, by nature, orchestrates a special moment for the soon-to-be betrothed. A quiet space in a meadow or private room allows you to kiss, savor each other's company, and exchange pre-ceremony love notes before any of the madness sets in.
It calms you down. You'll cry anyway during the ceremony, but a First Look session cuts out most of the unnecessary jitters.
It makes your walk down the aisle better, naturally. Since you've destressed a little, your walk and ceremony will be more authentic and organic. You've shared a special moment with your sweetheart, making the ceremony feel more affirmation, less fishbowl.
The photo op is unbeatable. Good wedding photographers know how to arrange the suspense and emotion for a series of unforgettable stills. They'll capture your approach, the "before" emotions, the turn-around, and the inevitable grinning, twirling, and happy-crying that follow. It's hard to capture all of that in the same frame with a traditional aisle walk.
Your hair and makeup are in top condition. You'll look amazing regardless, but exhaustion dampens your enthusiasm to fix your hair and pose for photos.
You preemptively knock out unexpected shifts in your schedule. The likeliness for unanticipated problems and chaos goes up as the day continues. Get your couple and bridal party sessions done early to have one less task later on.
And finally…You can go straight from ceremony to reception, making the cocktail hour less awkward and more enjoyable for your guests.

You might be thinking…
• Isn't it bad luck? This is an antiquated idea, and a little disturbing, really. When brides were considered "property" of their fathers and their marriages arranged, it was "bad luck" for the groom to see the bride lest he dislike what he saw. So unless you have a massive dowry looming over your head, there isn't much reason to keep this tradition alive.
• Doesn't this spoil the walk down the aisle? Not really. Take away the nerves and anxiety with a First Look, and the approach to your vows will feel totally natural. Besides, considering the major attention that you're getting from your guests, it's hard enough to focus on each other during the procession. A First Look session allows the couple to share a secret moment before the swarm of onlookers and flash photography.
• Will the moment be underwhelming? Take a look for yourself by browsing our photos of real brides! Couples who opt for a First Look shoot incorporate all kinds of creative, editorial, and, above all, meaningful details. If you're still not convinced, consider a video format to capture every emotion.
There you have it! We promise you won't regret your dreamy First Look session. Now take a gander at our tips for hiring a best-in-class videographer.