Tips and Trends
|
July 15, 2021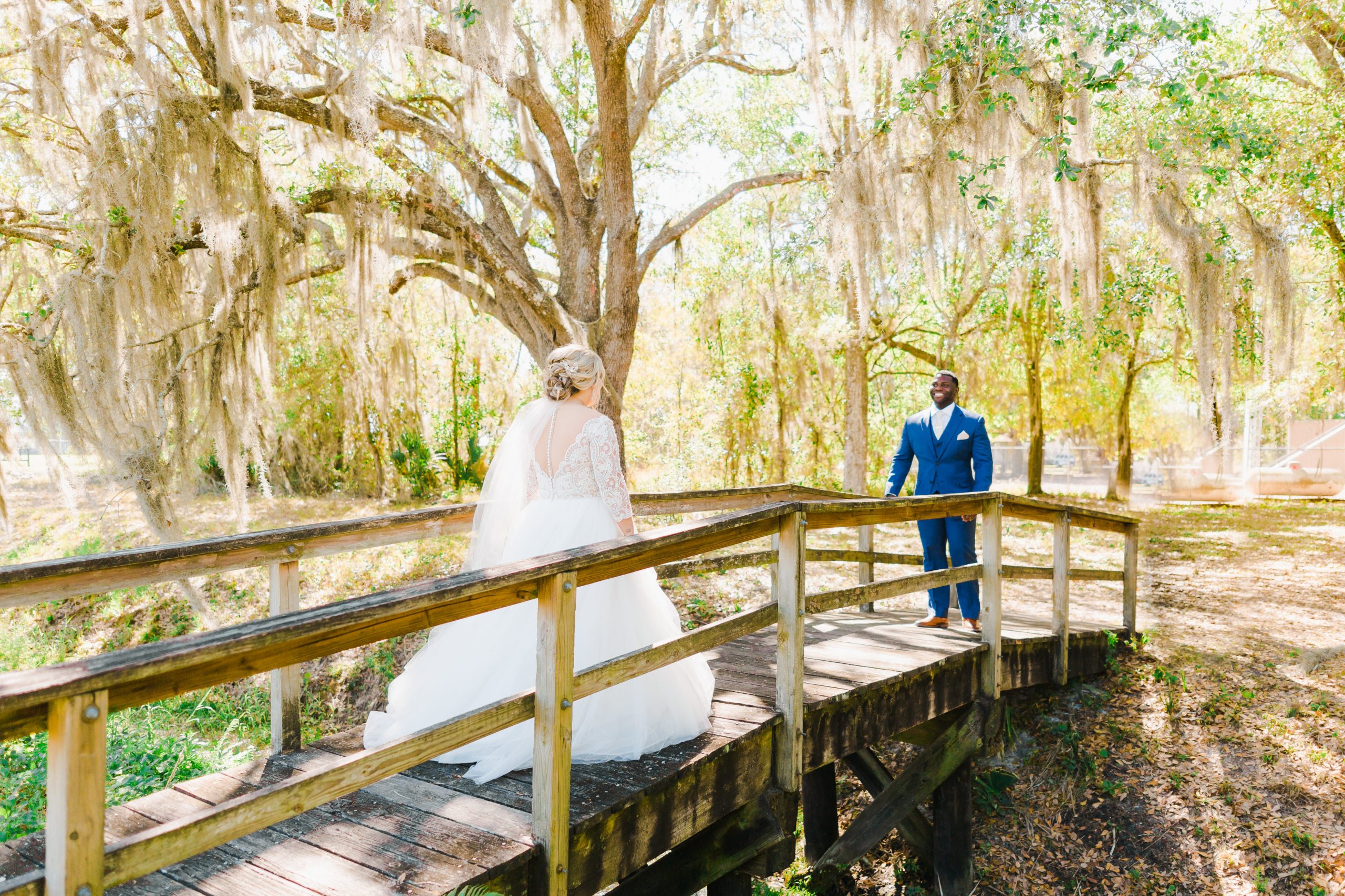 First Look sessions are quickly becoming a mainstay in wedding photos and ceremony planning—and for excellent reason! There are plenty of practical and emotional reasons to plan a one-on-one moment with your sweetheart before your ceremony, from the timing of your couple's portraits to the (inimitable) magic of meeting your betrothed for the last time before you tie the knot. Scroll on for the full rundown on planning a wedding First Look; it may just turn out to be your perfect "something new" to elevate your best day ever!
First Things First: What is a Wedding First Look?
PC: The Red M Studio
A First Look is when a couple decides to meet before the ceremony, all dressed up and ready for a gorgeous photo op. It's meant to be a sweet and picturesque moment—a perfect opportunity for couples to calm their nerves, enjoy some privacy, and express a few pre-vow sentiments to each other.
To help you execute this moment (or not—totally up to you), we've compiled all our tips, details, and benefits of whether to have a First Look or not below.
How to Do a Wedding First Look
Set a time with your sweetheart and wedding photographer to meet at a designated spot. The ideal window is about 1-2 hours before your ceremony.
Consider prepping a letter or small gift to bring to your sweetheart.
Choose a quiet patio, breezy meadow, or private corner of your venue to meet. If your First Look is happening during the day, consider your lighting conditions for photos. (Bright daylight may be a tad unflattering, so look for shade.)
Arrange for one partner to be facing away as the other enters the space (this creates the "shoulder tap" effect), or have both partners positioned around a corner to meet at the same time.
Ask your photographer to give the signal to start your big reveal.
As you meet with your sweetheart, take it all in! Enjoy the time to kiss, laugh, and show off your head-to-toe bridal look. Your photographer will snap a few candid (heartfelt!) shots, then likely coordinate for your posed couple's session before the ceremony.
Pros of a First Look: It's Super Intimate and Romantic
If there's one thing to know about your big day, it's that you and your sweetheart probably won't get a single second of it to yourselves. (A little ironic for your celebration of love, isn't it?) To help carve out a one-on-one moment in the agenda (AKA, before all those chatty uncles and long-lost cousins arrive), opt for a pre-ceremony meeting with your soon to be betrothed. If you're the couple who enjoys a little privacy, there's nothing like it!
A First Look Calms the Nerves
Anxious about walking down the aisle and saying your vows in front of a crowd? A First Look session helps to cut out most of those unnecessary jitters before the ceremony. A one-on-one meeting will help you feel much more in control of your day, allow you time to savor a private moment, and personalize your nuptials.
A Wedding First Look Improves Your Ceremony
PC: Limitless LM Print
A First Look helps you destress and set a positive tone for your day, making your aisle walk and vows feel way more natural and authentic. Think about it: you've already shared a special moment with your sweetheart on your own time, which takes so much pressure off the "second look" of your ceremony. There's no rush, no onlookers, no cell phones, and no altar!
The First Look Photo Op is Unbeatable
As far as successful First Looks go, an expert wedding photographer knows how to arrange all the suspense and emotion to make an unforgettable gallery. They'll capture the whole thing: your approach, the anticipation, the big reveal, and the inevitable grinning, twirling, and happy-crying to follow. Try to beat all that with a traditional aisle walk!
A few photo ideas for a perfect first look and big reveal:
Decide if you want one partner to approach the other, or if you want to both approach each at the same time (e.g., around a corner or on either sides of a door).
If it's your style, make it a surprise! Wear something funny or expected as a sweet prank on your partner and start your happily-ever-after with a smile.
Consider including your parents if it's important to you. You can line up any variation of brides, grooms, dads, and moms to make the moment extra special.
Have a First Look with your bridesmaids—another perfect photo op!
Plan a "blind" First Look or "First Touch" where you or your partner is blindfolded, i.e., you meet without seeing each other. You can also orchestrate a "non-reveal" by holding hands around a door or corner, or by keeping your backs to each other.
Bring a letter, gift, or song for your beloved. This will make the moment extra personalized and memorable.
Use props or venue features to amp up the surprise and setting. (Think stairs, elevators, balloons, sliding doors, trees, and bridges.)
Your Hair and Makeup Are in Tiptop Condition for Your First Look
Ok, you'll look amazing in all your photos, but you have to admit your enthusiasm to fix your hair and strike a pose will wear off as the day goes on. Our solution? Take advantage of a First Look to snap photos of you and yours in all your freshly pressed and dressed-up glory; you'll be so happy you took your moment before all the chaos sets in!
Knock Out Unexpected Shifts in Your Schedule
Here's a truth universally acknowledged about a wedding: the likeliness for unanticipated problems and chaos goes up and up as the day continues. If you get your couple's session done earlier in the day as a First Look, you won't have to worry about this big checklist item during the hustle and bustle of your ceremony, cocktail hour, and reception.
A First Look also gives you flexibility to go straight from ceremony to reception, thus making the cocktail hour way less awkward and way more enjoyable for your guests. Your photographer will get a few quick snaps capturing the emotion of your ceremony and exit, but since you had a First Look beforehand, you won't be immediately required to leave all your guests to take photos. It's a great way to relax and mingle, savor that "Just married" feeling, and transition to big family and group shots on your own time.
Are There Cons to a First Look Wedding Session?
Deciding to have a First Look or not? Here are a couple of potential drawbacks to consider:
Since a First Look session happens before the ceremony, it requires a little extra time and prep with your photographer. This might be tricky to pull off if you have a tight schedule and lots of items to prep.
If you have a First Look outside, the bright lighting conditions might not be ideal. (Be sure to consult with your photographer; they'll know how to work the moment!)
You Might be Wondering: Is a First Look Bad Luck?
We totally understand if you're a traditionalist, but this might be the ideal moment to mix things up and empower yourself on your big day! The old-fashioned superstition of not seeing each other before the ceremony came about when brides were considered "property" of their fathers.
As marriages were often arranged between people who had never met each other, it was deemed "bad luck" for the groom to see the bride lest he dislike what he saw. Long story short, unless you have a massive dowry and haughty groom looming over your head, there isn't much reason to keep this tradition alive!
Does a Wedding First Look Spoil the Walk Down the Aisle?
We definitely don't think so! Take away the nerves and anxiety with a First Look, and the approach to your vows will feel totally natural. And considering the major attention that you're getting from your guests, it's hard enough to focus on each other during the procession. A First Look session, in contrast, allows the couple to share a secret moment before the swarm of onlookers and flash photography.
Will a First Look Moment be Underwhelming?
Take a look for yourself by browsing our photos of real brides! Couples who opt for a First Look wedding shoot incorporate all kinds of creative, editorial, and, above all, meaningful details. It's a perfect opportunity to extend the moments of anticipation and reveal, capture an intimate moment with your soon-to-be spouse, and take a deep breath before your ceremony. 10 out of 10!
There you have it: all the reasons we love a wedding First Look on your best day ever! We promise you won't regret this dreamy, memorable, and one-of-a-kind session. To read more pros, cons, and details about First Looks, visit this photographer's take on the popular wedding trend on Style Me Pretty.
To make the morning of your wedding day even more special, check out our list of The 15 Best Personalized Wedding Gift Ideas for Your Groom!
Finally, as you map out your photo plan, check out our tips for choosing a wedding photographer and a wedding videographer to match your vision. Happy planning!