Tips and Trends
|
April 26, 2021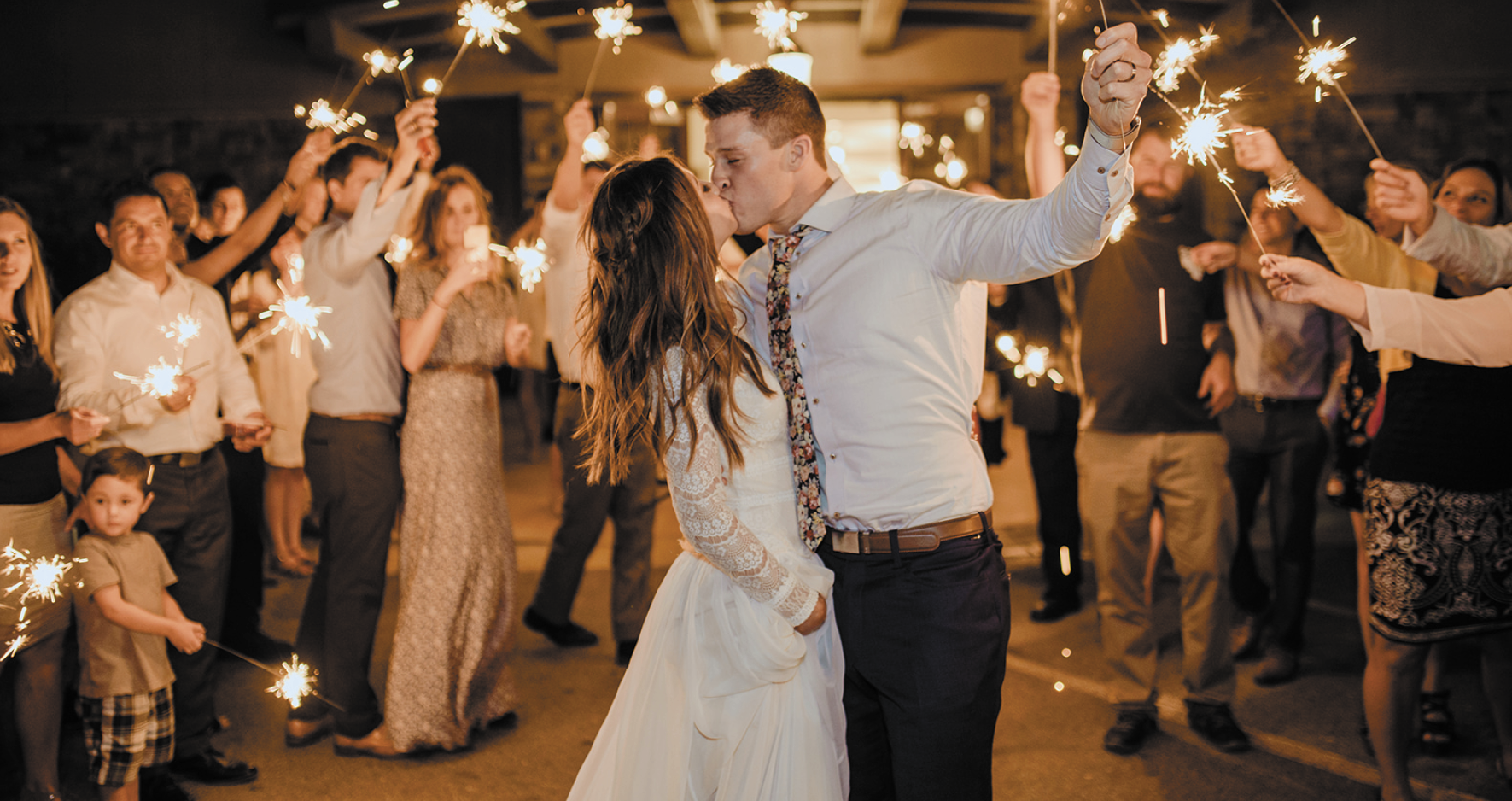 Hiring a wedding videographer is a choice that couples don't take lightly, and rightfully so. There are a number of competing factors that you carefully consider when searching for the right person for the job—from your wedding budget and timeline to the sheer abundance of options.
Hiring a wedding videographer can be intimidating to say the least, which is why we've crafted this guide to help make the process as seamless and complication-free as possible. Scroll on!
Do you really need a wedding videographer for your wedding?
Let's begin with the elephant(s) in the room. Do you really need a wedding videographer for your big day? Ultimately, this is entirely up to you and your partner. When budgets are tight, certain cuts are necessary and even inevitable.
That being said, we recommend making wedding videography a priority. Because through video, you can revisit your wedding day anytime you want in the decades that follow!
Why is wedding videography important?
Wedding videography is a collection of moments that only happen once—captured and packaged together so that all you have to do is enjoy the day and look back on it forever.
Also, wedding videographers know how to maneuver around large crowds to be in the right place at the right time. They're skilled professionals, so the chances of receiving a poorly produced wedding video because of user error are very slim.
What does the average wedding videographer cost?
Wedding videography costs vary depending on experience, expertise, and packages. A study by The Knot found that the average cost was $1,800. And another study found that costs tend to fall between $1,000 and $2,500 for most couples in the U.S.
Wedding videographers usually disclose the pricing up front on their website along with the different packages they offer. So you can find out almost immediately if a particular wedding videographer is within your budget and worth reaching out to.
How many hours of videography do you need for a wedding?
The amount of time a wedding videographer spends with you can vary but is often included in each of their packages. In some cases, you might retain a videographer for several hours—long enough to capture before, during, and after the wedding ceremony and wedding reception.
In other instances, a videographer might stay with you from the morning when you're getting ready to the evening during the reception.
Full-day coverage naturally gives the videographer more material to work with, but they can still produce a quality wedding film with 3-5 hours worth of footage.
What is usually included in wedding videography?
A videographer's wedding packages can include a full-length wedding film, highlight reel, and more. Depending on how early in the process you find a wedding videographer, you might also be able to take advantage of a package that includes save-the-date videos, engagement videos, and rehearsal videos.
What a Wedding Videographer's Portfolio Reveals to You
A videographer's portfolio may not be the only deciding factor in your final decision of who to hire as your wedding videographer, but it's certainly a pivotal one. Because, ultimately, a portfolio is a videographer's creative fingerprint.
It's not enough to base your decision on a videographer's word or reputation, since this comes from biased perspectives.
By reviewing their portfolio, you can start to connect the dots of how your wedding videos will turn out based on their past work. You have more context to decide whether their creative style is a good fit for you or not.
5 Tips for Hiring a Wedding Videographer
1. Do some good ole fashioned recon.
Before you start the search for hiring a locally-based wedding videographer, take some time to get to know the market. The intent here is to get a foundational sense of the role you're looking to fill, not necessarily become an expert yourself.
It's immensely beneficial to learn from videographers who have been working in the wedding industry for years. And an added perk of the internet age is that you can discover so many talented creators in the short time it takes to run a Google or YouTube search.
When you find wedding videographers that you admire on YouTube, take some time to peruse their video playlists. Maybe they have a playlist dedicated to their favorite gear and filming techniques for weddings. Or maybe they showcase their previous client work in a playlist.
Pay attention to the little details— like how the videographers add music to the videos of their clients' wedding.   
By spending 10 minutes or so watching relevant videos, you'll start to get a clearer sense for what the job entails and what you're looking for in a wedding videographer.
2. Ask how they would respond to different scenarios.
When you're on the hunt for a wedding videographer (metaphorically speaking of course), there is no such thing as too many questions.
You have every right to treat wedding videography in the same way you would any other investment—with careful consideration, strategy, and some luck.
That being said, don't be afraid to ask potential videographers how they would respond to different scenarios on the day-of.
Because every moment only happens once, be as direct as you want and ask if they would be prepared for:
Unexpected changes in color temperature, like when indoor and outdoor lighting mix and affect image quality. The last thing you want is for your wedding dress to have a blue tint because the camera's white balance setting was off.
Capturing clear audio for the wedding videos. Wedding videographers are constantly maneuvering around guests. Not only does a scenario like this reveal if they use or don't use mics, it also reveals how well they work around a mass of people to get the right footage.
Sickness or a personal emergency. Does the videographer have a backup plan in case they are sick or in an emergency situation on your wedding day? This is important to find out because it would likely be impossible to find a new videographer on such short notice.
3. Learn more about their backup plan (They should have one).
Jumping off Tip #2, it's fair game to ask the wedding videographer you might hire about their backup plan. If their answer is vague or they don't have a backup plan, this could be a red flag. If they become defensive, you should be cautious.
You need to be able to trust any videographer you work with—and this goes beyond trusting that they're capable of producing incredible wedding films. You also have to trust that they're prepared for any given situation, even one that doesn't include them (i.e., because of an illness or emergency).
A wedding videographer's backup plan might include:
Backup camera gear and equipment
A second shooter in case technical issues arise
Extra gear like a gray card, microphones, SD cards, etc.
A videographer on standby in case of an emergency
4. Review samples of their past work.
As you vet prospective wedding videographers, their past work is a dependable indicator of what you can expect for your wedding videos.
Many couples might hesitate to consider a videographer with little to no wedding videography experience—especially since filming a wedding isn't the same as filming a short film or real estate video.
While you might err on the side of caution and hire a wedding videographer with more specialized experience, we recommend giving videographers new to the wedding scene a chance.
And this is because someone with a breadth of experience as a travel videographer, real estate videographer, or filmmaker still brings a lot of applicable expertise to the table.
As you review different samples, keep an eye out for work that is and isn't related to wedding videography. Pay attention to the creative style, the editing, the use of royalty-free music, and other details that you would want in your wedding videos.
5. Make sure they're willing to maintain an open dialogue.
Transparency is crucial—whether you're in the beginning or final stages of your working relationship with a wedding videographer.
While it's not always possible to predict how communicative a particular videographer will be as they're editing your wedding videos, the initial conversations can be very telling.
Right out the gate, it's important to establish an open dialogue between you and the wedding videographer. And if you follow through with tip #2 and tip #3, you've given them plenty of opportunities to prove whether they are willing to talk through their progress or not.
You should feel comfortable expressing any concerns or ask any questions before, during, and after the wedding day.
How to Know if You Hired The Right Wedding Videographer
To be completely honest, there's no way to guarantee that you will hire the right wedding videographer.
But you can vastly improve your chances by being diligent and proactive while hiring a wedding videographer, as well as asking as many questions as you need to make sure that the videographer is skillful, dependable, and trustworthy.
Good luck on finding the right fit for your wedding videography. And cheers to the start of your happily-ever-after!
Related content:
How to Choose a Wedding Photographer to Match Your Wedding Vision