Tips and Trends
|
November 18, 2020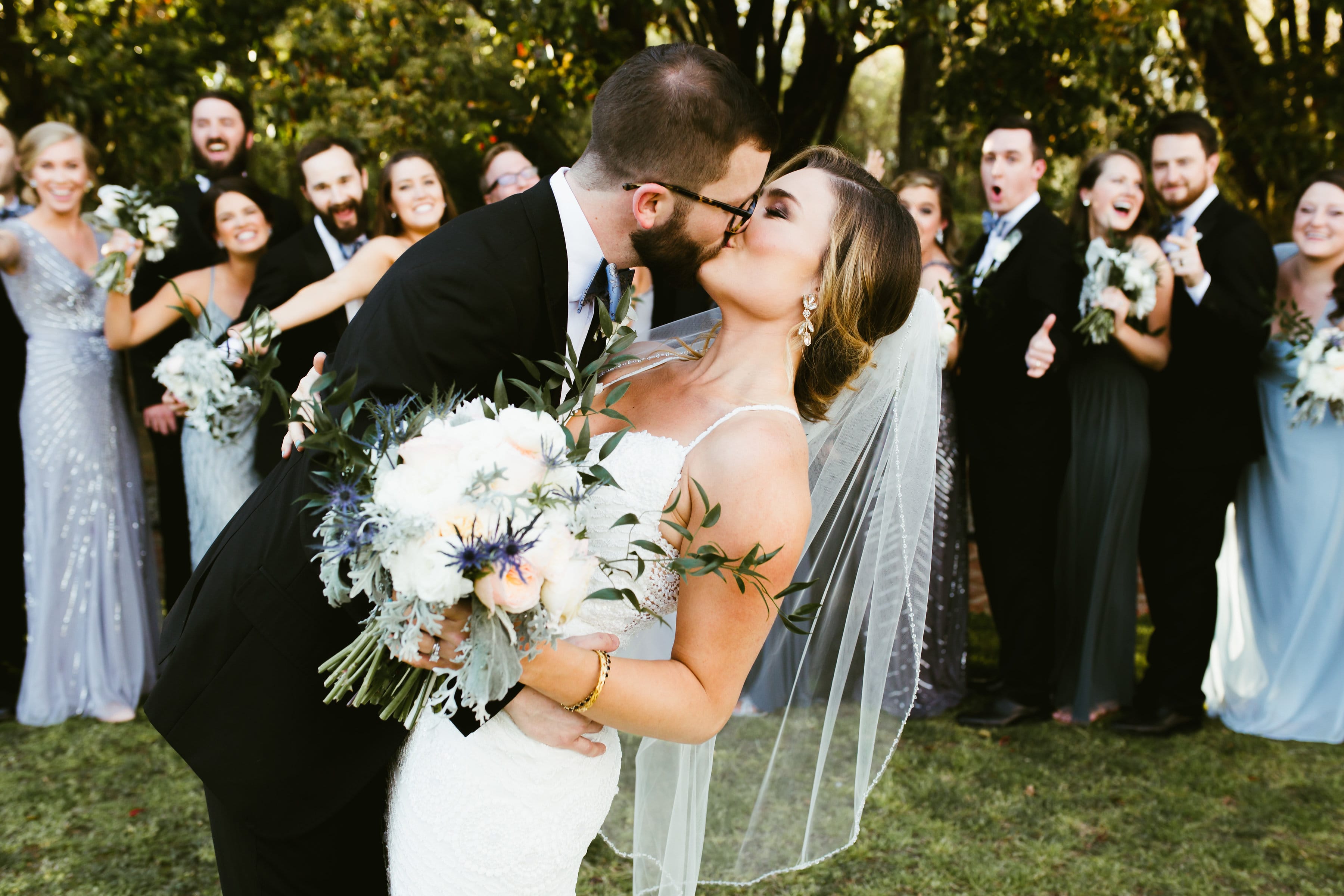 Wedding photography is a big deal! And whether you and your sweetheart are born models or impossibly camera-shy, it still takes special care, prep, and professionalism to capture the joy and personality of your love story. Take a look at these top 10 wedding poses for your happily-ever-after—all but guaranteed to make your photography session a cinch!
Wedding Poses with Groom Holding Bouquet
If your S.O. is a groom or is wearing groom-inspired attire, hand over your bouquet for some sweet and distinctive portraits. A big cascade of blooms or ribbons offers charming contrast to a snazzy suit or casual resort wear, especially when paired with a natural background and sunny atmosphere.
PC: Jana and Simon Photography
Opt for your groom posing solo with the bouquet for a touch of whimsy. Or, pose with your groom holding the bouquet for you to capture an image of care and closeness.
For too long grooms have been framed as stoic and uninvolved with the traditionally "feminine" parts of planning a wedding. these kinds of bouquet photo poses help bring out a softer side of your sweetheart—a picture of intimacy, sensitivity, and inclusion in all the pretty wedding details!
This bride is wearing wedding gown Deirdre by Maggie Sottero, a gorgeous choice for an elegant boho soiree.
Wedding Photography Ideas for Groom Twirling Bride
Simple dance shots are perfect for wedding portraits! These poses help to showcase your personality as a couple (e.g. flirty, playful, formal, passionate) while feeling natural and interactive in your environment. Dancing is also versatile for both bride/groom couples and bride/bride couples (for example, one partner can spin the other or both can spin for each other).
PC: Ben Gumeringer Photography
If the motion of the groom reaching up and over to hold the bride's hand to twirl feels awkward (for instance, your heights aren't super conducive), try holding hands at waist level and have the bride twirl into the groom's embrace. (This also works well for bride/bride couples.)
Picturing a glam and formal wedding photo gallery? Dance around in a sparkly and sophisticated style like Allen by Sottero and Midgley to play up the classic romance!
Romantic Wedding Photography Poses: Groom Holding Bride and Kissing Her
Time to go full PDA mode with wedding poses for hugging, kissing, spooning, and overall cutesy fabulousness! Ask your wedding photographer to set up shots where the groom picks up the bride while kissing her. You'll have to try a few times to make it feel balanced and natural. However, the final shot makes for a sweet, caring, and romantic couples portrait.
PC: Rachel Laxton Photography
For a glam and girly bridal look, consider Mallory Dawn by Maggie Sottero. This long-sleeved princess wedding dress is the perfect balance of timeless tailoring and captivating embellishments.
Idea for Wedding Poses: A Classic Kiss with a Dramatic Backdrop
Let your views do the talking (and you do the kissing) with a gorgeous shot of you and your sweetheart in front of an ocean, canyon, forest, or cityscape. This portrait pose is especially magical for outdoor, destination, and elopement weddings. You can really choose anywhere where you can play with light, horizon, detail, and depth of field.
PC: Hailey Lauren Photography
Dramatic backdrop portraits also tend to be more interesting and personable for your guests. The Grand Canyon has a "wide" appeal, if you'll indulge our pun, so be sure to leverage dramatic backdrop portraits for your reception décor and post-wedding items.
Backdrop portraits are also a stylish and versatile choice for bride/bride couples culling wedding photography poses that don't look overly gendered or traditional. This portrait aesthetic is timeless, elegant, and perfectly romantic!
Looking for a dreamy and vintage-inspired bridal dress to stand out in an extraordinary wedding locale? Charlene by Maggie Sottero is one of our top shimmery-chic designs—perfectly light and packable for your jet-set to happily-ever-after!
Couple Poses Featuring an Embrace or Hug from the Back
Poses that feature a spoon-from-the-back hug are super versatile for bride/groom and bride/bride couples, as all the variations of partner positioning can be distinctive yet interchangeable. A groom holding his bride from the back is sweet and comforting, while a bride holding her groom from behind appears tender and romantic.
PC: Love to the Core Photography
Picture it like this: the bride is in focus, leaning her head against the groom's back and looking at the camera, while the groom looks off in the distance. If the groom holds the bride from behind and he is taller, make sure his arms are over hers, not under. Otherwise, her arms can get scrunched up at awkward angles—not a flattering look.
For bride/bride couples, an embrace from behind looks especially chic and charming if the bride in front has her head turned back slightly to smile and chat—like the couple is sharing a sweet secret. Magic!
Love this feminine and enchanting wedding dress style? Head to an Authorized Retailer to try on Tuscany Lynette and get to know our other Tuscany variations from Maggie Sottero!
Face to Face Wedding Photography Pose Ideas
The romantic couples embrace is a wedding portrait classic! Use this face-to-face contact to flirt with each other, tell a few jokes, kiss, and play with each other's hair and accessories to make your portraits sweet and natural. A good bridal photographer should be able to stage these flattering shots without making your dynamic look forced or flat.
PC: Mint Photography
A close embrace is also perfect material for golden hour, as the sunny backlighting helps to create a gorgeous silhouette and halo effect between you and your sweetheart. This lace and illusion wedding gown, Winifred by Sottero and Midgley, is ready for a chic, elegant, and dreamy closeup!
Fun Wedding Photography Pose Ideas: Pose with Doggos!
Give your wedding gallery a dose of serotonin with these sweet shots with your favorite furry friends. Calm, seated dogs are best for layout and posing, while bowties and florals help to accessorize and cute-ify. Because remember—puppies make everything more magical!
PC: Dylan Furino
Love this bride's modest yet flattering fit-and-flare wedding dress? Victoria Anne is ideal for a chic, breezy, and summery wedding aesthetic (with or without doggos. But let's be honest, hopefully with doggos)!
Ideas for Wedding Photos: Candid Laughter
PC: Apollo Fotografie
Natural (or at least natural-looking) laughter is key to a beautiful couples gallery, so unless you're going for stone-cold gothic-chic formal portrait vibes, you really, really want to find a wedding photographer who makes you smile. Before your photo session, think about a few inside jokes that will make your partner laugh; your photographer will likely prompt you to get close and chatty to help capture that candid gold!
If you're crushing on this bride's sweet and classic gown aesthetic, check out the Meryl wedding dress variations by Maggie Sottero.
Wedding Poses: Bride Resting Her Head on Groom's Shoulder
Another variation of the hugs-and-kisses poses? A portrait of a bride resting her head on her groom's shoulder makes for a sweet and tender couples vibe. This pose can be used standing up, sitting down, from front and behind, looking at or away from the camera—virtually any way you like it. It's also another versatile option for bride/groom couples or bride/bride couples, as the focus is less on cheesy gender roles and more on creating an intimate moment between partners.
PC: Haley Rae Photography
For a flattering and feminine princess vibe, opt for Taylor Lynette by Maggie Sottero. It's fit, tailored, and beaded to perfection!
Dip Kiss Wedding Photography Ideas
Your wedding photo gallery is signed, sealed, and delivered with a dip kiss! This couples' pose might take a few attempts to look natural, but you'll be head-over-heels for the results!
PC: Kelsey Christian Photography
Don't neglect the dip kiss for bride/bride couples. Lean into each other naturally, hands at each other's waists or in a slow-dance-style embrace, and you're good to go!
This bride is wearing Dakota by Sottero and Midgley for this dip kiss shot. It's chic, sophisticated, and a luxury to behold!
Ready to book your dreamiest wedding photography sesh? With these top 10 wedding poses, you've got this in the bag. We've compiled a rundown of wedding photography styles to help you choose a professional who matches your vision and personality. We've also included wedding gowns that look great in photos to give your gallery that extra boost of couture. And after the big day is over, don't forget to share your wedding dress review and images with brides-to-be on our website. Cheers!