Tips and Trends
|
July 8, 2021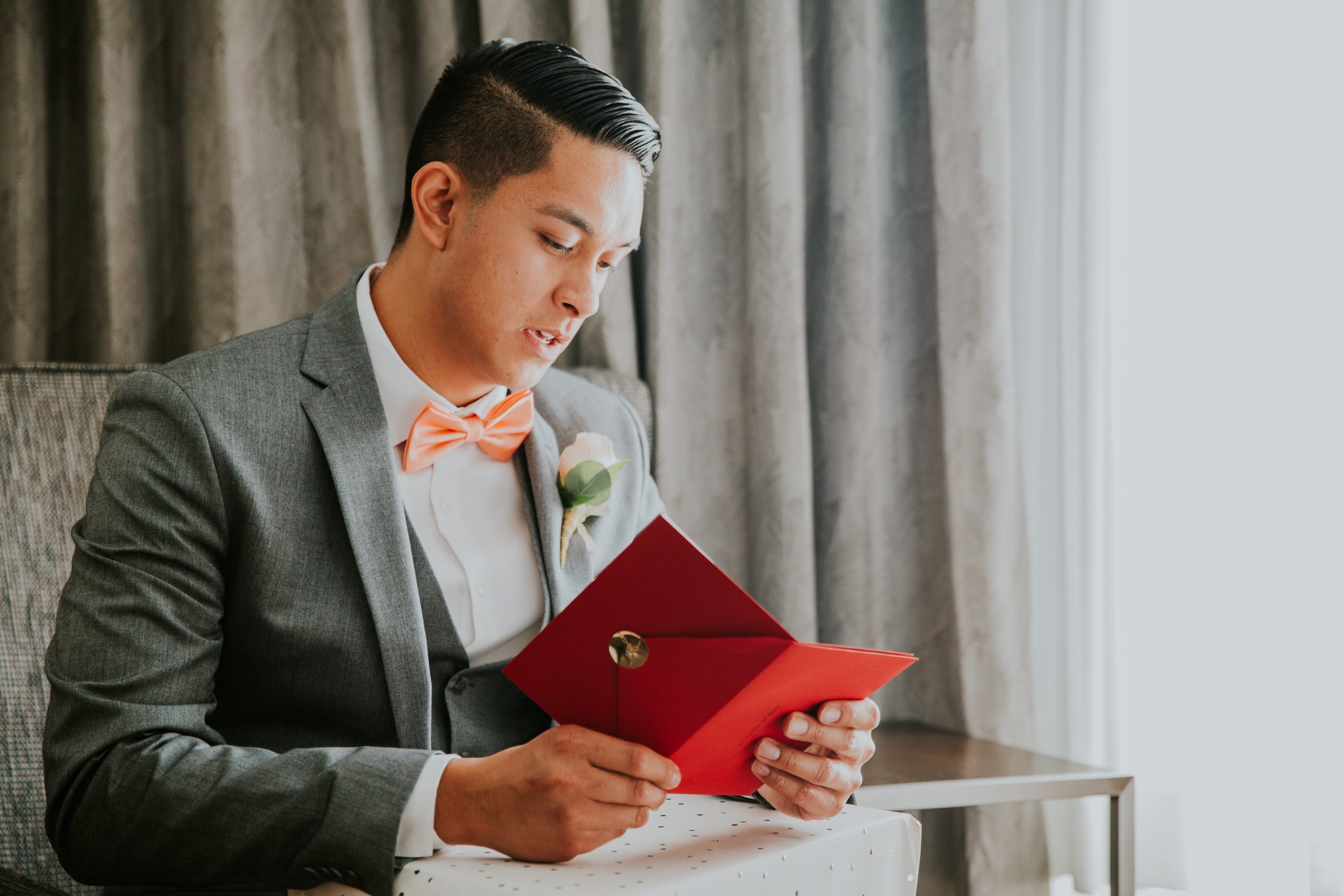 Okay, so we'll be the first to admit there's no need to add pressure to your wedding day, especially when it comes to "pleasing" your significant other. That being said, a small pre-ceremony gift exchange can be super fun and relaxing for couples, especially if they set some parameters (e.g. budget and timeline) in the weeks before. To help you simplify your search for personalized, thoughtful, and easy-to-order mementoes, we've curated 15 of our favorite wedding gift ideas for grooms below!
(Psst… many of these "groom gifts" are perfect for women as well! You can still save this page for inspo if your spouse-to-be is actually a bride—especially if she's wearing a suit and tie for your ceremony or simply has great taste for no-fuss items like wallets and flasks. Check it out!)
Meaningful Groom Gift Idea: Custom Photo Tie Patch
Looking for a simple yet thoughtful gift for your groom? Check out this tie idea from Etsy! This seller offers custom photo patches sewn to the back of special-occasion ties (they come in a great range of colors and patterns), as a sweet and personalized gift to your groom. You might commission a photo of the two of you, your child together, a beloved pet, or a beautiful landscape or your favorite place as a couple—whatever feels like magic to you and yours.
(This photo patch tie would also make a lovely gift for your dad, father-in-law, or siblings! Check out the customer reviews for more ideas and inspiration.)
Personalized Watch Gift for Groom
If your groom loves stylish yet practical gifts, consider engraving an item he'll actually use! This elegant watch has a striking yet minimalist design, perfect for having it engraved with a short quote on its back and the box.
Check out all the glowing reviews if you're not convinced; these brides are loving the quality, price, and personalization options.
Wedding Gift Ideas for Groom and Groomsmen: Personalized Flask
A flask makes a fabulous groom's gift, but it also works for the whole wedding party! This personalized piece is something your soon-to-be-hubby will use again and again (think picnics, parties, and camping) and think of you every time.
Your groomsmen (and bridesmaids!) would love these flask gifts as well; they're sweet and personalized without being too cheesy or overtly wedding-themed. Win-win!
Gift Idea for a Musical Groom: Hand-Stamped Guitar Pick
If your groom plays guitar and has an eye for detail, he'll love this hand-stamped pick. It's made from a high-quality nickel silver or copper and (according to reviews) looks just like the photos. It's stamped with the phrase "I pick you for the rest of my life" along with your unique wedding date—a simple yet sweet sentiment for your best day ever!
(This memento would also look lovely mounted in a frame or shadow box, especially if your groom has a studio or office to display it in.)
Cute Wedding Gift for Groom: Modern Map Art
Are you a couple that likes to keep track of important dates and places? Do you have a fabulous gallery wall somewhere in your house? If so, you'll love this personalized map featuring three big milestones for you and your sweetheart: where you met, where you got engaged, and where you're getting married.
This gift is perfect for brides or grooms and looks especially beautiful in a frame—a sweet and stylish piece for an office, bedroom, or foyer.
Funny Gifts for Grooms: Personalized "Property Of" Underwear
If your groom has a great sense of humor, consider boxing him up a personalized set of briefs and socks like these. They're soft and comfy and make a fabulous gift idea for cheeky couples!
"Property of" briefs would also be super cute to give to your groom on your honeymoon. The photos alone would be SO worth waiting for!
Affordable Gift Idea for Groom: "Cold Feet" Socks
If you're looking for a sweet gift that doesn't cost too much, check out these "cold feet" socks on Etsy! This would make a lovely surprise for a groom before the ceremony (especially if he has a good sense of humor about everyone's pre-wedding nerves).
The reviews have great stuff to report. The socks are soft and high-quality, grooms seem to love them, and you get a great proofing option before delivery. Love it!
Useful Gift for Groom: Engraved Wallet
Another practical yet thoughtful gift we're loving is this personalized leather wallet! It's surprising how rarely men buy themselves a new accessory, so why not treat them to a piece that's stylish and unique? This leather wallet has tons of 5-star reviews on Etsy.
It's made of soft, high-quality leather and designed to age well, and you can choose what and where to engrave to make it totally yours!
Engraved Gift: Metal Pocket Comb
Looking for a gift that will last years? Shop this fine-toothed comb engraved with your fiancé's initials. This piece is made to last with high-quality, durable titanium and an elegant minimalist design. It may just end up being an heirloom to pass on to your kids!
Wedding Gifts for Groom from Bride: Handwritten "Open When…" Letters
Whether or not you want to exchange formal gifts with your groom on your wedding day, you're probably planning to write a sweet note (or two) for him to read at your "First Look" or in private before walking down the aisle. If so, you'll love this handmade stationery package.
These "Open When…" letters are a gift that keeps on giving, especially if your groom is the type that saves mementoes for when he's feeling sweet or sentimental. The best part is you don't have to stick to set "Open When…" prompts; you can order them with your own personalized phrases in whatever count you need.
Gift Idea for Groom with Beard: Scotch Porter Beard Collection
Does your fiancé happen to have fantastic facial hair? For a luxurious groom gift that benefits you as well, consider this high-end collection of beard wash and conditioning treatments. Your new hubby will love the excuse to pamper himself; you'll love his soft and healthy follicles—what's not to love?
Engraved Personalized Tie Bar
Another simple yet distinctive gift idea is this groom's tie bar engraved with the script "Meet me at the altar." This item comes in seven classic color and finish combos and, according to the reviews, looks just like the pictures advertised.
Personalize your tie bar with a heart symbol and your name, or shop any of the seller's other listings for an array of products, text customizations, and styles. So sweet and stylish!
Wedding Gift Ideas for Groom from Bride: "To My Husband" Card
A handwritten letter is a simple yet timeless way to mark your occasion, so why not write it on personalized stationery? This Etsy envelope features a "To My Husband" script in your choice of color—a small investment that totally elevates your sentiment. (This vendor also sells stationery options for other members of your wedding party; check them out for your parents, parents-in-law, bridesmaids, and maid of honor!)
Not sure what to write in handwritten letters to your significant other? When in doubt, keep it simple, light, and sweet. There's no pressure to wax Shakespearean; your groom will love the gesture regardless.
Personalized Wedding Ring Box Gift
There are plenty of personalize-able options to shop for your wedding day, but only a few that you'll want to make into lifelong keepsakes! Cue one of our favorite "name" items: This stylish couples' ring box featuring you and your fiancé's names and wedding date.
This product has tons of rave reviews highlighting the features on Etsy: You can choose from several monogram styles; it looks great in photos; and you'll love to have it on display in your home or vanity. Gorgeous!
Unique Wedding Gift Ideas for Groom: DIY Scrapbook
Take up the lost art of scrapbooking with this impeccably designed and endlessly customizable wedding album! This chic book features prompts, pockets, and interactive add-ons to record all the details from your best day ever. We especially love the little envelopes to store mementoes and corner squares to hold your photos. You might just be inspired to keep purchasing new ones and build a full collection of memories on your bookshelf.
Found some wedding gift ideas for grooms that you're loving? We can't wait for you to share all the pretty details on our Real Brides gallery page after the big day! In the meantime, if you're on a groom-and-groomsmen wavelength for planning your wedding, be sure to check out these 2021 trends for suits and accessories, from relaxed and unbuttoned to luxe and flashy.
We've also put together four "traditional" rules you have every right to break on your wedding day, from seeing each other before the ceremony (a perfect moment to exchange your gifts!) to choosing your bridal party. As always, happy planning!