Tips and Trends
|
September 16, 2017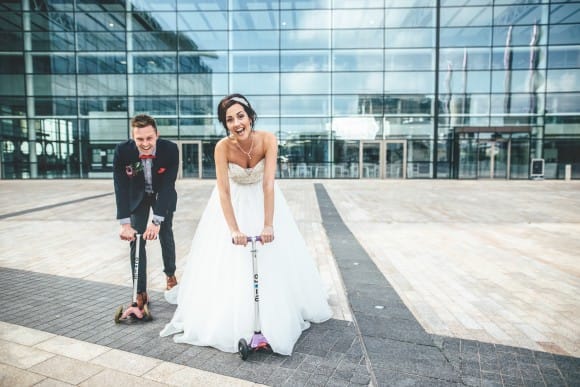 Most brides prioritize professional photography in their wedding budgets, and we don't blame them. It's much easier to "live in the moment" when an expert is capturing the essence of your love story in the meantime. Ready to shop for the perfect photographer? We've outlined some basic tips on Finding the right wedding photography style for you:
Finding the Right Wedding Photography Style To Fit Your Unique Bridal Vision
Digital vs. Film
📷: S6 Photography
The advantages of digital film aren't surprising: quick turnaround, easy online packaging and access, and technological advances in features and effects. You get plenty of images to choose from when compiling your album, and it's easy to edit, post, and share the gallery for friends and family members. That being said, plenty of modern couples opt for the clarity and ambience of film. It's more expensive and time-consuming, but you'll end up with a batch of unparalleled keepsake images.
Classic vs. Edgy/Artistic
Just like a white wedding, classic photography is timeless and elegant. A little formality and direction, and you'll end up with a gallery that looks anything but pedestrian. That being said, many couples get along with more experimental photographers, the kind who tell a story through special, unique moments based on lighting, environment, clothing, and personalities.
Theatrical vs. Understated
Dramatic photos call for motion, high-contrast lighting, well-curated props, and a little cooperation between photographer and subject. That backlit shot of you and your sweetheart in a snowstorm? It's not as candid as it might appear. That gorgeous portrait of you in your windswept veil? It takes a little choreography. But if fabulous drama is the name of the game, choose a photographer with point of view and ambition. If an Oscar-worthy performance isn't your style, go for understated stills with an authentic air. Simple and subtle images will never look cheesy or dated.
Posed vs. Lifestyle/Documentary
You've seen them all: groomsmen sock shots, the dip-kiss, the line of bridesmaids and bouquets ascending a staircase… posed photos are stock wedding material because they get the job done! Alternatively, many photographers like when guests don't realize they're being photographed, relying instead on intimate spaces, natural expressions, and visual textures to heighten the emotion of a moment. As a result, images are usually more poignant and serendipitous.
Key Takeaway: Hire A Professional Photographer
Finding the right wedding photography style for you is a personal decision, but talented photographers will strike a balance between orchestrated and candid shots; You don't want your wedding party to look like a line of mannequins, but you don't want a bumbling mess either. Clarity of vision and oversight is key, so be sure to communicate this to whomever you hire.

Keep the inspiration rolling (pun intended!) with our guide to choosing the right wedding videographer here.