Tips and Trends
|
November 10, 2020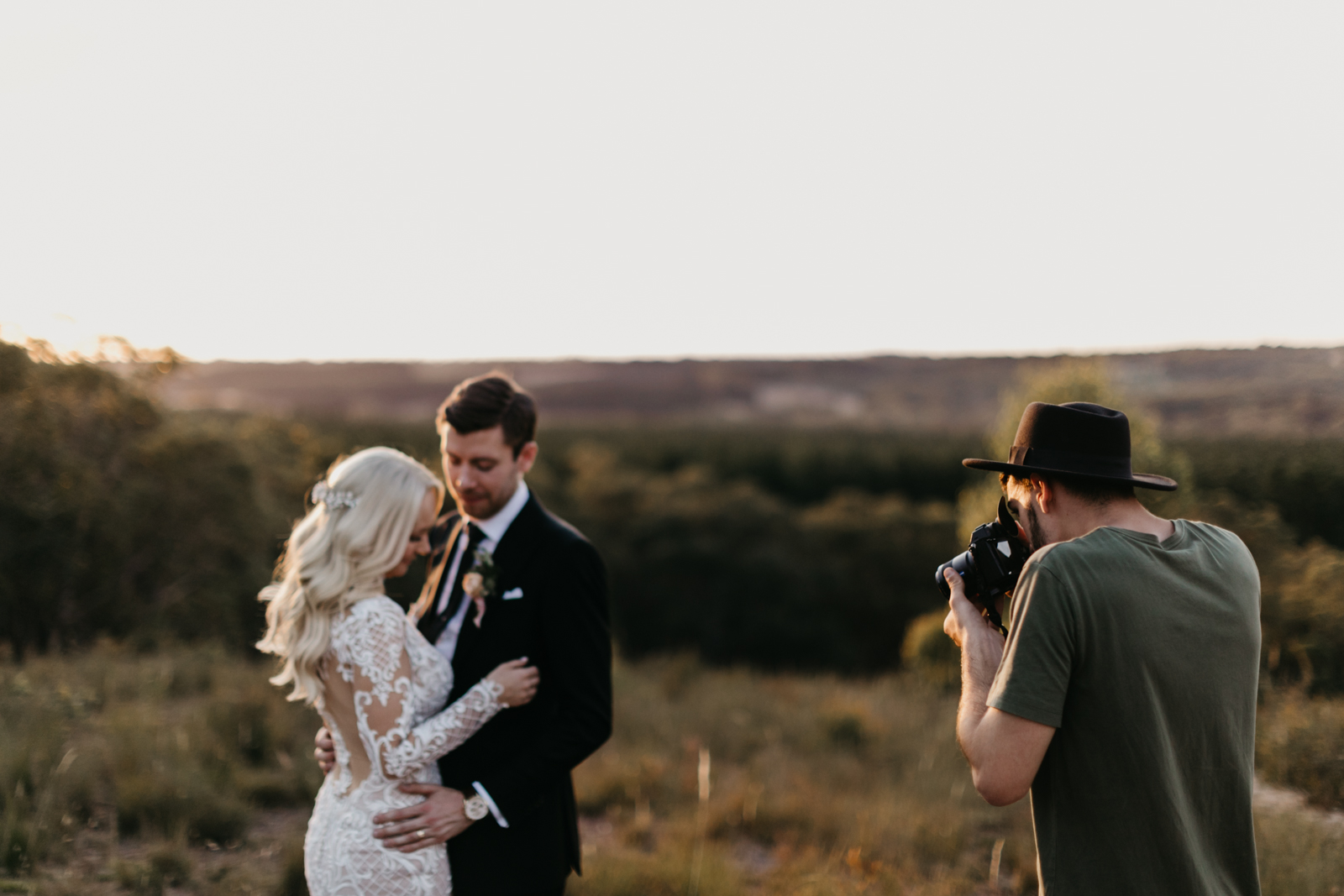 Most couples prioritize professional photography in their wedding budget wish-lists, and why the heck not? It's so, so much easier to enjoy the chic-stylish-fabulous celebration you've been planning for 6+ months when you know a professional is there to document all the pretty details! If you're wondering how to choose a wedding photographer to match your vision, now's your chance to dive into photo vendor basics—from getting to know wedding photography styles to researching local availability and recommendations, setting a budget to interviewing your candidates. With a little prep and vision, you'll find the perfect vendor match for your best day ever!
First things first, what's the best way to fit photography style into your overall wedding personality? Take our Find Your Style quiz to help build out details like venue vision, color palettes, and wedding dress favorites. Then use your results as a starting point for your choosing your wedding photography style!
For example, a classic wedding vision may call for timeless and formal portraiture, while your plans for a nontraditional bridal gown or edgy color palette are sure to complement an artistic film style. Check out more tips below!
The Basics: Get to Know Your Wedding Photography Styles
PC: Seedling Photography; Dress: Evangelina by Maggie Sottero
As you research and decide on a photographer, it's important to know how to choose a wedding photographer based on style, be it classic and formal to edgy and dramatic and everything in between.
Review these basic photography distinctions, asking potential wedding photographers to describe their style and influences as you interview. Here are some terms to bring to your first meeting:
Digital vs. Film.
PC: Kelsey Christian Photography; Wedding Dress: Dakota by Sottero and Midgley
Digital photography is most common nowadays, and there's good reason! This medium offers quick turnaround, easy online access and shareability, and an array of features and effects to create a unique photo package.
PC: Sarah and Paul Photography; Wedding Dress: Hope by Rebecca Ingram
But tech advances aside, plenty of modern couples are opting for the clarity and ambience of film—a chic and one-of-a-kind alternative to standard digital. Film photography can be a tad pricier than digital, but the resulting images can be exquisite!
Classic vs. Contemporary and Artistic Styles
PC: Rachel Laxton Photography; Wedding Dress: Mallory Dawn by Maggie Sottero
While most wedding photography styles follow a time-honored recipe (the formal portrait session, the family group shots, the candid reception gallery—all timeless and flattering ways to capture the joy and energy of your occasion), there's a ton of unique options for modern couples looking for a distinctive update to the classics.
PC: Jillian Okeef; Wedding Dress: Narissa by Sottero and Midgley
If you're leaning more toward the nontraditional end of the style spectrum, look for professional photographers who describe themselves as "creative," "customized," or "out of the box." These vendors are more equipped to change up formulas for a truly memorable experience.
Dramatic vs. Understated
Love the idea of a backlit shot of you and your sweetheart in a snowstorm? Hoping for a gorgeous portrait of you in a windswept veil? Shop around for wedding photographers who can show you consistent and high-impact shots across multiple seasons, venue conditions, and couples' personalities.
PC: Chantel Marie Photography; Wedding Dress: Deirdre by Maggie Sottero
Any photographer can highlight one or two beautifully orchestrated and high-drama portraits on their website, but a complete wedding gallery of "wow" moments will take a bit more production and point of view.
PC: Brianna Broyles; Wedding Dress: Charlene by Maggie Sottero
If a Hollywood-worthy photo session isn't your jam, look for understated wedding photography styles with an easy and authentic air. A gallery of sweet and subtle bridal portraits can be truly timeless, free of cheesy props and dated poses, and a joy to look back on for decades to come.
Airy vs. Moody.
PC: Alexandra Robyn Photography; Wedding Dress: Stevie by Maggie Sottero
Scrolling through wedding photography styles, you may notice a contrast between galleries that feel light and delicate vs. galleries with dark and saturated palettes. You may opt for these "airy" aesthetics to complement a spring season or watercolor palette.
PC: Francesca Hill Photography; Wedding Dress: Zander by Sottero and Midgley
Or indulge in "moody" exposures to play up a holiday-themed wedding date or romantic party details. Trust your instincts and consider your venue and season—both styles are gorgeous in their own right!
Posed vs. Documentary and Lifestyle Shots.
PC: Chantel Marie Photography; Wedding Dress: Deirdre by Maggie Sottero
You're familiar with popular wedding photography poses: the groomsmen sock shots, the dip-kiss, the line of bridesmaids and bouquets ascending a staircase… these purposefully orchestrated photos are stock wedding material because they get the job done!
PC: Lindsey White Photography; Wedding Dress: Burke by Maggie Sottero
On the other hand, as an alternative to posed sessions, lifestyle and documentary wedding photographers offer natural, of-the-moment images of people, details, and settings. How to choose a wedding photographer with this style? Look for galleries with subjects that appear like they're not being photographed.
In these, the documentary-style photographer works to interact with intimate spaces, natural expressions, and visual textures (rather than fixed poses) to heighten the emotion of a moment.
How to Choose a Wedding Photographer through Research and Recommendations
PC: Taylor Stuck Photography; Wedding Dress: Sabra by Maggie Sottero
Once you've gotten acquainted with basic wedding photography styles and terms, it's time to search vendors in your area/network. You'll need to interview at least a few photographers to ensure your personalities and timelines sync up before the big day. Here's a list of parameters to check off with each meeting:
What is the photographer's fee?
What is included in the package, such as engagements or bridals?
How many years of experience do they have?
How would they describe their wedding photography style?
Are there additional fees for travel, second photographers, special equipment, and overtime?
Do they have a raincheck, deposit, and/or payment policy?
Does the couple own the images and rights to their gallery?
These questions will help you narrow down costs, scheduling, and logistics for choosing your dream wedding photographer, giving you one less thing to stress about for the big day!
Set a Budget, but Treat Your Wedding Photographer as an Investment
PC: Mint Photography; Wedding Dress: Winifred by Sottero and Midgley
Photography is often a major element in your wedding budget breakdown, regardless of your bottom line. Whether you're planning a relaxed minimony or over-the-top ballroom extravaganza, a great wedding photographer is key to capturing the atmosphere, personality, and details of your most important celebration!
Our final piece of advice for how to choose a wedding photographer? Don't skimp on hiring a professional. While wedding cake disappears and bouquets fade, a gorgeous photo gallery can last forever. And though some bridal portraits appear chic and effortless, delivering that romantic, personalized, and high-quality photo package is no simple task. At the end of the day, why gamble with such an integral part of honoring your love story?
We're so excited to see your fabulous wedding galleries! In the meantime, if you're just engaged and starting your planning journey, check out these 30 Gorgeous Wedding Dresses that Look Great in Photos!
From how to choose a wedding photographer to setting your wedding dress budget, we've got everything you need to kick off your engagement in style!