Wedding Inspo
|
October 28, 2022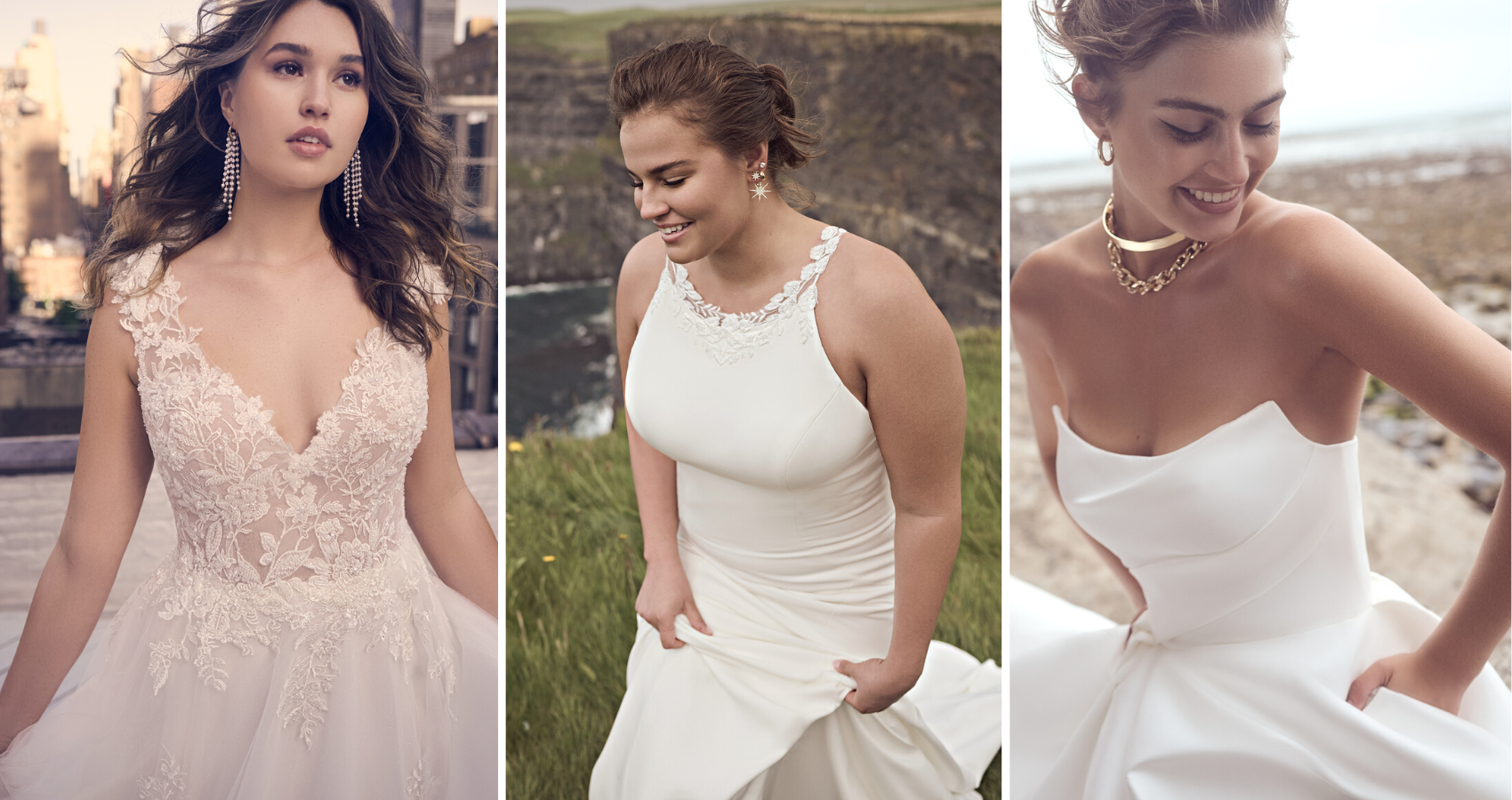 Do you dream of being a Maggie bride from head-to-toe? We totally get it! We know how much you all love the "Maggie look," and we want to share our tips and tricks with you. Keep scrolling to learn about how to become a Maggie bride through our bridal accessories and wedding dresses.
To get a head start on your dream Maggie look, take our Style Quiz below though to find your wedding dress style based on aesthetic, affordability, and must-haves to best match your bridal accessories!
Happy accessorizing, brides!
How We Chose Our Bridal Accessories
A lot of thought goes into picking out the beautiful wedding accessories we use in our photoshoots—that's what makes it so fun! Considering budgets, aesthetics, trends, and of course, supporting small businesses are just a few of the priorities we keep in mind when styling our wedding dresses.
Each collection has an identity and price point – essential details that directed our design team in picking out these beautiful accessories to go with our wedding dresses.
Keep reading to learn more about the unique bridal accessories we chose for each collection, and where you can get them yourself! For more insight, make sure to watch the video below for all the style inspo.
Maggie Sottero Bridal Accessories
"Glam," "on top of the world," and "statement" are the best ways to describe our inspiration behind the wedding and bridal accessories that we paired with our Maggie Sottero wedding dresses!
For our glamorous shoot in the Big Apple for our Spring 2023 collection, we gravitated towards statement earrings that would best compliment the gowns and make your inner bride shine.
The first earrings we picked out were the Pearl Dangle Earrings and Crystal Dangle Earrings from Etsy shop owner JannaConner. Based in Los Angeles, California, each of her designs are inspired by the "vivid colors and multicultural richness of the Californian landscape." In her jewelry, Janna makes sure to use only the highest of quality materials and draws inspiration from the architecture around her! These couldn't have been more perfect accessories for our NYC-inspired wedding dresses Bernadette by Maggie Sottero and Jessica by Maggie Sottero!
Love the pearl core wedding trend like these beautiful earrings? Make sure to read our blog all about this trend and how to style it for your wedding!
Next up are some of the gorgeous bridal accessories from Etsy shop owner XTRAbyStacey. Fringe is all the rage right now, and when you pair it with wedding dresses like Kashlynn by Maggie Sottero and Cameron by Maggie Sottero, elegance is brought to life!
The Long Elegant Gold Pearl Bridal Earrings and the Gold Fringe Statement Bridal Earrings are the perfect wedding and bridal accessories for our Maggie Sottero wedding dresses. With gold accents, opulent pearls, and delicate but striking diamonds, these earrings make a bold statement for our glamorous wedding gowns. Founded in 2018 by Stacey Thomas, her jewelry designs are full of creative expression and confidence. With intricate beadwork and unique shapes, these are sure to make a splash at your wedding!
Next up are the U-Shaped Rhinestone earrings from California-based Etsy shop hffx. This unique Etsy shop carries everything from false nails to silk scarfs, and of course, bridal accessories, like the gorgeous bridal earrings we paired with beaded Nikolina by Maggie Sottero.
These U-Shaped earrings are the perfect bridal accessory for brides who crave a touch of glamour. With a choice of silver or gold, these wedding earrings would fit any bridal look – unique or simple!
Last, but certainly not least, are the C-Shaped earrings from the Etsy shop Saunderzz! Who said glamorous bridal accessories can't fit with your budget-friendly wedding dress look? Listed at $12.90 on their Etsy shop, these beautiful earrings are reminiscent of twinkling stars or bursting suns! They're sure to be a gorgeous addition to any Maggie gown you choose. Just look at how it pairs with the floral A-line beauty Leandra by Maggie Sottero!
Rebecca Ingram Bridal Accessories
Our Rebecca Ingram is full of youthful energy, recent trends, and celestial energy. So, having stars and moons in our bridal accessories for our 2023 collection was a natural choice! In our selection of wedding accessories, we made sure to keep this in mind. We also kept the affordability and boho nature of this brand in mind for brides looking for accessories.
We first chose the North Star Earrings by LisCDeszigns on Etsy. Founded in Dundee, Scotland, Lisa focuses on bohemian styles in her jewelry designs. Made with 24K gold these minimalist celestial earrings are the perfect choice for brides looking to make a subtle statement. While this earring could be paired with any of our gowns, we chose black wedding dress Alexandria by Rebecca Ingram. With its striking black colorway, sparkle, and bishop sleeves, these earrings perfectly complement this gown!
Speaking of gold stars, we loved the Gold Star Headpiece by JeweltoJewel. Is there anything better than a celestial headpiece to pair with your gorgeous wedding dress? Featuring bursting stars, delicate diamonds, and two different metals to choose from—silver and gold—this headpiece would go with any gown you choose! What's our gown suggestion? The dreamy Desia by Rebecca Ingram.
Want some more hairstyle inspiration for how to wear this gorgeous crow? Read our blog to learn more!
Next up are the Star and Moon Drop Earrings by SheSaidTGIF! Designed in sunny California, these celestial bridal earrings are a little bit glam and a little bit boho. They made the perfect accessory to pair with our Rebecca Ingram wedding dresses! In particular, Cassidy by Rebecca Ingram.
Our favorite part of these earrings? The price tag! Coming in at $23.99, these asymmetric earrings are the perfect choice for brides looking to have affordable wedding accessories with a budget-friendly wedding dress.
The Crystal Star Dangle Drop Earrings from KliSa is another one of the affordable bridal wedding accessories that we chose! These subtle starburst earrings are the perfect subtle celestial accessory to pair with your wedding dress. Designed in gold or silver, we can imagine this with any of our wedding gowns. Don't believe us? Take a look at Frida and Harriet by Rebecca Ingram!
Sottero and Midgley Bridal Accessories
Sottero and Midgley is haute couture. It's ornate but approachable. Our inspiration behind the Sottero and Midgley bridal accessories came straight from the runway: Alexander McQueen. Keep scrolling to see some chunky pieces, layered jewelry, and statement designs.
The Gold Waterfall Statement Necklace by CollectionsbyHayley is first on our list. While we paired it with Aspen by Sottero and Midgley, we think it would look great with any of our strapless wedding dresses! This gold-layered necklace is the perfect highlight for a strapless neckline, square, or sweetheart! Whether you're a gold bride or a silver bride, this waterfall necklace is the perfect choice for you!
The Gold Metal Collar Choker by FATISHABOUTIQUE on Etsy is another small business whose designs were a gorgeous addition to our Spring 2023 Sottero and Midgley photoshoot. This subtle choker will add a bit of glam to your wedding dress and work with any style! We personally loved it with white Aspen by Sottero and Midgley and Knox by Sottero and Midgley.
If you're looking to add a little bit of rock 'n' roll to your look, shop at Etsy Shop, CreativeCherryTree. This designer creates bold jewelry for the bold bride! We chose the Stainless Steel Toggle Clasp Choker and Dramatic Antique Silver Drop Earrings for our Bronson and Frost gowns by Sottero and Midgley—something spicy to go with something sweet!
Lastly, we absolutely fell in love with the Large Gold Hoop Earrings by the LIMEANDSALT Etsy Shop. These minimalist couture earrings make the perfect subtle statement addition to any gown but especially Everett by Sottero and Midgley.
Accessorizing can be hard, but not with bridal jewelry and gowns like these! Love the Maggie way of life? Don't forget to follow our TikTok below to win one of our exclusive bridal prizes for our LAST 25 Days of Giveaways!
More Blogs Like This:
10 Wedding Dress Trends In Maggie Sottero's Spring 23 Collection
How to Pick the Perfect Bridal Veil For Your Big Day
How to Style Your Bridal Cape & Jacket To Add An Extra Layer To Your Wedding Look