Wedding Inspo
|
August 26, 2022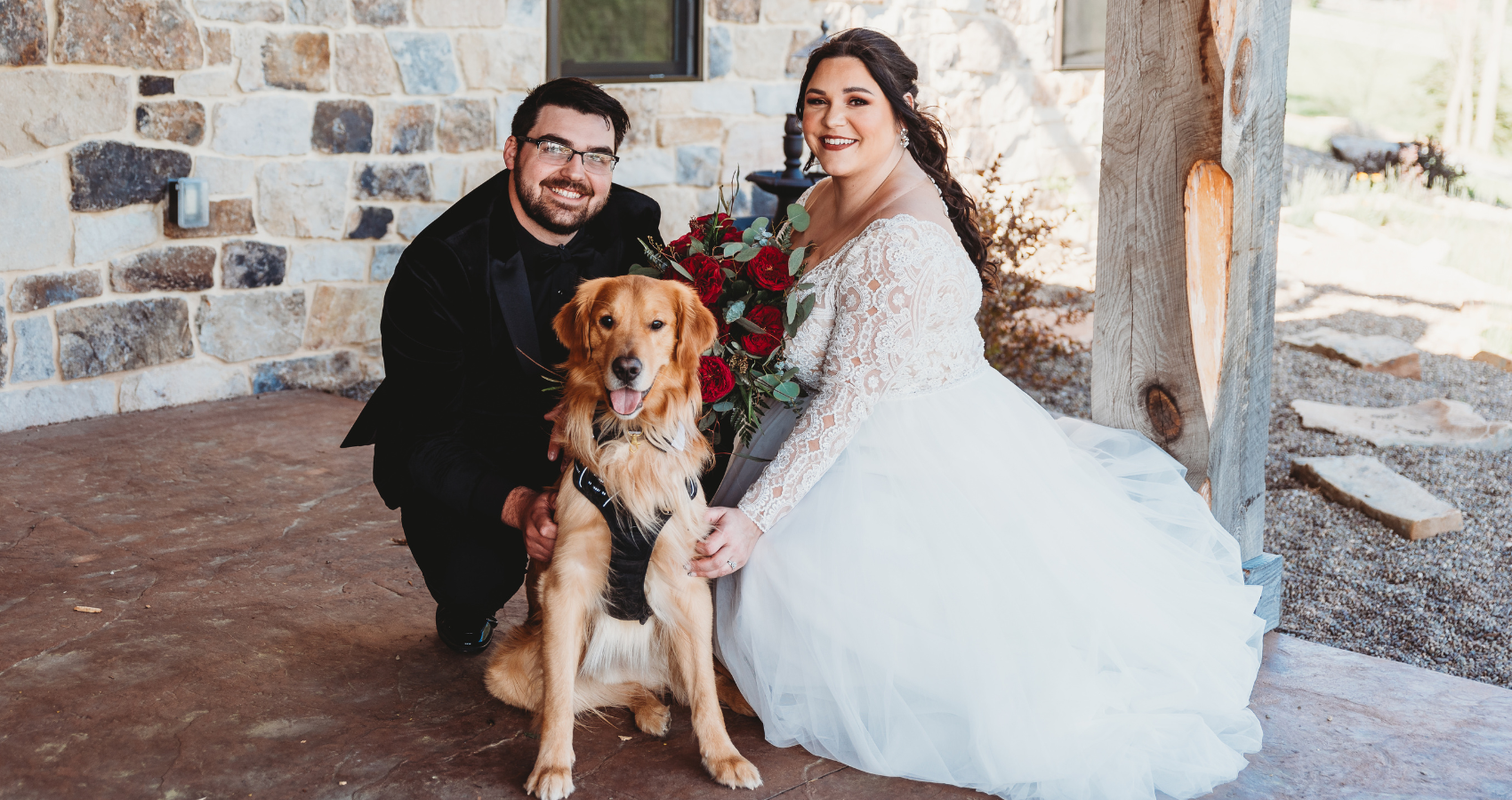 Hi brides! Congratulations on your engagement! You're getting started on an amazing, unforgettable journey, and we're so glad to be part of it! Who else should be part of your big day? Your favorite furry friend, of course! That's where we come in with our favorite dog wedding ideas for your big day!
We love seeing the creative ways brides make their wedding a true reflection of themselves and their love stories, so we're diving into 15 ways to incorporate your pup into your wedding. If you want more tips and tricks, wedding education, and #MaggieInspiration for your big day, make sure to sign up for some exclusive text messages below!
Dog Wedding Ideas: Decorations
Personalized Dog Cake Topper
Who doesn't love cake? We think wedding cake is one of the most delicious desserts out there! One great way to involve your dog in your wedding is through a personalized dog cake topper.
This is a great way to incorporate your furbaby into your wedding day in a subtle and memorable way! If your venue doesn't allow any animals, this allows you to still have them with you and your partner. Also, think of the picture opportunities!
Have Dog Inspired Food
If you're looking for something cute, unique, and delicious, what better way to incorporate your pup than with dog inspired food? Because really, what's a wedding without tasty food?
Incorporate fun, dog-themed snacks and food items into your dog wedding by serving something named or inspired by them! Puppy chow, paw-shaped cookies, or a dog-inspired signature beverage are great ways to go. Anyone in the mood for a Pink Poodle? 😉
Dress Up Your Dog For The Big Day
PC: Reamzonas | PC: Steph Keller Photography
You could even dress your dog up for the big day! Is there anything cuter than an adorable pet in a doggy dress or tuxedo? Look to these amazing dress-up options for your pet:
Just make sure to make them comfortable and cool for your pup so they don't overheat on the big day.
Include Them In The Save The Dates and Table Settings
Other adorable dog wedding decoration ideas are including them in your Save The Dates or table settings! We're picturing a lovely, watercolor print of your pup on stationary, or even cute graphics printed on your wedding day menus.
Looking to be bold? Consider including your dog in your table settings! Whether it's in the form of a pet-shaped napkin holder, dog-themed table numbers, or paws-itively adorable pet-themed napkins, we know it will be loved by all animal lovers at your wedding! Check out these amazing options for pet-themed table settings for your dog wedding!
Psst… Look how amazing these Real Brides are with their dogs! Cute, right?
Dog Wedding Ideas: Include Them in the Wedding
PC: Samantha Harrell Photography | PC: Unknown
There's nothing more adorable than the ring bearer and flower girl at any wedding! But what if instead of a human, you give your sweet, furry friend the opportunity to walk the aisle as the ring bearer or flower girl? Attach the rings to their collar or have them carry a little basket of flower petals down the aisle. We love this idea already!
You could even designate them as your Pup of Honor, include them in your bridal party, and have them walk you down the aisle. We can only imagine how precious wedding photos would be with your dog included!
PC: Kyla Jeanette Photography
If your dog is comfy around lots of people, invite them onto the dance floor. What could be more special than sharing a special moment, surrounded by your favorite people AND your pet? These gorgeous Real Brides knew what to do to include their dogs in their wedding day!
Taking Care Of Your Dog During The Wedding
PC: Marissa Kiney Photography | PC: Megan Kaye Photography
We know some dogs can sometimes feel unsure about new spaces and need time to adjust. One way you can help to make your dog more comfortable during the wedding is to take them to the venue beforehand to make them familiar. Allow them to roam and smell the area so they're accustomed to the venue when your special day arrives!
To make your pup even more comfy during the wedding, be sure to bring all of their essentials: food and water, their bowls, treats, and toys so wedding guests can play with them. Your dog deserves to enjoy your wedding day, and you'll enjoy your special day even more, knowing that they're comfortable.
PC: Wilma Towell Photography
Overall, when it comes to hosting a dog wedding, the health and safety of your pet is always most important! To ensure your pup stays safe and healthy, make sure there aren't any toxic flowers in your bouquet and decorations in case they mistake them for treats. To help keep an eye on your furry friend, make sure there's a designated dog sitter! This way, you can enjoy your wedding day without the stress of worrying over your pup's safety.
Of course, make sure the venue is pet-friendly! You can't have a successful dog wedding without a dog-friendly venue, right?
Love these dog wedding ideas? Be sure to sign up for our newsletter to read more about different wedding traditions in the future! Happy wedding planning!
Green Wedding Ideas Inspired By Earth Day For A Sustainable Celebration
The Ultimate Guide To Choosing Your Wedding Dress Fabric