Dresses
|
August 19, 2023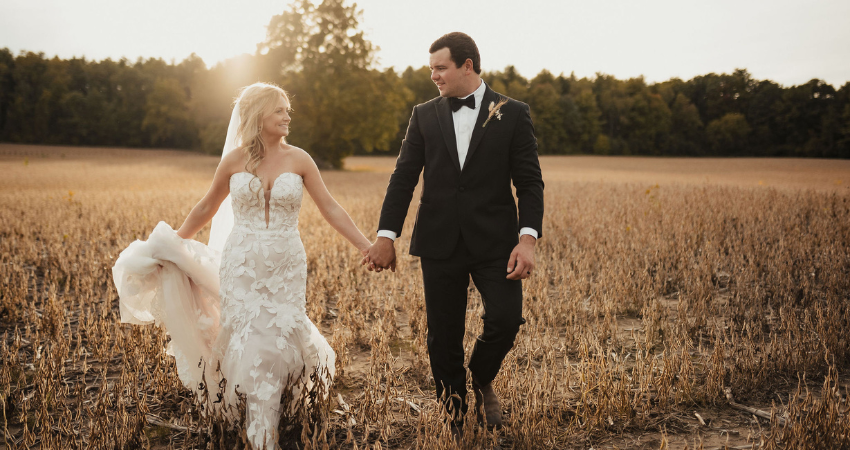 Have your eye on the glamorous strapless wedding dress style for your best day ever? We totally get it. This flattering and feminine silhouette made iconic by Hollywood royalty like Audrey Hepburn and Grace Kelly—is an ultra-romantic way to show off your bodice and décolletage while still looking polished and formal. Keep scrolling for our rundown of trends and styles and click the button below to find one of these styles IRL at one of our Authorized Retailers!
PC: Ralph Deal Photography
Love lace, sparkle, and sexiness? You'll absolutely love Frederique! This elegant sweetheart neckline boasts all-over lace, glitter tulle, and a soft scoop back for elegant sexiness. This Quick Ship strapless wedding dress also has a number of personalizations so you can customize this gown for your love story:
If you're looking for a similar style with added sexiness, make sure to check our Sister Style, Frederique Royale by Maggie Sottero.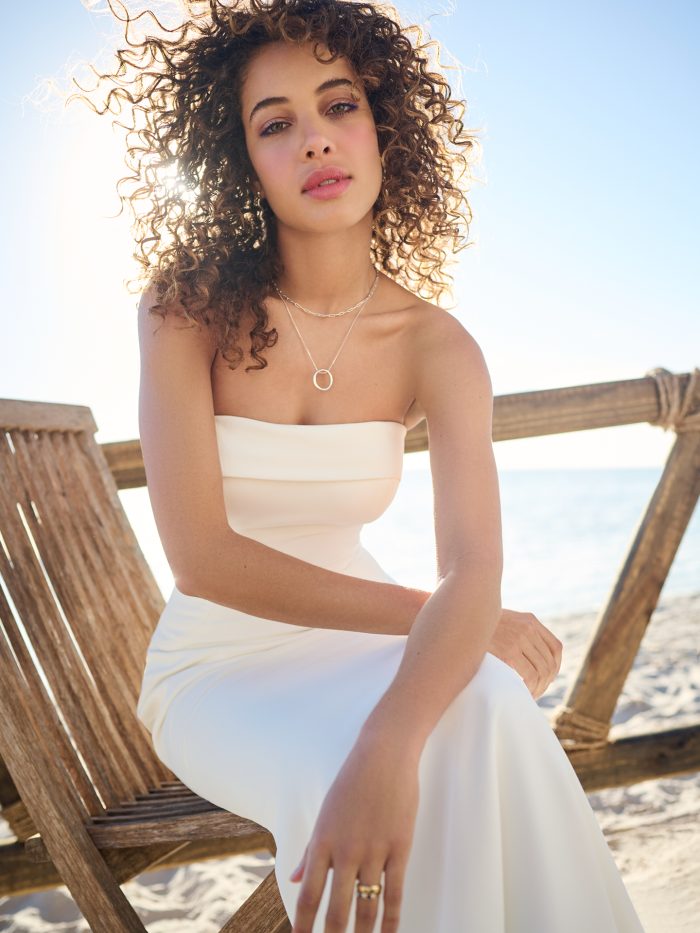 If you're a fan of a simpler style, consider Francine by Rebecca Ingram. It's hard to compete with the chicness of crepe, especially when it features a Y2K-inspired banded cuff along the strapless wedding dress neckline. This feature elevates this classic style by bringing in an element of undeniable trendiness.
Francine isn't the only crepe gown we carry at Maggie though! Read our blog to see more of our favorite crepe wedding dresses.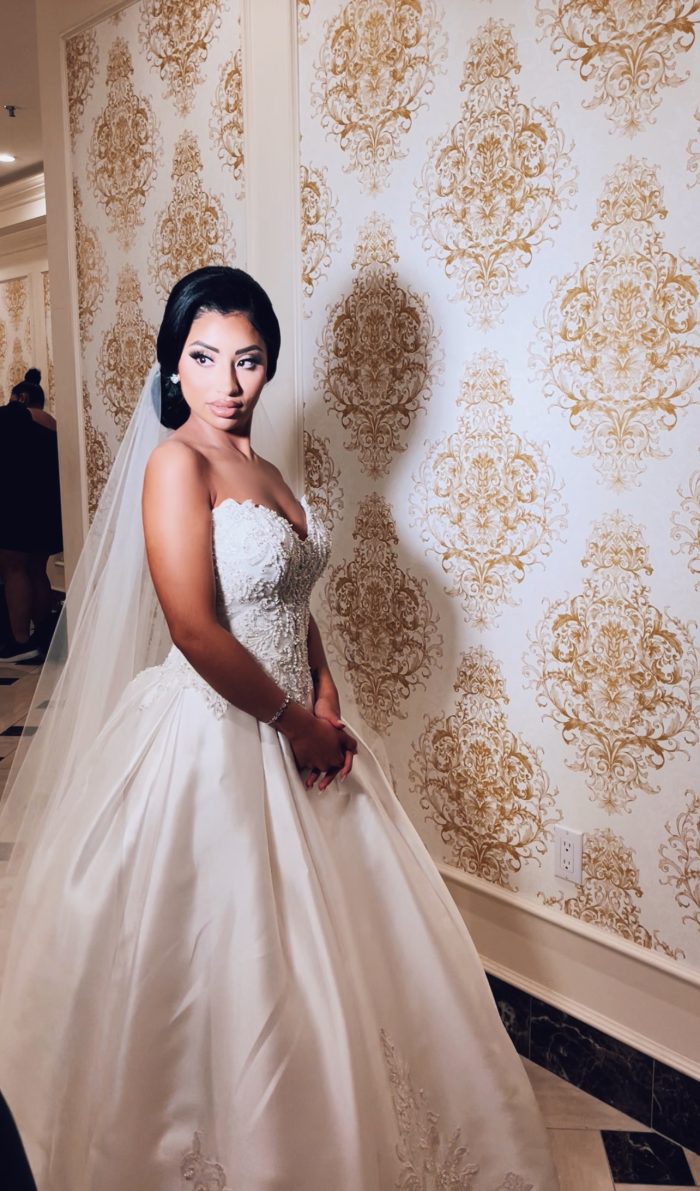 PC: Gricel Photo
There's nothing like a chic strapless neckline paired with a full skirt! Kimora is nothing but glamorous with a fully beaded bodice and billowing satin for the skirt. To top it all off, this princess-inspired gown features a sultry plunging neckline and detachable off-the-shoulder sleeves. The perfect wedding dress to dance the night away!
Psst… If you love a gown fit for royalty, take a look at our blog featuring Disney Princess-inspired wedding dresses!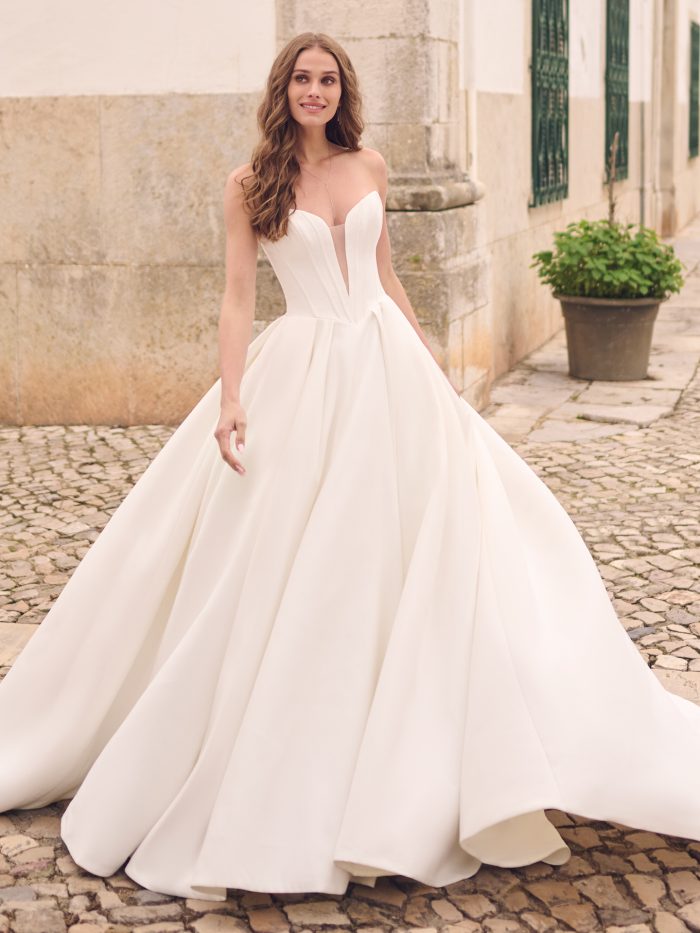 For a simpler take on a glamorous ballgown, consider saying "yes!" to Derrick. From head to toe, this wedding dress is elegant, couture, and trendy. With a plunging neckline, an oh-so-dreamy bodice with exposed boning, and a full skirt, you're sure to fall in love with this gown (we are!).
If you can't get enough of the corset look, make sure to explore our other corset wedding dresses!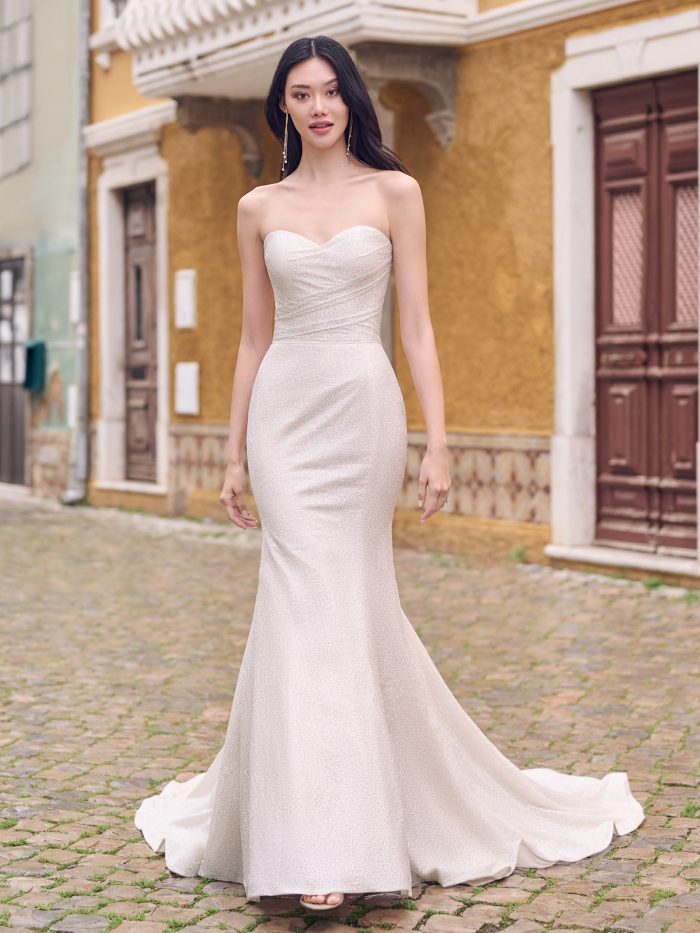 Nothing says glamorous strapless wedding dress quite like Anniston Lane. Sister Style to Anniston by Maggie Sottero, this fit-and-flare bridal gown is in its Fearless era with a golden sparkle, sexy silhouette, and strapless sweetheart neckline. You're sure to feel (and look!) like a star in this glam gown!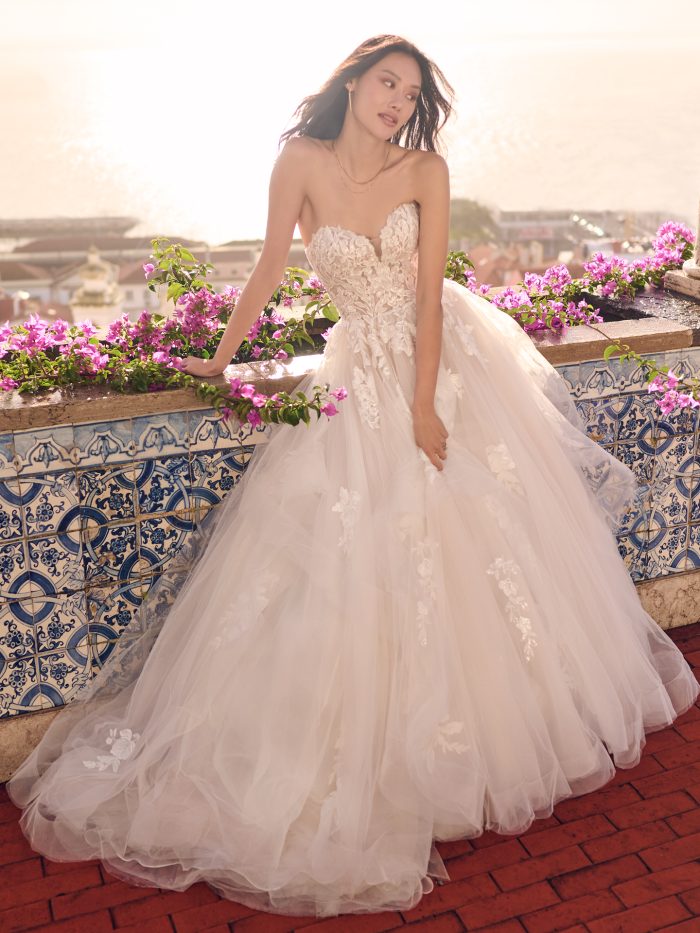 And the best ruffle wedding dress goes to…. Indiana by Maggie Sottero! This dreamy gown is adorned with delicate lace that cascades from the sweetheart neckline to the beautifully crafted ruffled skirt. The strapless design adds an elegant touch, while the lace detailing exudes a timeless charm. Picture yourself gliding down the aisle in this exquisite creation, feeling like a true princess on your special day. Trust us, this dress is the epitome of enchantment and will make your wedding dreams come true!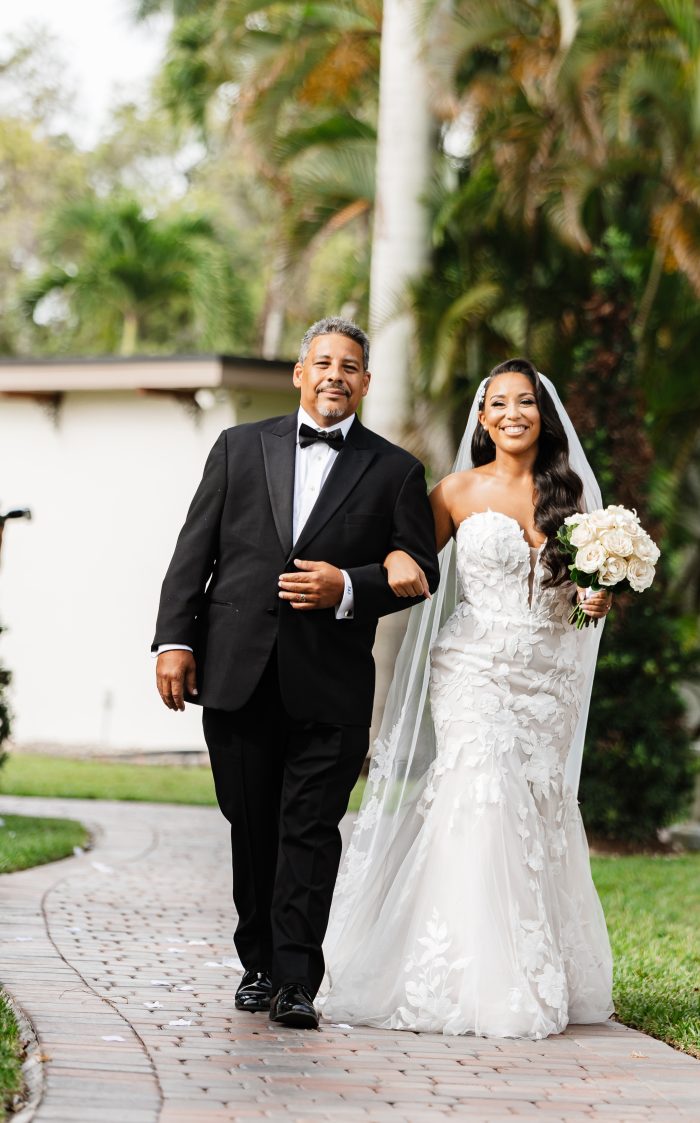 PC: Yes I Do Production
Who said glam can't be boho? If you can't believe it, then take a look at our strapless mermaid wedding dress, Hattie (the first of many variations of this gown!). This bridal gown has everything you'd want in a glamorous wedding dress:
Plunging neckline
Large floral lace
A fitted mermaid silhouette
Buttons going down the back
AKA an ideal dress for any boho-inspired wedding celebration you have in mind for your big day!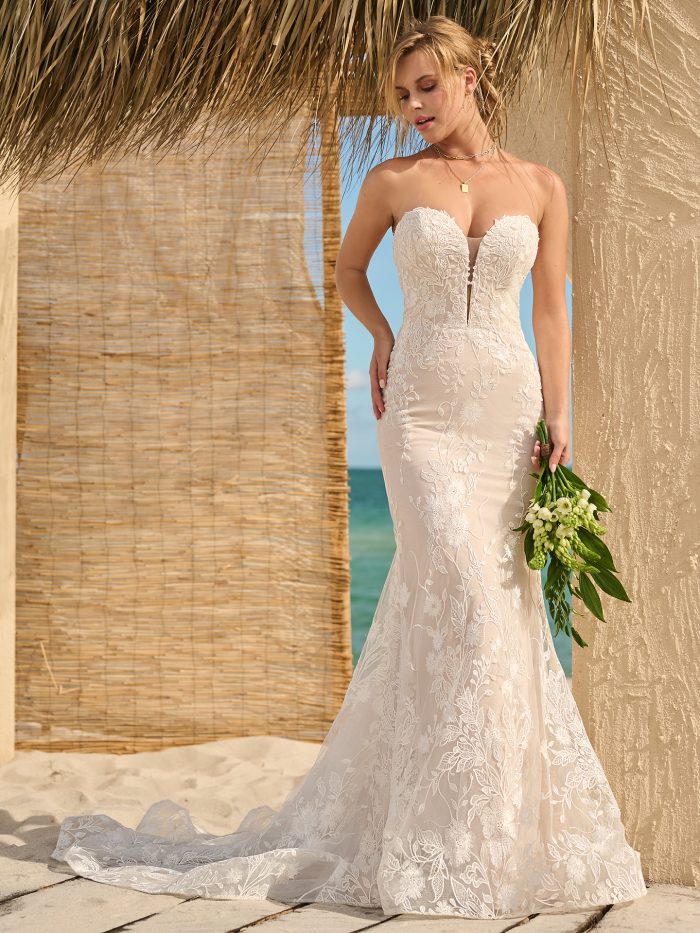 Another strapless Recca Ingram gown that we are head-over-heels for is Nelly by Rebecca Ingram. This shimmering wedding dress might look like a dream, but it could be a reality for your wedding day! Nelly features a romantic sweetheart neckline, tropical floral lace, striking colorway options, and the perfect shimmer to compliment your beach wedding day!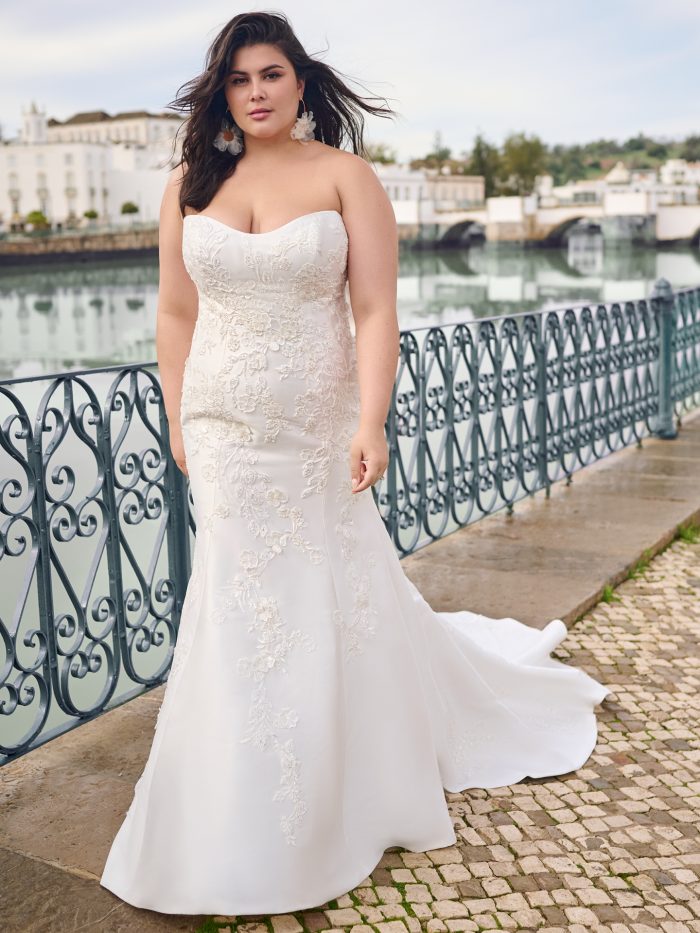 Embrace old Hollywood glamour with our strapless satin mermaid wedding dress. This curve-hugging stunner exudes confidence and sophistication with its unique neckline, showcasing your décolletage. The luxurious satin fabric and intricate beaded details add a touch of opulence, making this dress a true showstopper. Walk down the aisle feeling like a Hollywood starlet, ready to steal the spotlight and leave everyone in awe!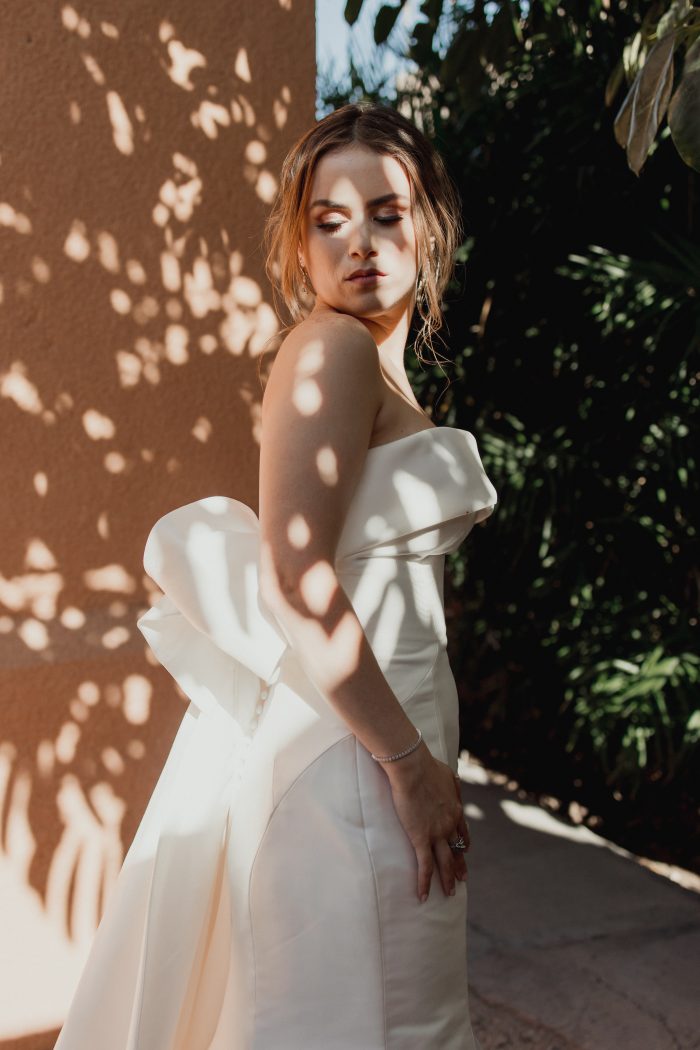 PC: Yazmin Felix
We love a good satin strapless wedding dress, but when you add a bow on the back it takes it to a new level! Introducing: Mitchell by Maggie Sottero. This gown features a smooth satin that hugs your curves flawlessly, creating a breathtaking silhouette that will make heads turn. And the best part? You have the option to switch up your look by simply removing or adding a matching bow!
This versatility adds a touch of whimsy to your special day, giving you the freedom to express your unique style and personality while also honoring your glamorous side. This dress is guaranteed to make you feel radiant, confident, and utterly fabulous throughout your entire wedding celebration!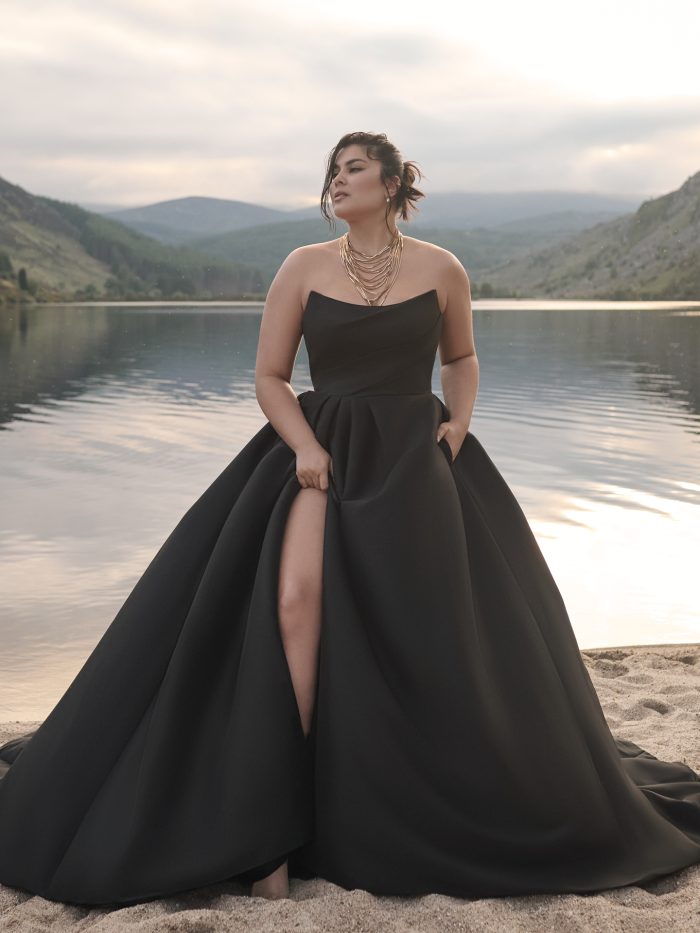 For the fashion-forward bride, Aspen, our modern strapless satin wedding dress is the perfect choice! The clean lines of the fitted bodice effortlessly flow into the crisp and chic ballgown skirt (featuring a thigh-high slit!), creating a sleek and sophisticated silhouette. The simple black satin fabric is accented by a couture cat-eye neckline, adding just the right amount of vogue to your glamorous look. This dress is the epitome of glam, perfect for the bride who wants to make a statement without saying a word.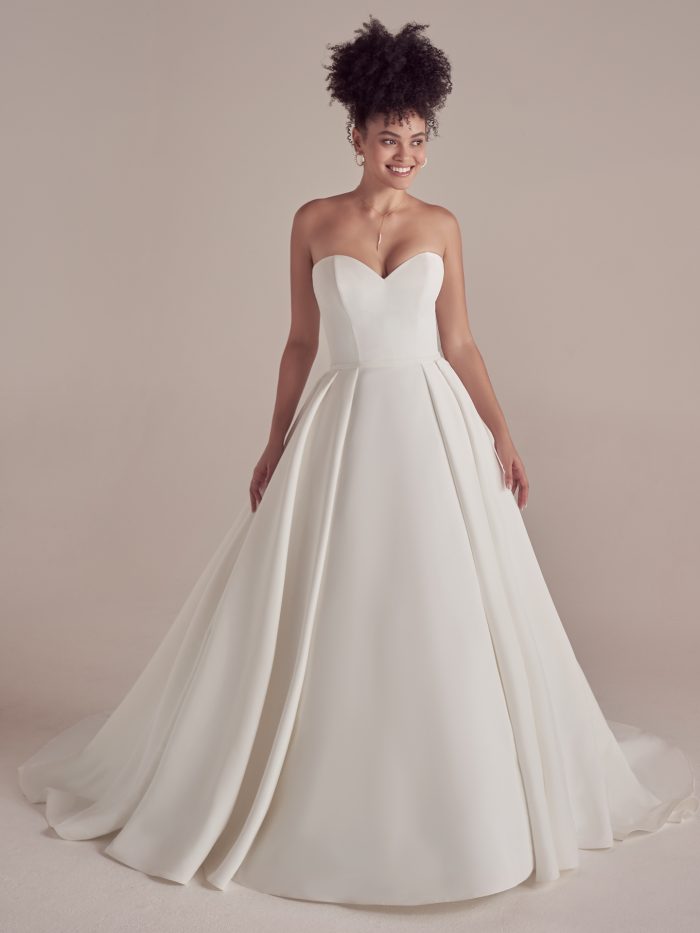 Romantic glamour comes to life in simple ballgown, Kyrie by Maggie Sottero. This strapless wedding dress design complements your shoulders and adds a touch of modern glamor to the classic satin fabric. And who can resist the delightful sweetheart neckline that accentuates your natural beauty and leaves everyone mesmerized. It's a dress that will make you feel like a true princess on your special day, making moments that you'll cherish forever!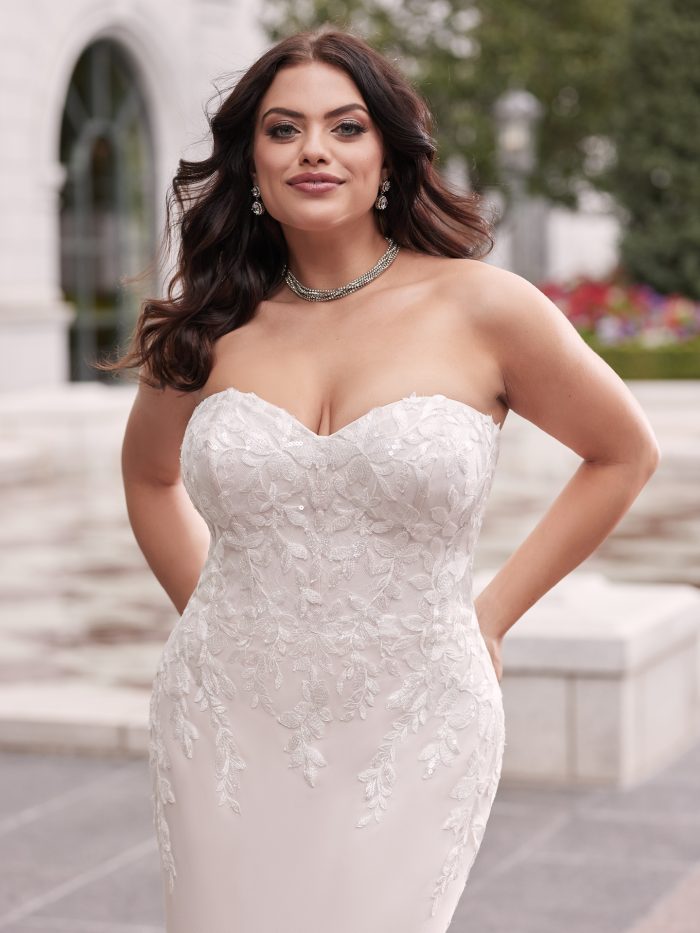 Loving glamour won't hurt your wallet when it comes to the lovely Lily! This strapless mermaid wedding dress with crepe and beaded details is not only comfortable, but will leave your guests envious of your gorgeous gown. With subtle exposed corsetry, a detachable off-the-shoulder sleeve option, and a feminine sweetheart neckline it's sure to be love at first sight with this affordable wedding dress option!
For more affordable bridal looks, make sure to read our blog!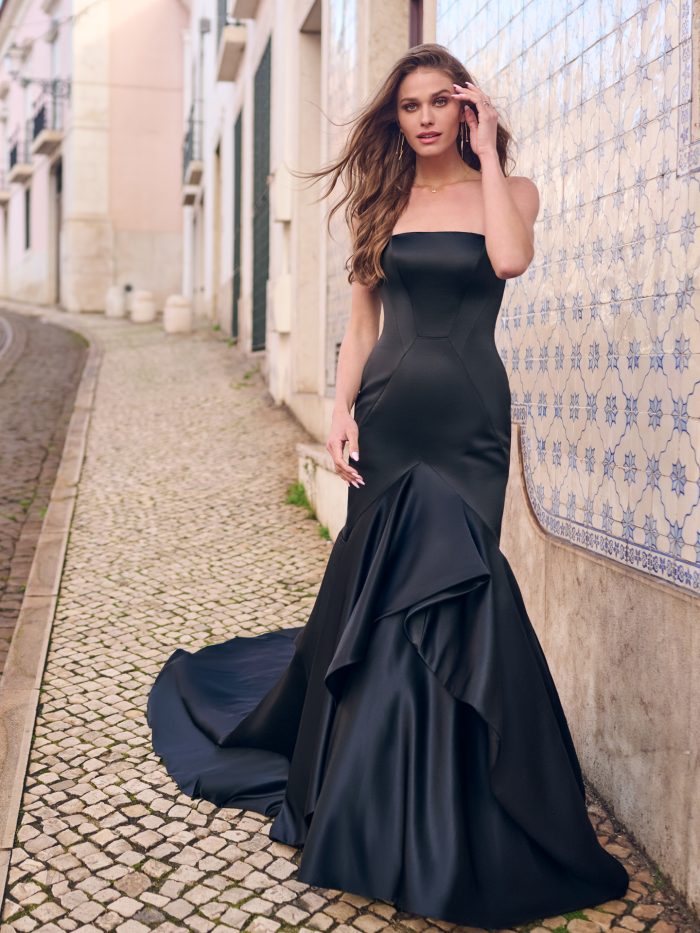 Yes, black wedding dresses are trending, and we couldn't be more excited about it! For all of you who love a good strapless satin wedding dress in a unique colorway, consider adding Taryn to your Pinterest board. This beautiful satin wedding dress not only features a straight neckline and fitted silhouette, but chic and glamorous ruffles down the back for an elegant train.
Look at more black wedding dresses by reading our blog here!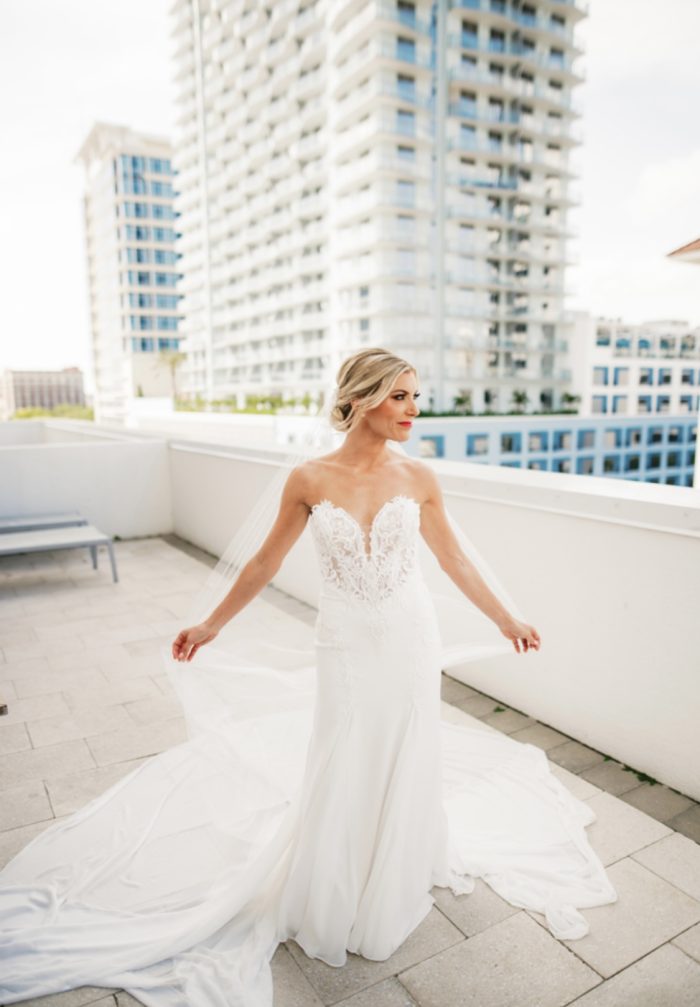 Channel your inner Greek goddess with our strapless draped wedding dress, Giovannette. The flowing, Grecian-inspired silhouette features a lacy bodice that beautifully cascades into an elegant and airy chiffon skirt. The delicate beading and illusion on the sides creates a figure-flattering effect, while the plunging neckline adds a touch of elegance. This dress is perfect for the bride who wants a timeless and effortlessly chic look that will be remembered for years to come!
Love these glamorous strapless wedding dresses and neckline trends? Make sure to head to our social media channels below to see more trendy looks like these!
More Blogs Like This:
20 Quick Delivery Wedding Dresses For The Soon-To-Be Bride
10 Rustic Wedding Dresses & Inspo for a Whimsical Wedding
Finding a Wedding Dress for Your Body Type to Promote Body Positivity