Dresses
Tips and Trends
|
August 8, 2023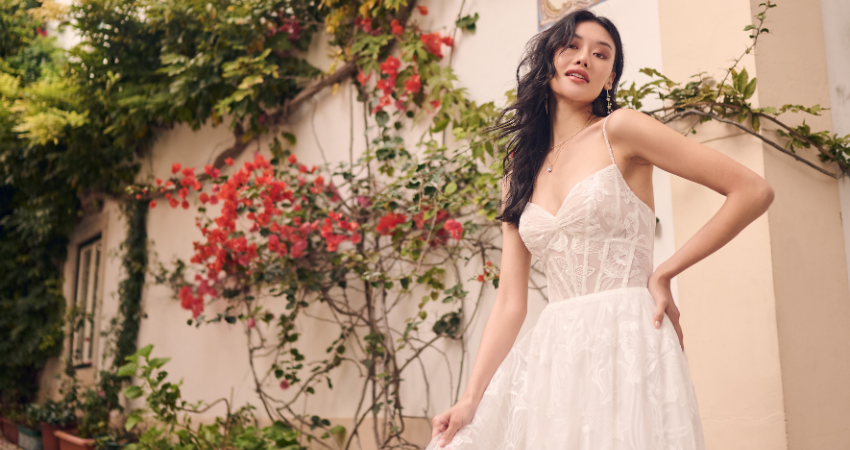 Corsetry has been around for centuries, but corset wedding dresses continue to make a stunning statement in the bridalsphere! With edgy aesthetics like cottagecore, regency-core, and gothic-chic trending on social media, brides are seeking out this flattering silhouette for a fresh and glamorous update on formalwear. Keep scrolling for everything you need to know about the look.
Ready to curate corset wedding dresses you love? Looking to see these styles IRL? Visit one of our Authorized Retailers by clicking the button below!
What Are Corset Wedding Dresses?
"Corsetry" can refer to a range of features on a wedding gown. Traditionally, a corset wedding dress features a lace-up tie or ribbon on the back of the gown's bodice. When this lace-up is completed, it cinches and shapes your figure to hold you in and create a romantic, ultra-feminine silhouette.
A wedding gown may also feature subtle corsetry. For example, exposed boning is a corset-inspired feature in boudoir-inspired gowns, and a delicate ribbon adds a sweet and sexy embellishment to a low back or deep V-neck. Wedding gowns can also have inner corsetry with a zip-up back; this offers the shaping of a corset while hiding the lace-up feature.
Corsetry is an essential part of the history of Maggie Sottero Designs brand. When we first debuted our designs in 1997, our core collections were all about our expert corsetry and signature tailoring. Today, the "perfect fit" remains at the top of our design priorities, whatever the size, style, label, or price tag.
How Do You Lace Up a Wedding Dress Corset?
First, have the bride place her hands at her natural waist to hold the wedding dress in place as it's laced up.
Start with the corset lace strung between the two top loops of the corset, threaded through both left and right. Make it so the ends are even so you'll have enough room on both sides to work with.
Take your right corset tie and pull to the left side of the corset. Thread it in the second loop. Pull it firmly but not too tight.
Take your left corset tie and pull to the right side of the corset. Thread it in the second loop.
Continue this pattern — always starting with the right so that it creates a consistent under-over pattern from right to left. (All the laces on the right will be on the bottom, and all the left will be over the top.)
As you get about halfway down the wedding dress corset, you'll be able to pull the lace a bit tighter to shape and smooth the form.
When you've laced up most of the loops, go back up to the top to tighten the laces more. Take two fingers, put them in each "row" of the corset loops, and pull out to the left and right. This helps to tighten and cinch the corset. (Be sure to smooth out the panel of fabric beneath the corset to avoid puckering.)
You can then finish the corset lace-up. Once you have completed the loops, clean the corset by tucking the ends into the dress's skirt, then pull from under the skirt to pull the slack through and tie a hidden knot.
Watch the full video here, and browse a few of our top corset wedding dresses below!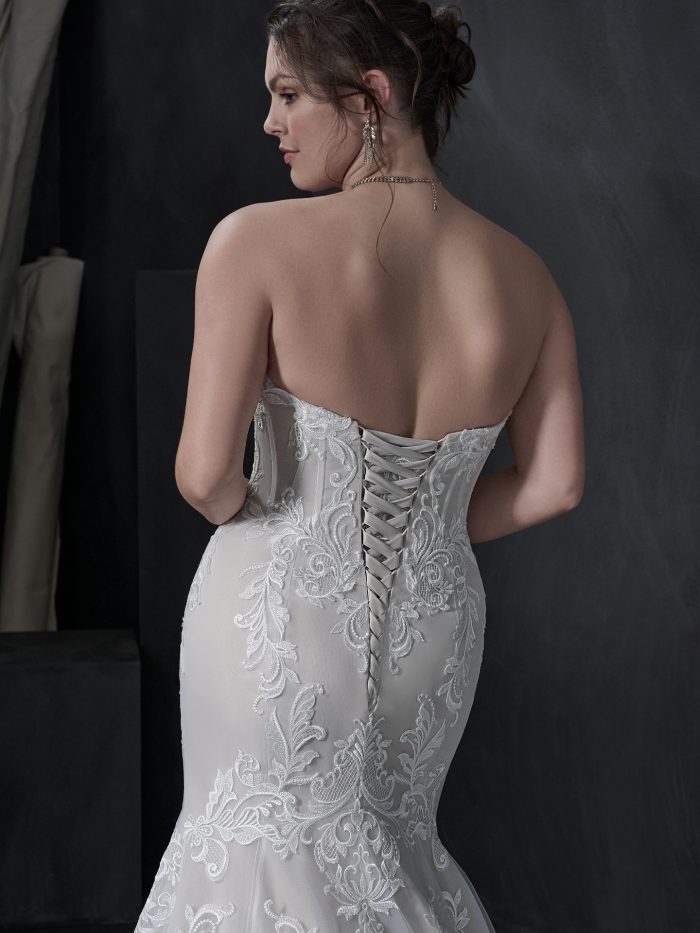 Want to fully embrace the corsetry trends? Walker by Sottero and Midgley combines two stunning bodice features — a lace-up corset back wedding dress with exposed boning. Add sparkly tulle and lush embroidered lace; the effect is nothing short of decadent.
The strapless neckline on Walker is a perfect match for a corset ballgown wedding dress; the lace-up feature helps to cinch in the waistline and support the bodice without the need for sleeves or straps.
Love the exposed boning but not the corset? Walker can also be ordered without a lace-up as a simple zip up back with covered buttons. Other personalizations include the ability to switch from glitter tulle to organza, different train lengths, and a range of gorgeous wrap and cap sleeve accessories to attach to the gown's bodice.
Our first corset wedding dress is a dreamy, simple, yet uniquely edgy wedding dress — Bodie by Maggie Sottero. This sexy fit-and-flare is all about the couture fabric and bodice details: luxe stretch jersey accented with illusion corsetry and "streamers" to wrap and layer as customizable bodice and sleeve coverage.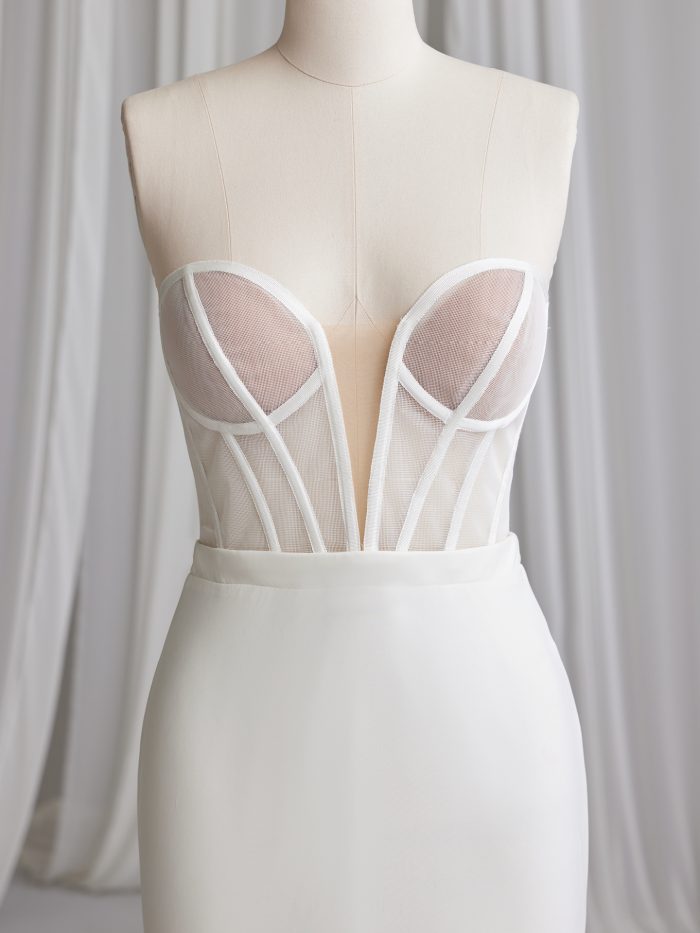 Consider your options for this one-of-a-kind gown:
Wear the dress as its own as a sexy, simple, exposed bodice effect.
Create a simple strapless look.
Fashion the streamers into sleeves and cross-bodice draping.
Create a cape or statement bow.
Use the streamers to create cap-sleeves or straps.
And of course, add a bridal veil or illusion cape for extra layers and dimension!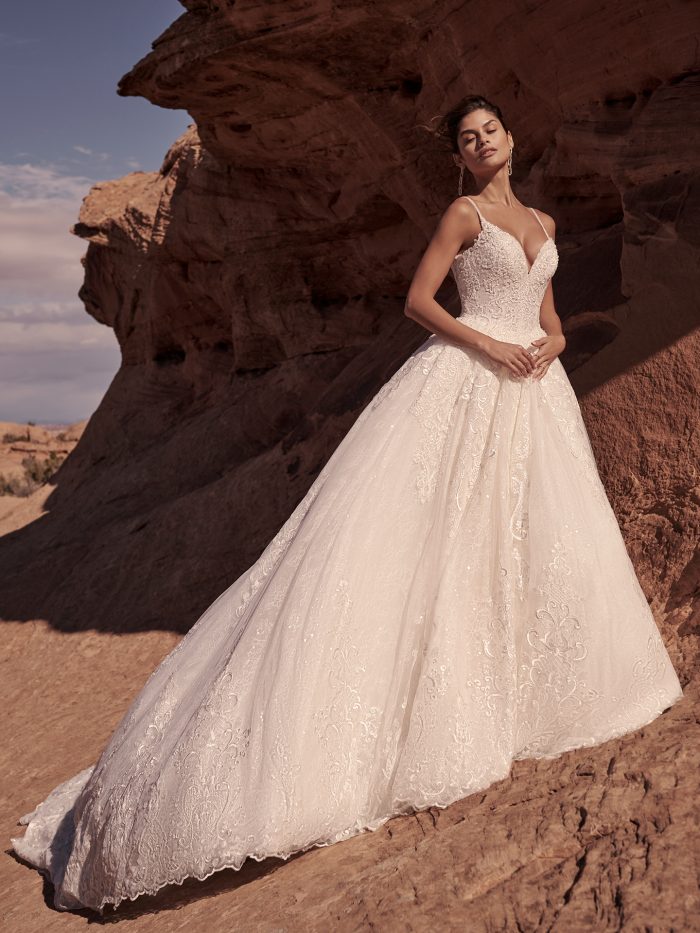 Blaire by Sottero and Midgley is a chic example of "corset inspired" without tons of corsetry. This sheer bodice features exposed boning and a low back with a subtle lace-up detail at the base. (There's a zip-up closure hidden in the skirt below.) It's flirty and feminine, but still effortless and easy to style. The trend is perfection!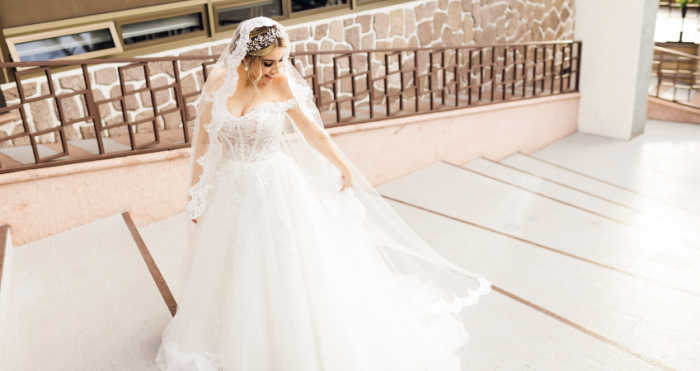 PC: Alejandro Mendoza
Lean into the "regal glam" vibes of corset wedding dresses with Harlem by Maggie Sottero. This princess ballgown is all about the lace and shimmer, from the sheer motifs in the bodice to the cascades of flourishes throughout the skirt and train.
Harlem features several chic ways to personalize:
Change the second tulle layer to sparkle tulle
Add covered buttons down the back
Also available with a fully lined bodice
Available with beading along the front and back necklines
Also available as a fit-and-flare silhouette as sister-style Harlem Lane
A few reviews from our real brides:
"I felt like an absolute princess, I never wanted to take it off and feel emotional that I will never wear it again. I had complement after complement and have never felt so beautiful." — Avril
"I saw this dress online. I went to the bridal boutique specifically to try this dress on. Others said I wouldn't get the dress I thought I would go for. I tried on 5 in total different styles, and as soon as I put Harlem on I just knew it was the one. Everyone has not stopped talking about my dress since our day." — Amy-Louise
"I felt like a real-life princess in this dress, and felt so confident with every step I took. It was everything I wanted in a dress! I appreciated how easy it felt to dance the night away!" — Marisa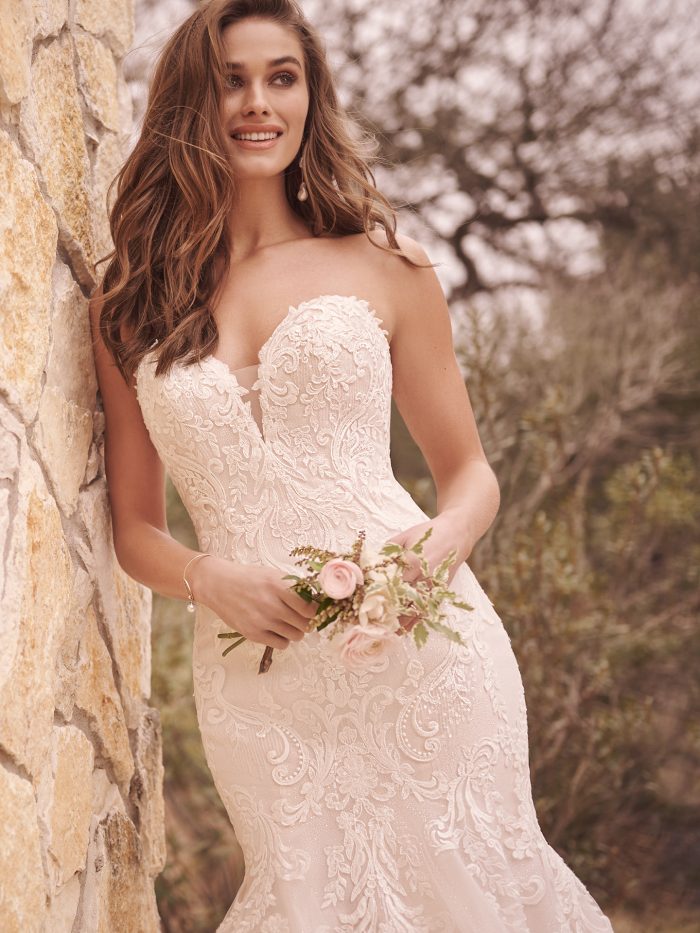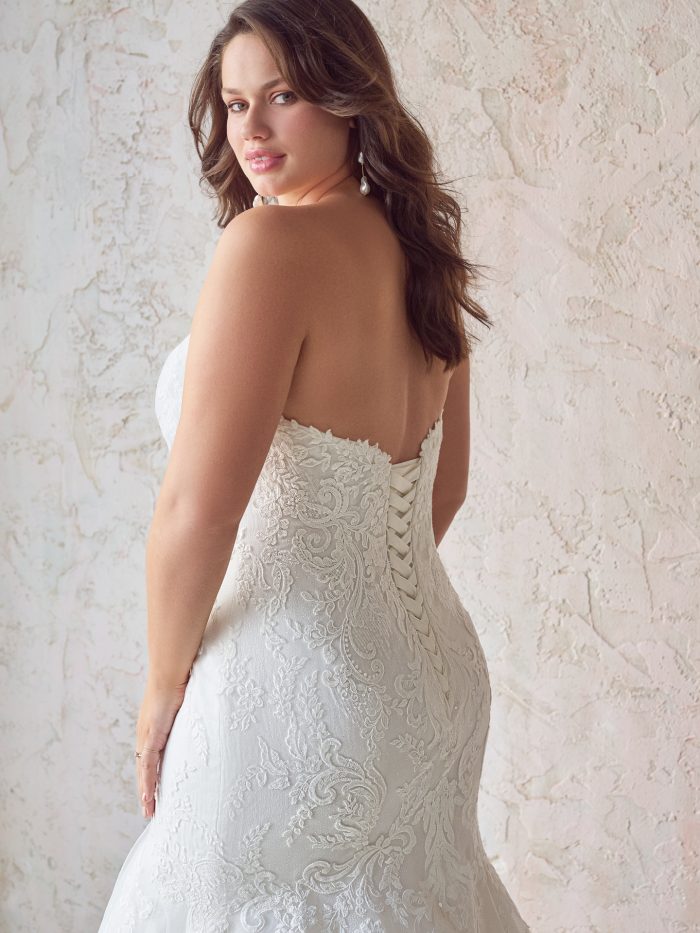 We're smitten with the figure-enhancing effect of Toccara by Maggie Sottero. The silhouette is sleek and statuesque, the beaded lace is luxe, and the plunging sweetheart neckline is the perfect dose of sexy. (Because every bride deserves a glitz-and-glam moment on her big day.)
This red-carpet wedding gown is perfect for a corset closure. The lace-up helps to shape and support your figure and play up the gown's romantic silhouette. Like any of our sexy wedding dresses with formfitting silhouettes, the fit is exceptional.
Personalizations for this Toccara wedding gown include the option to extend the train, trade the corset for a zip up, add additional beading, or order the detachable sleeves.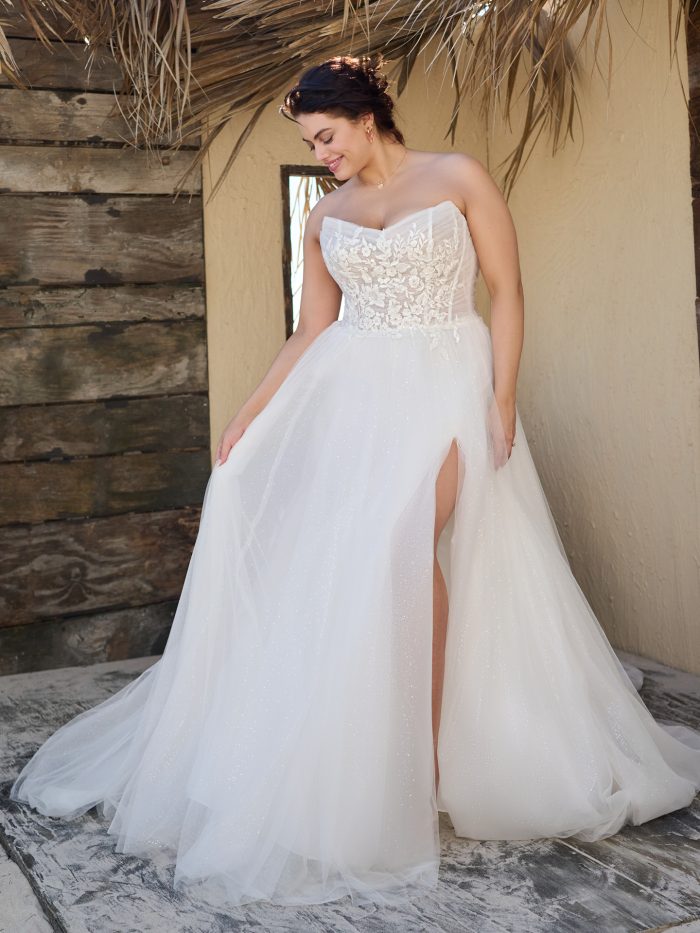 Looking for something a little vintage-inspired? Get inspired with the lovely ruched tulle and delicate bodice lace in Kiandra by Rebecca Ingram. It's soft, sweet, and covetable — an irresistible choice for a relaxed and ultra-feminine wedding vibe. The thigh-high slit and exposed corsetry add a touch of "undone" to this easy-breezy design.
Kiandra is from our Rebecca Ingram line (romantic and affordable wedding dresses) and features two options to customize:
Add covered buttons down the back
Also available with a fully lined bodice with inner elastic closure
(And of course, you can add a lovely bridal veil or cape!)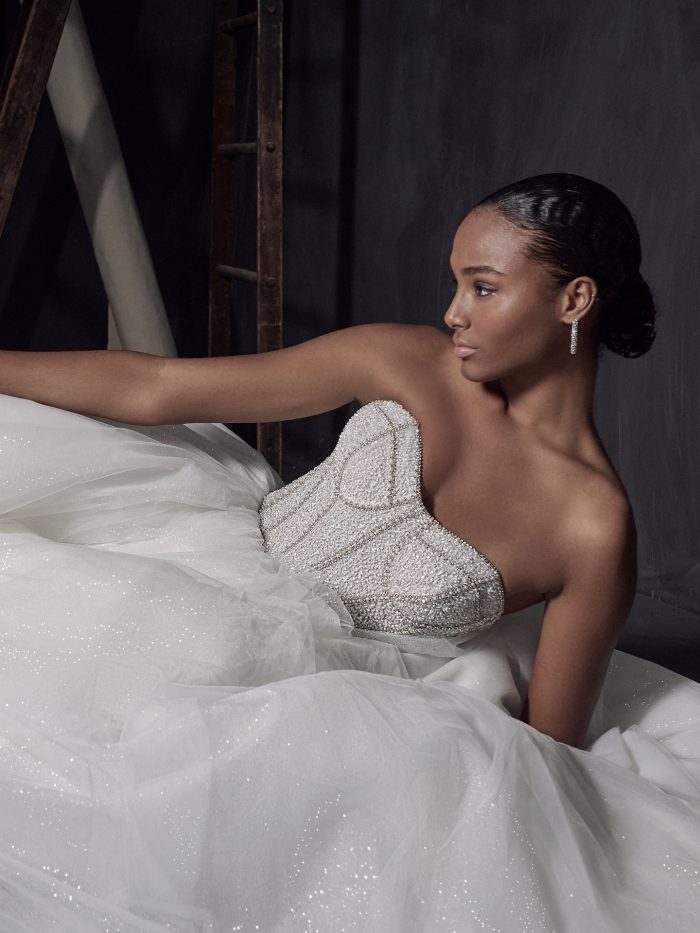 Glitz and glamor? Red-carpet magic? Regal drama? Check all your boxes with the dazzling Elton by Sottero and Midgley, a jewel-encrusted ballgown with shimmer to spare. It's the perfect combination of elegance, sophistication, and black-tie flourish. We especially love how the beading accents the "corsetry" effect in the bodice. Elton features two ways to personalize: remove the train through special request, or order as sister-style Elton Lane, featuring a lovely satin skirt.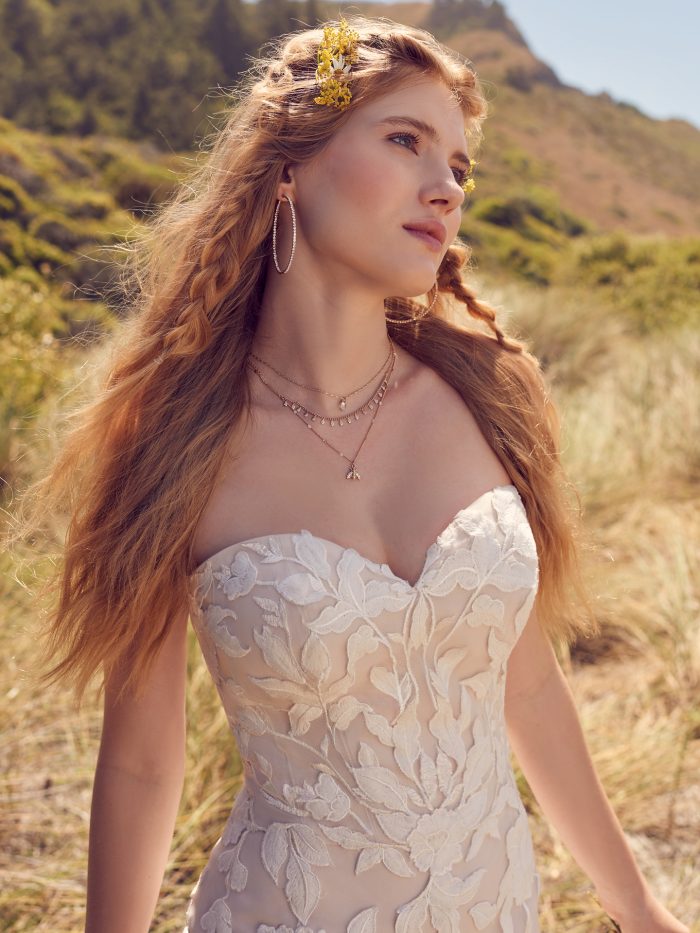 Hattie Marie is a romantic and affordable corset wedding gown. The vintage lace and flattering silhouette make it effortless to style, and the lace-up gives it a chic, ultra-romantic finish. You'll feel comfortable, supported, and poised from every angle.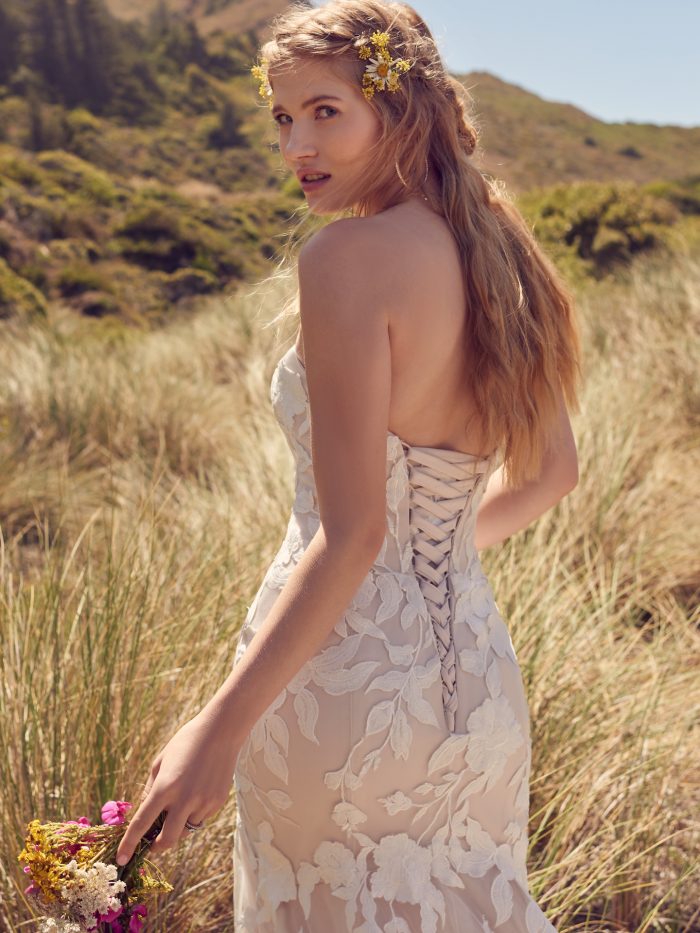 Our Hattie wedding gown has several popular sister styles, which include options for skirts, neckline, and bodice coverage — including fit-and-flare and corset ballgown wedding dress silhouettes. If you love the vibe, you'll find the perfect variation of Hattie to fit your vision.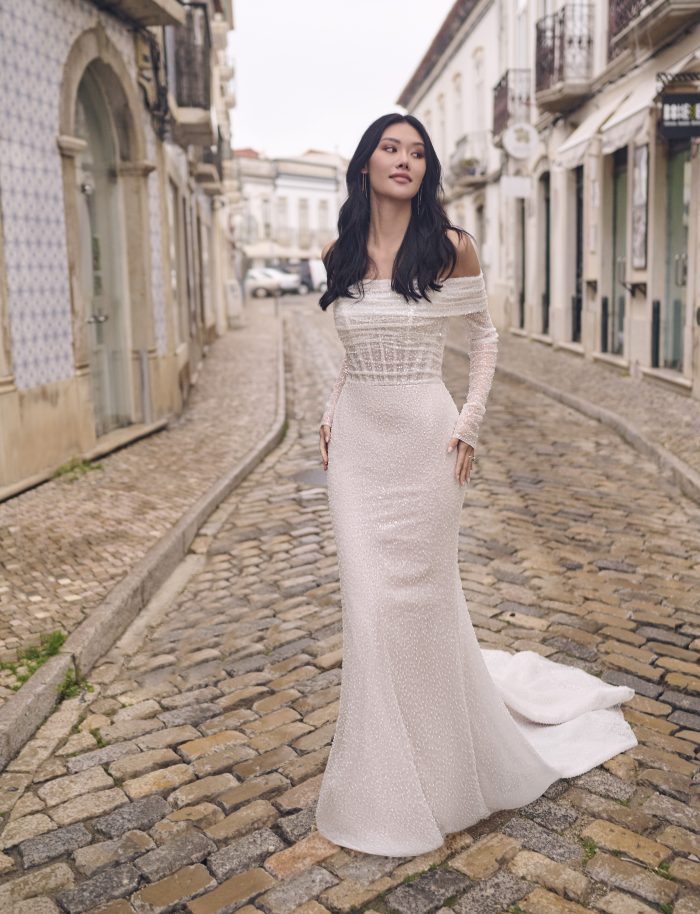 If you have a sultry, chic, and ultra-romantic wedding aesthetic, Drew by Maggie Sottero is your kind of magic. Featuring an effortlessly sexy fit-and-flare silhouette and unique accessory, this gown is all about light, shimmer, and dimension.
The exposed corsetry adds a magical flourish to this beaded wedding gown: It's a little vintage, a little edgy, and perfectly on trend for your modern wedding vibes. Add the long-sleeve off-the-shoulder jacket for an elegant and ultra-couture effect. (Perfect for fall and winter weddings!)
For more beaded wedding dresses like Drew, dive into our gallery of trends.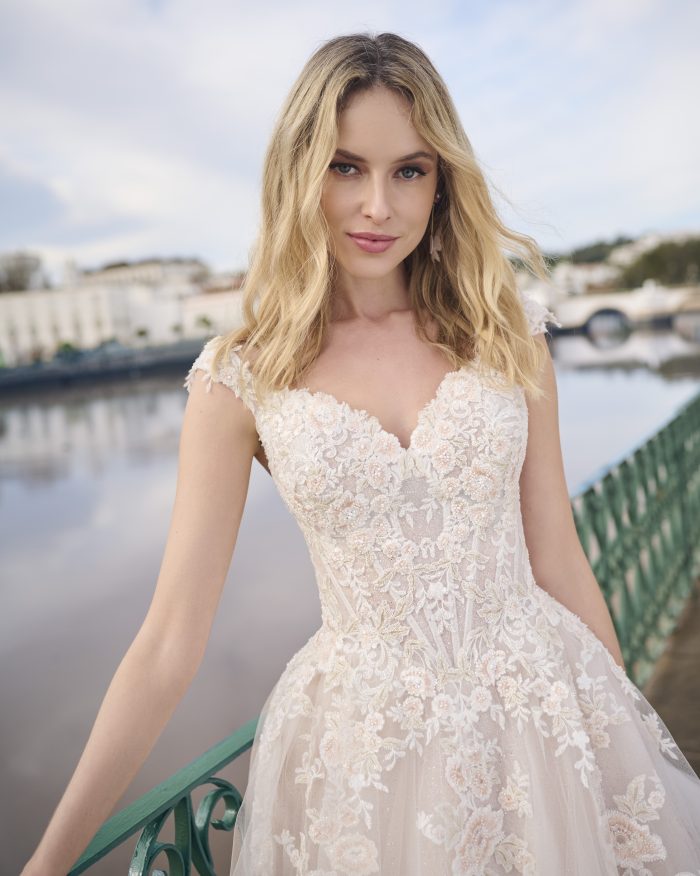 Lace-embellished corsetry is the star attraction in Bisette by Sottero and Midgley… These lush layers and pops of color and shimmer look like something out of a fairytale! This dreamy ballgown is all about impeccable structure and flourishes — perfect for a regal wedding theme.
Here's how we imagine styling this design:
Add a floral crown or bridal tiara.
Style with a simple or the matching embellished bridal veil.
Add covered buttons down the back if you prefer.
Order with the pops of color in the lace, or choose a more traditional colorway.
Find the perfect pair of Cinderella heels to match.
Love colorful wedding dresses? Explore our latest trends in our gallery!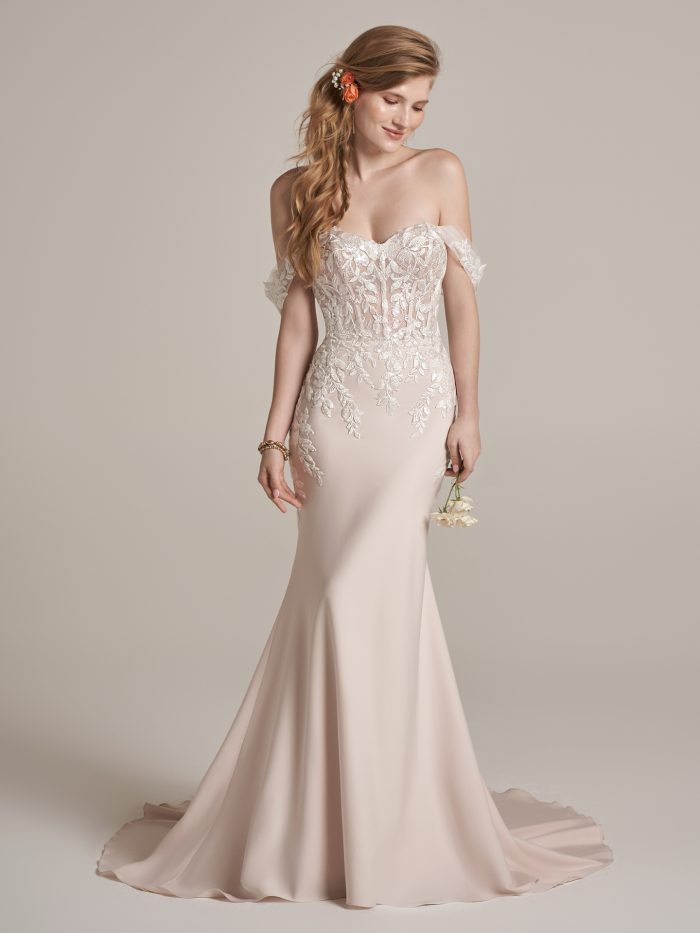 Love the glamor of a form-fitting wedding dress? Show off your curves in this soft yet sultry fit-and-flare, Lily by Rebecca Ingram. This beachy-chic design is all about the exposed corsetry, luxe crepe and jersey lining, and simple lace flourishes.
A few ways to personalize Lily:
Add the detachable off-the-shoulder lace cap-sleeves, sold separately
Style with the detachable off-the-shoulder long tulle sleeves, sold separately
Order as sister-style Lily Lynette, featuring a lined bodice
Add shimmery spaghetti straps
Style with a long, romantic bridal veil or a flirty fingertip-length design
Love this crepe skirt? Here are more chic wedding dresses in this luxe fabric.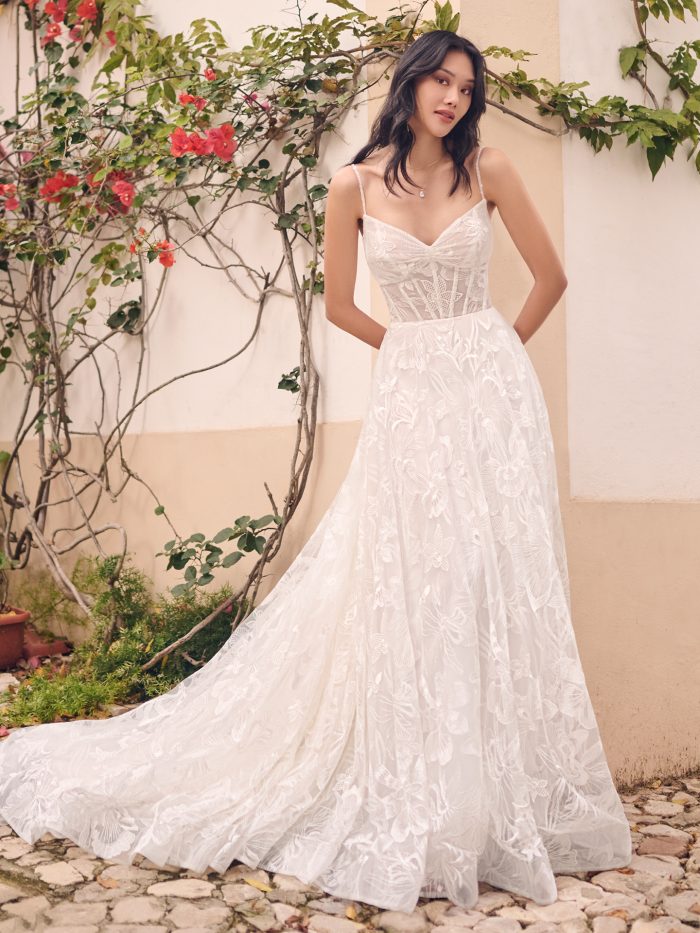 Beautiful lace and effortless tailoring combine in Havana by Maggie Sottero, an exquisite A-line featuring lush illusion layers. This nature-inspired wedding gown is perfect for a spring or summer wedding vibe — think rustic, woodsy, vintage, and ultra-chic.
Your custom order options for Havana include:
Remove the train for a more casual look, through special request
Add covered buttons down the back
Style with the matching off-the-shoulder puff sleeves, sold separately
Love the floral vibes in this unique wedding gown? Dive into more fabulous floral designs from our latest collections.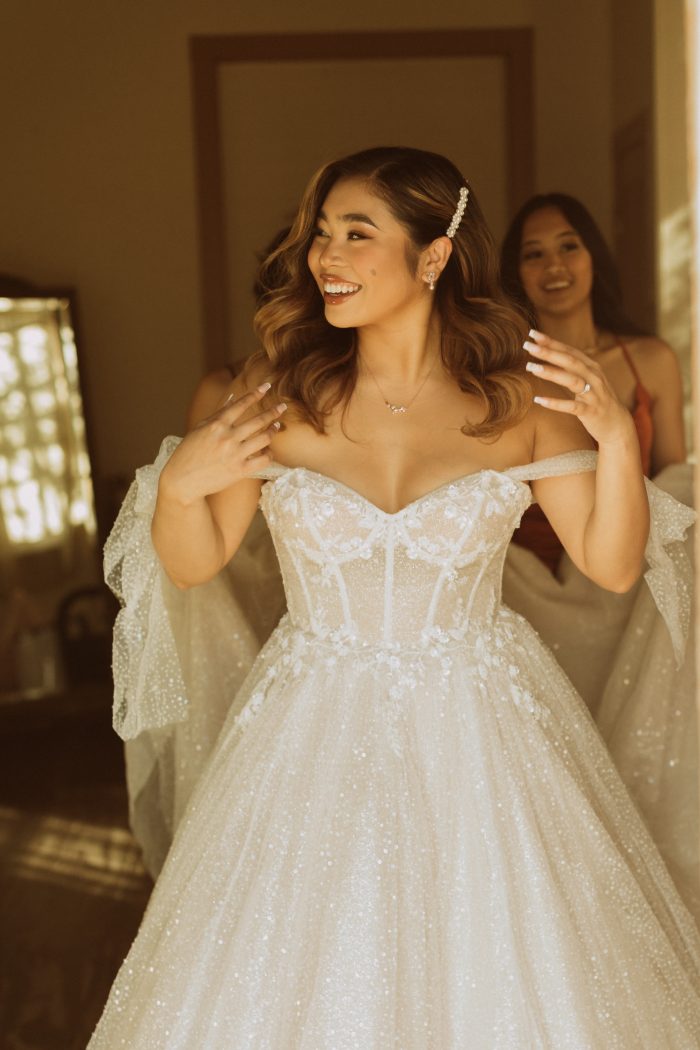 PC: Cass Heen
Your modern fairytale needs the perfect princess style, and we have the ideal contender! Shasta by Sottero and Midgley features unique fabric, chic shimmer, and playful embellishments — all in a glam silhouette with intriguing flourishes. We're smitten!
Personalize Shasta in a few ways:
Add covered buttons down the back for a vintage vibe
Available with a fully lined bodice with inner corset
Style on its own or add the tulle off-the-shoulder ribbon sleeves
Add a bridal veil or cape
A few glowing reviews from our real brides:
"The dress is so ethereal and magical and that's how I felt. Every moment in the dress was a dream come true." — Erin
"I felt like an absolute princess in this gown & did not wanna take it off! It flattered me in all the right places. The detachable sleeves were so perfect for two different looks!" — Kristen
"I felt like a showstopper in my gown! When we were walking around the city for photos people kept stopping to tell me I looked gorgeous. All my guests are raving about my gown, it was amazing!!" — Jen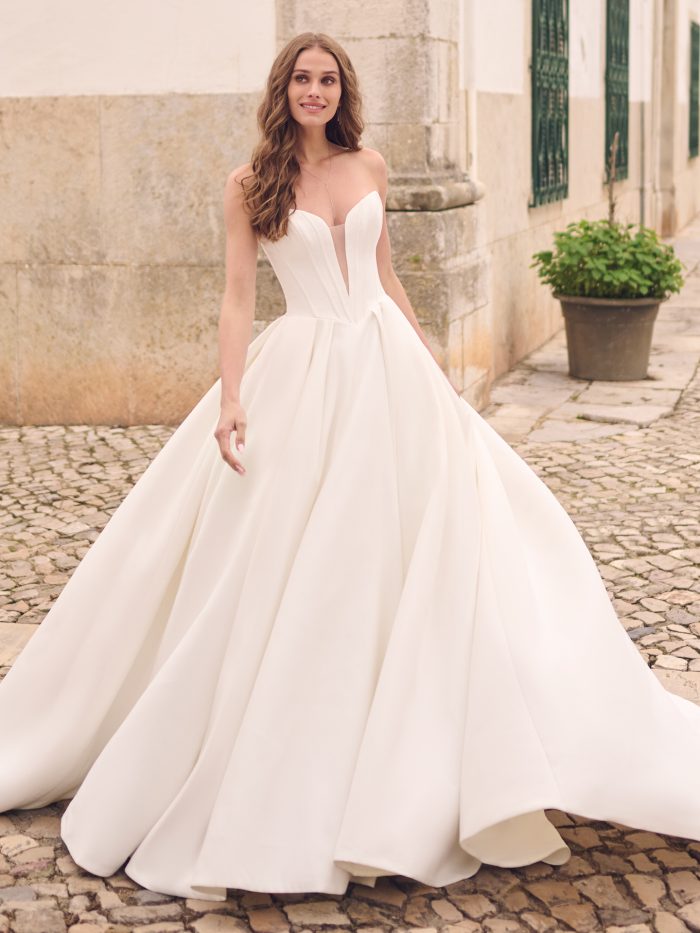 Minimalism makes a dramatic statement in Derrick by Maggie Sottero, a corset wedding dress made with covetable satin and lush, luxurious layers. From the plunging neckline to the long train, this gown is 100% royal-wedding approved. Style on its own or add the unique puff sleeves — either variation is chic, enchanting, and perfect for bridal portraits.
We're pleased to tell you that Derrick is also a Quick Ship style, meaning it's available for short wear-dates!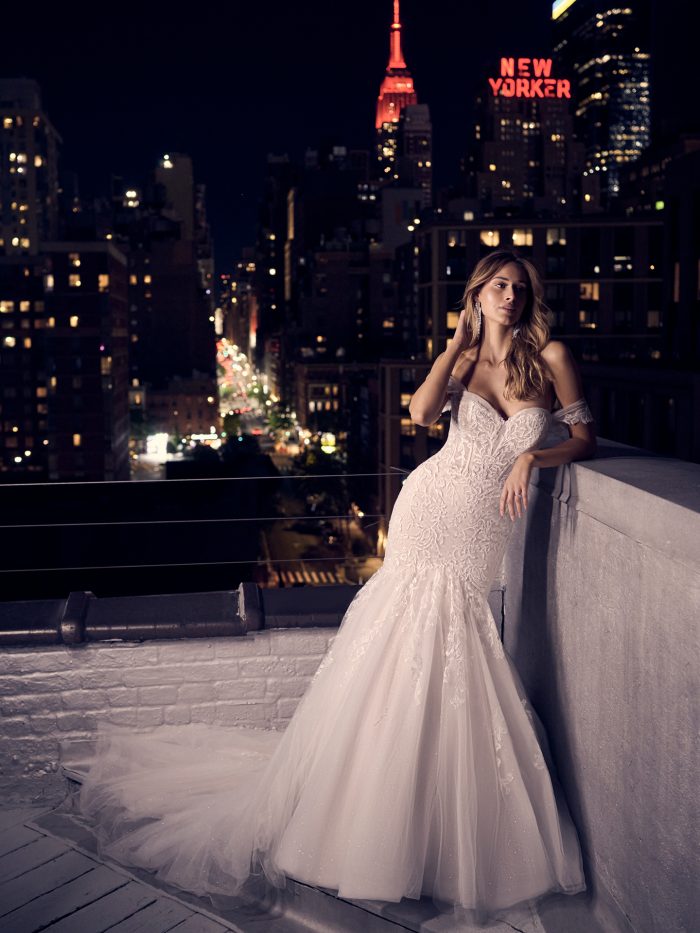 And finally, a vampy fit-and-flare with beautiful corset details and lace flourishes: Danielle by Maggie Sottero. This form-fitting gown is sexy, dramatic, and perfect for a black-tie celebration.
A few ways to personalize this design:
Change the sparkle tulle to classic tulle
Also available with added hem lace
Available with both a lined and unlined bodice
Add the off-the-shoulder ruched tulle and lace cap-sleeves, sold separately
Wear with the long lace sleeve armbands, sold separately
Add a gorgeous bridal veil
How Can I Make a Wedding Gown Corseted?
If you're eyeing corset wedding dresses with lace-up closures but can't quite figure out which styles are available, head to your Authorized Retailer. Your stylist will be able to help you browse our wedding gowns available with corsetry, including a range of personalization options with multiple closure options.
Love these corset wedding dresses and boudoir-inspired trends? Follow our socials for more magic!
More Blogs Like This:
Trend Alert: Barbiecore Wedding Dresses and Inspo
Taylor Swift Wedding Dress Inspo for Each Era
10 Vintage Inspired Wedding Dresses and Accessories for Timeless Brides
Happy shopping for corset wedding dresses and their dreamy personalizations!