Dresses
Tips and Trends
|
June 29, 2022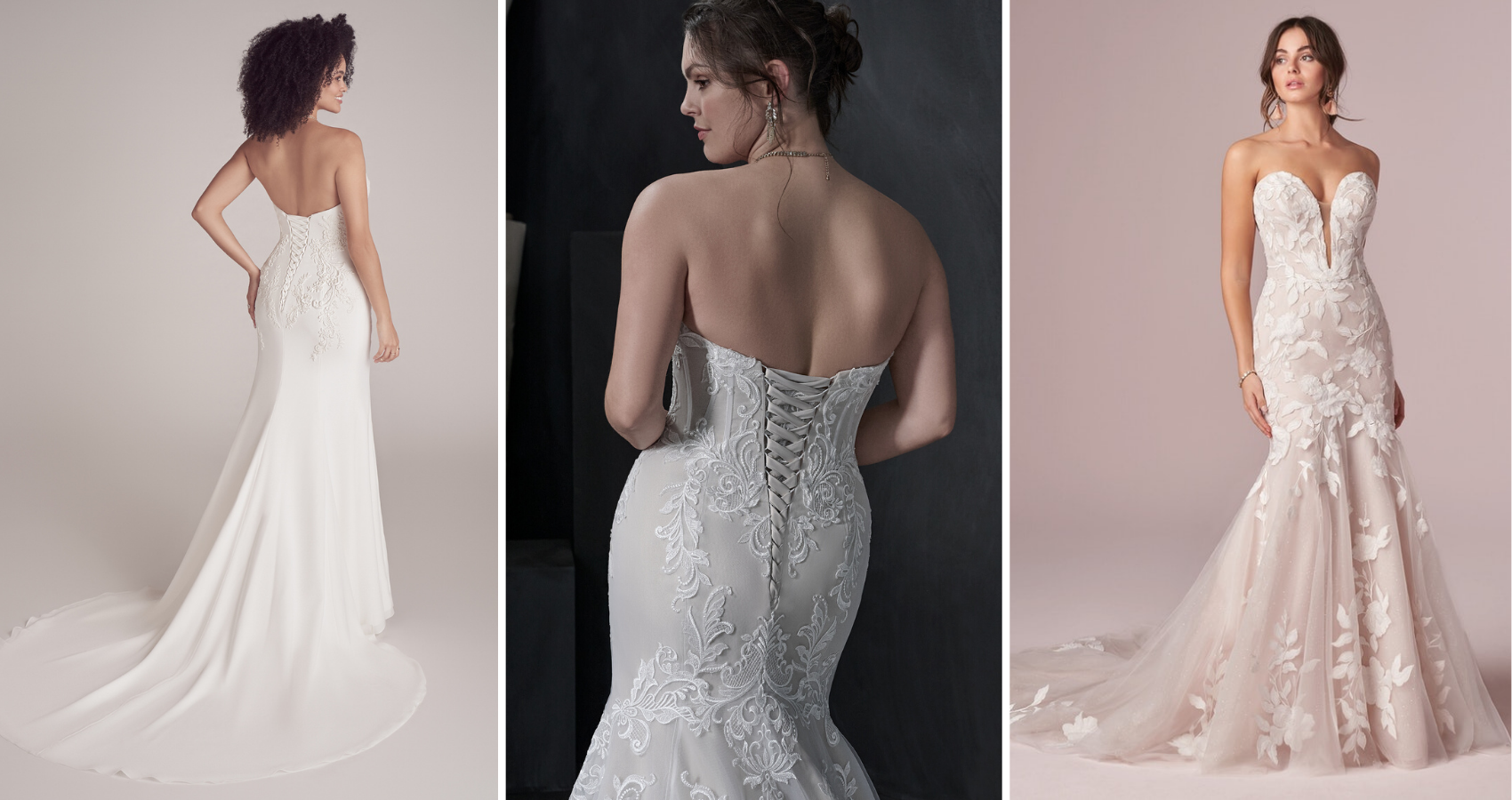 Corsetry has been around for centuries, but corset wedding dresses continue to make a stunning statement in the bridalsphere! With edgy aesthetics like cottagecore, regency-core, and gothic-chic trending on social media, brides are seeking out this flattering silhouette for a fresh and glamorous update on formalwear. Keep scrolling for everything you need to know about the look.
Ready to curate corset wedding dresses you love? Looking for more inspiration? Take our Style Quiz and pin these gowns for later!
What Are Corset Wedding Dresses?
"Corsetry" can refer to a range of features on a wedding gown. Traditionally, a corset wedding dress features a lace-up tie or ribbon on the back of the gown's bodice. When this lace-up is completed, it cinches and shapes your figure to hold you in and create a romantic, ultra-feminine silhouette.
A wedding gown may also feature subtle corsetry. For example, exposed boning is a corset-inspired feature in boudoir-inspired gowns, and a delicate ribbon adds a sweet and sexy embellishment to a low back or deep V-neck. Wedding gowns can also have inner corsetry with a zip-up back; this offers the shaping of a corset while hiding the lace-up feature.
Corsetry is an essential part of the history of Maggie Sottero Designs brand. When we first debuted our designs in 1997, our core collections were all about our expert corsetry and signature tailoring. Today, the "perfect fit" remains at the top of our design priorities, whatever the size, style, label, or price tag.
How Do You Lace Up a Wedding Dress Corset?
First, have the bride place her hands at her natural waist to hold the wedding dress in place as it's laced up.
Start with the corset lace strung between the two top loops of the corset, threaded through both left and right. Make it so the ends are even so you'll have enough room on both sides to work with.
Take your right corset tie and pull to the left side of the corset. Thread it in the second loop. Pull it firmly but not too tight.
Take your left corset tie and pull to the right side of the corset. Thread it in the second loop.
Continue this pattern — always starting with the right so that it creates a consistent under-over pattern from right to left. (All the laces on the right will be on the bottom, and all the left will be over the top.)
As you get about halfway down the wedding dress corset, you'll be able to pull the lace a bit tighter to shape and smooth the form.
When you've laced up most of the loops, go back up to the top to tighten the laces more. Take two fingers, put them in each "row" of the corset loops, and pull out to the left and right. This helps to tighten and cinch the corset. (Be sure to smooth out the panel of fabric beneath the corset to avoid puckering.)
You can then finish the corset lace-up. Once you have completed the loops, clean the corset by tucking the ends into the dress's skirt, then pull from under the skirt to pull the slack through and tie a hidden knot.
Watch the full video here, and browse a few of our top corset wedding dresses below!

Want to fully embrace the corsetry trends? Walker by Sottero and Midgley combines two stunning bodice features — a lace-up corset back wedding dress with exposed boning. Add sparkly tulle and lush embroidered lace; the effect is nothing short of decadent.
The strapless neckline on Walker is a perfect match for a corset ballgown wedding dress; the lace-up feature helps to cinch in the waistline and support the bodice without the need for sleeves or straps.
Love the exposed boning but not the corset? Walker can also be ordered without a lace-up as a simple zip up back with covered buttons. Other personalizations include the ability to switch from glitter tulle to organza, different train lengths, and a range of gorgeous wrap and cap sleeve accessories to attach to the gown's bodice.
Take it from the pros: a fit-and-flare silhouette is a gorgeous choice for lace-up corsetry. Get ahead of the curve with Georgia by Rebecca Ingram, a gorgeous mermaid style with an ultra-flattering corset closure. Ruched tulle and layered lace give this style a classic and romantic vibe, while soft sleeve options let you add coverage without losing the glam.
Blaire by Sottero and Midgley is a chic example of "corset inspired" without tons of corsetry. This sheer bodice features exposed boning and a low back with a subtle lace-up detail at the base. (There's a zip-up closure hidden in the skirt below.) It's flirty and feminine, but still effortless and easy to style. The trend is perfection!
We're smitten with the figure-enhancing effect of Toccara by Maggie Sottero. The silhouette is sleek and statuesque, the beaded lace is luxe, and the plunging sweetheart neckline is the perfect dose of sexy. (Because every bride deserves a glitz-and-glam moment on her big day.)
This red-carpet wedding gown is perfect for a corset closure. The lace-up helps to shape and support your figure and play up the gown's romantic silhouette. Like any of our sexy wedding dresses with formfitting silhouettes, the fit is exceptional.
Personalizations for this Toccara wedding gown include the option to extend the train, trade the corset for a zip up, add additional beading, or order the detachable sleeves.
How Can I Make a Wedding Gown Corseted?
If you're eyeing corset wedding dresses with lace-up closures but can't quite figure out which styles are available, head to your Authorized Retailer. Your stylist will be able to help you browse our wedding gowns available with corsetry, including a range of personalization options with multiple closure options.
Keep reading for some of our gowns you can personalize to have a lace up back instead of a zipper!
It's all about theatrics with Ripley by Sottero and Midgley. The silhouette is striking. The shimmer is gorgeous. The texture is divine. And that wedding dress corset back? The perfect icing on the cake!
If you love this wedding gown, check out the options to personalize. You can choose the corset or zip-up closure, extend the train for added drama, or add the lace and tulle wedding veil.
Captivated by this fab silhouette? The fit-and-flare skirt on Ripley is truly one-of-a-kind. It's a glamorous package with figure-flaunting details and unique accessories. You'll feel like a million bucks in this statement wedding gown.
Hattie Marie is a romantic and affordable corset wedding gown. The vintage lace and flattering silhouette make it effortless to style, and the lace-up gives it a chic, ultra-romantic finish. You'll feel comfortable, supported, and poised from every angle.
Our Hattie wedding gown has several popular sister styles, which include options for skirts, neckline, and bodice coverage — including fit-and-flare and corset ballgown wedding dress silhouettes. If you love the vibe, you'll find the perfect variation of Hattie to fit your vision.
Crepe is a chic and unexpected choice for corset-back wedding gowns. Lace is lovely and chiffon is dreamy, but crepe adds a special ethereal vibe to your effortless silhouette. Byron by Maggie Sottero is our top choice for the trend.
The thing we love about Byon is the combination of relaxed silhouette with a structured corset. The result is soft and sweet, yet still holds the form of a lace-up. If you're looking for the tailoring of a corset in an easy design, this crepe wedding dress may be your meant-to-be!
Options to personalize include the ability to shorten the train, choose a zipper or lace up closure, add the detachable cap sleeves, or add the detachable lace train.
The corset effect is stunning in Ezra by Sottero and Midgley. This fabric and silhouette were made for this kind of impeccable tailoring… It's hard not to fall in love with its effortless lines and romantic lace embellishments.
If you're feeling simple, opt for Ezra in a strapless silhouette on its own. But if you're feeling luxe, check out the cold-shoulder bishop sleeves. This one-of-a-kind accessory adds a chic, bohemian, and super stylish touch to this beautiful corset back wedding dress.
Other ways to personalize Ezra include the option to shorten the train or add a zipper instead of the corset.
Ready to shop corset wedding dresses with chic and romantic details? Find A Boutique near you to book your appointment to find the dress of your dreams!
For more inspiration, style, and real bride content, follow our Socials
And here are a few of our latest and most popular blog posts:
Ways to customize your wedding dress. This includes free options to change fabric, neckline, and silhouette, as well as accessories (sold separately) like veils, sleeves, overskirts, and jackets.
What type of undergarments to wear with your wedding dress. This helps you choose shapewear, bras, bodysuits, and lingerie to complement your wedding gown's unique cut and silhouette.
Trendy wedding dresses from our latest bridal collections. This is a gallery of statement silhouettes, glitzy embellishments, and ultra-modern fabrics. (Including more corset back wedding dress trends!)
We hope you love our lineup of corset wedding dresses! These gorgeous bridal styles are available at a boutique near you. Best wishes!