Events and Boutiques
Media
|
November 29, 2021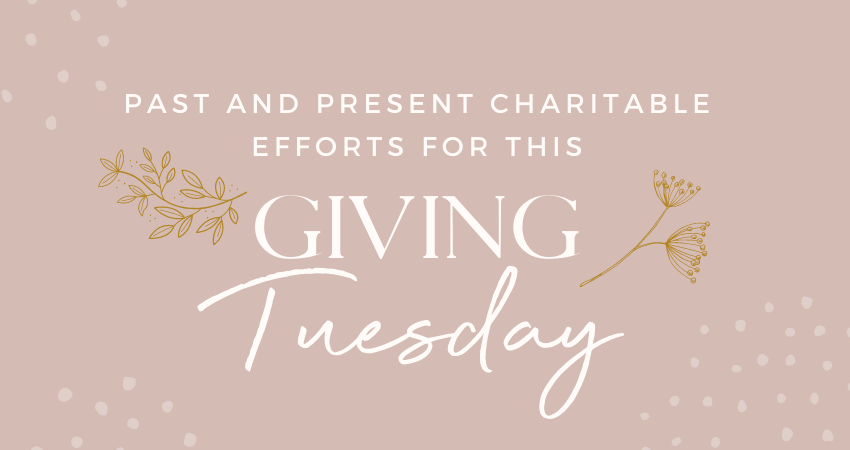 Giving Tuesday is finally here, and there's nothing we love more at Maggie Sottero than giving back to our wonderful community! That's why this Giving Tuesday 2021, we are bringing back our Cheer For Charity Campaign. Our Maggie family has done an incredible job in supporting our community in past years, and we feel that it's important to give them the shout-outs they deserve!
First of all, what is Giving Tuesday? According to Giving Tuesday's website, it's "a global generosity movement unleashing the power of people and organizations to transform their communities and the world. Giving Tuesday was created in 2012 as a simple idea: a day that encourages people to do good. Over the past seven years, it has grown into a global movement that inspires hundreds of millions of people to give, collaborate, and celebrate generosity."
Giving, collaborating, and celebrating generosity are three of our favorite things to do. Everyone in our Maggie community and beyond has experienced the hardships of the last 18 months. However, seeing everyone giving back and supporting the community has been incredible to see.
Maggie Sottero's Past Charity Work
What is Giving Tuesday? For Maggie, it's one of the most important days of the year. Although Giving Tuesday holds a special place in our hearts, we strive to support our community throughout the whole year. Over the years, we have proudly supported several local charities here in our base of Salt Lake City, Utah. We have done this by hosting blood drives, donating to the Utah Food Bank, and raising funds for the Souper Bowl of Caring – a youth-inspired movement that helps mobilize grassroots resources to benefit youth across America.
We can't forget our amazing Cheer for Charity campaign that we started last year though! Kicking off our Cheer for Charity campaign has been one of the most exciting developments in the past year. Our Cheer for Charity goal has been to cultivate generosity by empowering local communities. We began that journey last year through our partnership with Team Peri.
2020 Cheer for Charity Initiative
Last year for our first ever Cheer for Charity initiative, our team partnered with Team Peri for Giving Tuesday. It was an absolute pleasure to connect with the organization. The charity has worked so hard over the years to build a better future for children who are battling life-threatening pediatric illnesses and it was amazing to learn more and be a part of it!
Through our partnership with them, we spread the love by matching any contributions made to Team Peri – up to $25,000! Last year alone, the Maggie community came together and was able to donate $9,000 through GoFundMe alone (amazing!!).
Of course, the Maggie Community would be nothing without our wonderful Authorized Retailers. They have implemented amazing charitable efforts of their own this giving season. Our retailers never fail to impress us with how they fabulously and creatively give back to their community. Scroll on to see a few of our partnered boutiques and learn more about their efforts!
Giving Tuesday 2021: Charity Work of Our Authorized Retailers
PC: Maine Memories Photography
Grayce Bridal & Formal, formally known as Blush Bridal & Formal, with locations in Presque Isle, Bangor, and Portland, Maine, is one of our stellar retailers. The New England boutique has partnered with the amazing non-profit, To Cry for Grace (started by Grayce Bridal's owner, Courtney James', sister!). To Cry for Grace is a multi-faceted malnutrition treatment and prevention program based in the Democratic Republic of Congo.
The groundbreaking program helps treat severely malnourished children. They empower and educate families to be able to safely and effectively care for their children once again. With this new partnership, a portion of all Grayce's sales now goes directly to the work being done by To Cry for Grace.
Not only has Grayce Bridal & Formal officially partnered with To Cry For Grace as a corporate sponsor, but they recently held an event that was absolutely gorgeous and kicked off their fundraising efforts for the non-profit. The first ever Grayce Benefit Gala celebrated the boutique's 10th anniversary, their rebrand, and raised $27,000 for To Cry For Grayce. Beautiful dresses and charitable deeds? What could be better?!
The Work Continues
Another one of our Authorized Retailers, White Magnolia Bridal, based out of Tampa, Florida, is also helping out this holiday season by partnering with Toys for Tots – a program that provides toys to parents who can't purchase Christmas presents for their children.
White Magnolia is bringing cheer to this holiday season in a classic way. Brides can donate an unopened, unwrapped toy at the time of their appointment at any of White Magnolia's locations (there's 7 of them!) and receive $100 off their gown purchase. Though the promo only applies to one toy per bride, when it comes to donating, the more the merrier!
PC: White Magnolia Bridal
Last but not least, our Authorized Retailer, Simply Blush Bridal in Zebulon, North Carolina, is teaming up with our boys in blue to give back this Holiday Season. Simply Blush Bridal will be hosting "Blush-Giving" through Christmas this year. The Southern store will be teaming up with the local Zebulon Police Department for Shop With A Cop to give back and spread some cheer to the community!
For "Blush-Giving," Simply Blush Bridal is asking our brides to bring in a Walmart Gift Card for the organization, and they will match the amount and give brides up to $100 off of their chosen wedding gown!! This amazing charitable act not only benefits our brides but through Shop With A Cop, underserved children and their families will be able to shop with the police for their Holiday Season gifts.
PC: Simply Blush Bridal
Can you believe how amazing our retailers are?! We could not be more impressed and prouder to partner with such amazing local stores. Head to our Store Locator to find a boutique in your area and see what they're doing for your community!
Partnering with Huntsman Cancer Institute
The Maggie Family is beyond pleased to be partnering with the Huntsman Cancer Institute in Salt Lake City for this year's Cheer for Charity Initiative and to celebrate Giving Tuesday.
The Huntsman Cancer Institute's mission is to "understand cancer from its beginnings, to use that knowledge in the creation and improvement of cancer treatments, to relieve the suffering of cancer patients, and to provide education about cancer risk, prevention, and care." This incredible institute is dedicated to studying all types of cancer and has made a significant difference, not only in Utah but beyond.
Cancer has not only directly affected our Maggie Family, but it is a disease that is felt by so many people around the world, which is why this initiative is so close to our hearts.
"This year's Cheer for Charity initiative hits close to home. We truly are a tight-knit team at Maggie, so we are incredibly grateful to give back this year to Huntsman. Huntsman has done a phenomenal job at caring for members of our Maggie Family," said Christina Blanchette, VP of Sales & Marketing here at Maggie Sottero.
Maggie Sottero's Cheer for Charity Campaign
We are so excited for our Cheer for Charity initiative! Don't think our brides will be left out of all the fun though! For every gown ordered in the month of December, we will donate 2% of the sale to the Huntsman Cancer Institute. Their purchase of a Maggie gown can make a serious difference.
Brides will directly help local charities by purchasing a Maggie Gown from one of our partnered boutiques. For the top five Maggie Sottero Authorized Retailers that order the most gowns in December, we will donate $5,000 to the charity of their choice. We also invite and encourage everyone to donate to Maggie's Facebook Fundraiser for Huntsman Cancer Institute starting on December 1st.
"At Maggie, we let our strong heart energy guide us, and we know our amazing Authorized Retailers and Maggie brides do the same. It is so special to give back to our community in a way that involves our entire Maggie Family," said Blanchette.
Maggie Believes in Giving Back
Our strong heart energy is the guiding force behind everything we do at Maggie Sottero. We hope these stories of our amazing Maggie community not only puts a smile on your face but encourage you to give back this holiday season as well! We are so excited to see all the good you're doing and how you're spreading joy, love, and charity within your communities!
To learn more about the Huntsman Cancer Institute visit their website.
Our community means more to us than anything! You can make a difference this Holiday Season by purchasing a Maggie gown in the month of December from one of our Authorized Retailer. Find a retailer near you this month!