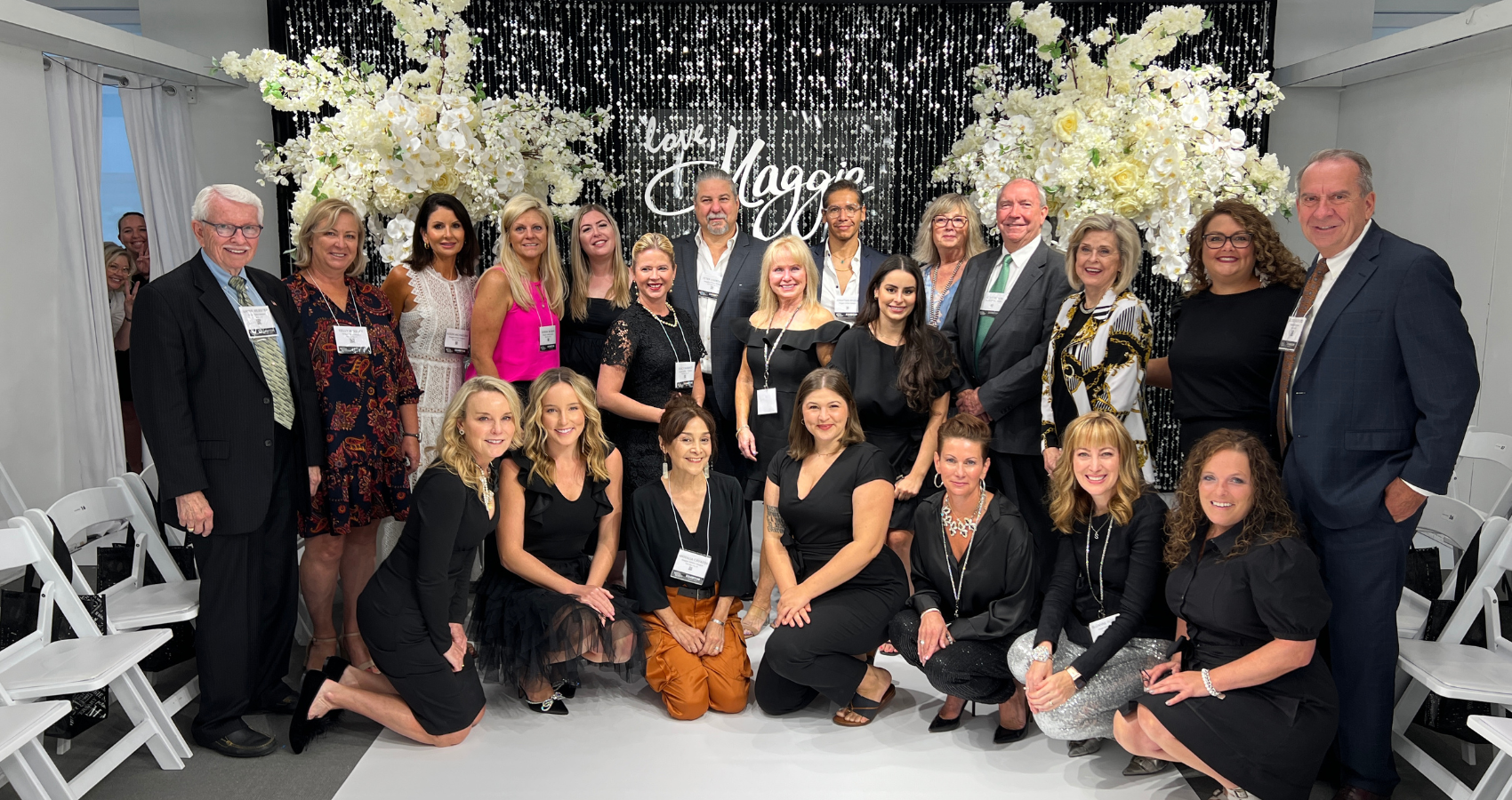 The giving season is here! At Maggie, there's nothing we love more than giving back and celebrating our wonderful community. That's why we're giving back this holiday season through our Cheer for Charity initiative! Giving, collaborating, and celebrating generosity are three of our favorite things to do to. That's why we are so excited to announce our charity initiative this year! We are also excited to celebrate some members of our Maggie family who have taken an extra step in supporting their community.
Keep reading to learn more about the charity we are supporting this year with YOUR help and about some of our wonderful Authorized Retailers who are giving back. First, make sure to sign up to be a part of our exclusive Newsletter to keep up with everything Maggie!
Maggie Sottero's Past Community-Driven Actions for Giving Tuesday
First of all, what is Giving Tuesday? To put it simply, it's a day that encourages people to be kind and do good for their community and its members. Created in 2012, it has become a global movement that has inspired millions of people to celebrate generosity. For Maggie, it jumpstarts one of the most important times of the year!
Although Giving Tuesday holds a special place in our hearts, we strive to support our community throughout the whole year. We have proudly supported several local charities here in our base of Salt Lake City, Utah over the years. We've done this by hosting blood drives, donating to the Utah Food Bank, and raising funds for the Souper Bowl of Caring.
On top of all of that, we also work hard to bring awareness to diverse bodies by hosting Diversity in Bridal webinars and teaming up with All Bodies All Brides! Read our blog to learn more about this amazing organization and partnership.
Kicking off Cheer for Charity in recent years has been one of the most exciting developments. And it all started with our partnership with Team Peri. This amazing organization raises money to help children with life-threatening pediatric illnesses. In 2020, the Maggie family came together to raise thousands of dollars for this organization!
We extended our Cheer for Charity efforts for Giving Tuesday year when we partnered with the Huntsman Cancer Institute. For every gown that was ordered last December, we donated a percentage of the sale to the Huntsman Cancer Institute.
Charitable Work from Our Authorized Retailers
Of course, the Maggie Family would be nothing without our wonderful Authorized Retailers! They have implemented incredible charitable efforts of their own this giving season. Our retailers never fail to impress us with how they fabulously and creatively give back to their community.
PC: Tiffany's Bridal Boutique | PC: Sophia's Bridal and Tux
First are boutiques Tiffany's Bridal Boutique and Sophia's Bridal and Tux! This year, these amazing boutiques decided to give back by donating to the organization Brides Across America. Both owners of these boutiques have had personal experiences with the US Military and are passionate about supporting our veterans and their families.
For Tiffany, her inspiration behind supporting this charity was a personal one! As a Veteran, she understands the sacrifices made by those currently serving our country in the armed forces. She feels passionate about thanking our heroes by gifting them wedding dresses! For the past four years, Tiffany's has been a host store for this amazing organization!
For Jessica Limeberry of Sophia's Bridal and Tux, whose husband is serving his 4th deployment in the United States Army, her passion for supporting military wives is a personal one!
PC: Blu Rayne Bridal
Blu Rayne Bridal in Commack, New York is our next amazing retailer supporting their community this year! For the holiday season, they are hosting a food drive and donating to the food bank, Long Island Cares, Inc. According to the owner, Carrie Lish, "During this time of the year, we always like to remember the families that are less fortunate and would like to make sure they have a warm meal for the holidays. The food pantries are always in need of food, and therefore, we would also like to continue doing food drives throughout the year as well!"
Recently, Blu Rayne Bridal has also hosted a fundraiser for breast cancer awareness for the Stony Brook Carole M. Baldwin Breast Center to support one of their stylists who had breast cancer.
PC: The Dress Bridal Boutique
The Dress Bridal Boutique in Medina, Ohio, strives to be charity-focused all year, not just on Giving Tuesday! Recently, they hosted a charity bar crawl to benefit the Mary Grace Foundation. They also stay active in their community by purchasing pies for the Salvation Army Thanksgiving meal and adopting a couple of families for Christmas.
PC: Simply Blush Bridal
Simply Blush Bridal in North Carolina are also working hard to bring in the cheer this year! Every year, they've held their annual "Blush-giving." During this time, they ask their brides to donate at least $25.00 to two organizations Simple Blush has chosen to partner with that year. At the end of the giving period, they match the donations for each organization! This year, they chose Shop with a Cop, and Live Like Ryan — two organizations focused on bettering the lives of children in their community.
PC: Ivory & Beau
Ivory & Beau in Savannah, Georgia is another one of our amazing, authorized retailers who are giving back this year. Raising awareness about Alzheimer's is a cause very close the owner of Ivory & Beau, Nicole's, heart. Since her father's diagnosis in 2018, Nicole and the rest of this amazing boutique have worked hard in donating to the Alzheimer's Association. In 2019, Nicole participated in the Dancing Stars of Coastal Georgia fundraiser to raise money for the Alzheimer's Association, and this tradition is being continued by employee Megan Johnson! Through these amazing actions, Ivory & Beau have raised thousands of dollars for this cause and honored Nicole's father's memory.
Can you believe how remarkable our retailers are?! We could not be more impressed or prouder to partner with such wonderful local boutiques. Head to our Store Locator to find a boutique in your area and see what they're doing for your community!
Maggie Sottero's 2022 Cheer for Charity Initiative
For the second year, Maggie will be partnering with the Huntsman Cancer Institute for this year's Cheer for Charity initiative!
The Huntsman Cancer Institute's mission is to "understand cancer from its beginnings. To use that knowledge in the creation and improvement of cancer treatments, to relieve the suffering of cancer patients, and to provide education about cancer risk, prevention, and care." This incredible institute is dedicated to studying all types of cancer and has made a significant difference in Utah and beyond.
Not only is the Huntsman Cancer Institute close to our home base, but it is also close to our hearts.
"We want to spread a message of love and hope this holiday season," shared Kelly Midgley, CEO and Creative Director. "Cancer, unfortunately, touches us all. This year, it cut deep, as we lost a dear friend and beloved member of our Maggie Family. She always felt at home and well cared for at Huntsman. We look forward to honoring her bright light and the light of others who have lost their fight through this year's Cheer for Charity initiative."
PC: Urban Set Bride
This year, for every gown ordered from Black Friday through December 31st, we're donating a percentage of sales to the Huntsman Cancer Institute. Help us give back by heading to an Authorized Retailer today to say YES to your dream Maggie gown!
The charitable fun doesn't stop there! For the top 5 retailers who sell the most gowns through December, we're donating $5,000 of the proceeds to a charity of their choice.
Like some of our wonderful retailers this year, we are also donating wedding dresses to Brides Across America, a non-profit committed to loving one another by gifting weddings and wedding gowns to our military and first responders.
Maggie Believes in Giving Back
Our VP of Sales and Marketing, Christina Blanchette, said it best: "At Maggie, we let our strong heart energy guide us, and we know our amazing Authorized Retailers and Maggie brides do the same. It is so special to give back to our community in a way that involves our entire Maggie Family."
Our strong heart energy is the guiding force behind everything we do here at Maggie Sottero. We hope the stories of our strong Maggie community not only put a smile on your face but encourage you to give back to your community this holiday season! We are so excited to see all the good you're doing and how you're spreading joy, love, and charity within your communities!
To learn more about the Huntsman Cancer Institute visit its website. Then, make sure to find an Authorized Retailer near you today to find your dream dress and do good, all at the same time!
More Blogs Like This:
The Story of Maggie Sottero: A Woman Owned Company
Diversity in Fashion: What Black History Month And Inclusivity In Bridal Means To Me
Maggie Stands for Love for All: Celebrating International Day of Persons with Disabilities