Tips and Trends
Wedding Inspo
|
October 28, 2023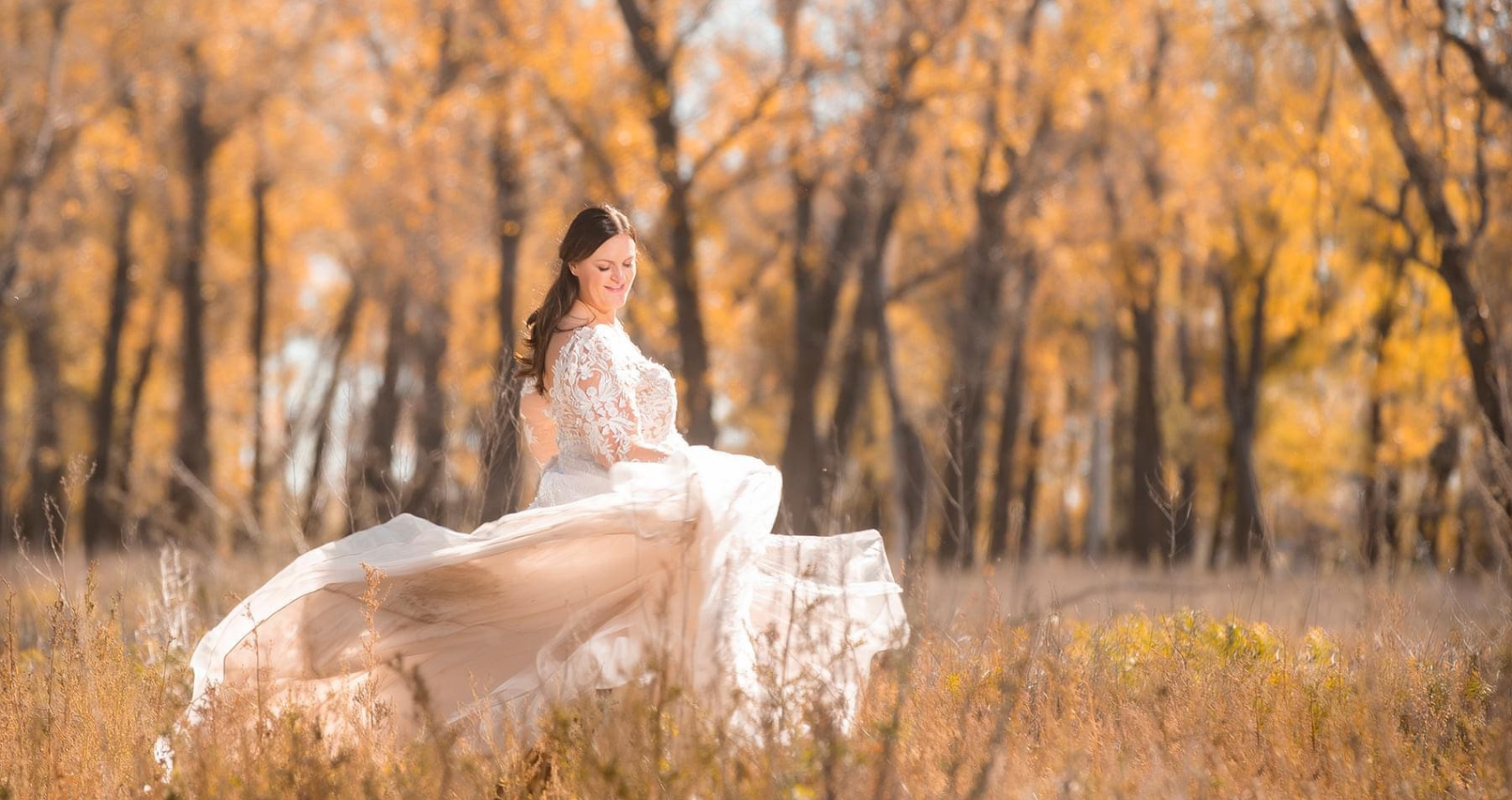 It's officially fall! That lovely chill is in the air, celebrations are brewing for the holiday season, and you have the perfect backdrop for a chic and stylish wedding celebration. Whether you're planning a spontaneous elopement or just looking for last-minute wedding ideas, there's no shortage of ways to create a memorable celebration inspired by the (ultra-sophisticated) season. Keep scrolling for unique ideas to upgrade your seasonal color palettes, attire, jewelry, venue details, and more!
What Makes a Fall Wedding Unique?
There are many reasons to love a fall wedding… That's why you booked this magical and stylish season, after all! These charming, unique features are the perfect match for couples who appreciate the beauty of the season…
Stunning natural backgrounds with unique weather conditions.
Changing leaves
Cozy atmosphere and food, with intimate and artful details your guests will adore
Seasonal decor to kick off the holidays, the perfect time of year for gathering and celebrating your friends and family.
Unique florals and foliage to include in your wedding colors, reception details, and theme. 
Romantic lighting and moody ambiance for dance parties, cocktail hour, and photo ops.
Versatile attire for you, your partner, and your wedding party. Think sleeved gowns, layers, velvet suits, formal bridesmaid gowns, and more.
Whimsical options for favors and reception details, often inspired by the spooky season.
Unique decor and centerpieces to match your colors and theme. 
Scroll through our last-minute inspo for fall wedding details below!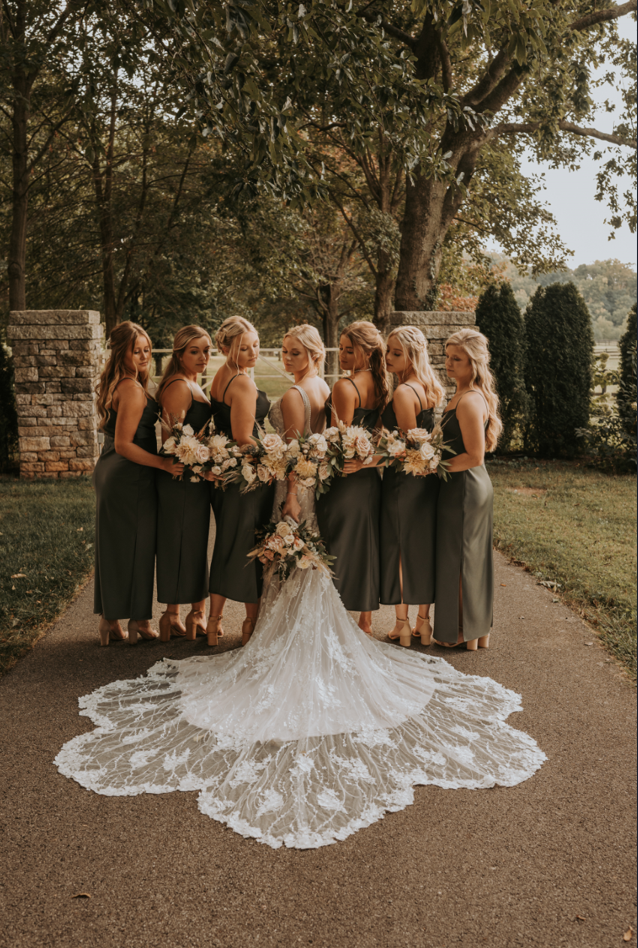 PC: Captured By Crouch
Color Palettes for a Fall Wedding
You've probably already decided on a color palette, but there's still time for last-minute tweaks! Get inspired with colors from fall's natural beauty to create a warm atmosphere for your guests —
Rustic reds and deep oranges: This classic palette is all about warmth and richness. Think deep crimson, fiery orange, and earthy sienna in a lush, inviting, and super comfy venue setting.
Earthy browns and golden yellows: These colors are the essence of autumn, evoking images of fallen leaves and sun-drenched fields.
Jewel tones in rich, earthy hues. For a touch of luxury, consider deep burgundy and lush emerald green.
Incorporate neutrals for a balanced look: Creams, beiges, and soft grays can complement bolder shades and create a sense of balance.
Accent colors to add spirit: To add a touch of lushness and depth to your color scheme, consider sage green, navy blue, or deep plum as complementary colors.
Last Minute Food and Drink Ideas for Fall Weddings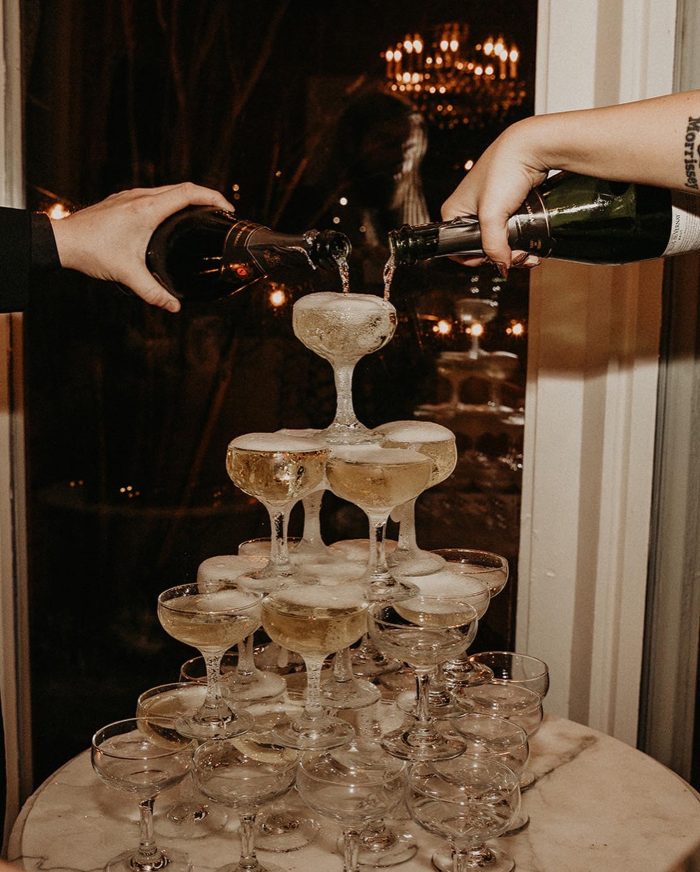 PC: Nik Nguyen Photo
Food is usually a top priority for fall weddings… Your guests will certainly be in the mood to indulge! Elevate your fall wedding experience with a delicious menu and signature cocktails, such as:
Crafting a seasonal and local menu that features farm-fresh produce, harvest-inspired recipes, and unique highlights from your foodie community.
Hearty soups and stews: Warm your guests with a cozy bowl of butternut squash soup or savory beef stew.
Roasted vegetables with maple glaze: Elevate the flavors with a touch of sweetness from maple glaze.
Apple and pumpkin-inspired dishes: Incorporate fall's favorite fruits in your menu, from apple crisps to pumpkin ravioli.
Signature fall cocktails like Spiced Apple Cider Martinis, Pumpkin Spice Old Fashioneds, and Cranberry Moscow Mules.
Fall Wedding Dresses and Accessories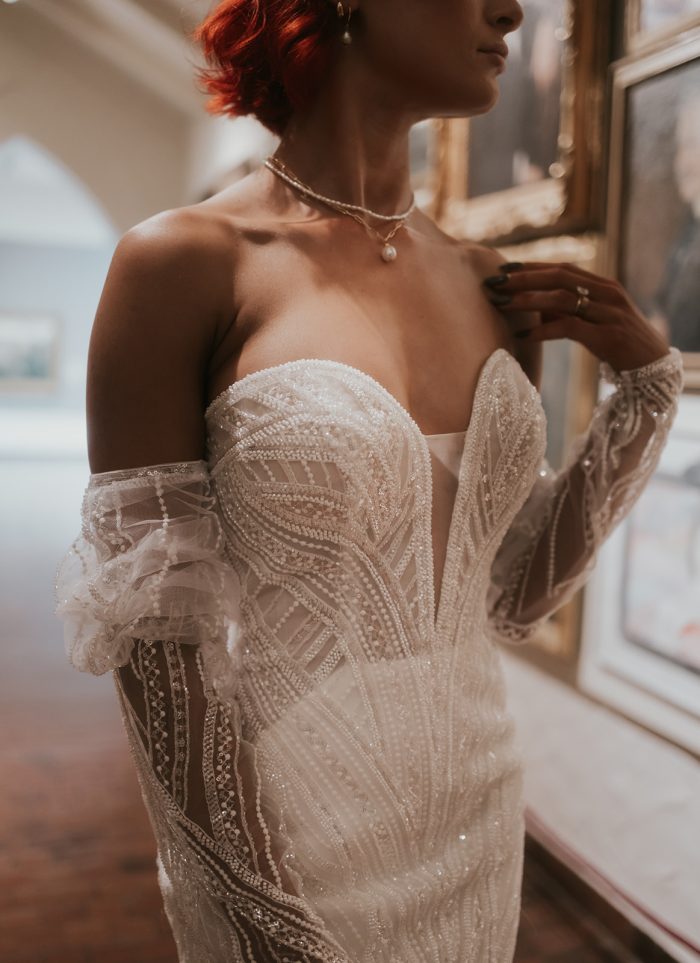 PC: Morgan and Joel Photo
Thanks to the mood and season, fall weddings give you a unique opportunity to play with elegant and cozy attire. Here are some styling tips for the sultry and sophisticated bride:
Wedding Dresses:
Consider long-sleeved dresses for warmth and style. They're seasonally appropriate, of course, but timeless and elegant for any occasion! For a unique look that's easy to style for different parts of the evening, consider adding detachable sleeves or a cape or jacket. (Speak with your Authorized Retailer for details!)
A-line and ballgown silhouettes evoke elegance and grace for a fall wedding… These styles are regal, formal, and tailored to match the drama and pomp of the season. 
Incorporate lace and textured fabrics inspired by your wedding dress into your venue, reception decor, and wedding party's attire. Shimmery lace can be added to your bouquet, illusion details are gorgous for ceremony arches and photo backgrounds, and 3D florals and crystal embellishments make the perfect accent on bridesmaid gowns. The styling choices are only limited by your imagination!
Accessories and Layers:
PC: Morgan and Joel Photo
Stay warm and stylish with faux fur stoles, overskirts, capes, boleros, and long trains. We have a variety of customizable styles in our latest collections, many of which may be available for quick delivery dates at your Authorized Retailer.
Vintage-inspired veils add a touch of demure romance to your bridal look. The cooler season gives you the ideal conditions for layers and illusion. (The photo ops will be beautiful!)
Don't forget the allure of fall flower crowns or headpieces… Think bold, jewel-toned blooms, lush greens, and playful accents like feathers, crystals, and unique fall accessories.
Jewelry, Hair, and Makeup for Fall Weddings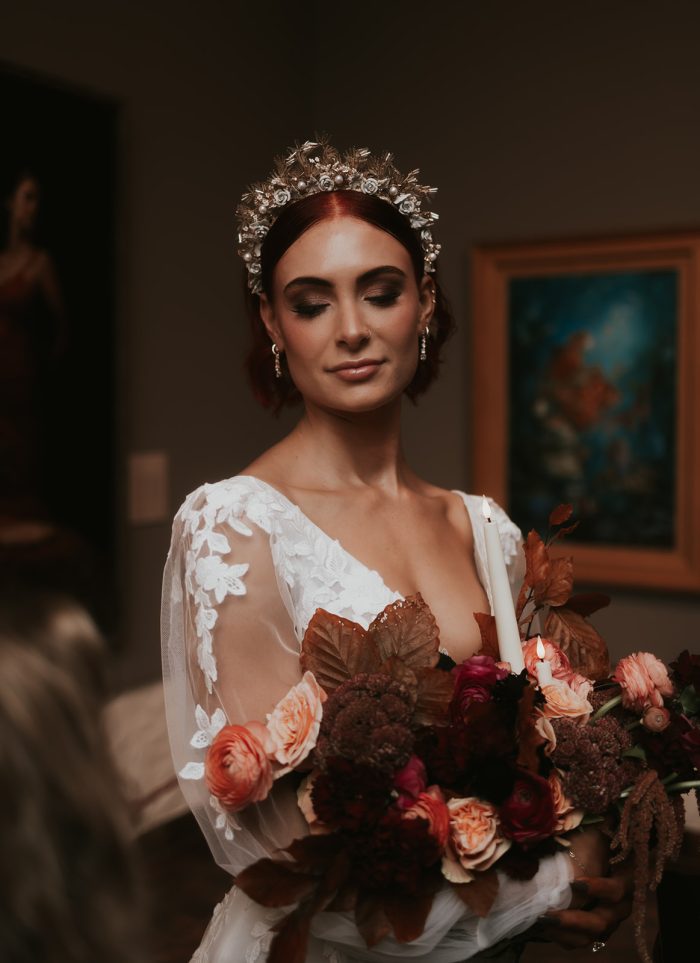 PC: Morgan and Joel Photo
Browsing for last-minute inspo for fall wedding attire? Give some love to your jewelry, hair, and makeup details:
Jewelry: Consider statement pieces in fall colors or gold and rose gold accents. Nature-inspired designs like leaf motifs can also add an organic touch to your bridal look. We get a ton of ideas from antique and heirloom pieces… Think shimmer and flourish inspired by the Victorian era, 1920s shimmer, and 1970s glam. 
Hair: Opt for romantic braided hairstyles, long loose curls, or natural updos that match the season. Since you likely don't have to worry about the heat and outdoor conditions of a summer wedding, you have the freedom to create a more formal hairdo to match the occasion. 
Makeup: Choose warm and smoky eyeshadows and deep berry or nude lip colors for a sophisticated and sultry vibe. We're also smitten with iridescent highlights, halo-effect contouring, and mermaid-like eyeshadows.
Manicure: A fall wedding is the perfect excuse to indulge in a deeper,

le

ss traditional nail color. Think darker hues and opulent cat-eye effects.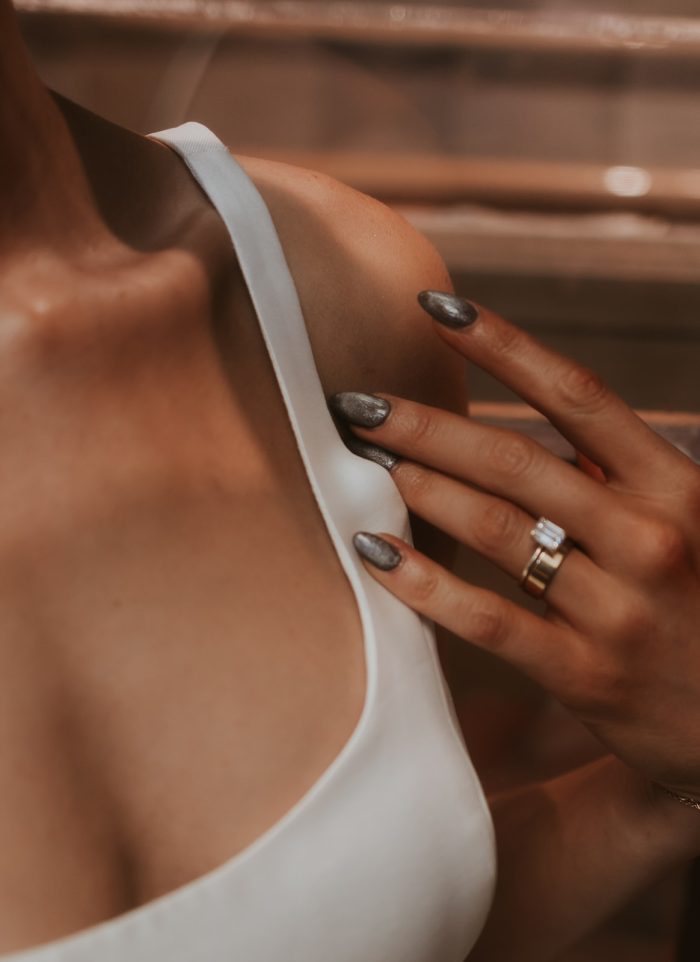 PC: Morgan and Joel Photo
Last Minute Fall Wedding Inspo: Florals, Venue Details, and Decor
It's no secret that fall weddings make for beautiful backgrounds for your floral arrangements, venue details, and decor. To make the most of your last-minute planning, consider these details:
Bouquet Options:
Embrace rich and diverse floral arrangements, featuring seasonal blooms like dahlias, chrysanthemums, and sunflowers.
Add depth to your arrangements by adding foliage and berries.
Get playful with Gothic-chic accents, mini pumpkins, faux birds or butterflies, and bold shimmer. 
Give your bridal party a unique touch with a "non-bouquet" like lanterns, foliage hoops, baskets, or candles. (If you're planning a full-on Halloween vibe, think Jack-O-Lanters, trick-or-treat baskets, or spooky cascades of silk bats!)
Ceremony and Reception Decor:
Create fall table decor with candles to set a warm and inviting ambiance.
Use aisle markers adorned with pumpkins and gourds for a touch of rustic charm.
Floral-adorned arches and arbors make for stunning backdrops.
Incorporate rustic, homespun accents and embrace the outdoors when weather permits.
Take advantage of scenic fall foliage and historic details, which can add a sense of tradition and sophistication to your celebration.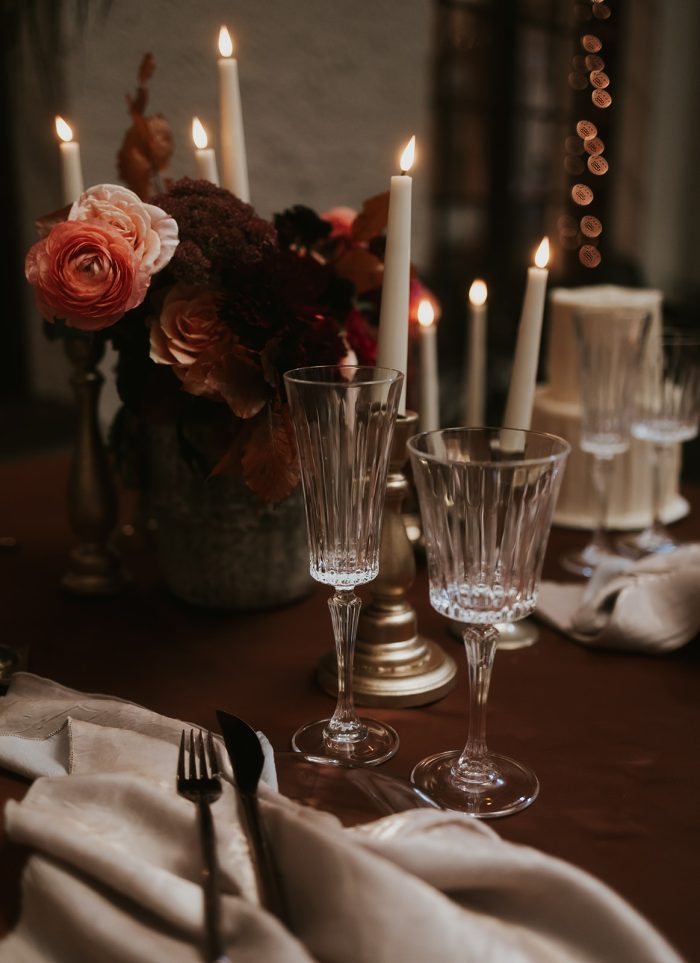 PC: Morgan and Joel Photo
Last-Minute Advice for the Weeks Leading Up to Your Fall Wedding
Your wedding is approaching fast, so here are a few ways to ensure every last detail is as beautiful as you imagine!
Prioritize key details, and let go of the things that might suck time and budget away from what really matters to you and your partner.
As the season changes, scope out your venue's natural backdrops and nature-inspired details.
Centralize and streamline your communications to a few essential text threads and email chains. Too many lines will cross otherwise!
Look for existing decor rather than ambitious DIY projects. (This is for your own sanity, not to mention your maid of honor's!)
Ask about any add-ons, sales, and promotions already included in your vendor and venue packages. Sometimes you can uncover something special that's already included!
Delegate responsibilities and give your friends and family plenty of time and buffer for setup, delivery, or guest communications.
Finalize all vendor details, and don't forget your marriage license! It's always a good idea to double-check on requirements and waiting times in your area.
Do a final venue walkthrough in the week or so before your booking date.
Create an emergency kit and contact list. Handy items to bring include comfortable shoes, a bouquet holder, tissues, stain remover, pain relievers, and toiletries.
Finalize your wedding day and reception playlist.
Set aside a few days for relaxation and self-care.
Make sure you've bought the correct undergarments for your wedding dress.
Stay hydrated! Drink water as often as you remember to!
Pack ahead for wedding or honeymoon travel.
Keep your wedding rings in a safe place and assign a trusted "handler" for the day of.
With a little prep and creativity, these will help you ensure all your last-minute fall wedding inspo stays organized and every detail is taken care of!
More blogs like this:
Your How-To Guide On Wedding Photography
Expert Tips for Writing Romantic Wedding Vows for Your Wedding Day
Colorful Wedding Dresses for the Bold Bride
Create an unforgettable autumn celebration with these chic and stylish details!